Fall Play

Men on Boats:
a true(ish) history of a trip to chart the Colorado River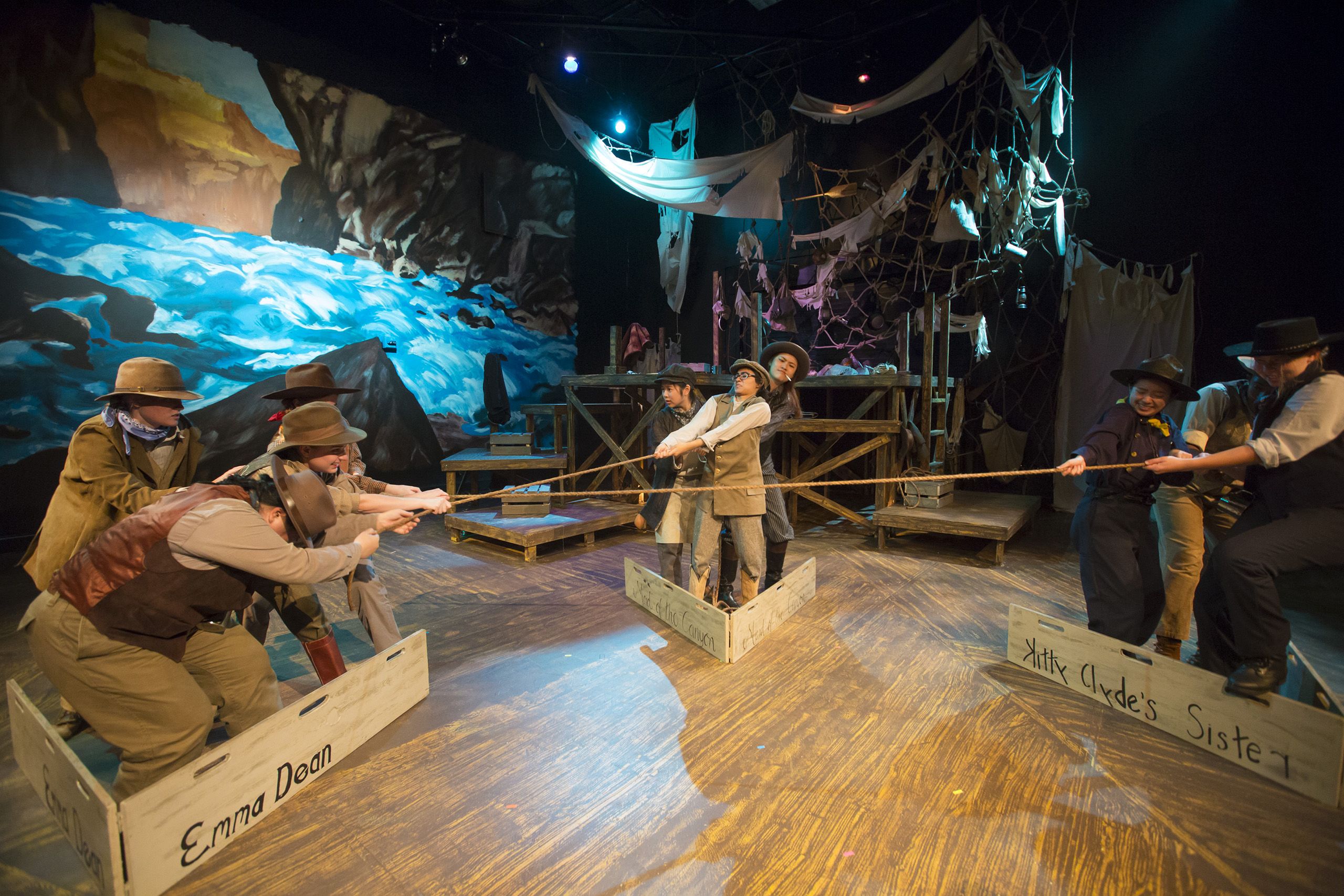 Ten explorers.
Four boats.
One Grand Canyon.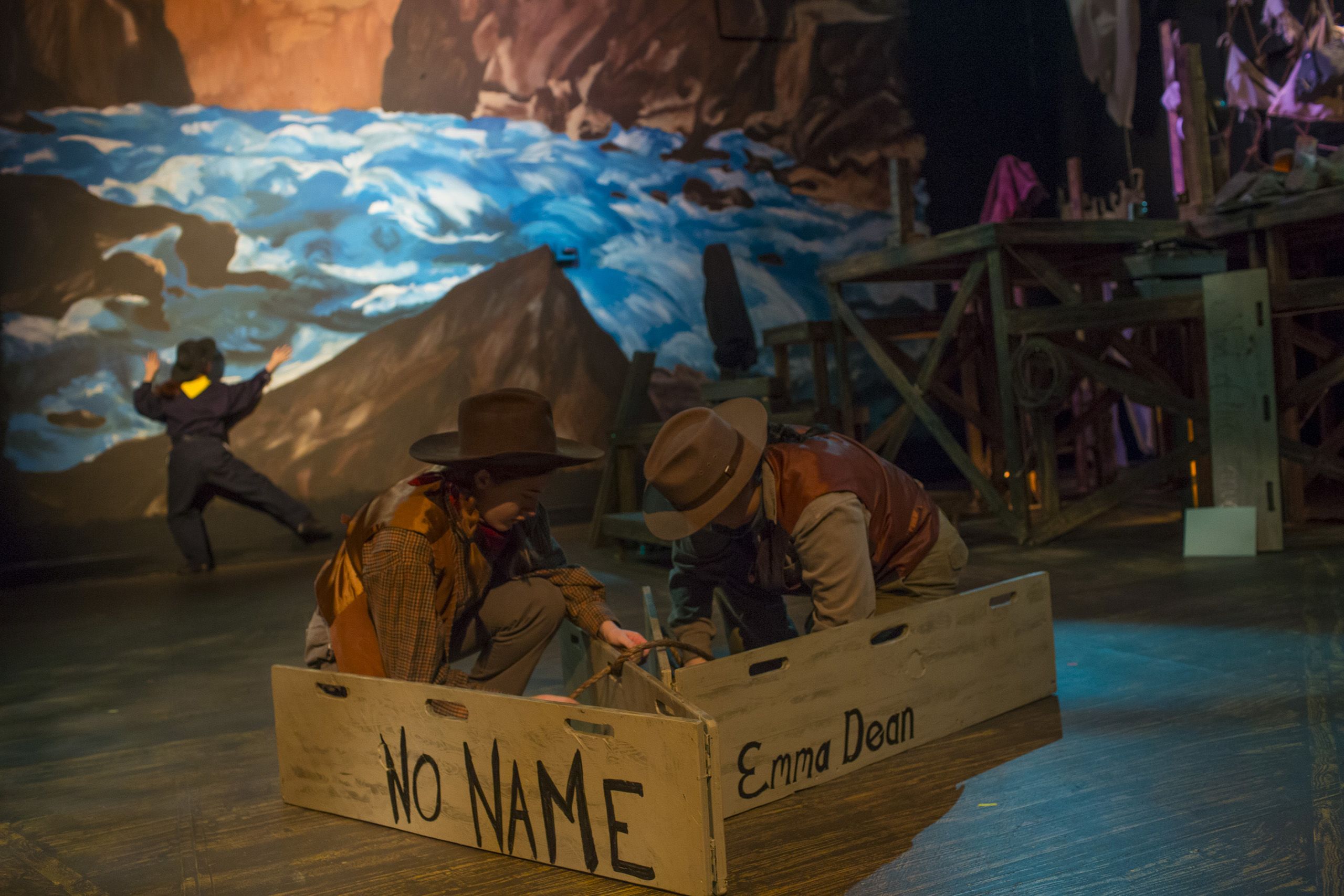 Men On Boats, a play by Jaclyn Backhaus, follows the journey of explorers as they navigate the Colorado River in 1869. John Wesley Powell led the all-volunteer expedition team — comprised of ten white men having little experience with this sort of water exploration — that eventually made it to what he then named the Grand Canyon.
What you don't expect from the play title is the author's stipulation that no cis male can perform in the play and the cast should be racially diverse.
"Her initial impulse for this came from her experiences as an actor herself: when she first read about Powell's expedition and thought about adapting it for the stage, she realized there wouldn't be a part in it for someone like her, an Indian-American woman. So she changed that," says Nick Fesette, assistant professor of theater studies, and the play's director and sound designer. He chose the production for Oxford's theater group after seeing it a few years ago at Playwrights Horizons and instantly falling in love with it.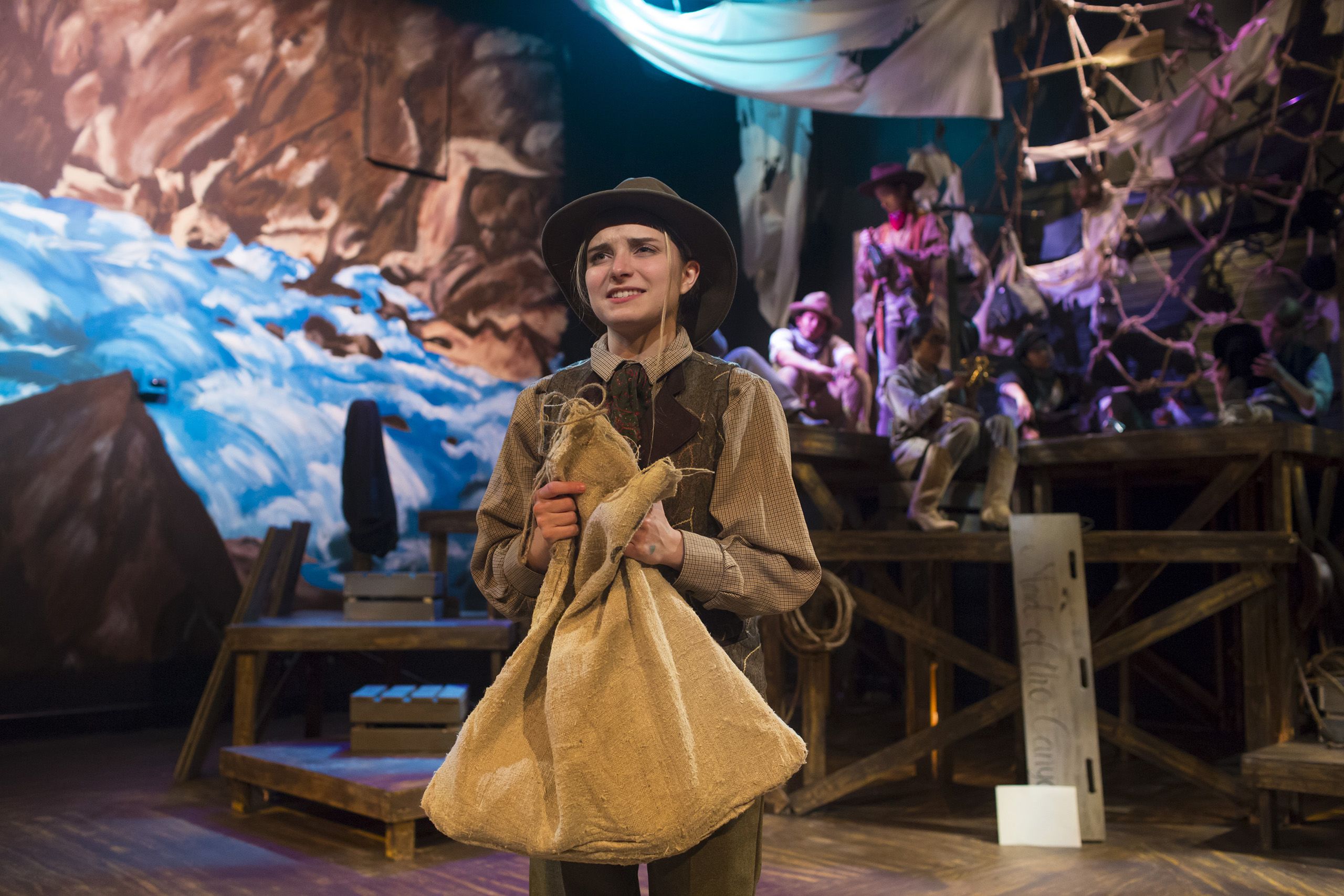 "Jaclyn is a very playful and inventive writer and I expect audiences will laugh a lot, but she's also always considering deep political, philosophical, and affective questions. She's particularly interested in alternate histories, in the human stories that are ignored or elided. She's interested in the otherwise of the typical 'great man' narrative."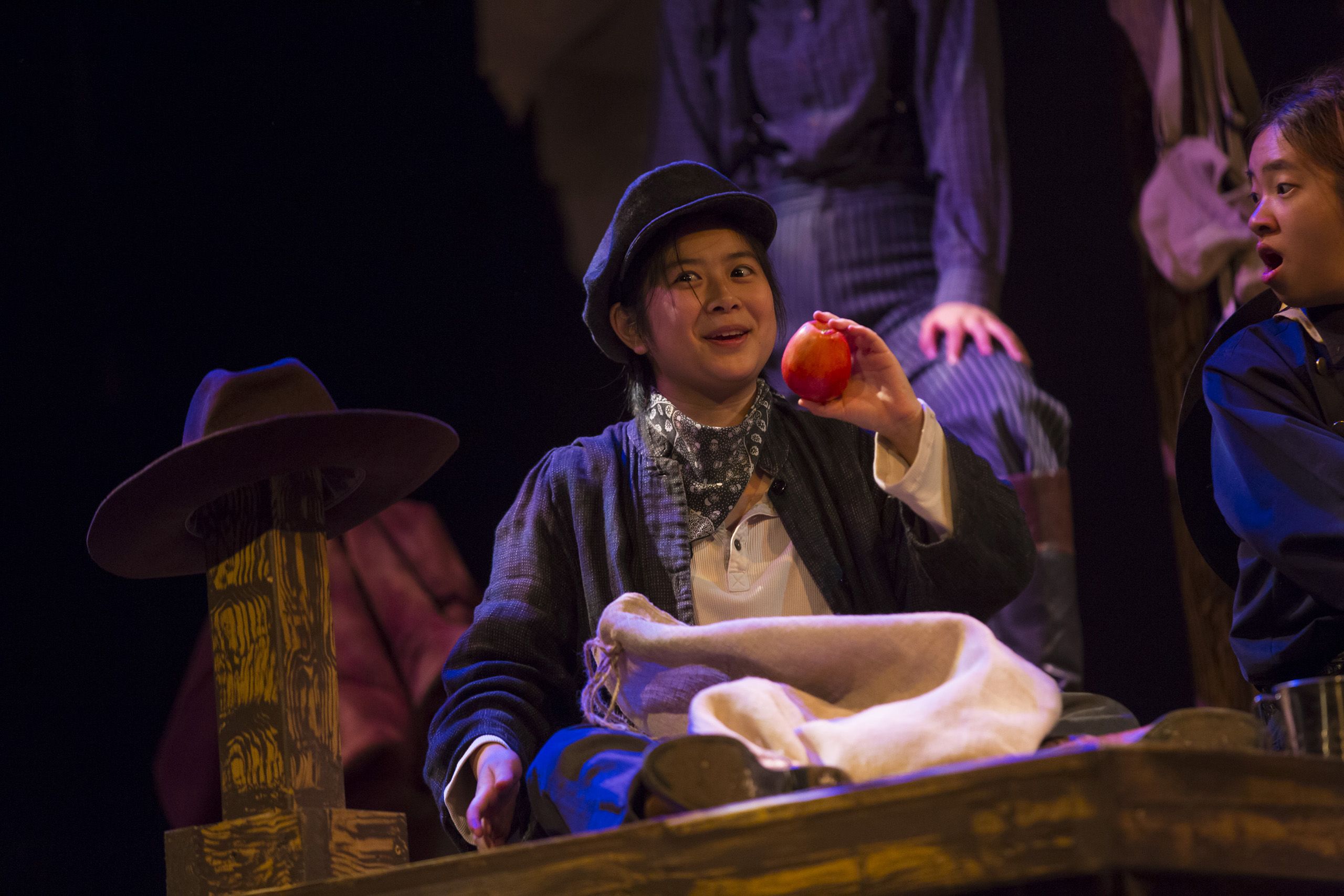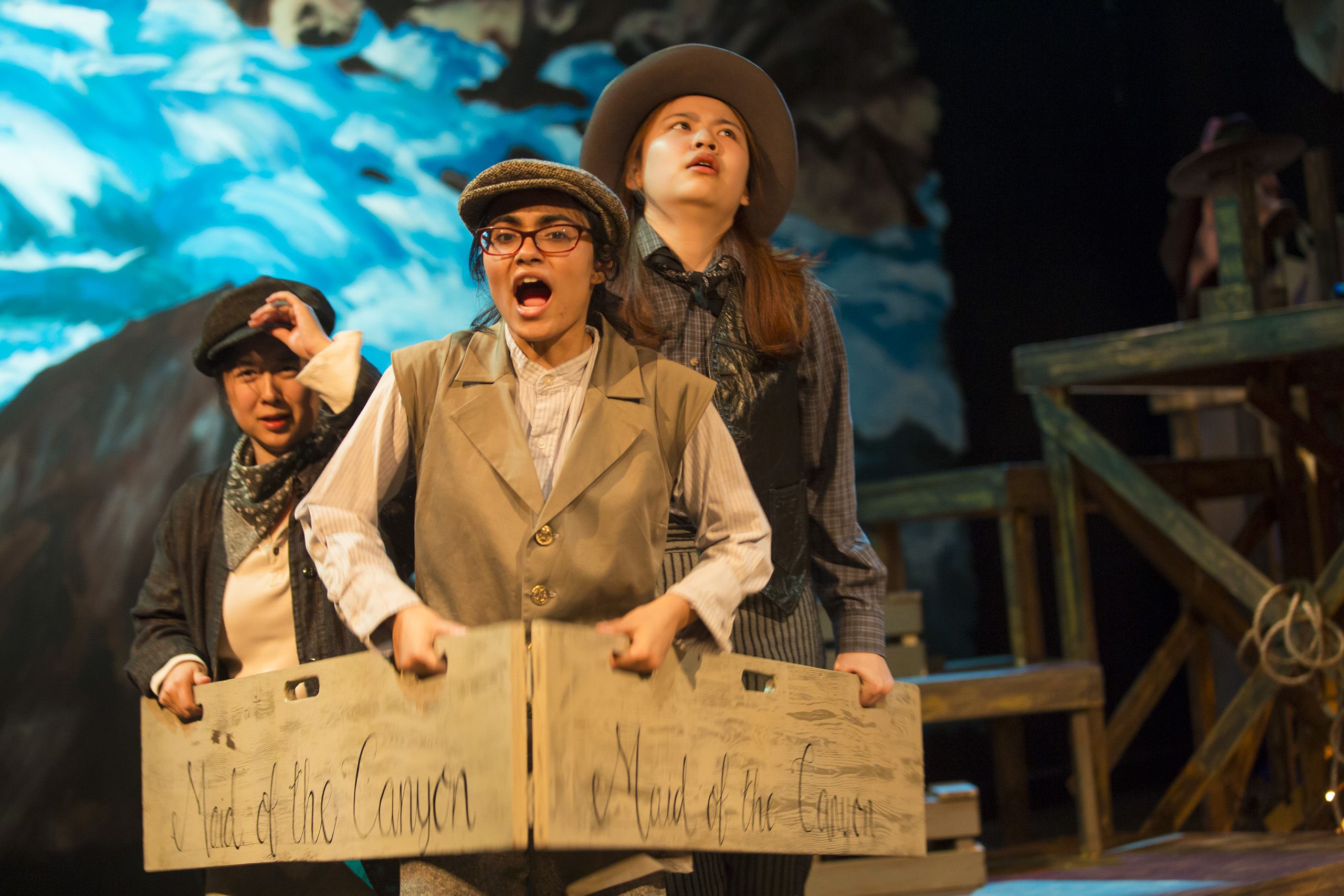 Backhaus was able to see her characters brought to life by Oxford students when she visited rehearsals and held a playwriting master class in Tarbutton Theater on October 9.
OxTheater debuted the play on campus from Oct. 24-26 and will have two more performances on Nov. 1 and Nov. 2 at 7:30 p.m. in Tarbutton Theater. (See end of article to purchase tickets.)
Jessie Rivers, technical director of theater, designed the scenery and lighting. She also oversaw the student set building crew. Students make up the cast and technical crew led by Fesette and Rivers.
"We're approaching the set as a kind of grown-up playground," Fesette says. "All aspects of the set have to be able to transform into different scenes from white water rapids to Grand Canyon to Ute settlement, and we decided to do this in a suggestive and theatrical way, rather than literally."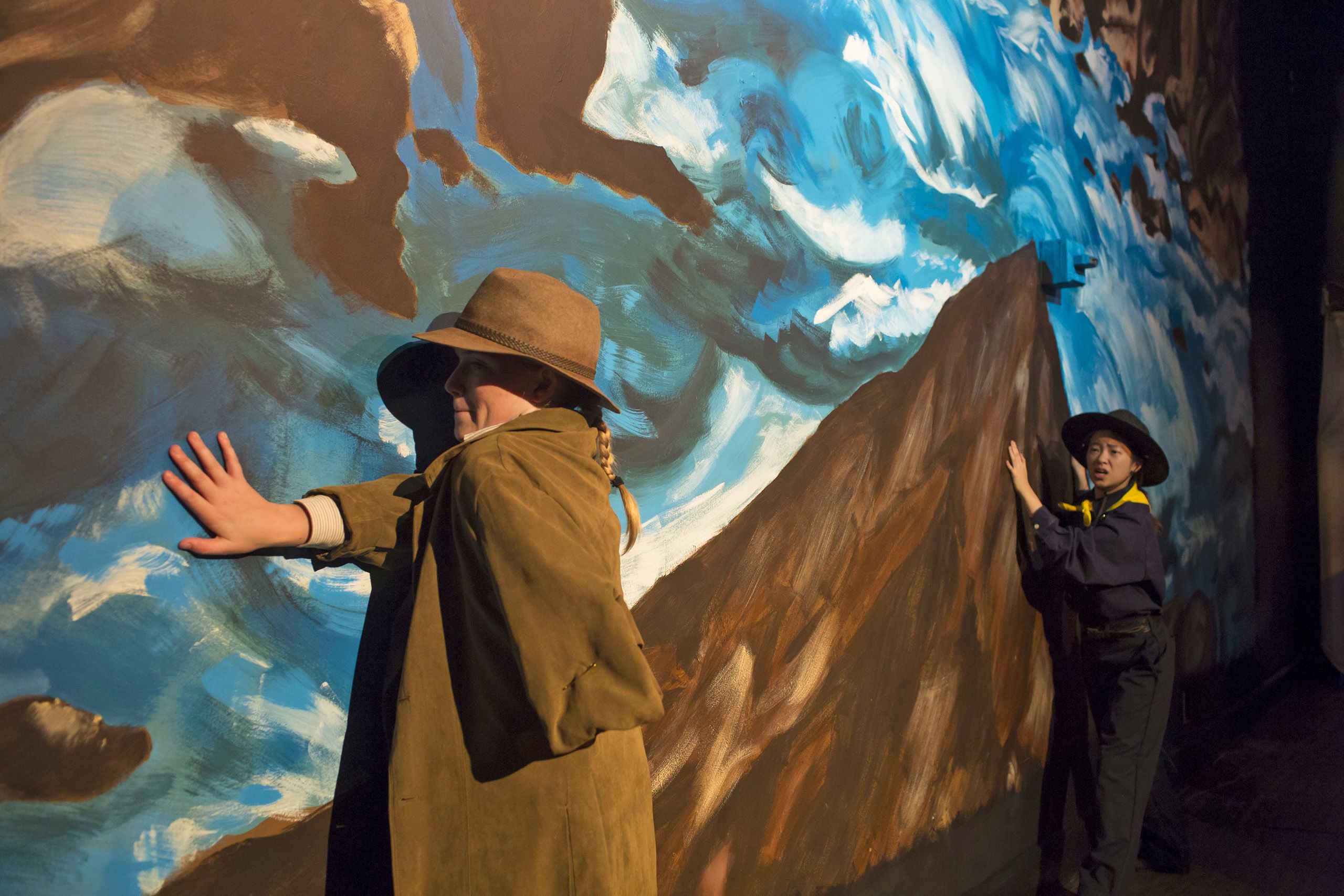 Through actor movements, the set conjures in the audience's imagination different locations. The crew installed a giant mural adapted from a painting of the original expedition, painted by first-year student Hannah Morrison.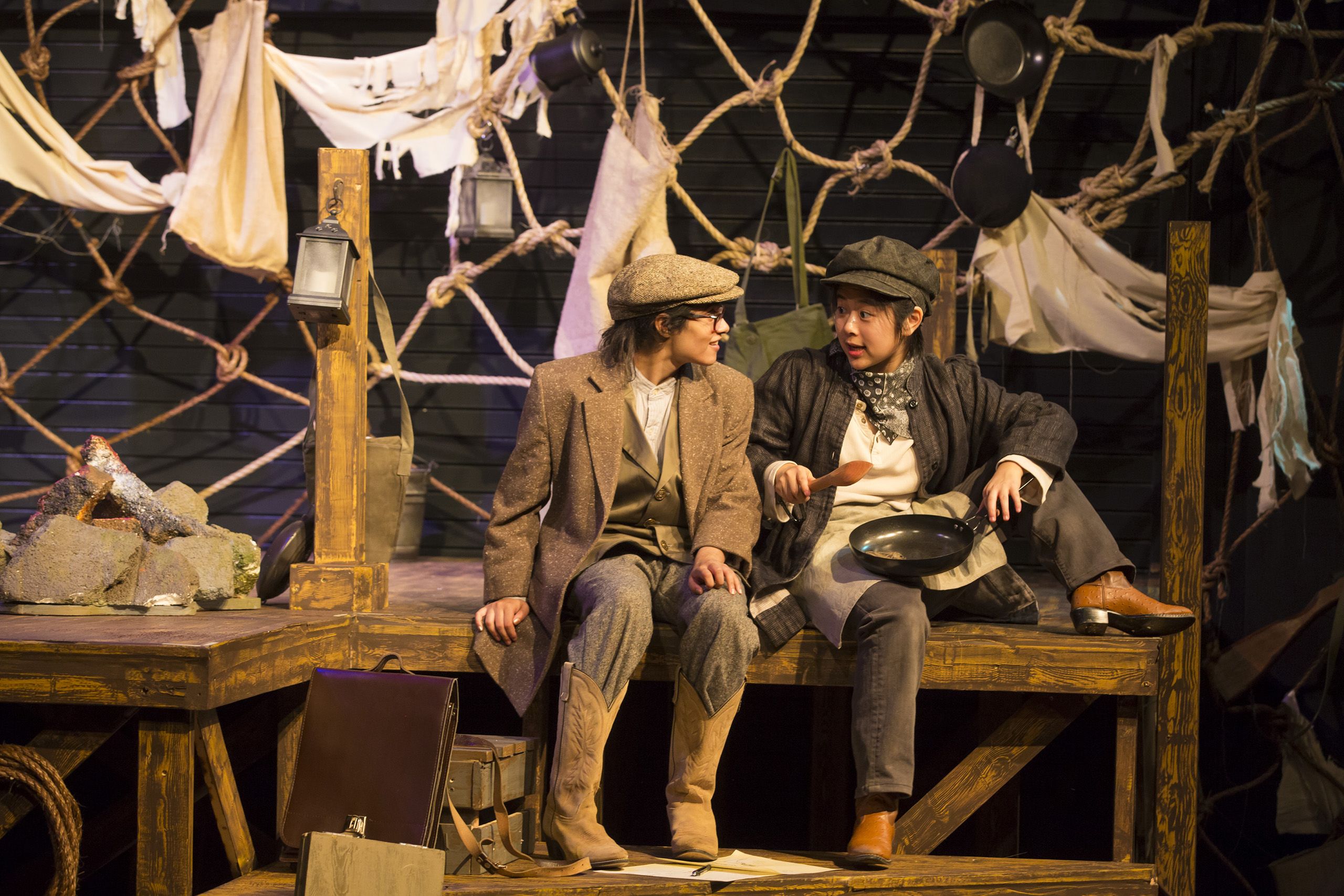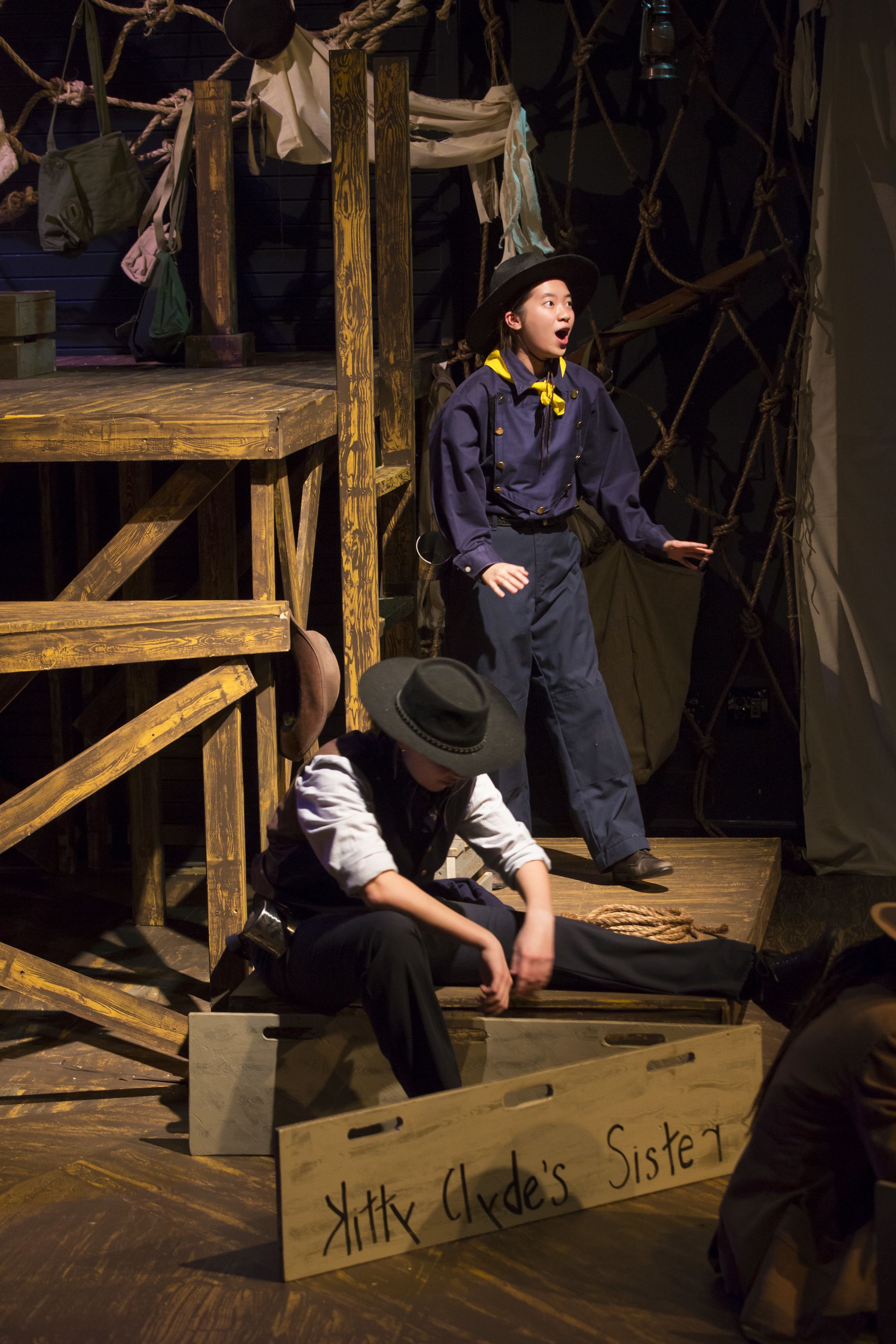 The student actors in the play include Sonia Chang, Saijleen Chawla, Zoe Coblin, Talyn Fan, Zaria Ford, Christine Gao, Edith Kwon, Amanda Przygonska, Sydney Webb, and Maggie Whittemore.
Student crew members include  assistant director: Anna Lindquist, props and assistant stage manager: Lily Xie, dramaturge: Kailey Graziotto, muralist: Hannah Morrison, light board operator: Kelyu Yu, sound board operator: Stefanie Rogers, scenery construction: Bridget Barnesley, Talyn Fan, Royce Flacker, Julio Gomez, Joyce Li, Mackenzie Noxon, Stefanie Rogers, Jonathan Russo, Margo Shen, Mackenzie Temple, Sophia Tufariello, Owen Yang, and Kelyu Yu, and marketing team: Alexis Jenkins, Mackenzie Temple, Emie Ung, and Emme Van Doorn.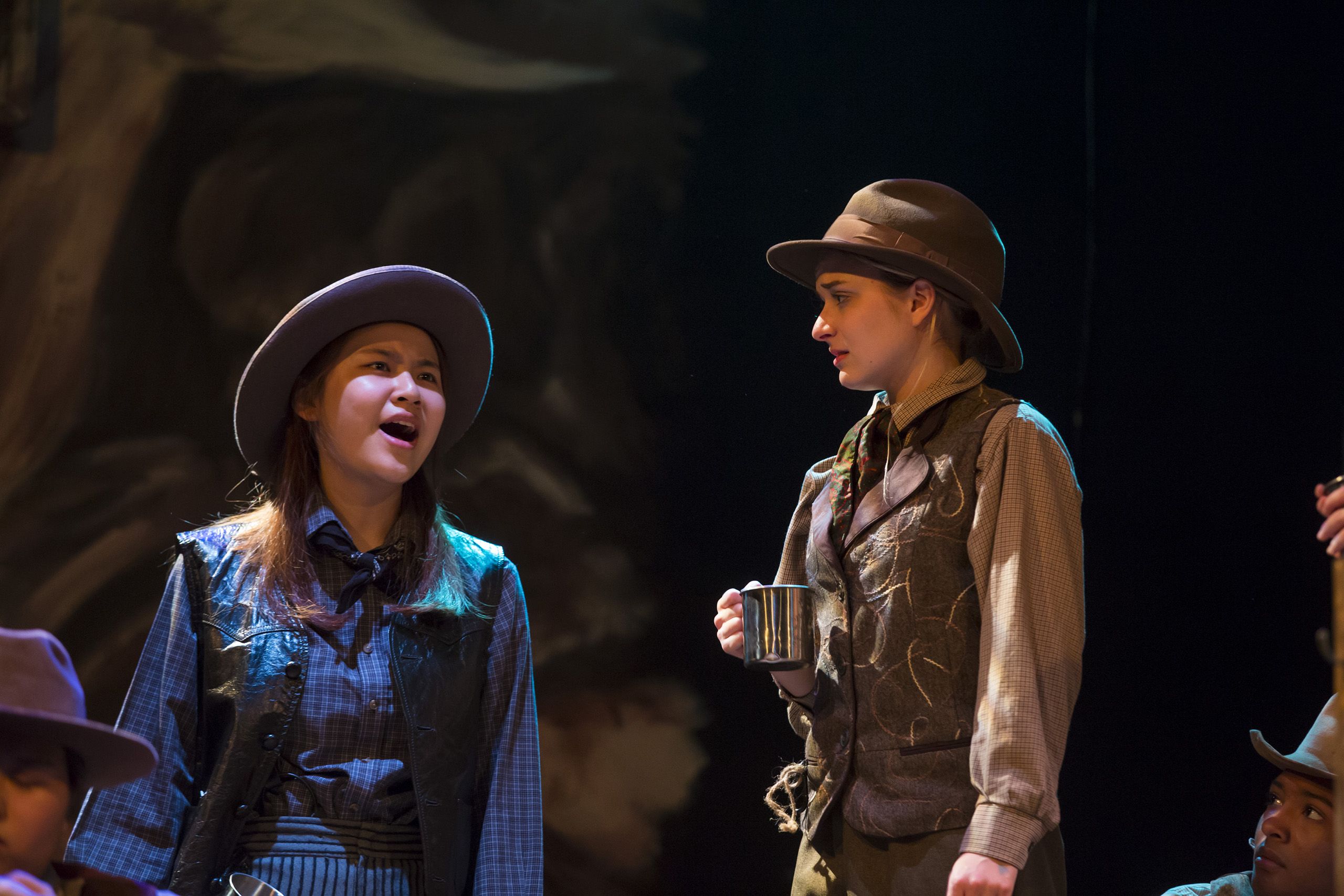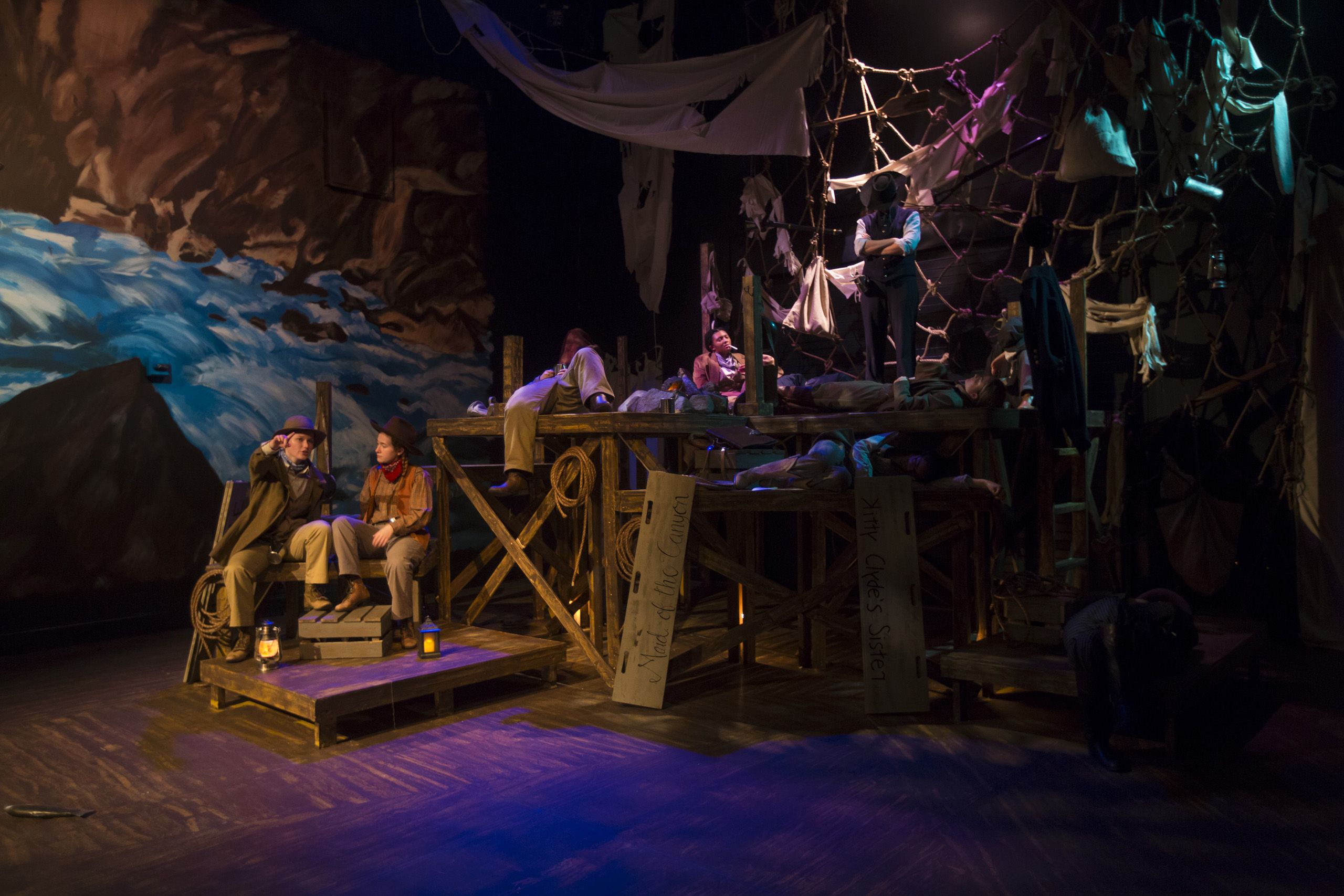 "The play is intensely physical, and the actors are really pouring their blood, sweat, and tears into the process."
— Nick Fesette