Celebrating Oxford's Commencement

174th Commencement | May 11, 2019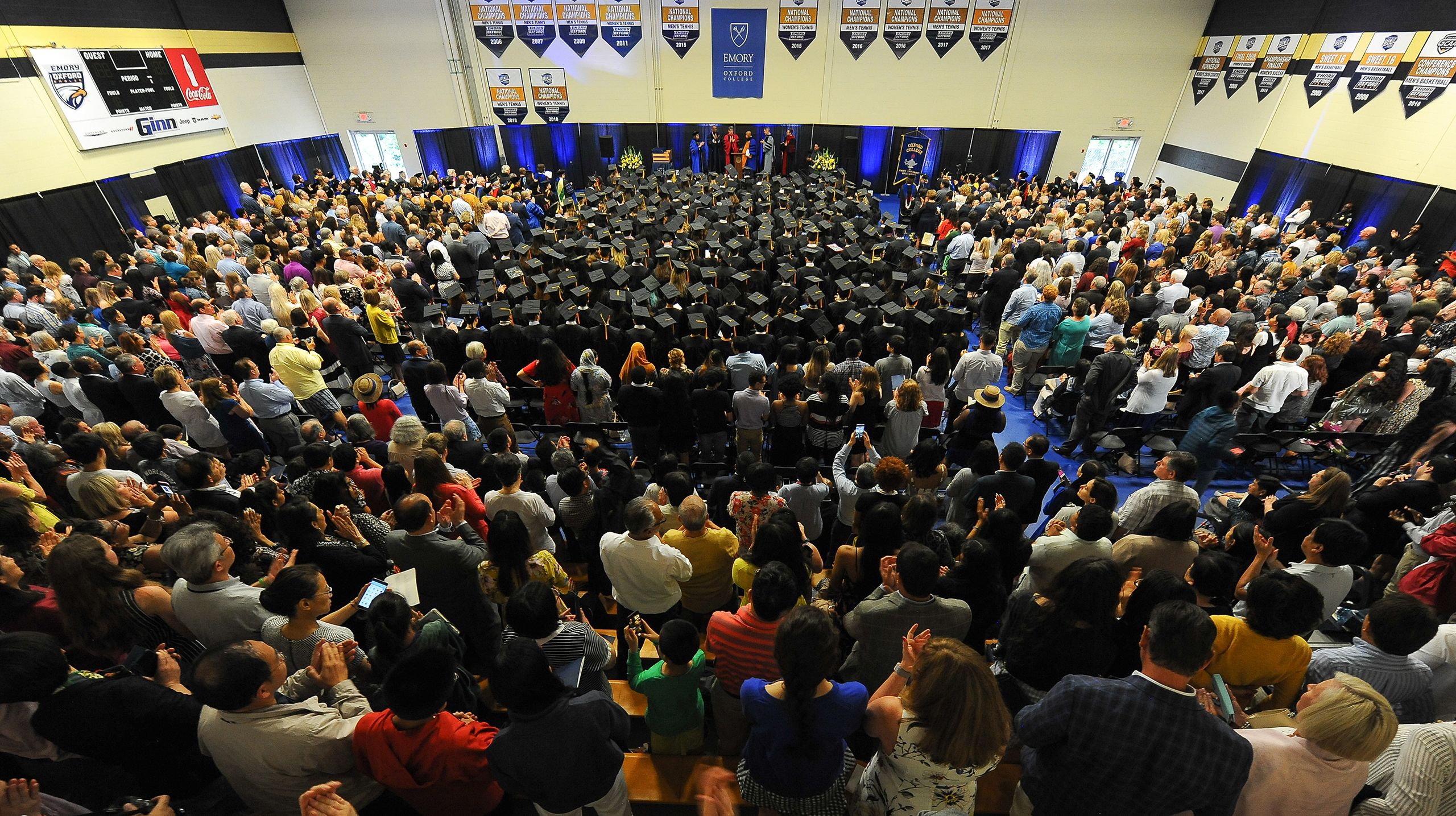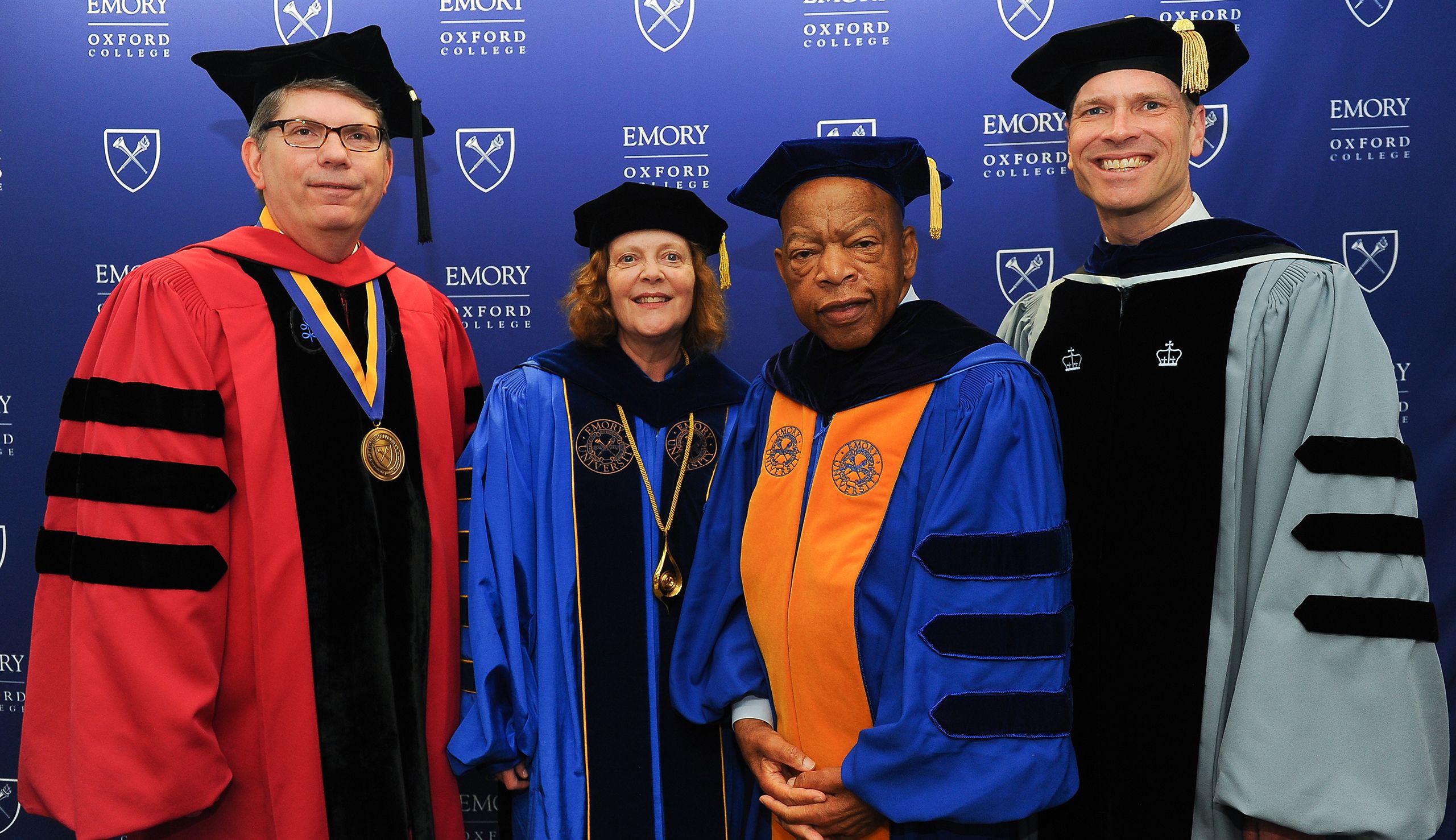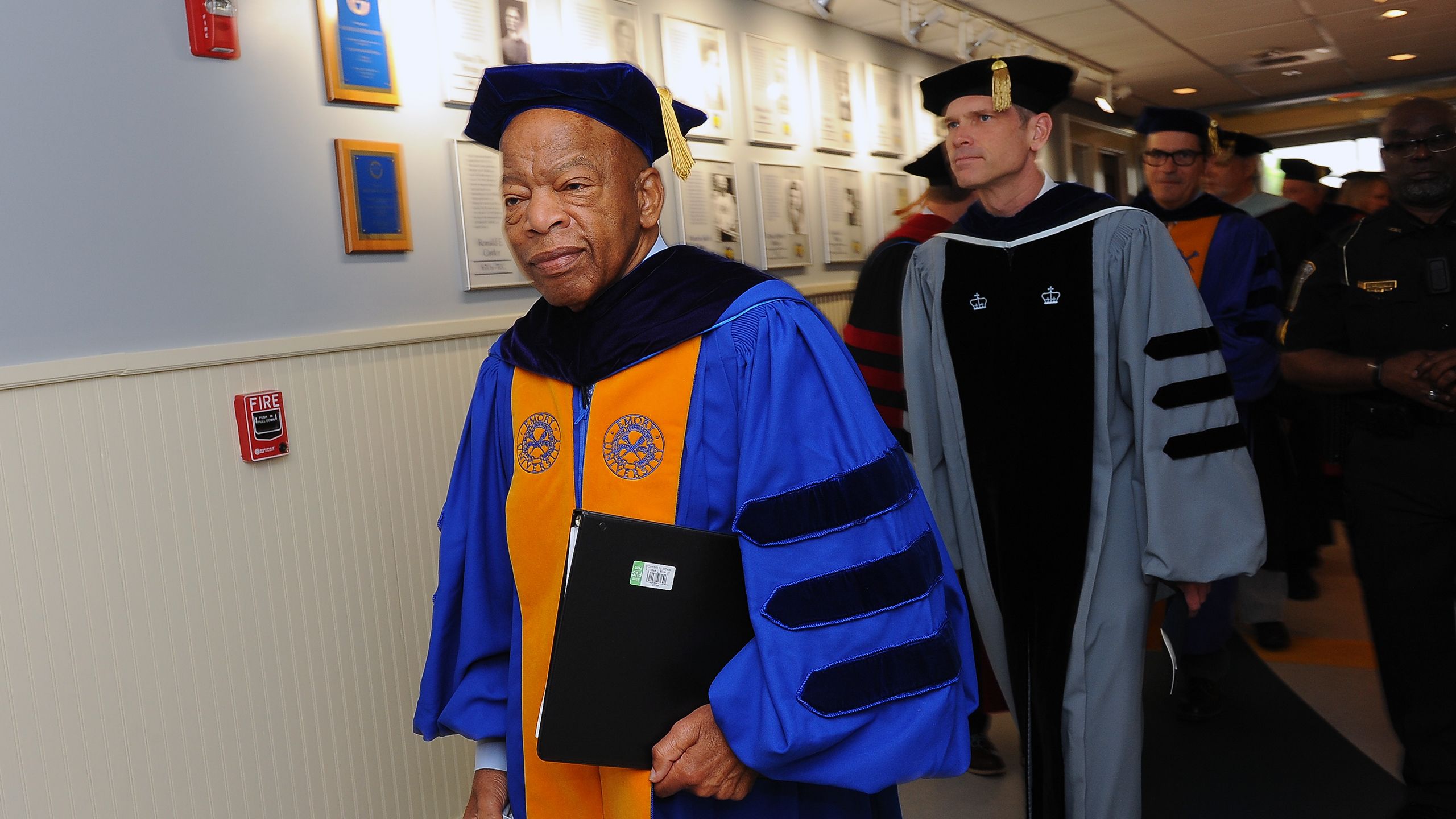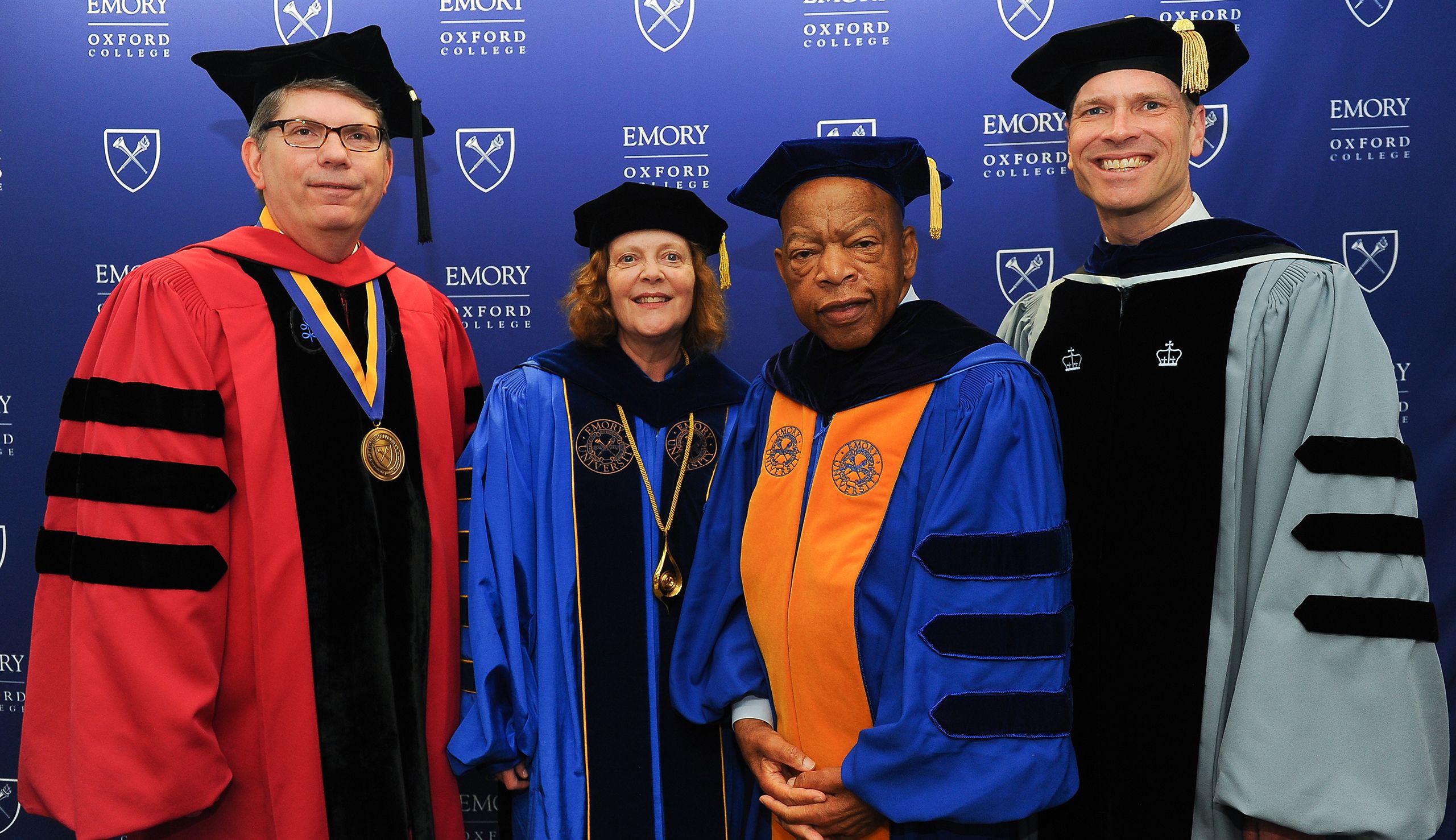 Emory University President Claire E. Sterk (center left) conferred the degrees. Oxford Dean Douglas A. Hicks (left) was joined by Dean of Emory College Michael Elliott (far right), shown with speaker John Lewis (center right).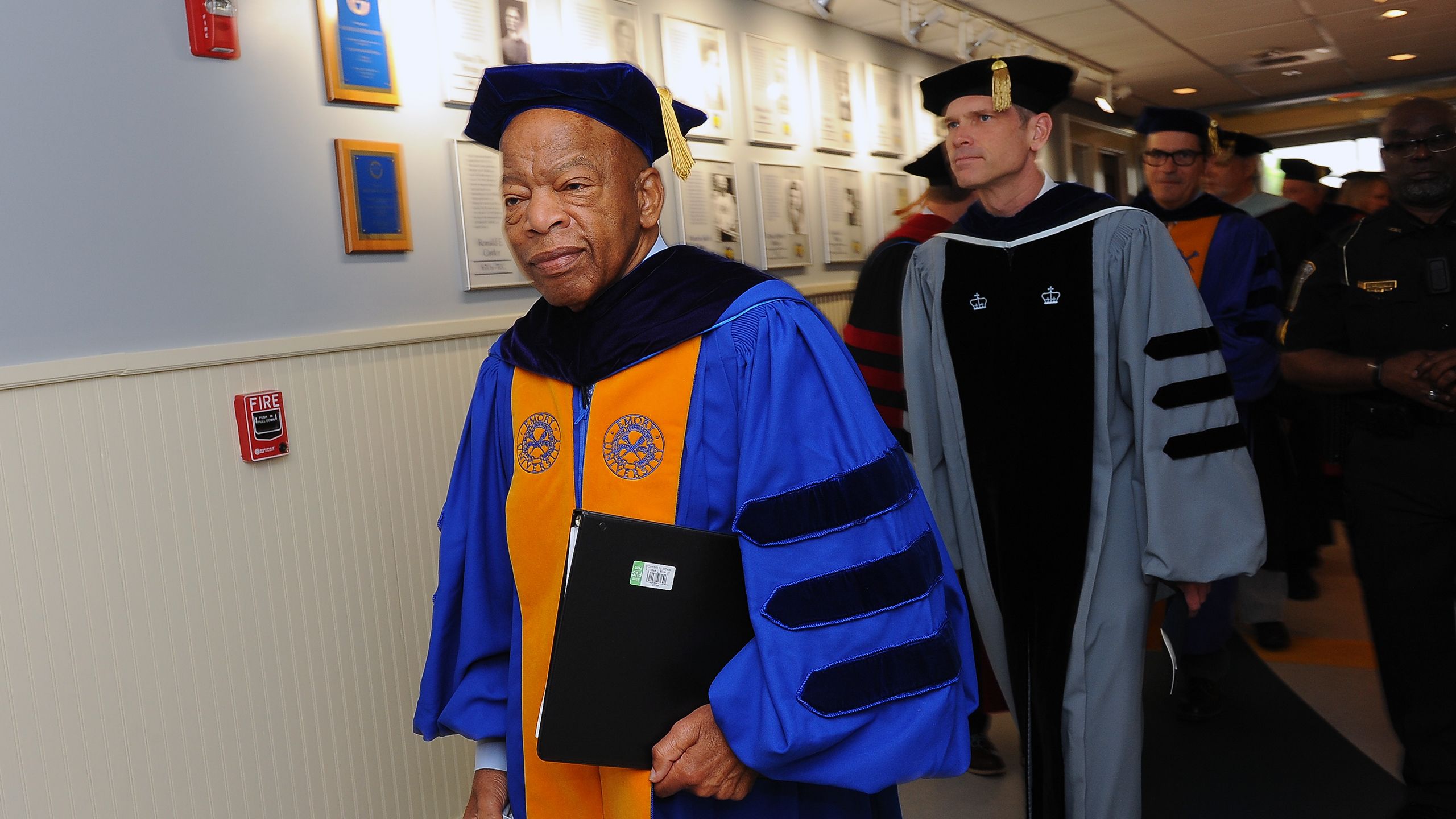 Students celebrated the completion of their time at Oxford College on May 11 during traditional Commencement ceremonies in Williams Gymnasium.
The threat of thunderstorms moved the festivities typically held on the Oxford quad to a more secure location inside. Oxford observed its 174th Commencement exercises, celebrating approximately 375 Oxford sophomores' completion of their first two years of undergraduate study. They will finish their degrees on Emory University's Atlanta campus as students in Emory College of Arts and Sciences, Goizueta School of Business, or Nell Hodgson Woodruff School of Nursing.
The ceremony opened with a bagpiper playing and carrying the colors of Emory University and the University of St. Andrews, Emory's sister university in Scotland. Chief Marshal Susan Ashmore, Charles Howard Candler Professor of History, led the procession of students, faculty, and special guests. William Dewey, Oxford's Student Government Association president, carried the official Emory mace.
In rows of chairs lined up across the gym, Oxford's Class of 2019 listened to keynote speaker The Honorable John R. Lewis, member of the U.S. House of Representatives from Georgia's 5th District.
Lewis, an icon of the American civil rights movement, also addressed Oxford College in March 2002 when he delivered the Mills Peace Lecture. In addition, he served as the Emory University Commencement Speaker and received an honorary degree from the university in 2014.
Lewis referenced his friend and mentor Martin Luther King Jr. as he encouraged graduates to "roll up their sleeves" and lead the world to a better place.
Lewis recognized that while most Oxford students may have read about King in books, he sought inspiration from King first-hand as they worked together during the American civil rights movement.
Describing how King shared similar qualities with some Oxford students, Lewis portrayed him as a smart individual who came from a well-positioned and well-educated family. King graduated from Morehouse College in Atlanta and later earned his doctorate from Boston University.
Lewis imagined how King could have been content to stay in Boston and become a well-known and prosperous professor "and probably still be alive today, but he got involved in the American civil rights movement."
King gave up a comfortable life, Lewis said. "There's something that we all can do, we all can be engaged," Lewis told students. "We all can help change the conditions around us."
Lewis acknowledged that the human condition has always involved struggle. "But the road to great achievement is paved by ordinary people with extraordinary vision," he stressed, "people just like each and every one of you, who accepted the challenge of their time and made a difference in our world."
"It is not safe today to go to a church, to go to a nightclub, to go to school because gun violence and a harvest of hate seem to invade every corner of our world," Lewis emphasized. "I say to each and every one of you today: what are you planning to do to change this?"
Referring to a recent scientific report that identified multiple animals and plant life in danger of becoming extinct in less than 20 years, Lewis challenged the audience to enact change. "There's a role for each one of us to play. What will you do to save this little planet to defend our democracy and the dignity of all humankind?"
Lewis reflected on how as a young man he heard King speak on the radio. His words inspired Lewis to make a difference. "And when I had an opportunity, I spoke up, I spoke out, I got in good trouble, necessary trouble," he recalled.
"We need your vision, your leadership now more than ever before, not just to change America but to help change the world," Lewis said.
If students want to see change in the world, they cannot wait for the government, other people, technology or corporations to make the change. "You must do it, you must make this world a better place and save this little piece of real estate we call Earth for a generation yet unborn," Lewis added.
Lewis described his philosophy as simple: when you see something that is not right, not fair, not just, you have a moral obligation to stand up, speak up and speak out. "You must be willing to put aside the comforts of your own life to get in good trouble, necessary trouble," he said.
As Lewis closed his message, he encouraged graduates to be optimistic in the face of all the challenges in today's world. "Don't get lost in a sea of despair," he urged. "Be bold, be courageous, and continue to build a world — to build a Beloved Community — where no one is left out or left behind."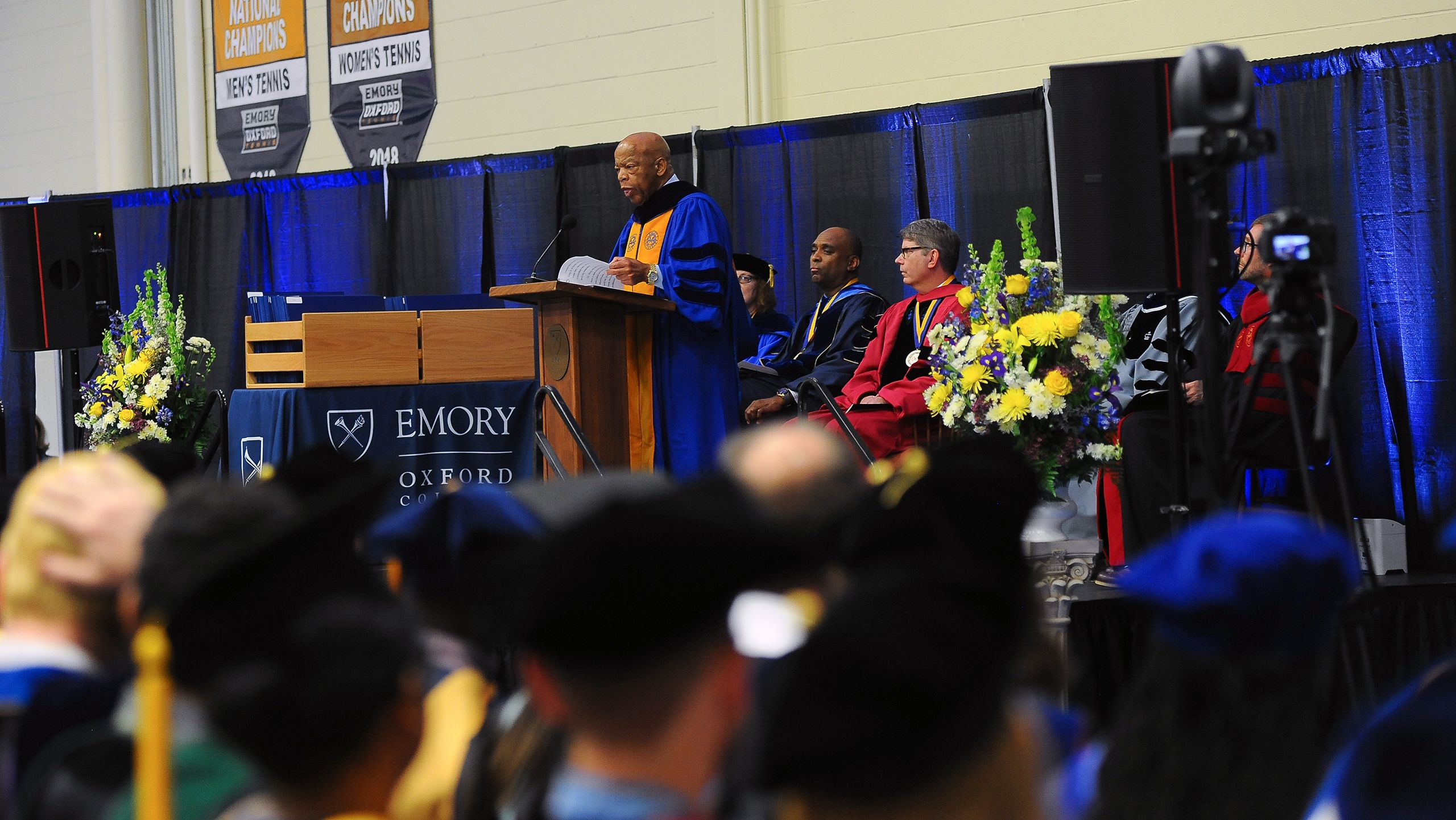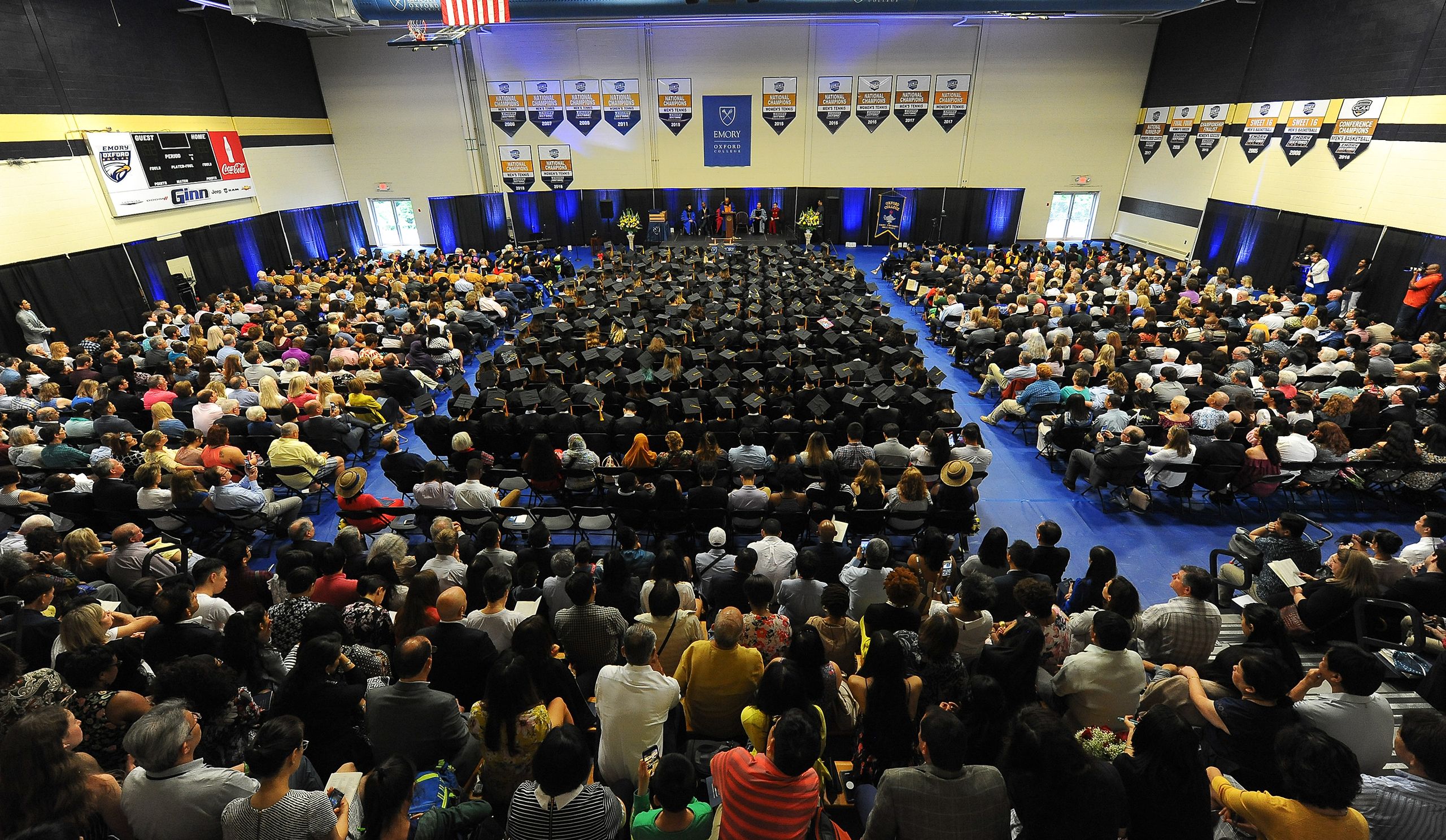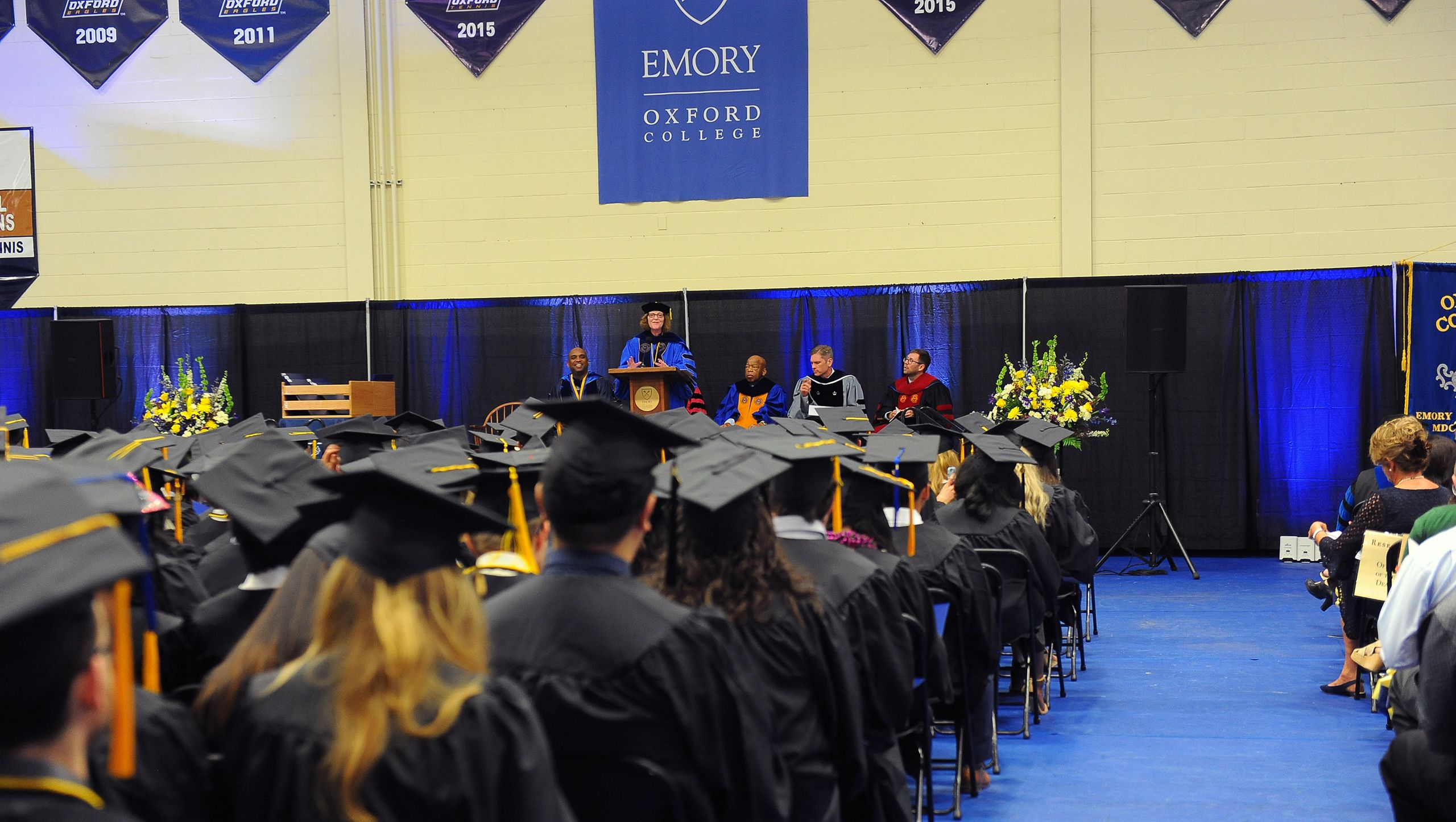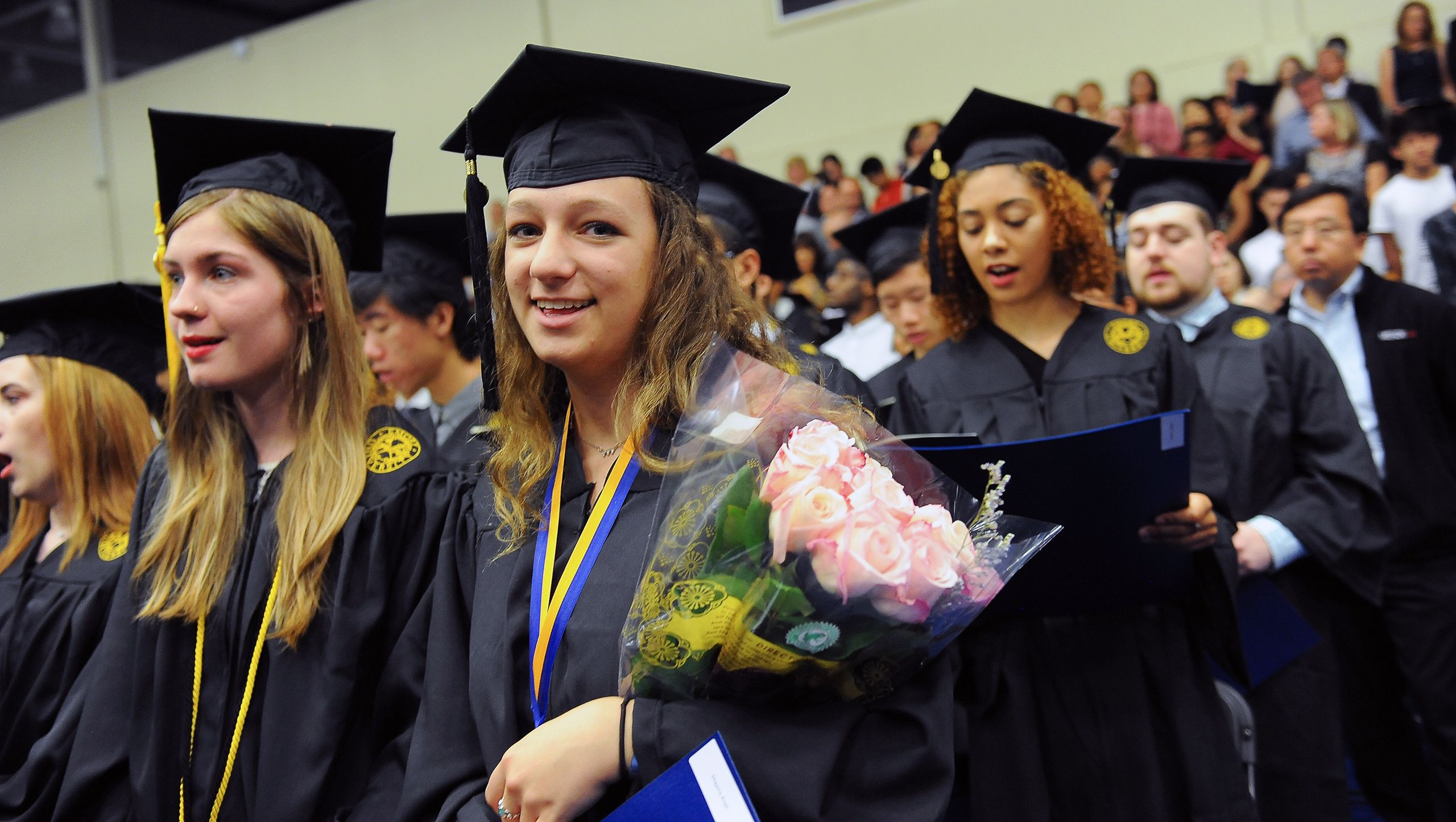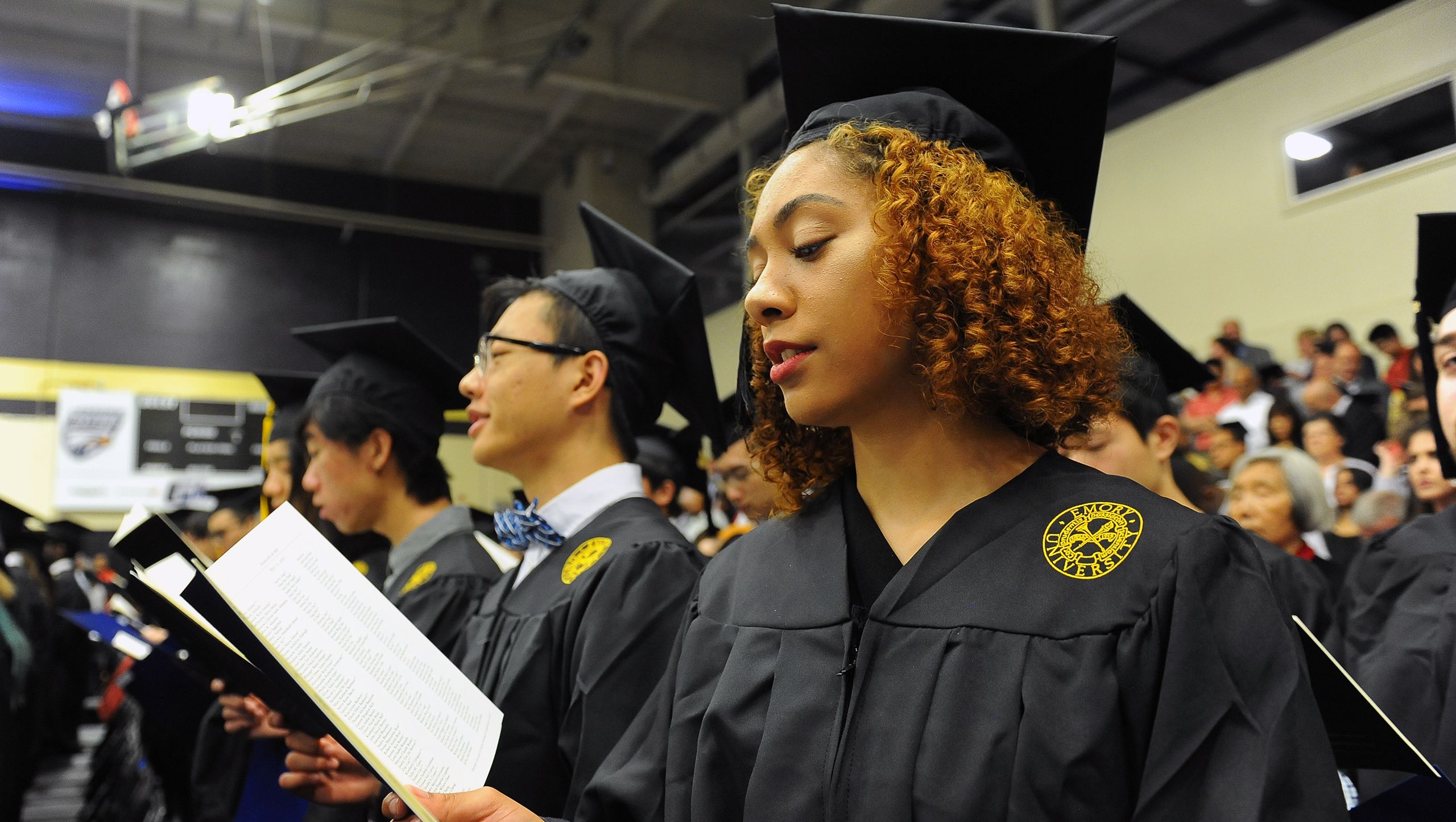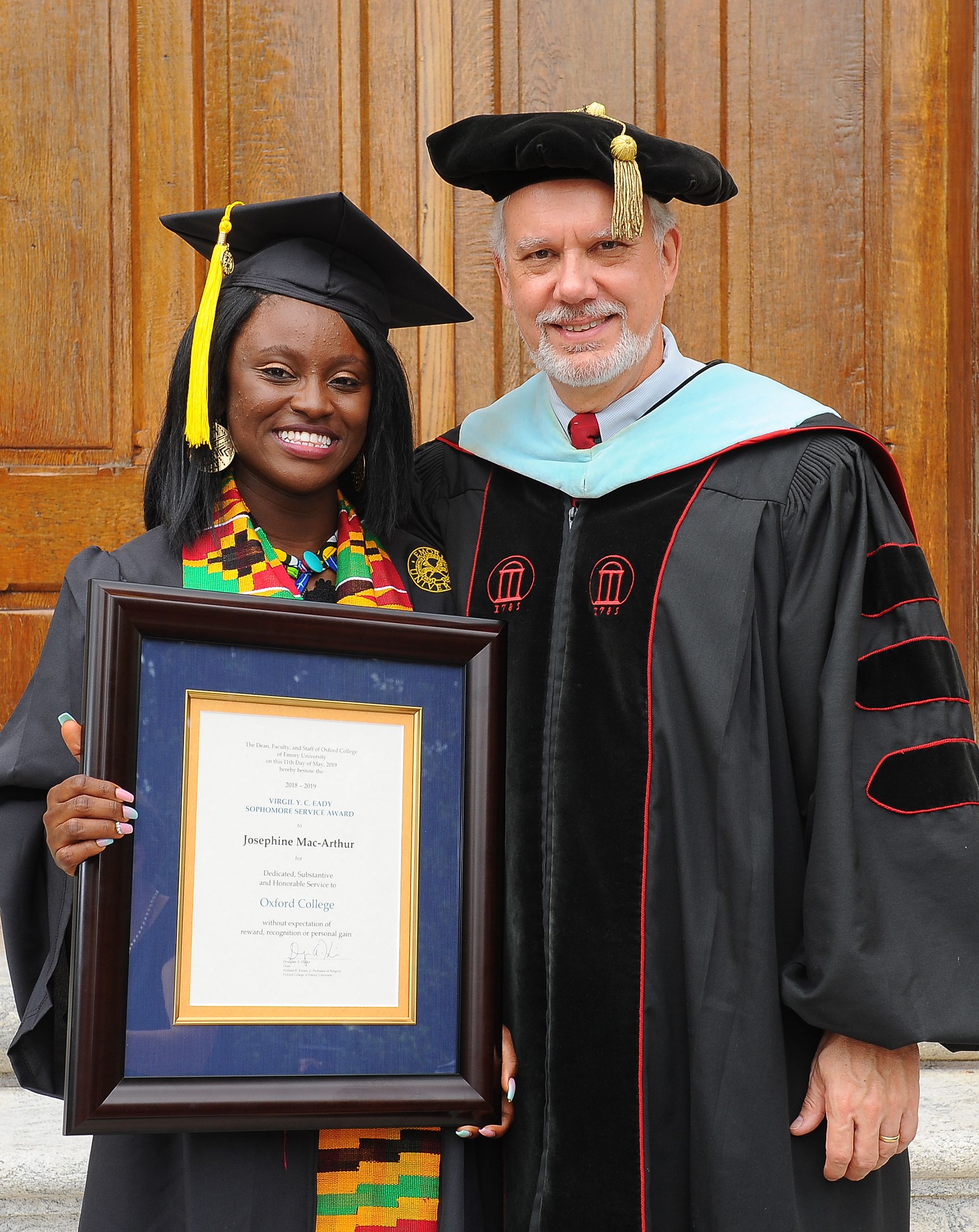 A traditional highlight of the day — the awarding of the Virgil Y.C. Eady Sophomore Service Award and the Emory Williams Teaching Award — followed the Commencement address.
This honor has been presented for the last 50 years to the sophomore student who has given outstanding and selfless service to the Oxford College community. The Eady Sophomore Service Award is one of the highest honors that Oxford bestows and the only student award given at Commencement.
Josephine "Jo" Mac-Arthur, from Horizon City, Texas, was the 2019 recipient. Dean of Campus Life Joe Moon presented the award to Mac-Arthur, who served as president of Mu Epsilon Delta, Oxford's pre-med student organization; vice president of the African Caribbean Students Union; and as a Peer Assistant Leader — also called PALs — who warmly welcomed first-year students to Oxford during New Student Orientation.
"This sophomore has not only been successful in the classroom," Moon observed, "she has served as a reliable and inspirational leader in a wide range of campus organizations earning the respect, admiration, and the affection of this college community."
Describing Mac-Arthur as a scholar who earned top tier grades in demanding courses, Moon noted that she is a member of the Alpha Epsilon Upsilon scholastic society, served as an assistant for both zoology and physiology labs and as a researcher in chemistry, political philosophy, and biology.
"Your intellectual curiosity seems boundless, still the Eady Award at Oxford acknowledges more than noteworthy achievements," Moon said. "This singular award is to recognize and appreciate your deep human quality of care, compassion, and service."
Moon noted that he usually asks members of the award recipient's family to stand as they are recognized. Instead, he asked her "Oxford family" to stand with Mac-Arthur, who is originally from Ghana. They included LaTonia Taliaferro-Smith, director of undergraduate laboratories and lecturer in biology; Joshua Mousie, assistant professor of philosophy; Daphne Orr, director of International Student Programs; and Veronica Roman, associate director of Student Involvement and Leadership.
"When you experienced serious personal challenges and loss at home, you opened yourself to a caring family of support here, those standing and others," Moon said. "Your growth as a leader, a scholar, and your kind heartedness suggest the kind of contributor you will be to the larger Emory community and beyond."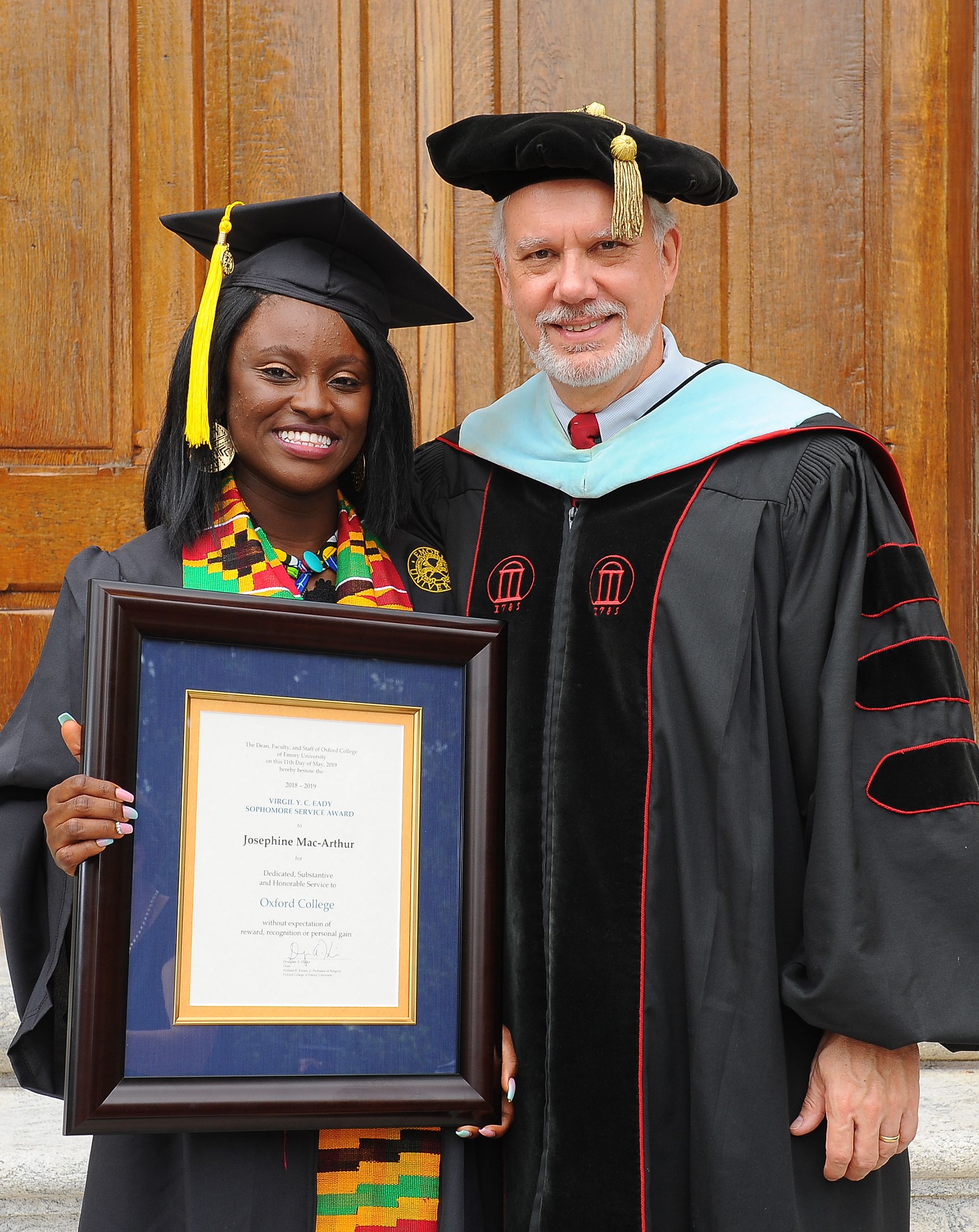 Effrosyni "Frosso" Seitaridou, associate professor of physics, was the recipient of the Emory Williams Distinguished Teaching Award — Emory University's highest award for excellence in teaching. Emory gives this award annually to faculty members in each college, graduate school, and professional school of the university. Ken Anderson, dean for academic affairs and professor of philosophy, presented the award to Seitaridou.
Seitaridou consistently receives incredibly high teaching evaluations that rank her at the very top of Oxford's faculty, Anderson noted.
"Students say that she is inspiring with an infectious enthusiasm for her subject," Anderson said. "She recognizes that the difficulty of the subject matter calls for her to be especially attentive to her students' needs for help."
Known for holding extensive office hours with students lined up outside her door, Seitaridou is committed to providing students with the confidence they need to tackle a difficult subject. Since joining the science program at Oxford in 2008, she has built the physics program from a one-person department, to include a second tenure-track faculty member, and a lecturer.
"This growth is due to the tremendous quality of her teaching, which in turn has led to a significant increase in the number of students taking physics courses," Anderson said. "Since she arrived at Oxford, there has been a three-fold increase in the number of students pursuing physics majors."
Calling her an exceptional mentor to students, Anderson described how Seitaridou adapted her research to accommodate Oxford's laboratory set up for undergraduate students. She used grant funding to update lab equipment and to create new labs that foster team-based independent research so students can design and execute their own projects.
Last year, Emory News featured six seniors who were graduating with honors in physics. Four of those women got their start at Oxford and praised Seitaridou for her mentorship and support for research.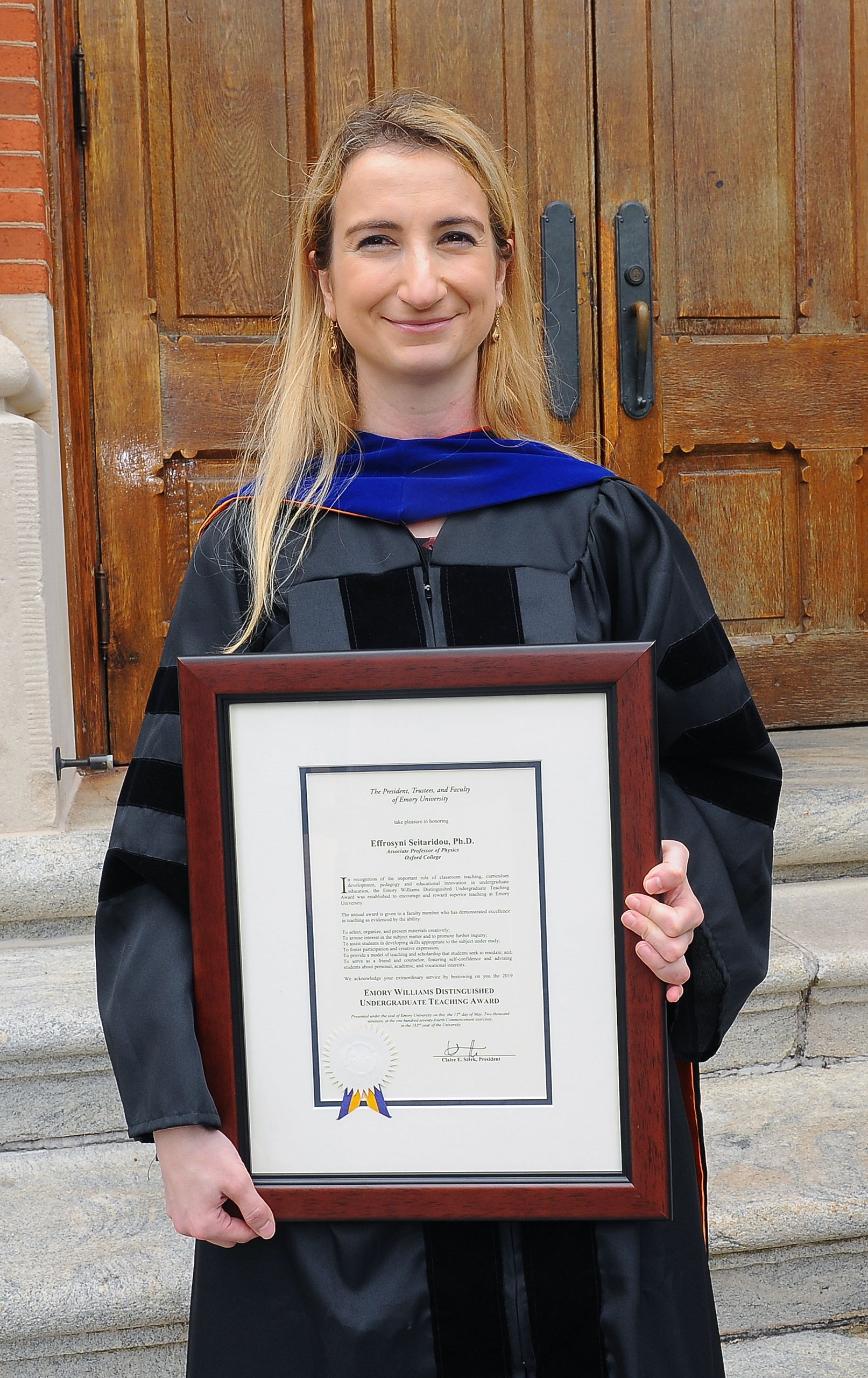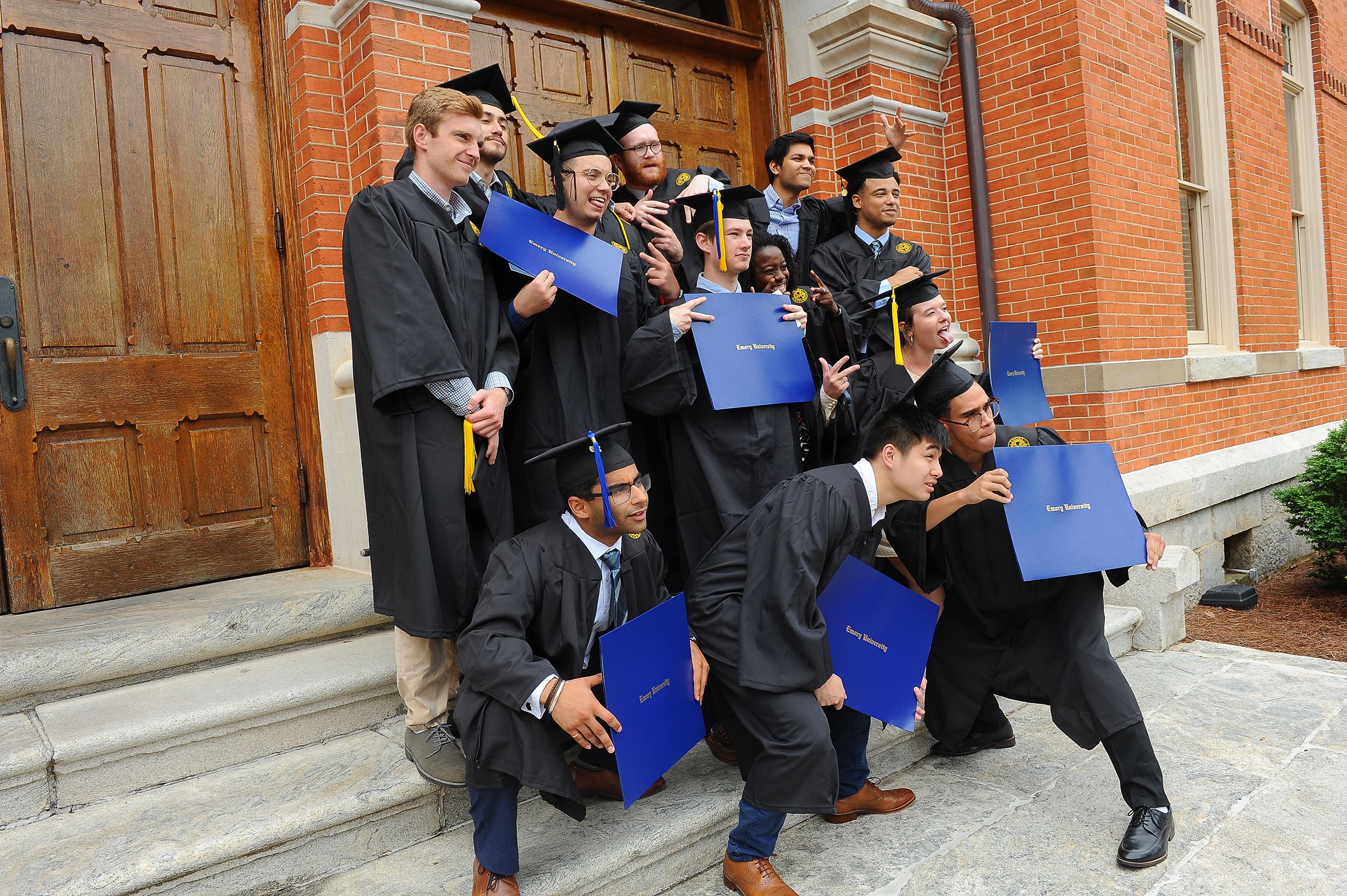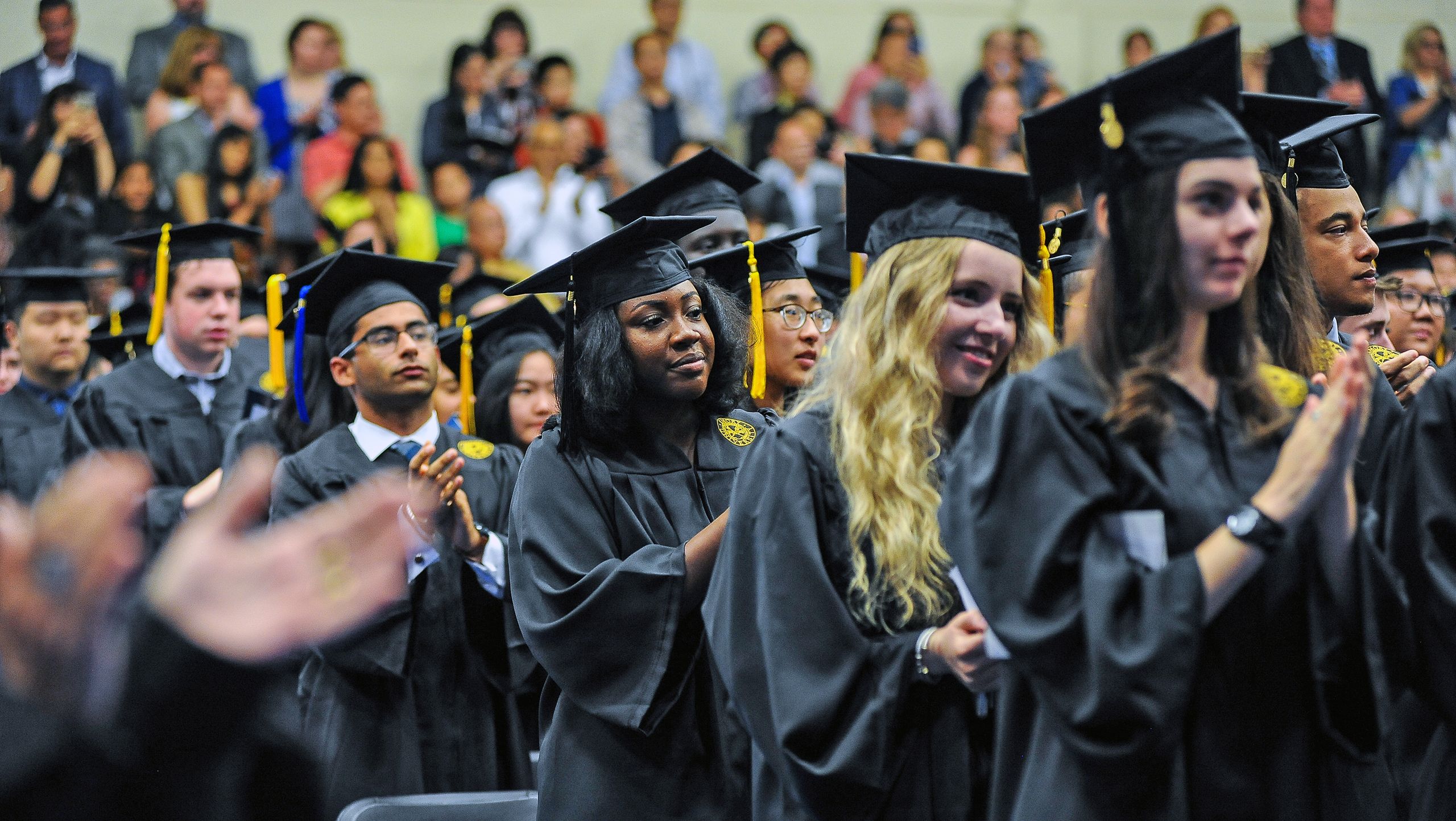 Marching in procession with the Oxford graduates and faculty were members of the class of 1969. These newest members of the Corpus Cordis Aureum are alumni whose graduation year was 50 or more years ago.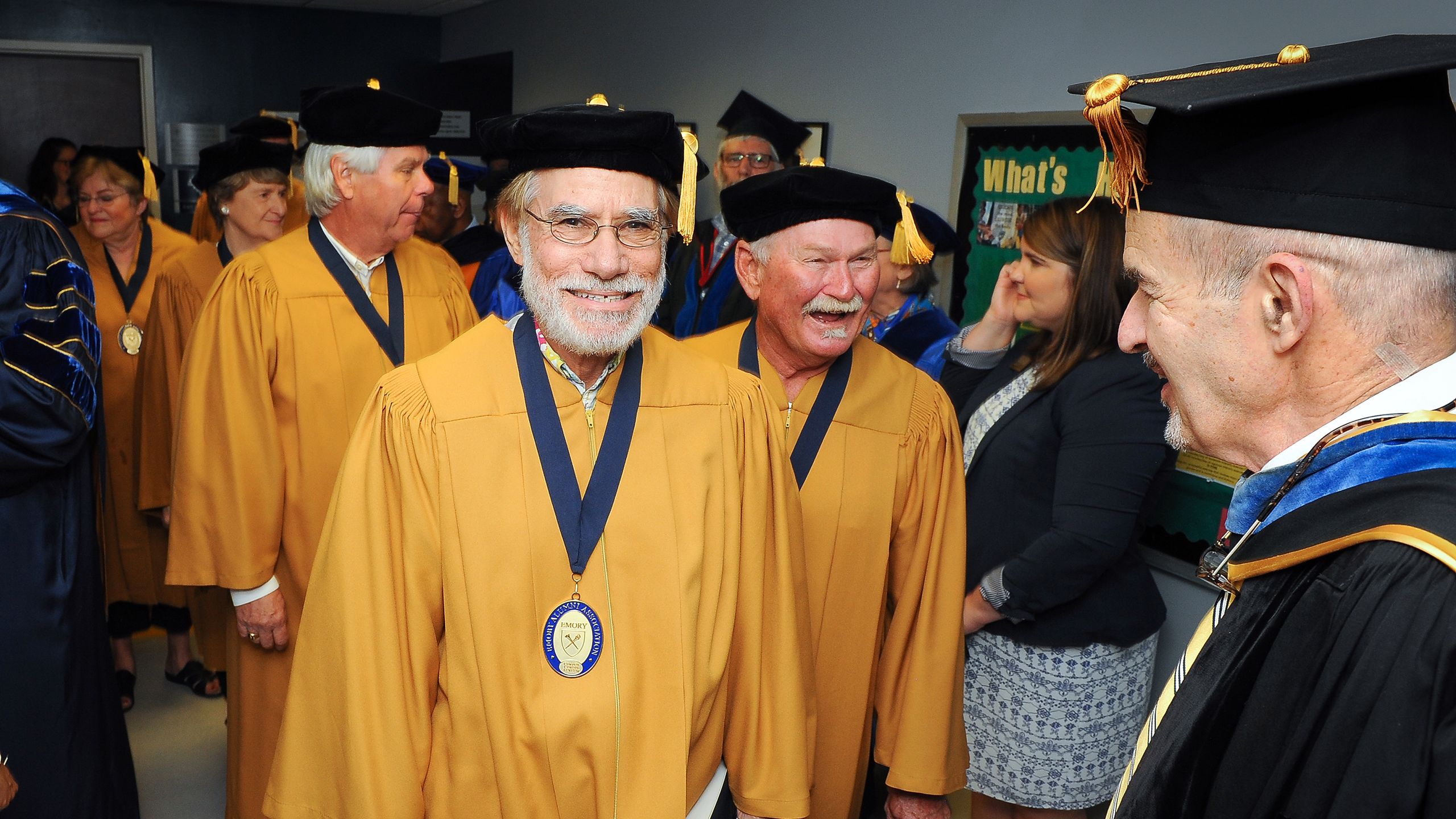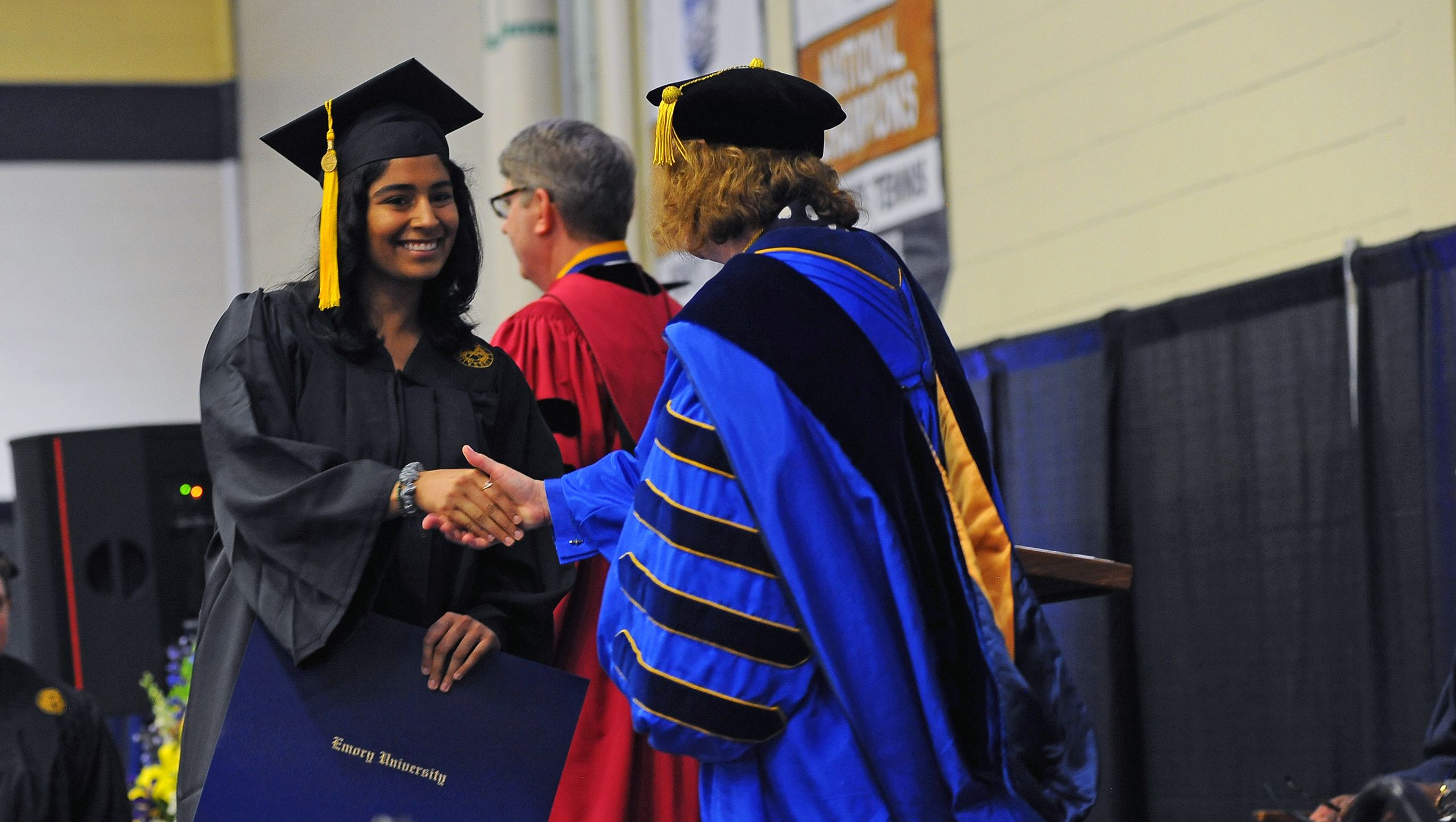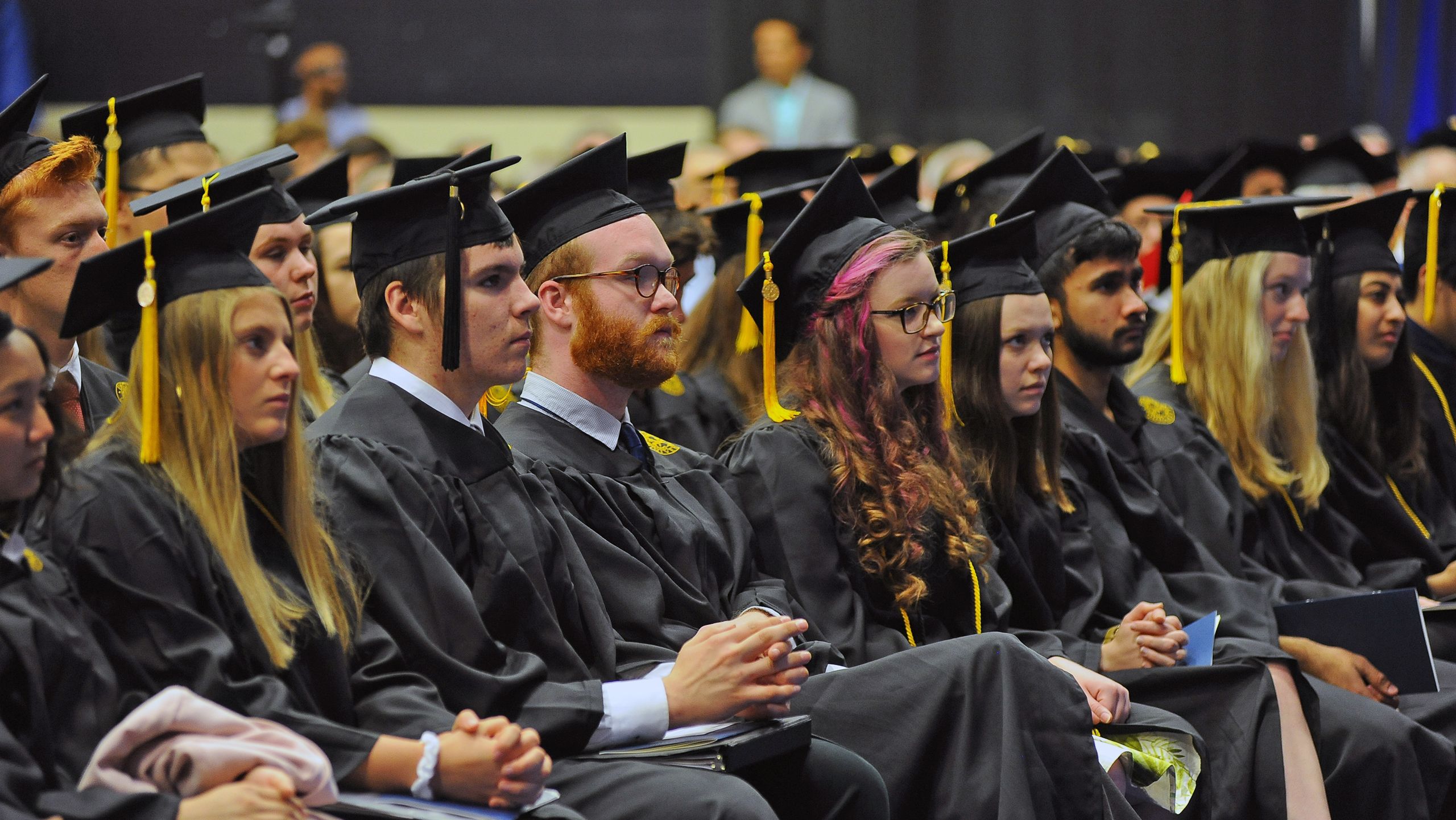 The night before Commencement, Oxford College held an interfaith baccalaureate service in historic Old Church, just north of the Oxford campus. Following the event, graduates and their families attended dinner in the dining hall with members of the Oxford faculty and staff.
The baccalaureate service is an Oxford tradition coordinated by Chaplain Lyn Pace. This interfaith celebration of song and prayer represents the many faith traditions of the student body.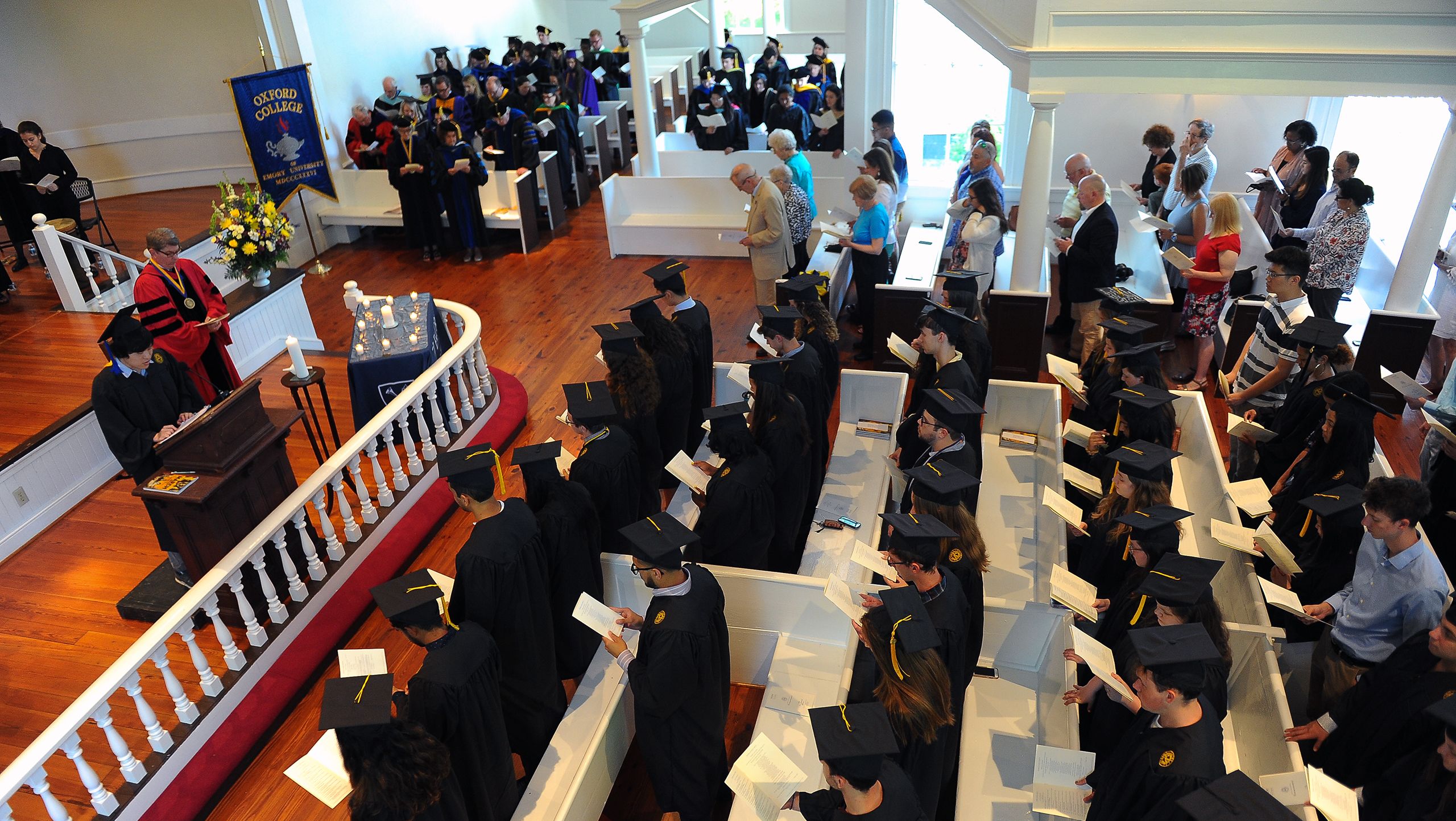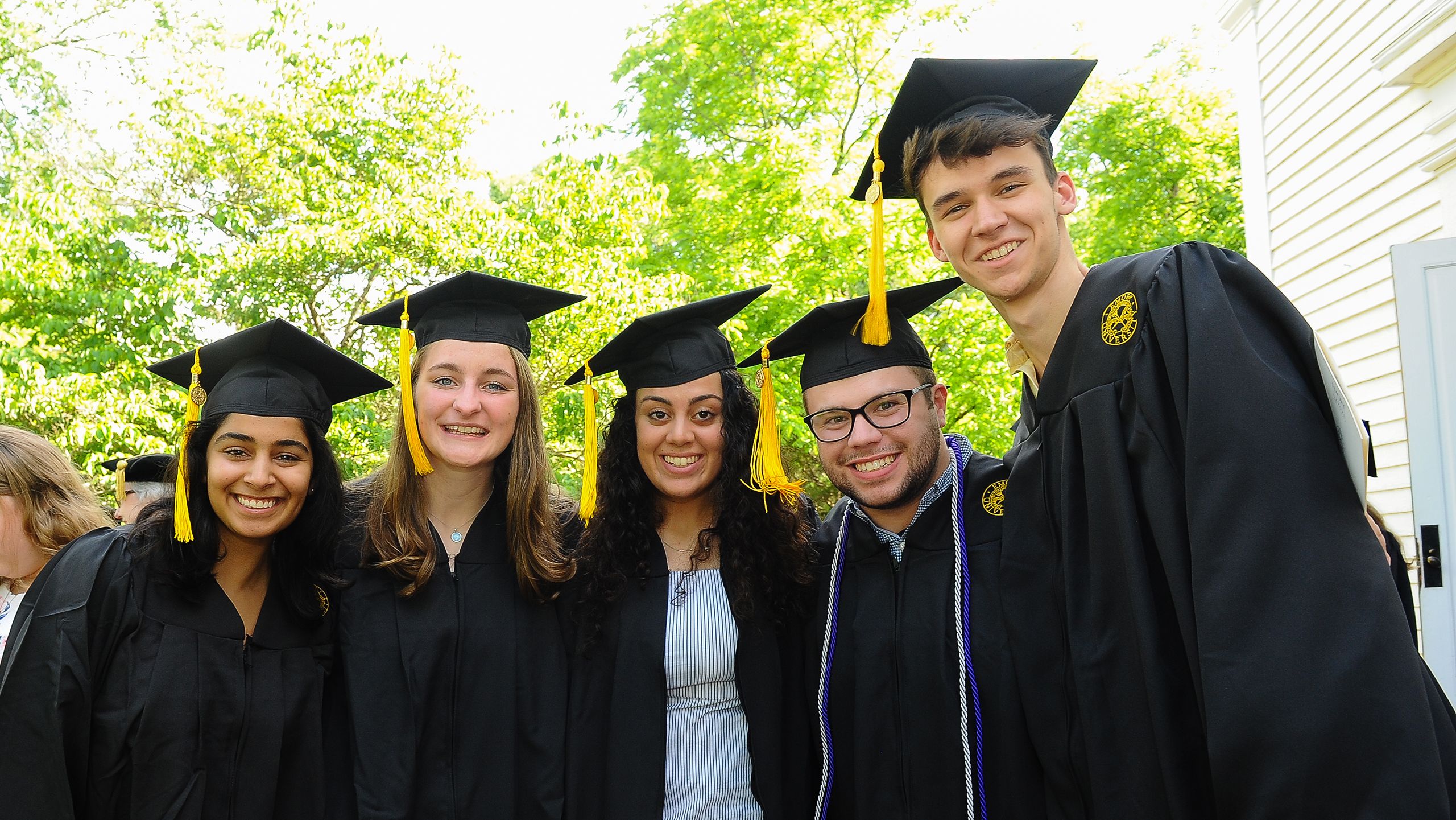 Oxford celebrates our Class of 2019
In the words of commencement speaker John Lewis: "I say to you as you leave this great institution, leave Oxford and go to the big campus of Emory University: find a way to get in good trouble, necessary trouble to help change things."
Didn't make it to Oxford's Commencement ceremony? We offered live-streaming of the ceremony to those who could not attend in person. The video has been archived, and is available now for viewing. (Class Marshals begin procession at 26:57 and the welcome from Dean Douglas Hicks starts at 41:54.)
View more from Emory's Class of 2019 Commencement exercises.