Hygge is
the Oxford family

New Campus Life initiative seeks to bring connection and comfort to remote-learning and on-campus students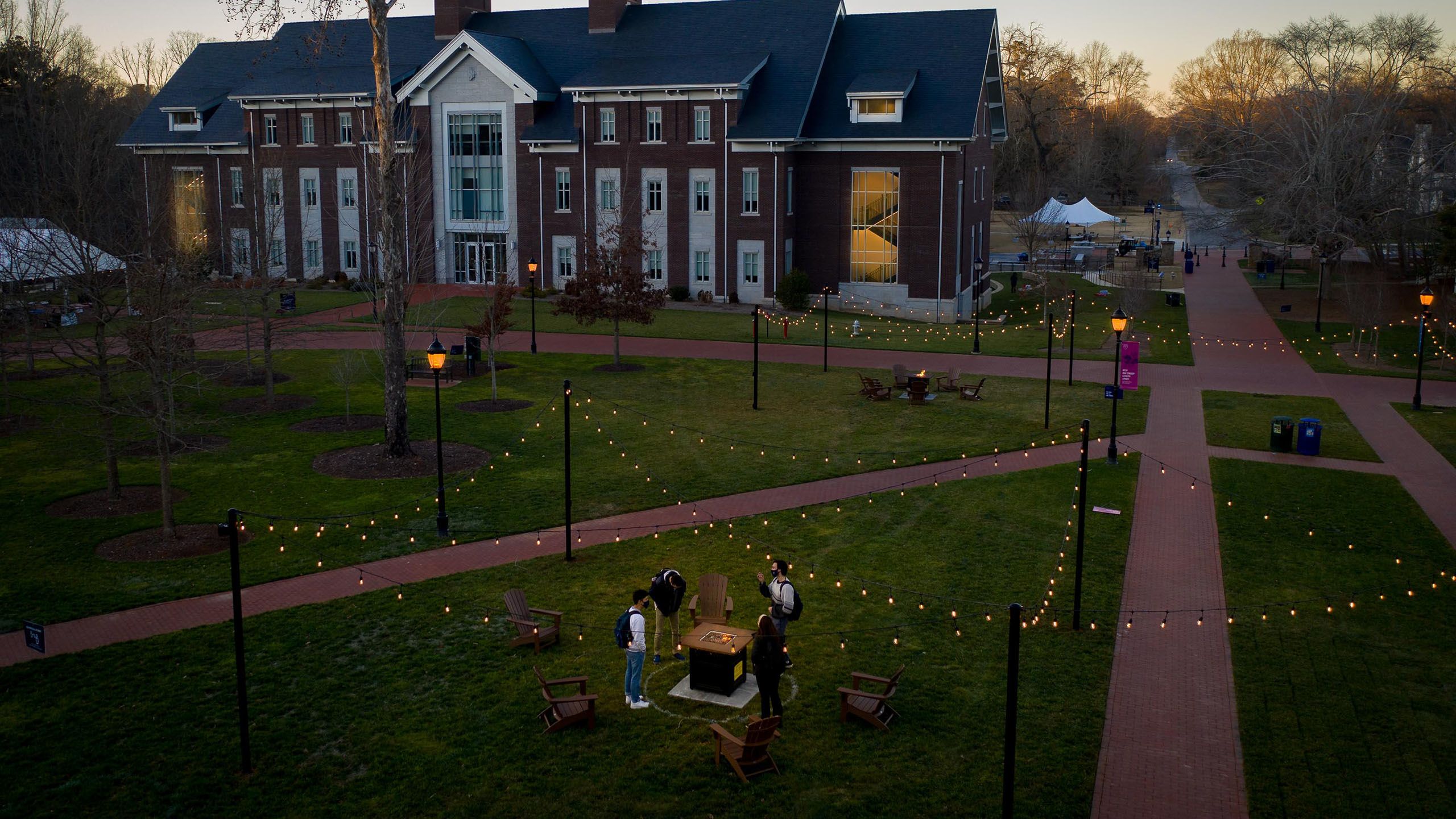 Hygge is outdoor spaces
New gathering spaces around the Oxford campus called hygge (pronounced "hoo-guh") spots feature comfortable chairs surrounding fire pits. Picnic spaces contain colorful pillows, comfortable cushions, and warm blankets (which all get cleaned regularly). Outdoor string lights and lanterns help students enjoy the quad, tents, and patios late into the evening.

Oxford's Campus Life staff hope these new amenities encourage the concept of "hygge" among students living on and off-campus throughout the coming weeks. 

Hygge is a word that refers to the Scandinavian way of creating a cozy, vibrant, and comfortable environment that evokes feelings of wellness and contentment. Leaders hope these new additions will encourage on-campus students to get outdoors and enjoy these areas. And, organizers have Hygge at Home options for those students learning remotely.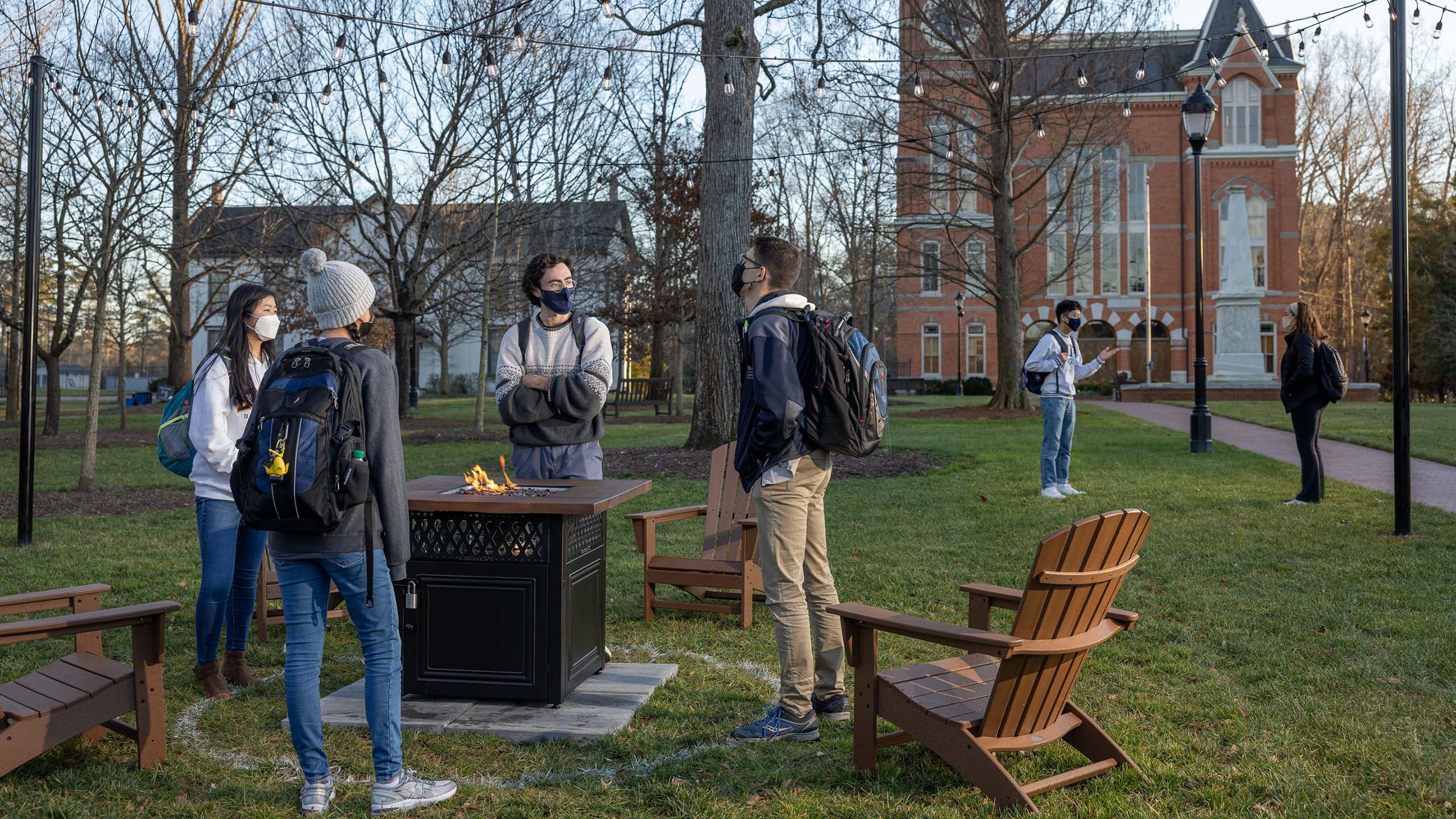 Hygge is connection and comfort
Each week, Oxford Campus Life sends students emails with ways to experience hygge virtually or in-person.
"As our programming ramps up, we hope to be able to connect remote learning students to virtual experiences offered throughout campus like cooking class, yoga or meditation," says Rhiannon Hubert 050x 07C, assistant dean for Campus Life and director of Student Involvement and Leadership.
Campus Life is using the concept of "Hygge is ..." as a jumping-off point for all kinds of pursuits. For example, Hygge is a good meal or Hygge is a calming meditation.
After pairing creative input from the Campus Life staff with the resources of Oxford's Facilities Planning and Operations and Events and Conferences team, the hygge campus makeover took shape.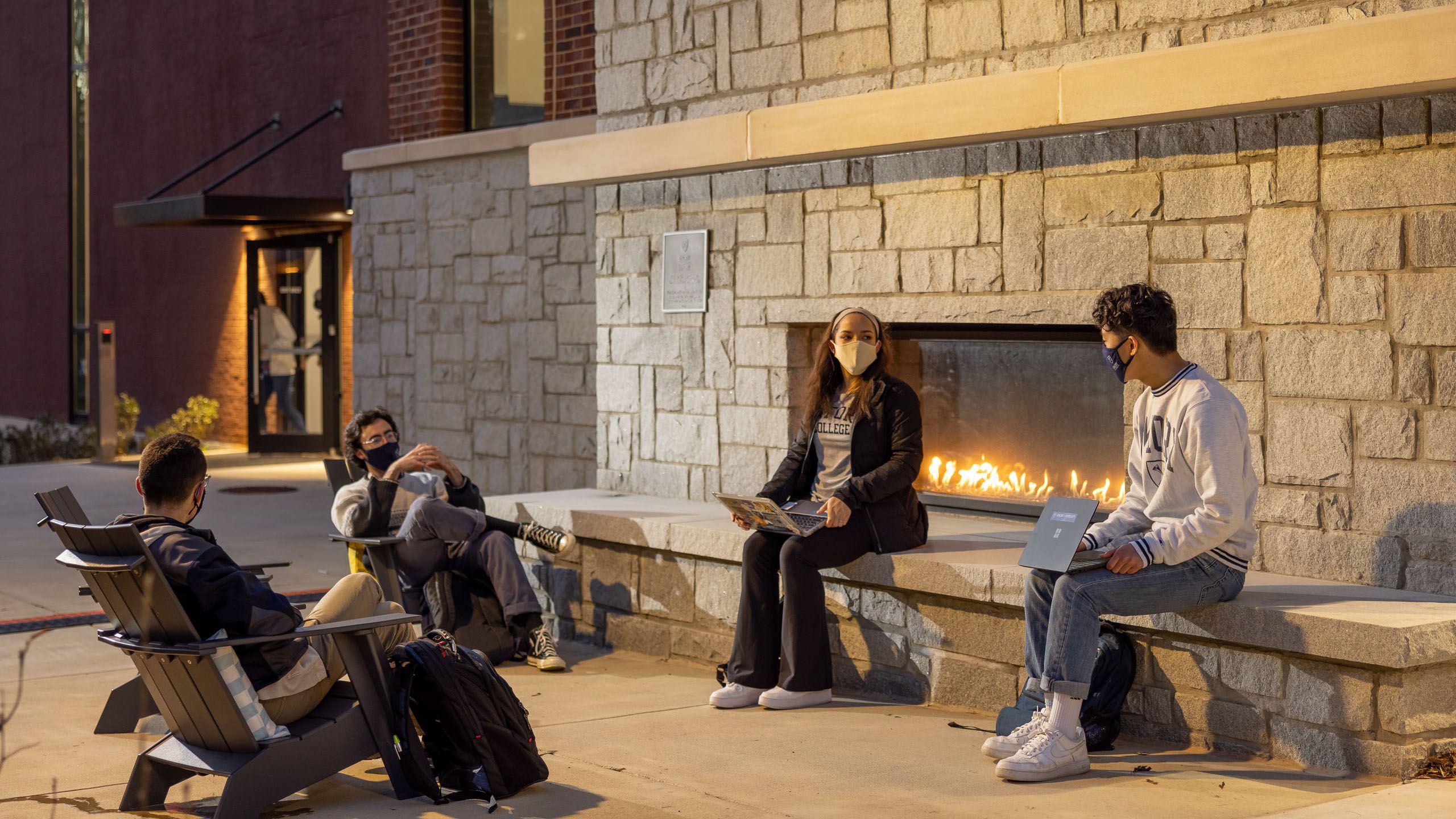 Hygge is string lights and fire pits
First-year student Amanda Xie from Bedford, N.H., enjoys sitting around the fire pits on campus.
"I really love how Oxford has implemented these new spaces on campus," she says. Last semester, she missed seeing students outside using campus spaces.
"This semester, when I walk through the quad and see the lights, I feel happy and welcome here. It feels very home-y."
—
Amanda Xie

"I am so happy Oxford put together the fire pits and outdoor spaces for us. They're welcome spaces of warmth and provide a more conducive campus environment for social interaction."
— Michael Chan, first-year student from Ellicott City, Md.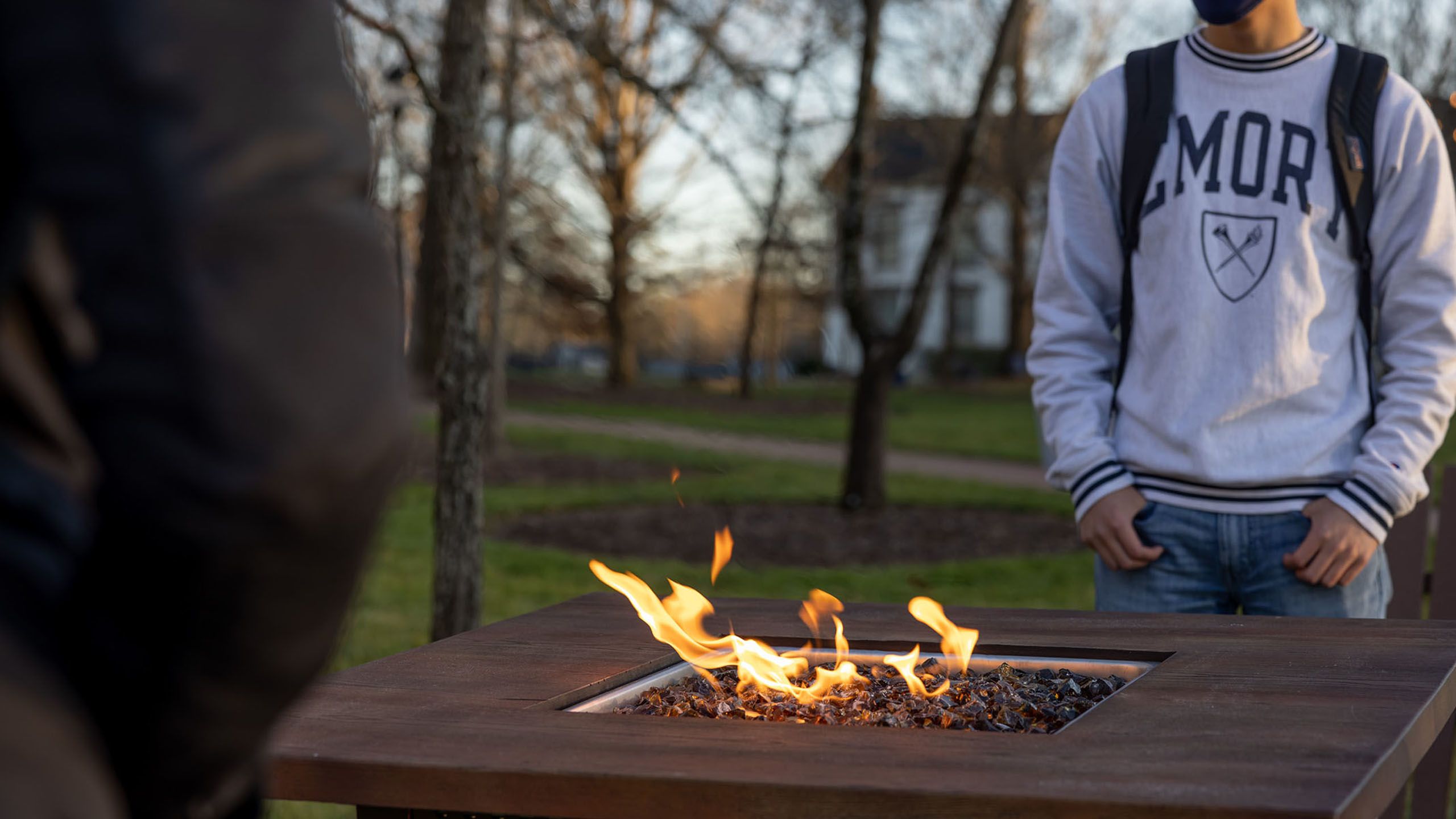 Hygge is taking a break
Oxford's Office of Religious and Spiritual Life illustrates hygge by hosting weekly Take a Break Tuesday events. Chaplain Lyn Pace provides snacks and activities for students who need a break. Each Tuesday, Pace sets up at 1:30 p.m. on the Oxford Student Center front plaza for just over an hour.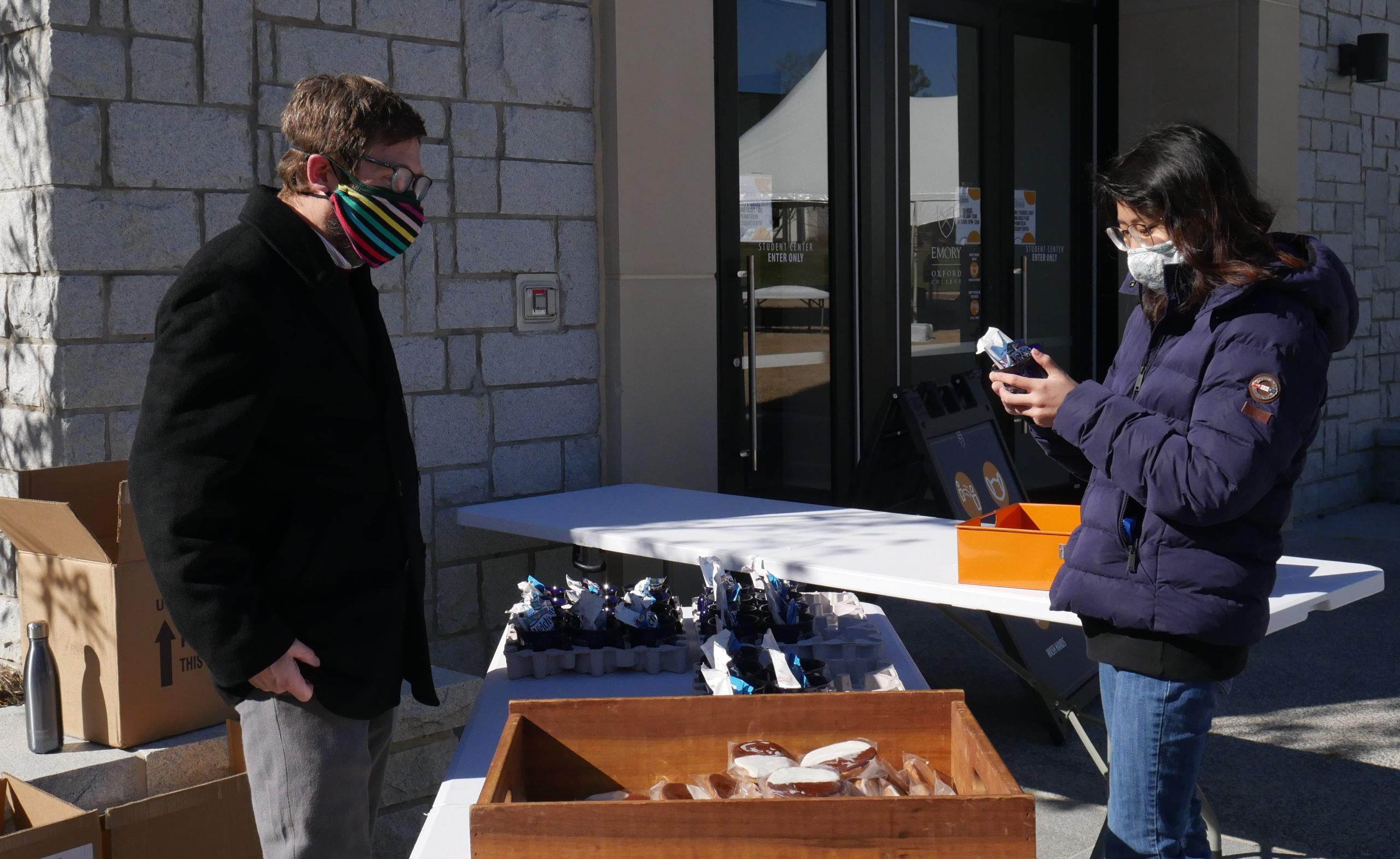 Hygge is a good meal
Oxford Dining also embraced the spirit of hygge by listening to student feedback. During the challenges of the pandemic, they implemented an enhanced dining experience by providing late-night food options, opening the Oxpresso Café in the library, and supplying students with reusable bags for collecting meals.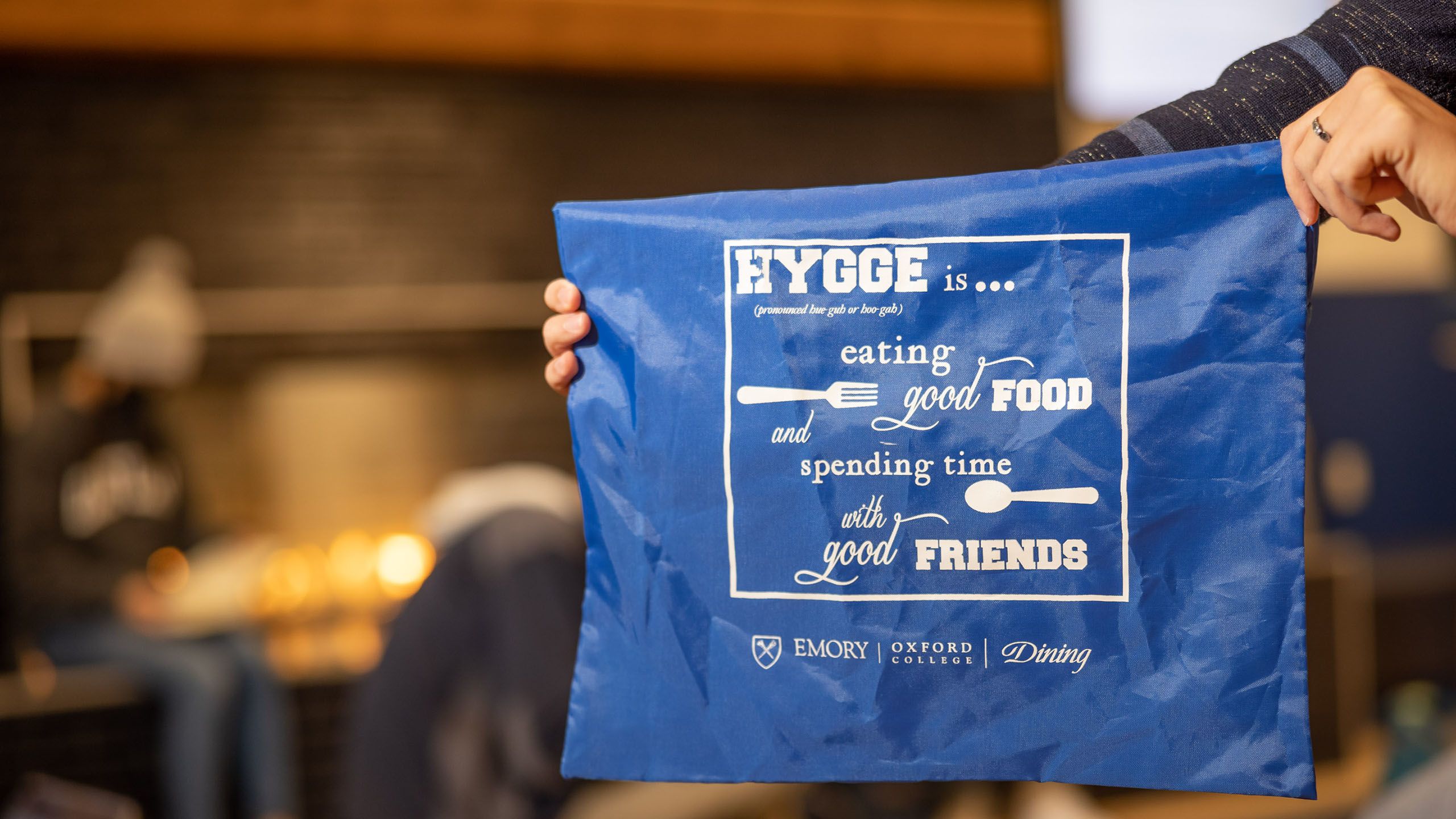 Hygge is being home
Oxford's Campus Life team also is developing digital outreach to create "hygge at home" for remote-learning students.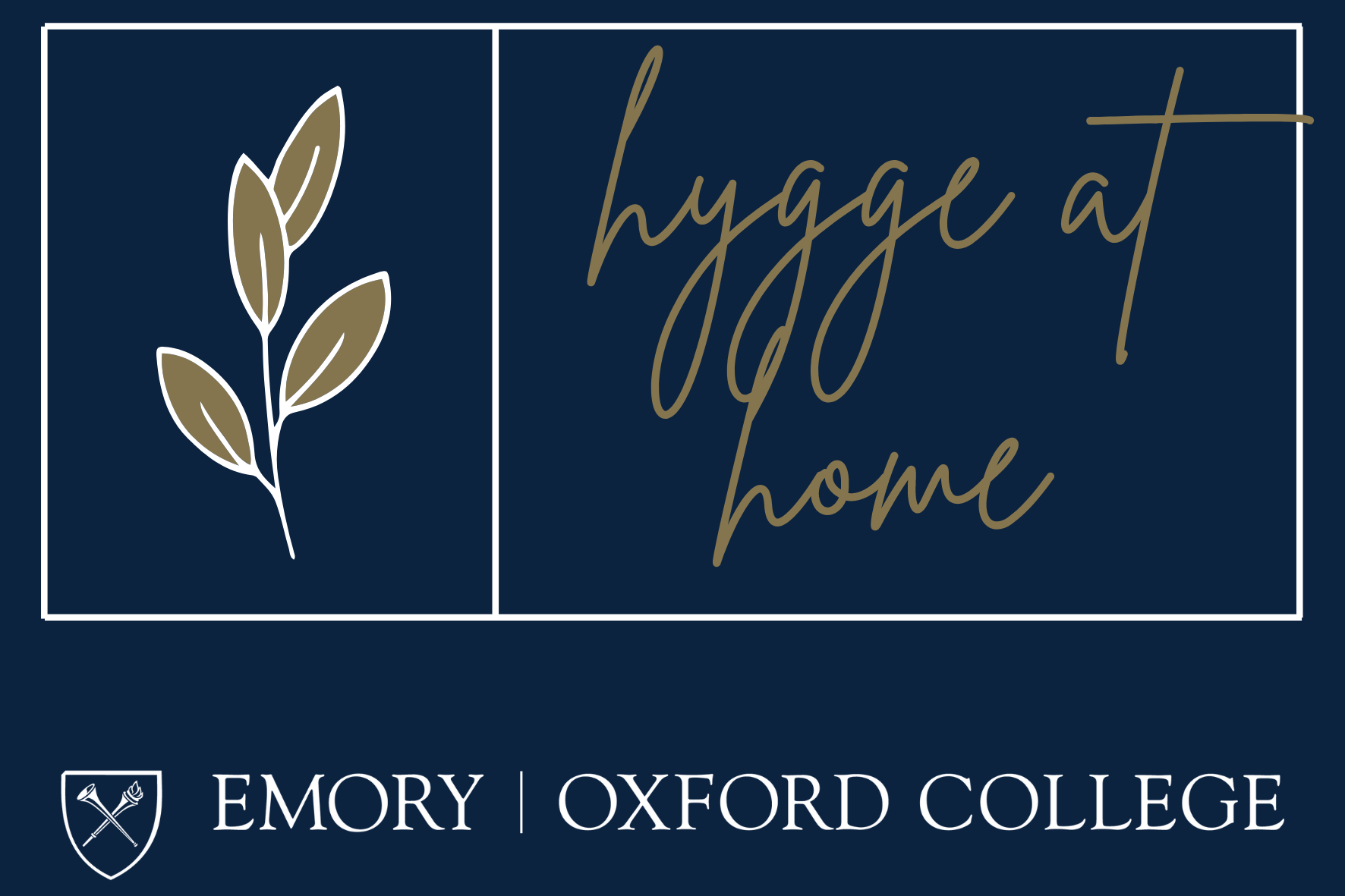 Throughout the semester, Campus Life will share programs and ideas via weekly emails. Info will include prompts for spending time with family, enjoying a cup of coffee, creating a new playlist, throwing a virtual viewing party, or taking part in a weekly photo competition.
---
📸 Hygge Photo Competition 📸. 
For many people, a cozy place to read, hang out or study helps create a feeling of hygge. Send a photo of you in your favorite hygge spot with a caption explaining your favorite spot to leadership@emory.edu by Monday at 12pm EST for a chance to win a t-shirt and be featured on social media and in next week's email. 
---
Off-campus students can sign up for a Hygge Care Package that will include a plant kit, a winter hat, a journal, a bookmark, and plenty of candy and treats.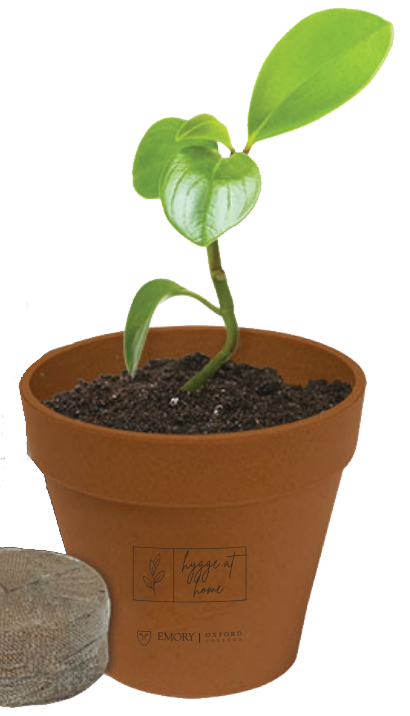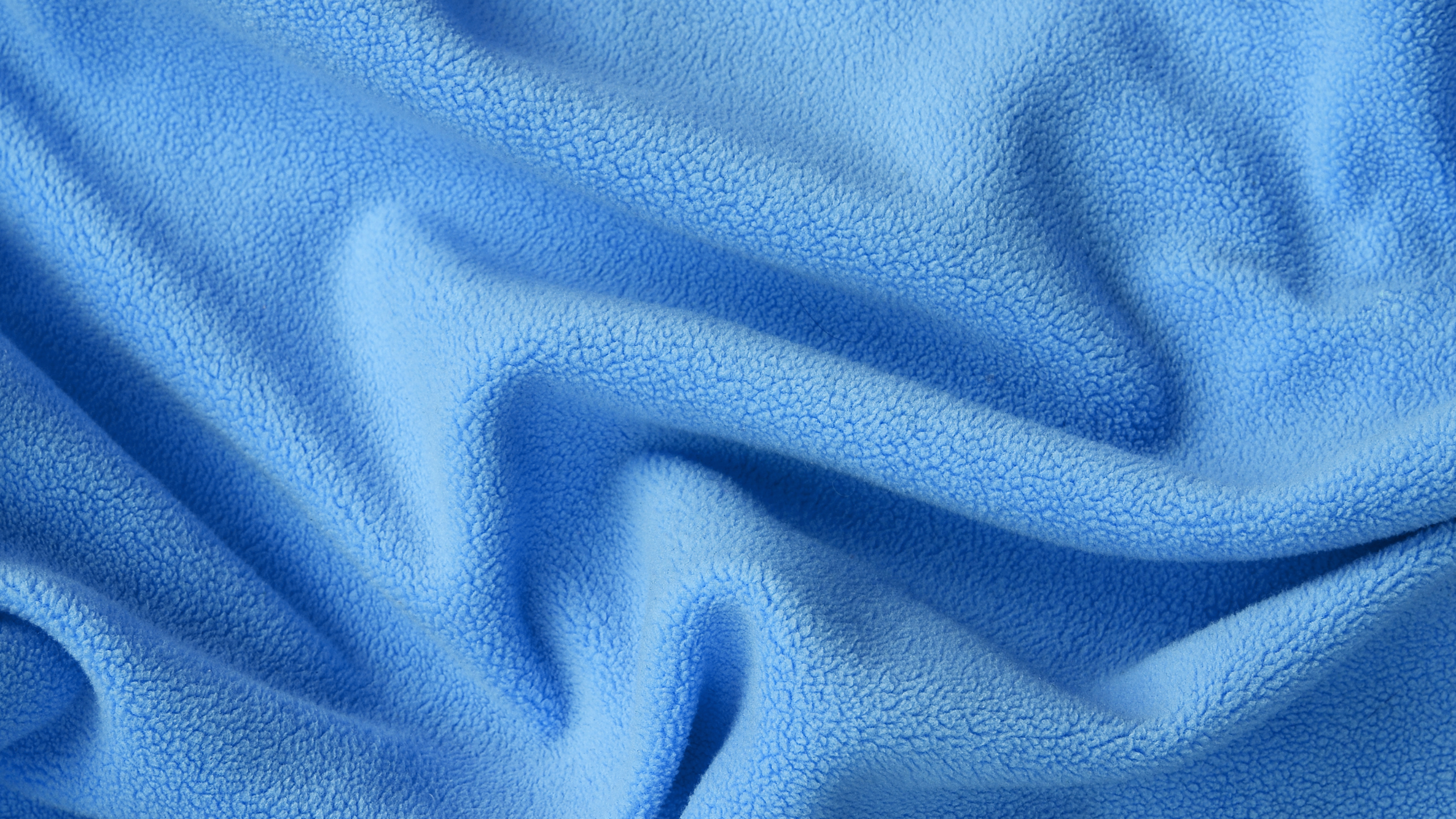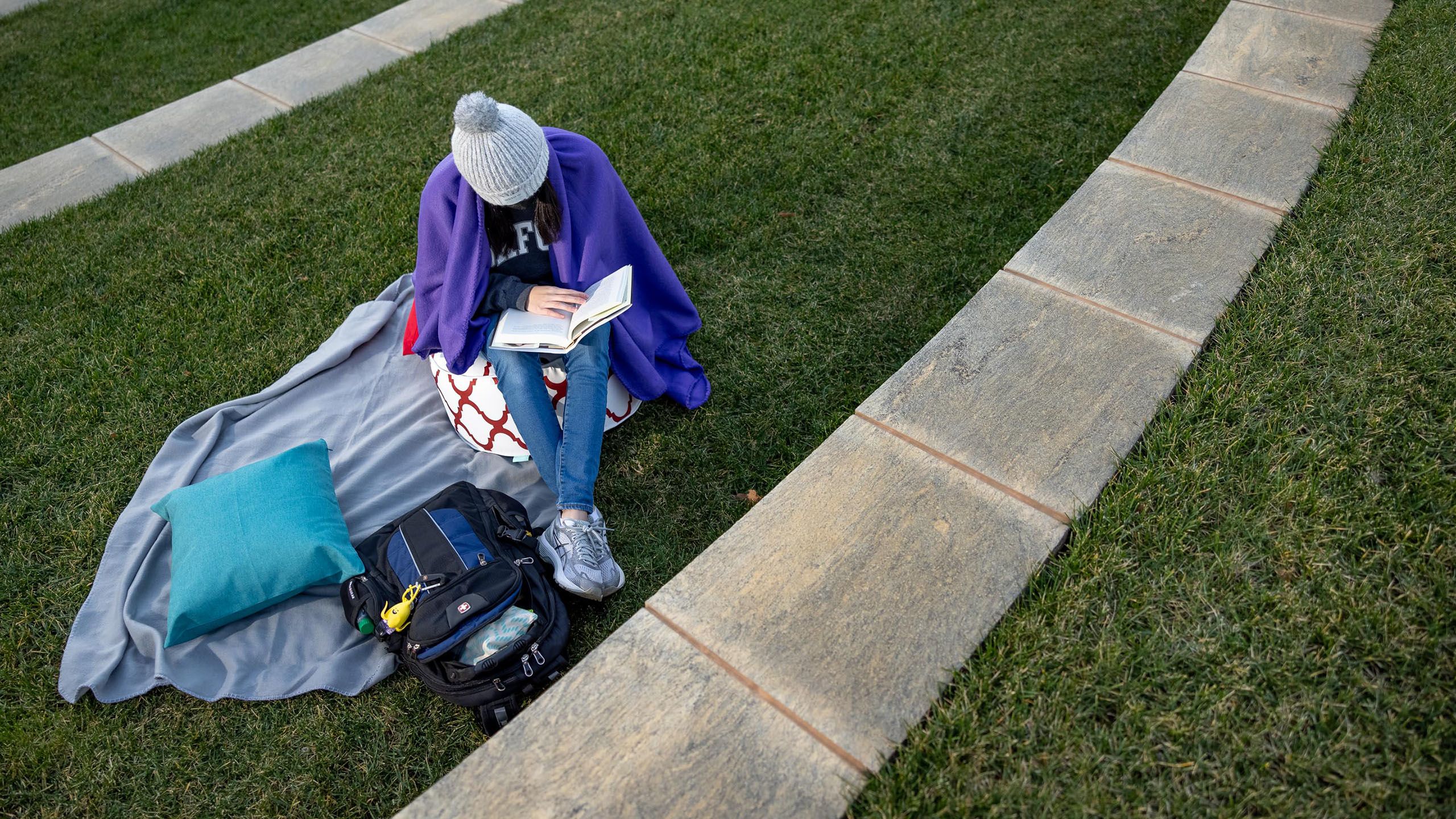 Cushions and blankets provide cozy outdoor spaces for studying.
Cushions and blankets provide cozy outdoor spaces for studying.
Hygge is creating continuity
As a remote-learning student, sophomore Gabe Harr tries to keep connected with a few Oxford clubs and his local friends. He's also experienced the continuity of working on a research project as part of the Oxford Research Scholars Program. Harr works on his project with Anouar El Younssi, assistant professor of Arabic and Middle Eastern studies.
"I feel it's still really important for me to be connected to Oxford, even if virtually, and I think these things help me do so," Harr explains.
But like many students who are not living on campus, he misses Oxford.
"I have some amazing memories from my first year there, and COVID put an end to that. I miss what it was — but I still love the place regardless. I want for it to be a special place for the upcoming classes as well."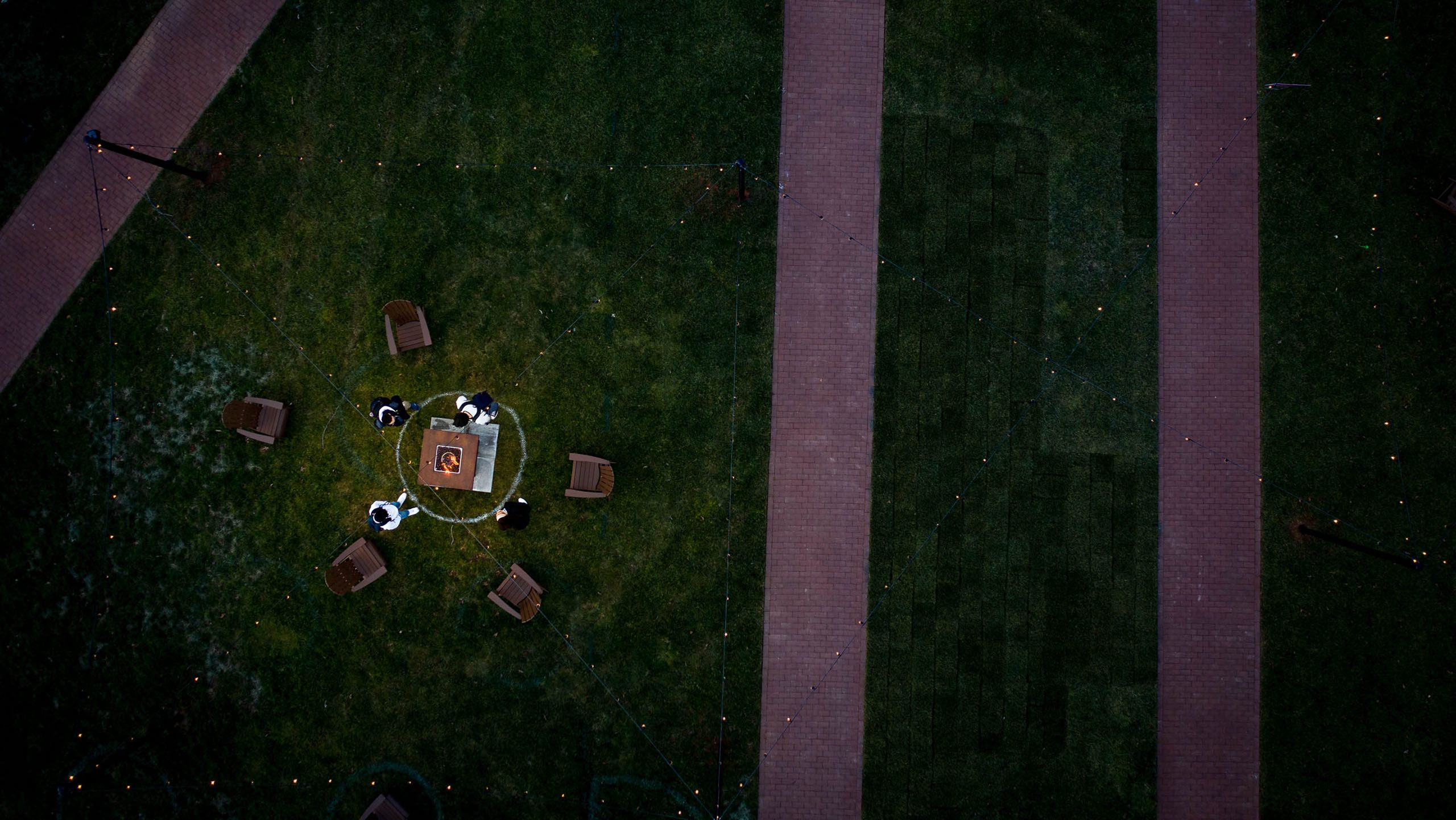 Jennifer Bacsa, a first-year student from Atlanta, agrees that keeping connected to friends presents a huge challenge during a pandemic — even when living on campus.
"It has been hard to really connect to others given the safety precautions and limitations, but with the changes seen on campus, such as more outdoor spaces, the adjustment has been a lot better," says Basca, an English and business major. "I love the new hygge implementation seen across campus."
"One of my favorite activities is sitting outside with my friends by the fire, especially since the weather has been a lot colder. It's a safe way to hang out and meet people."
— Jennifer Bacsa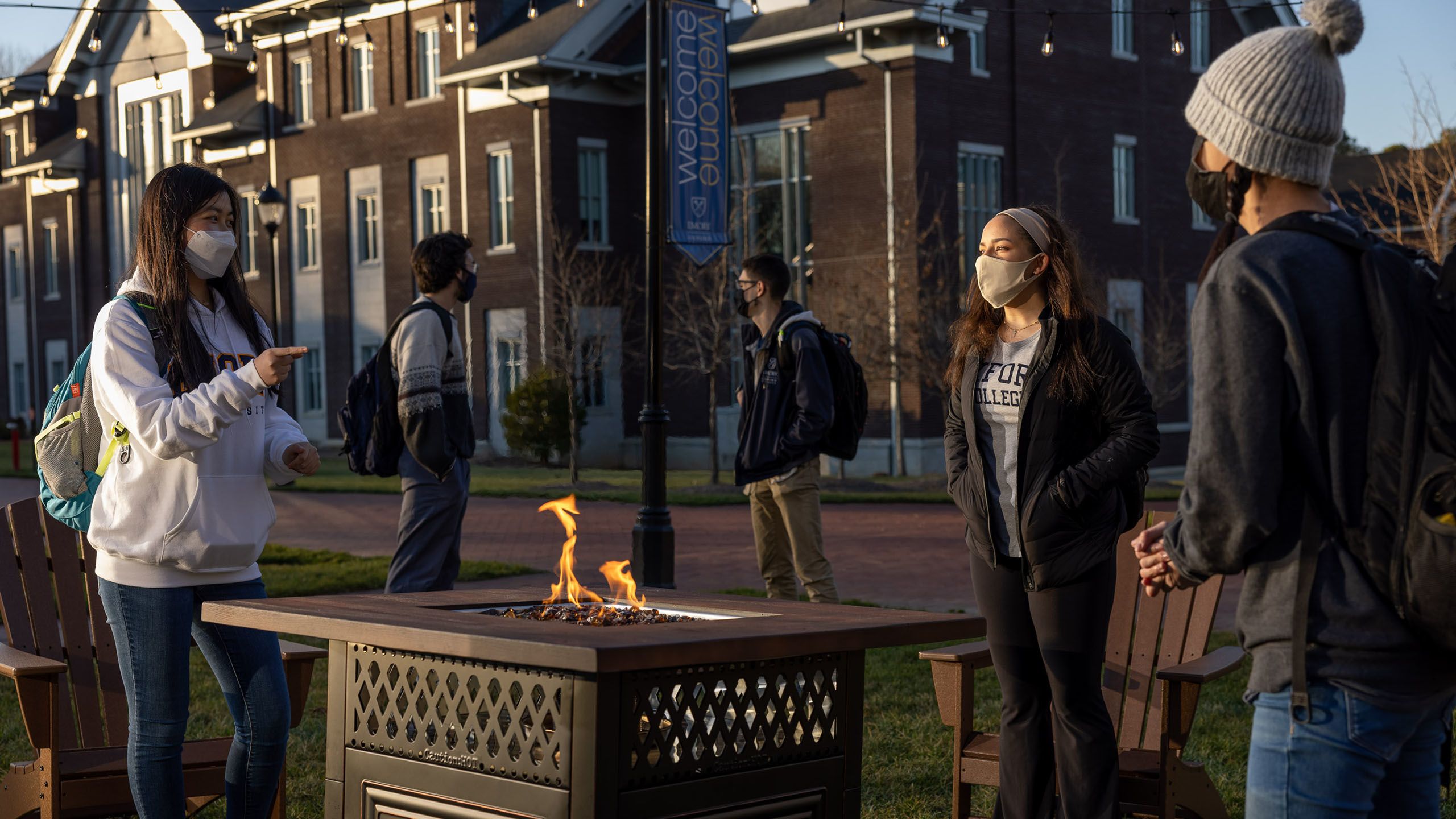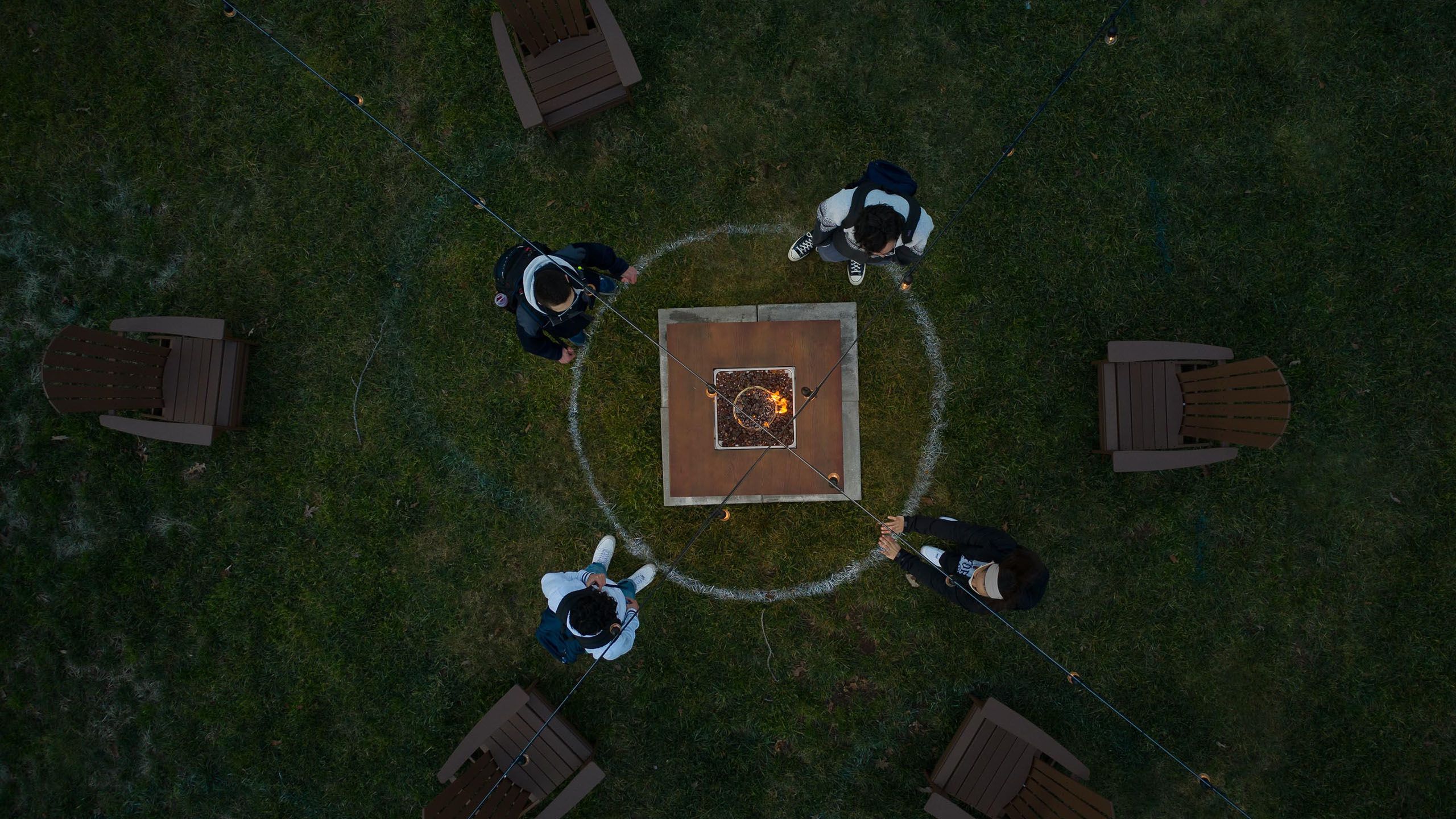 Second-year student Jacob Marcus has only had a chance to use the fire pits as he gets acclimated to living on campus this semester.

Marcus, who is majoring in psychology, physics and astronomy, expects to take part in other hygge activities.



"
I do hope to take part eventually because that is why I wanted to come back to campus in the first place, to be able to socialize with the other students on campus and not be isolated."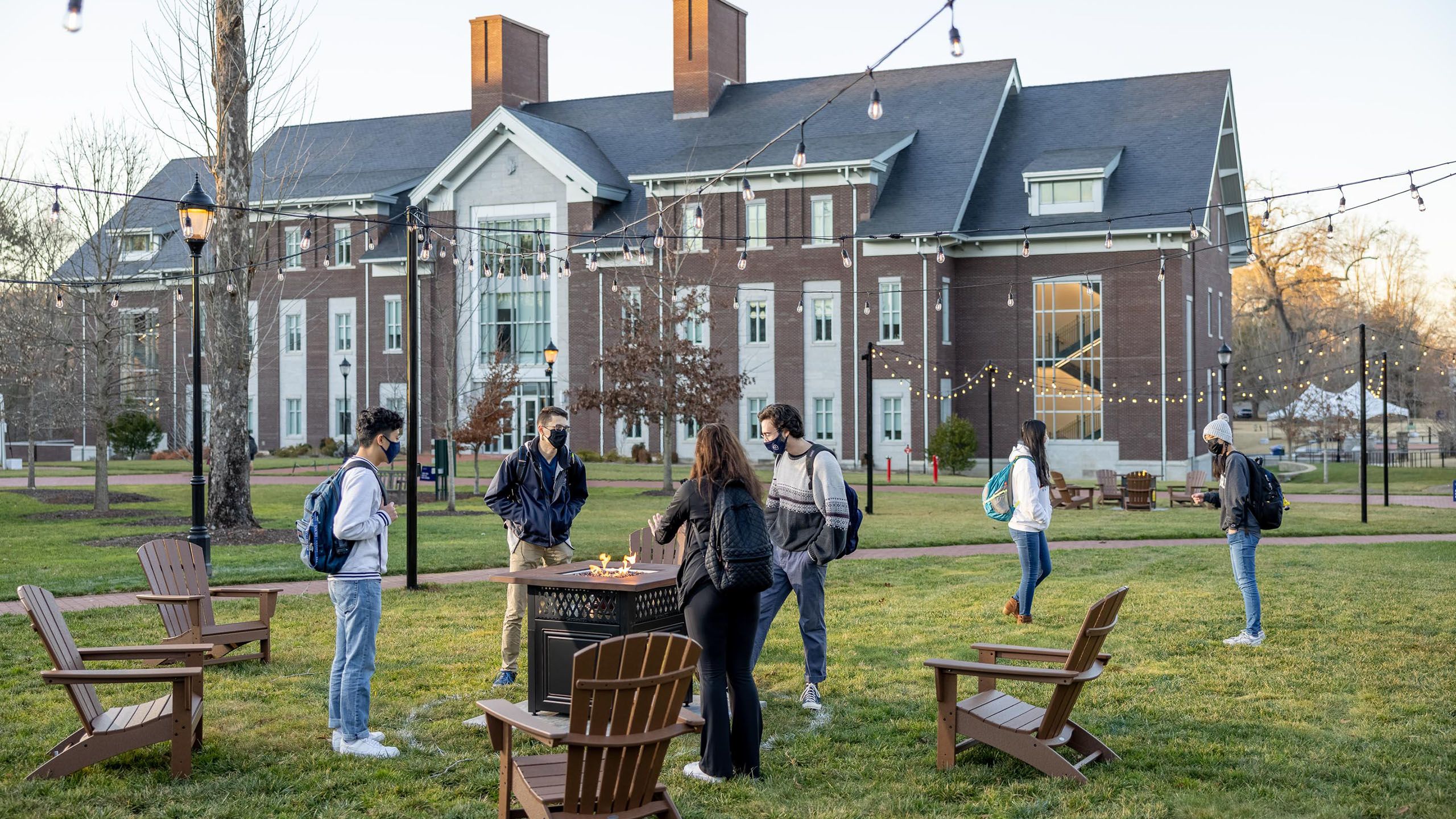 Hygge is here to stay
While the idea of hygge at Oxford started as a creative way to deal with COVID-19 limitations, Rhiannon Hubert thinks this semester is just the start.
"The concept of hygge feels universal in some ways, and while it is exceptionally helpful in a pandemic, I think the benefits of this type of thinking will outlast COVID," she says.
"I think hygge provides us with a framework to pursue our own care and happiness and that is something that will continue at Oxford."
---
Oxford College of Emory University | February 15, 2021
Photos by David Cannon
Photo this page courtesy of Dean Douglas A. Hicks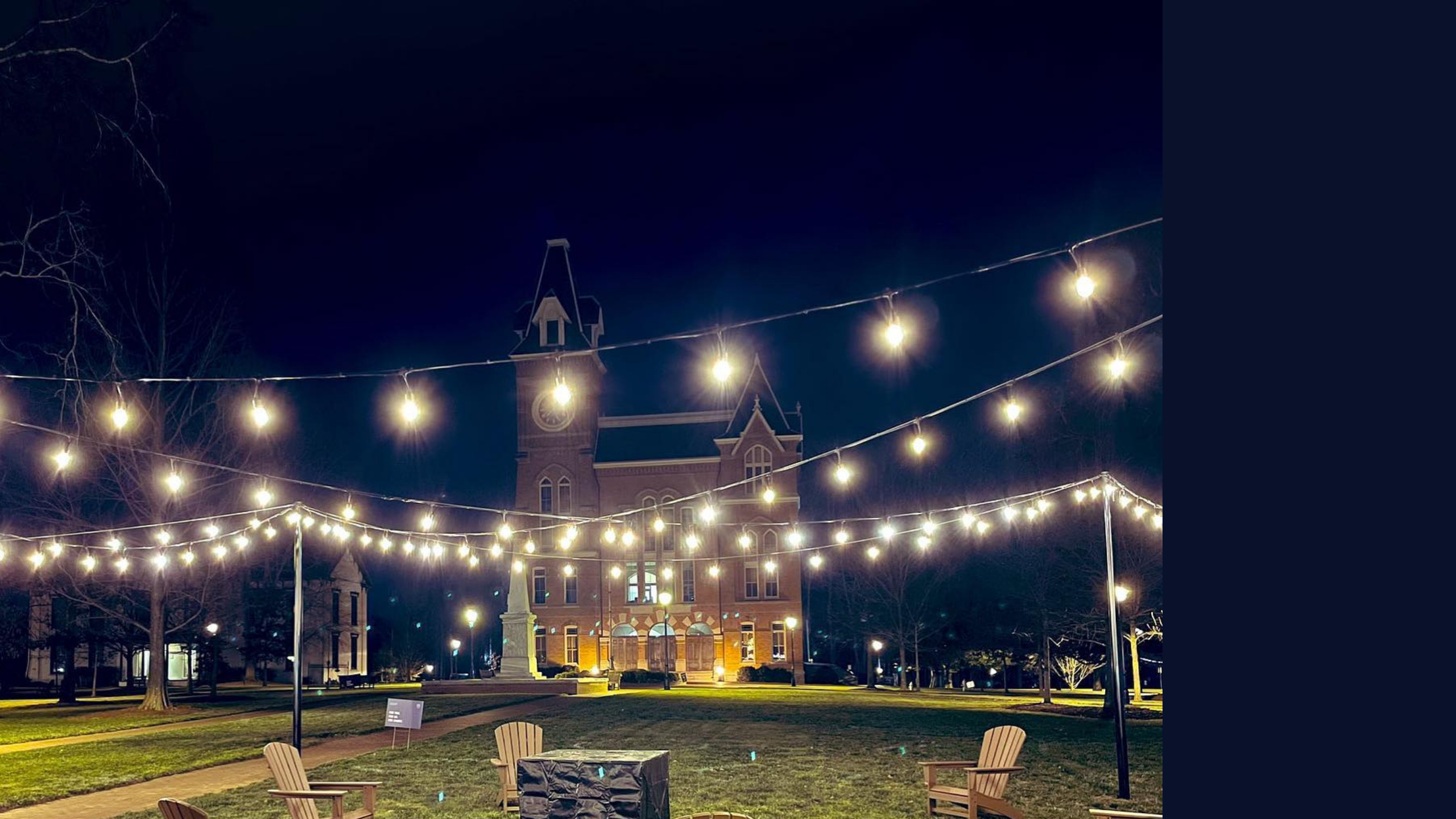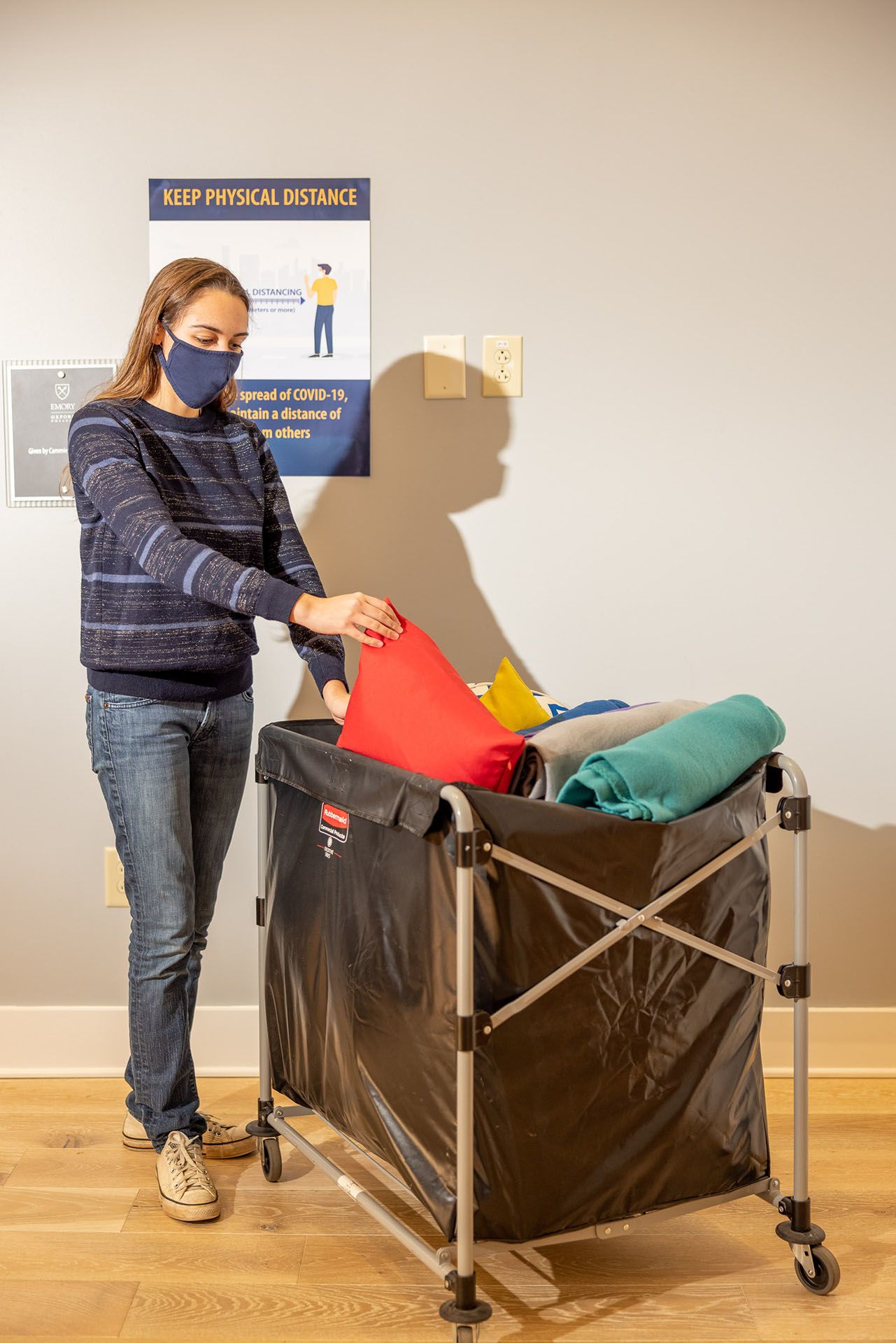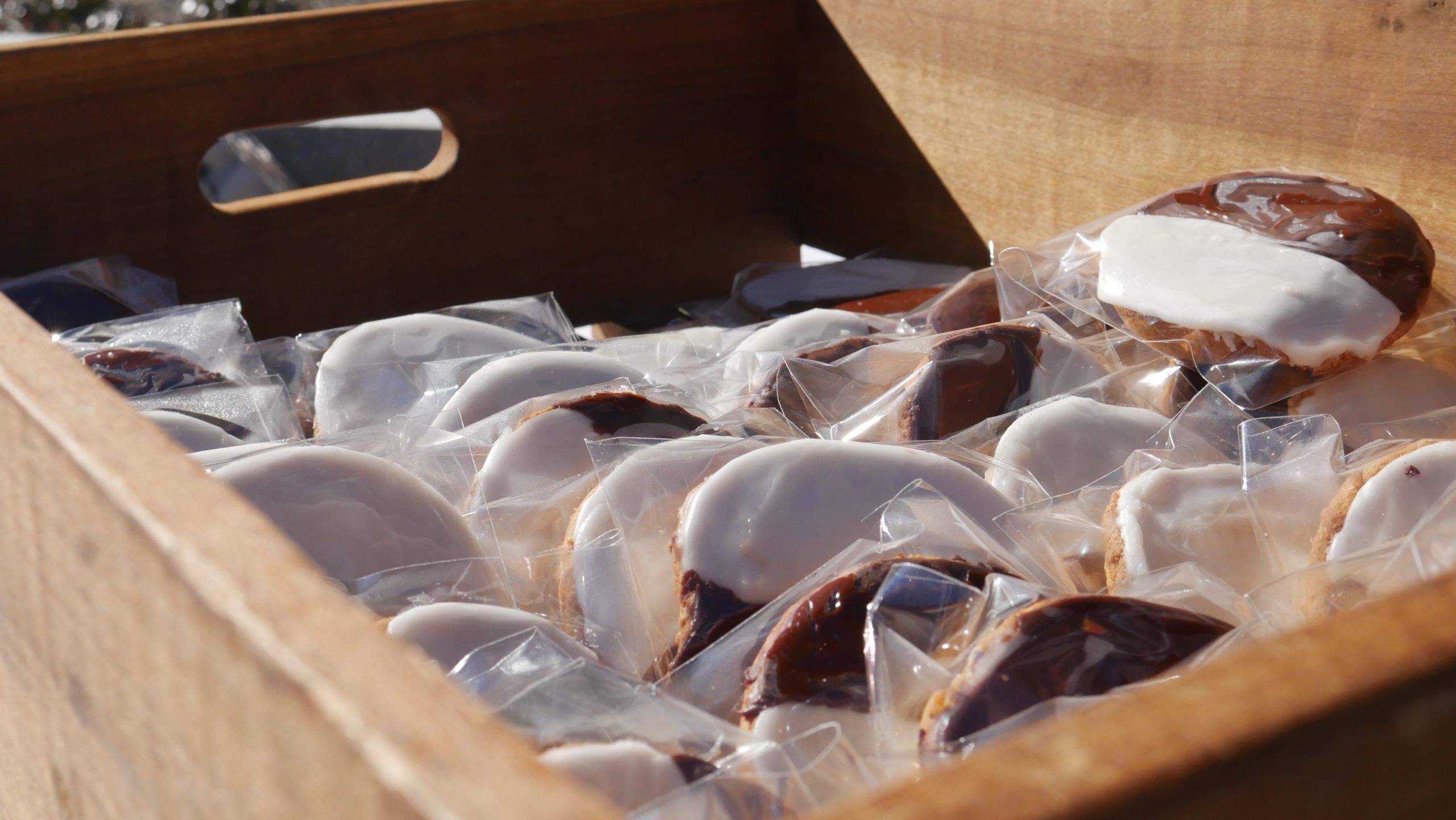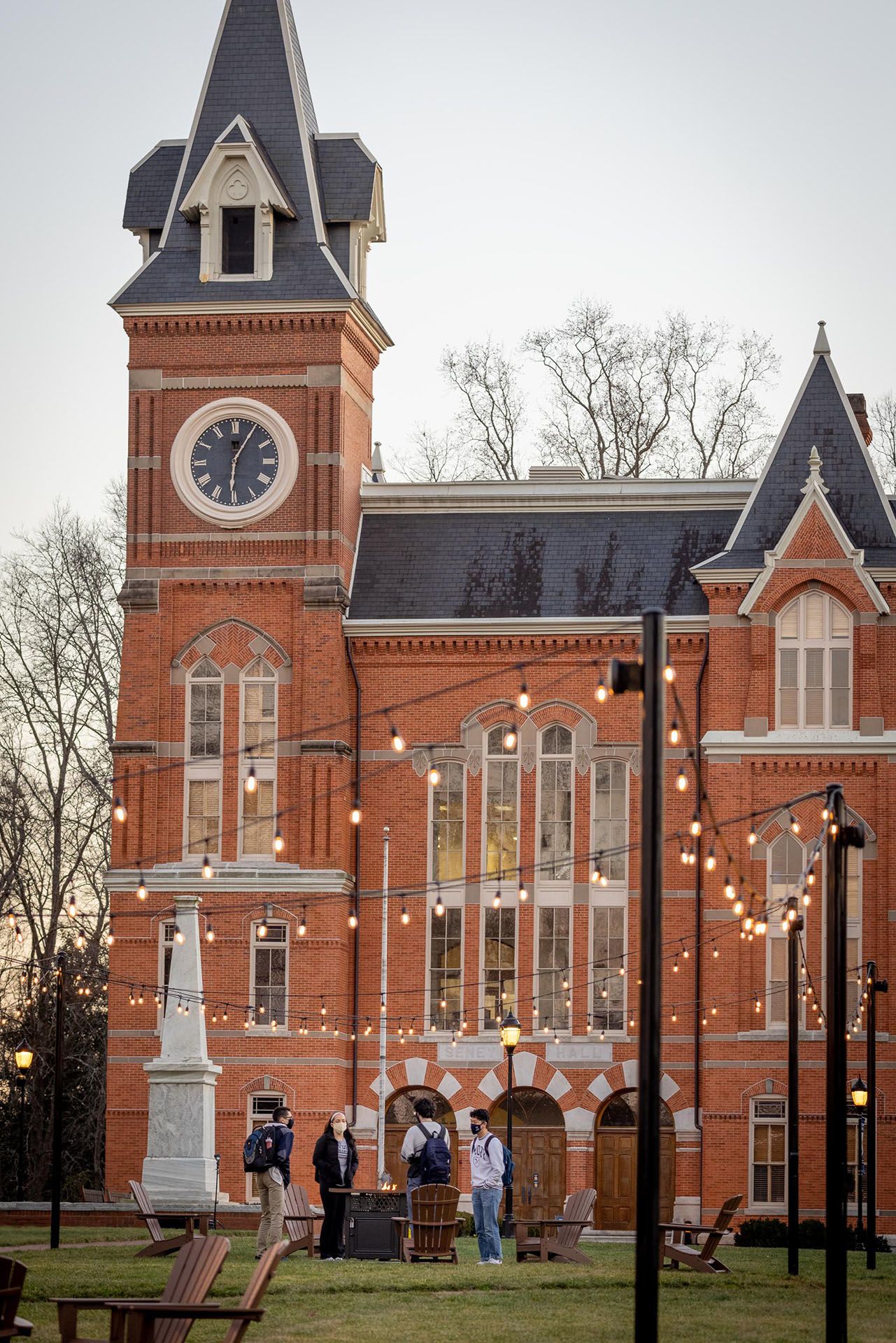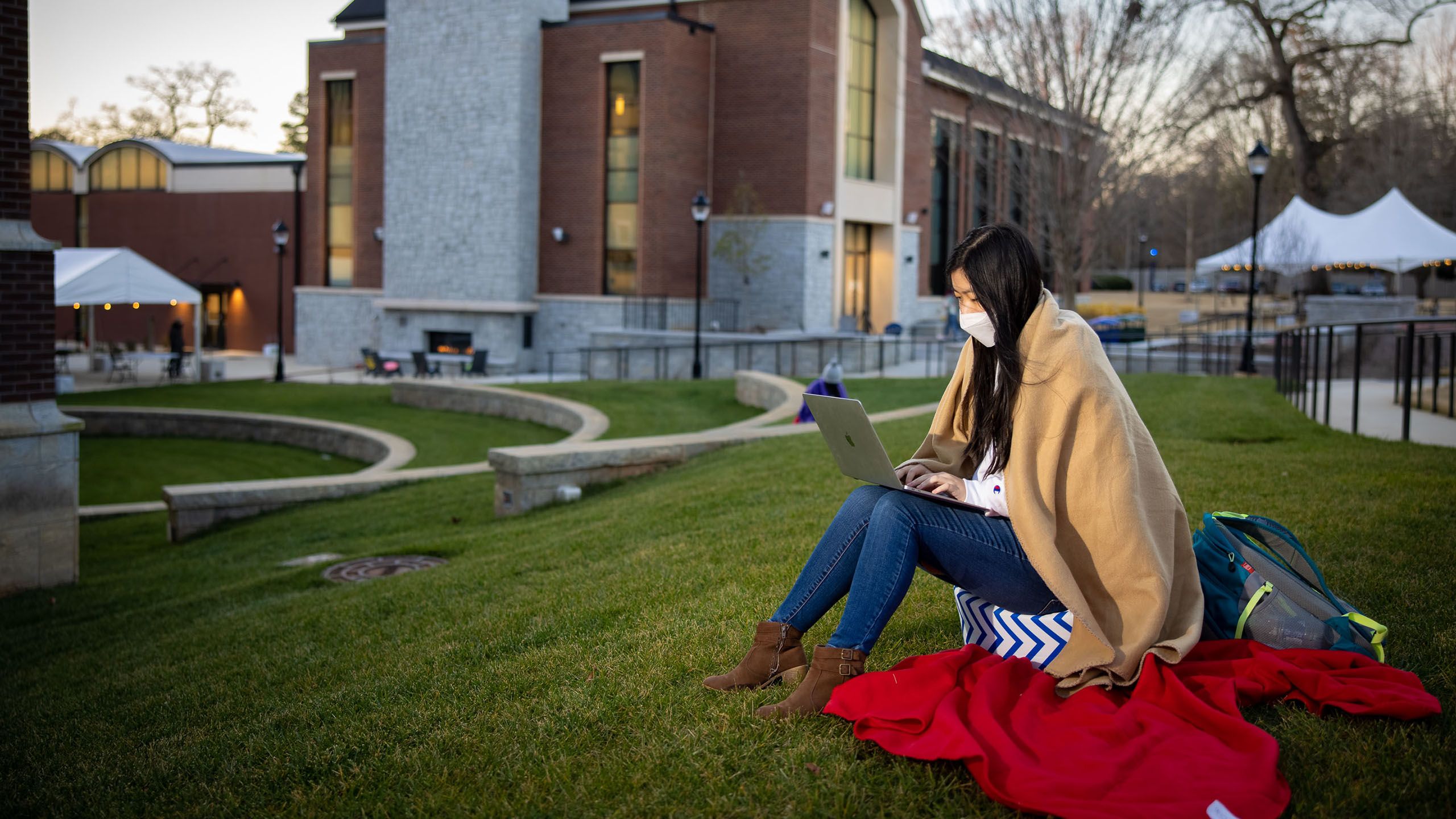 Item 1 of 4