Oxford Commencement 2022

Back on campus, Oxford College celebrates students' completion of their first two years of undergraduate study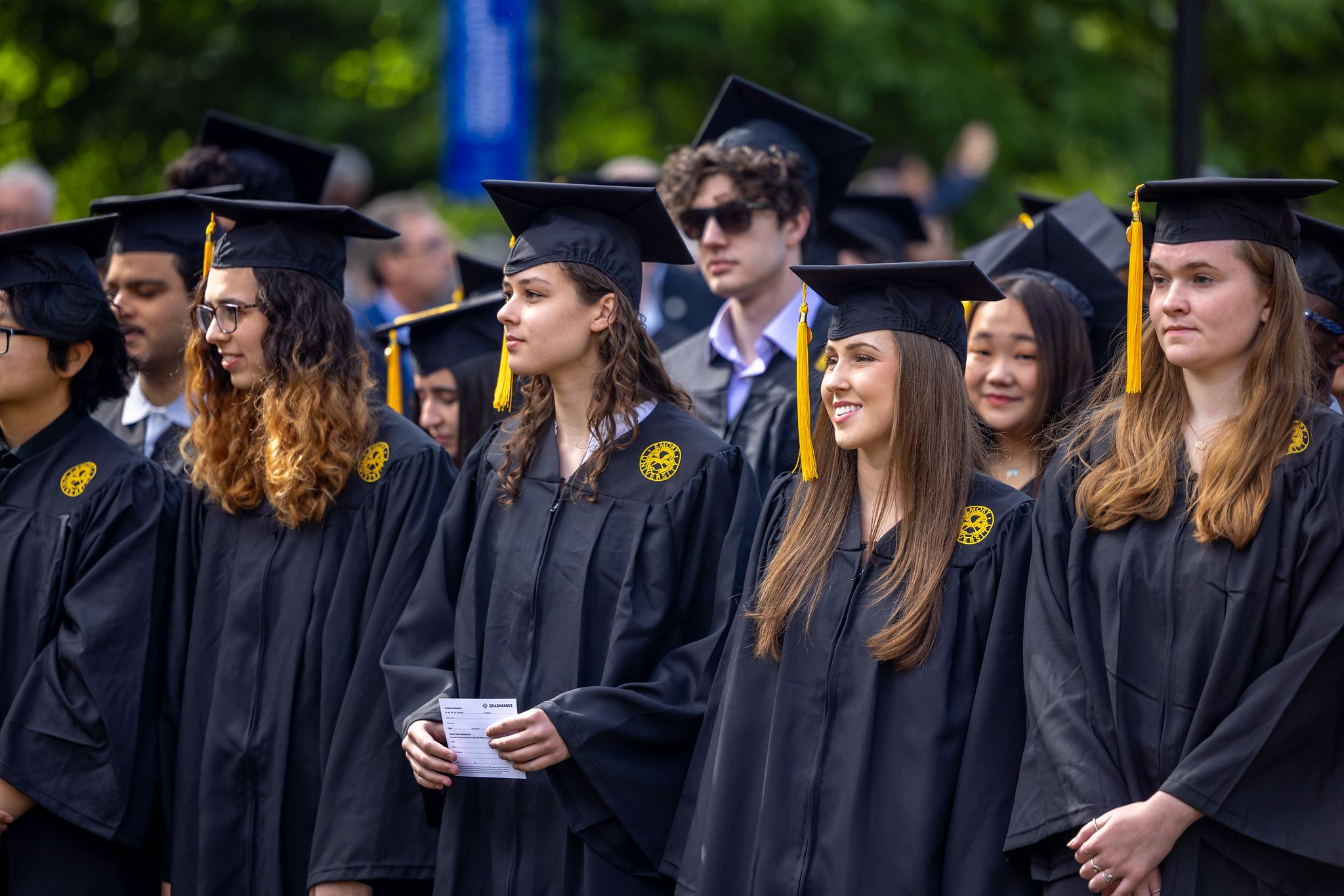 On Saturday, May 7, Oxford Dean Douglas A. Hicks opened the college's 177th commencement ceremony by welcoming students, alumni, family, and friends back to the college's historic quad after two years of modified off-campus ceremonies due to the pandemic.
More than 450 sophomores were awarded associate's degrees in honor of their first two years of undergraduate education. In the fall, they will transition to Emory's Atlanta campus and continue coursework toward a bachelor's degree from the Emory College of Arts and Sciences, the Roberto C. Goizueta Business School, or the Nell Hodgson Woodruff School of Nursing.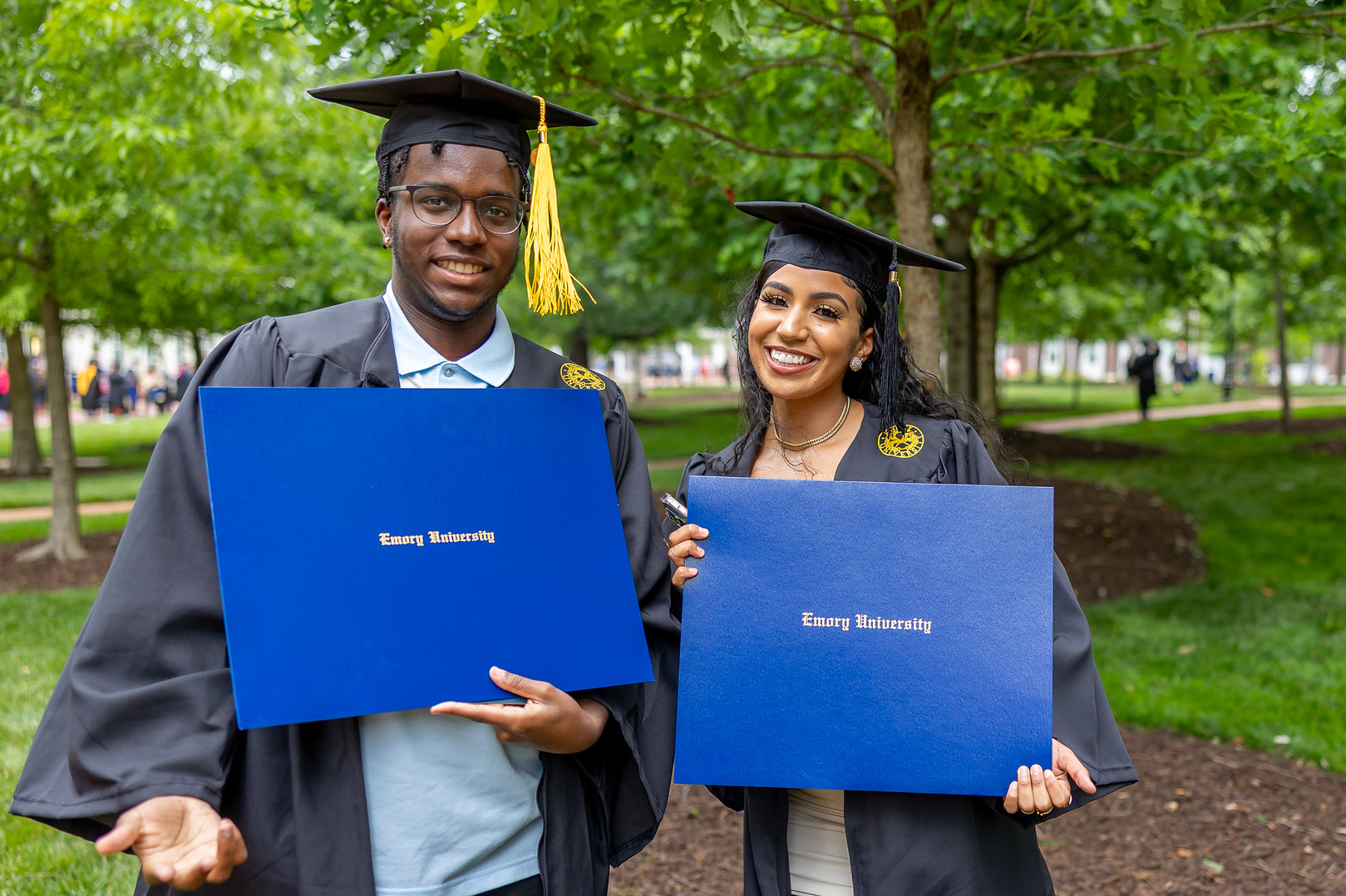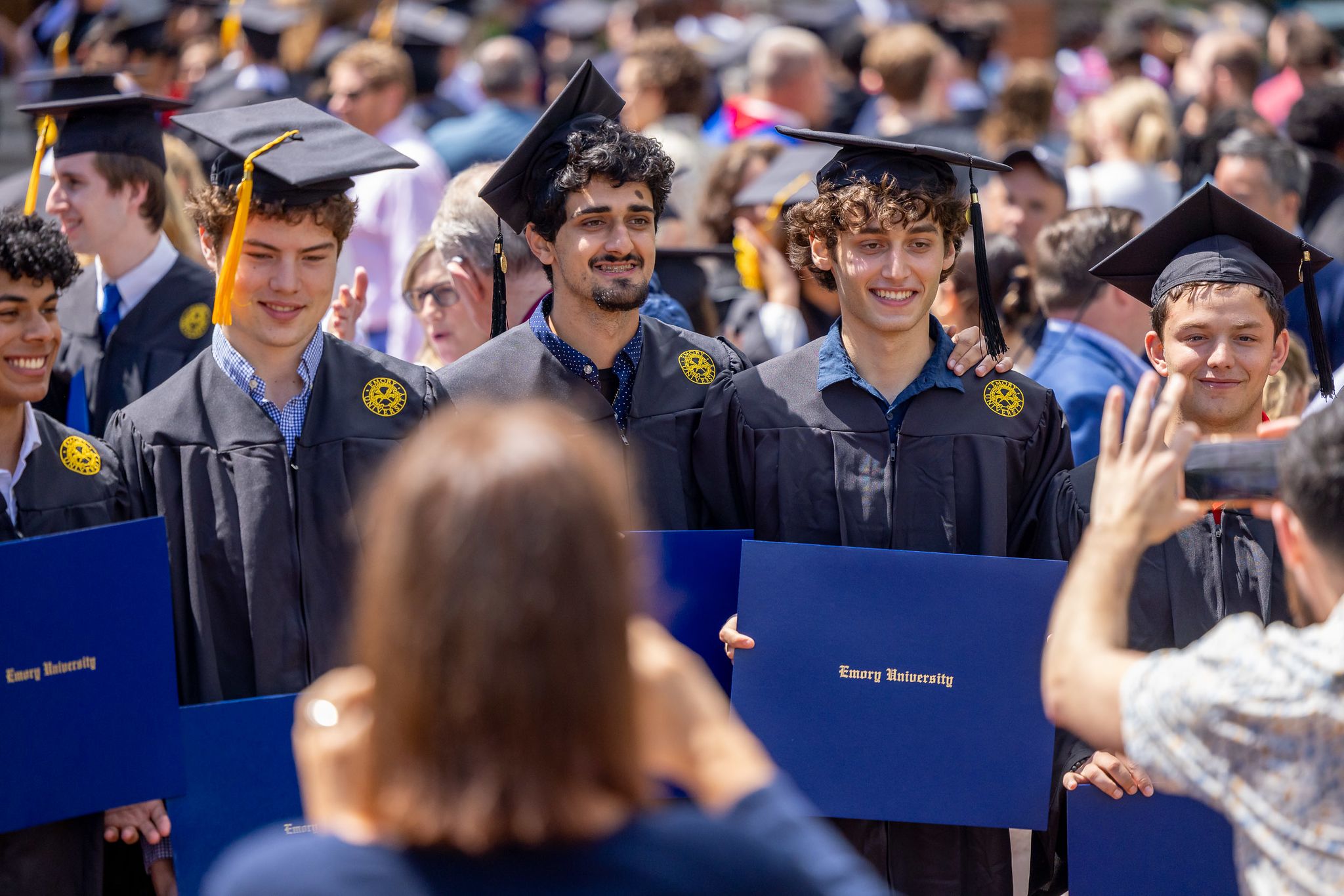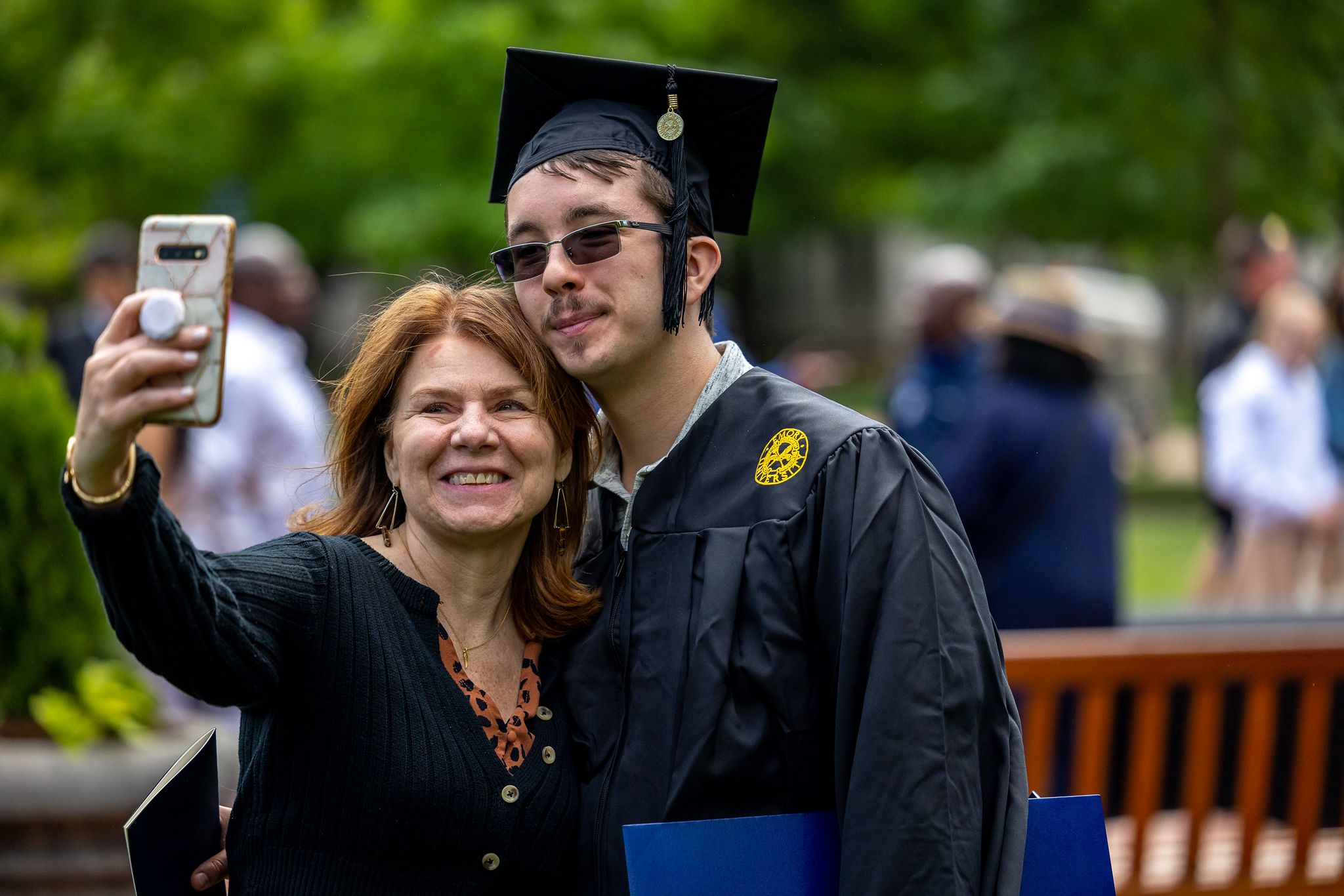 Item 1 of 3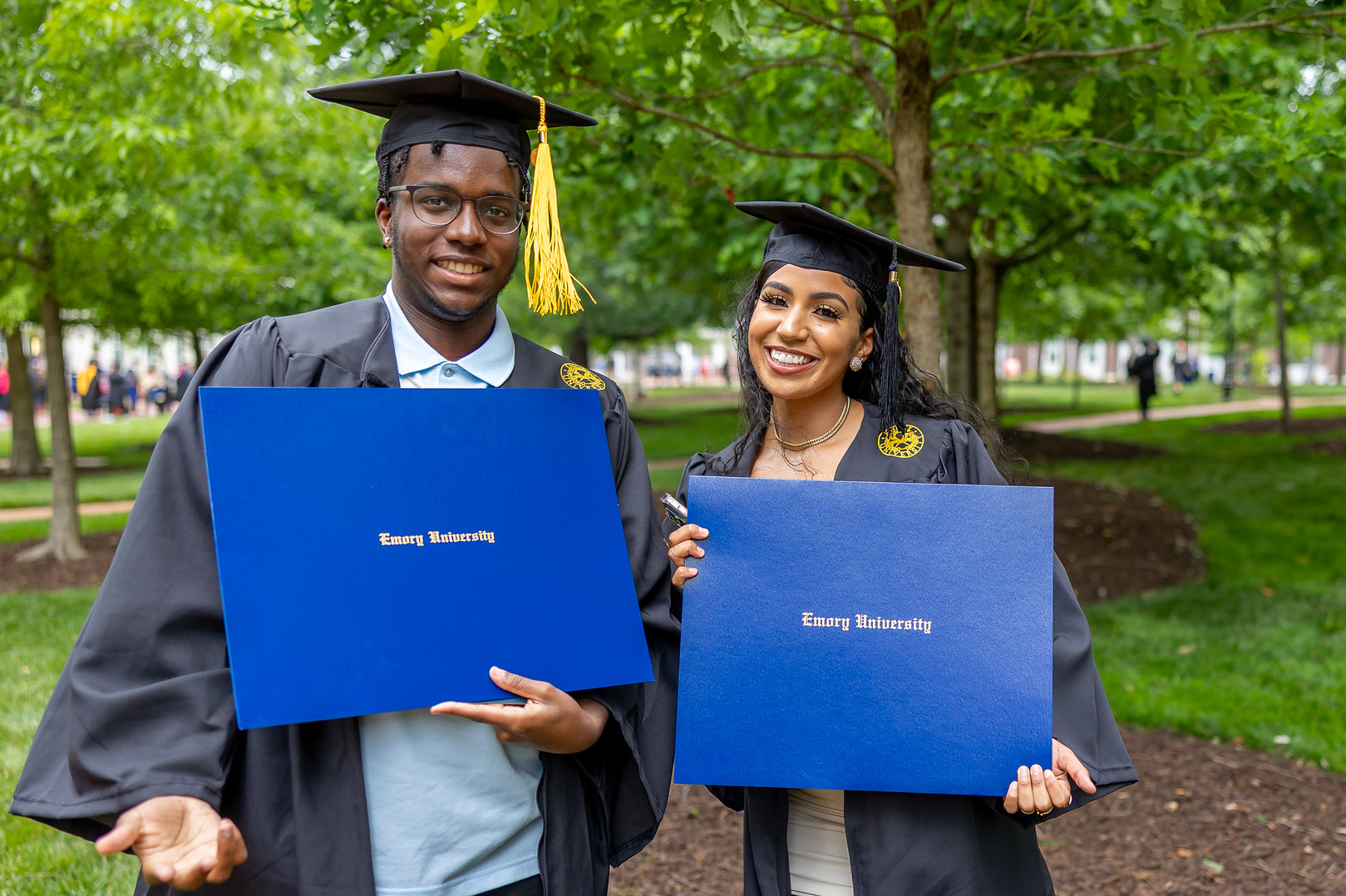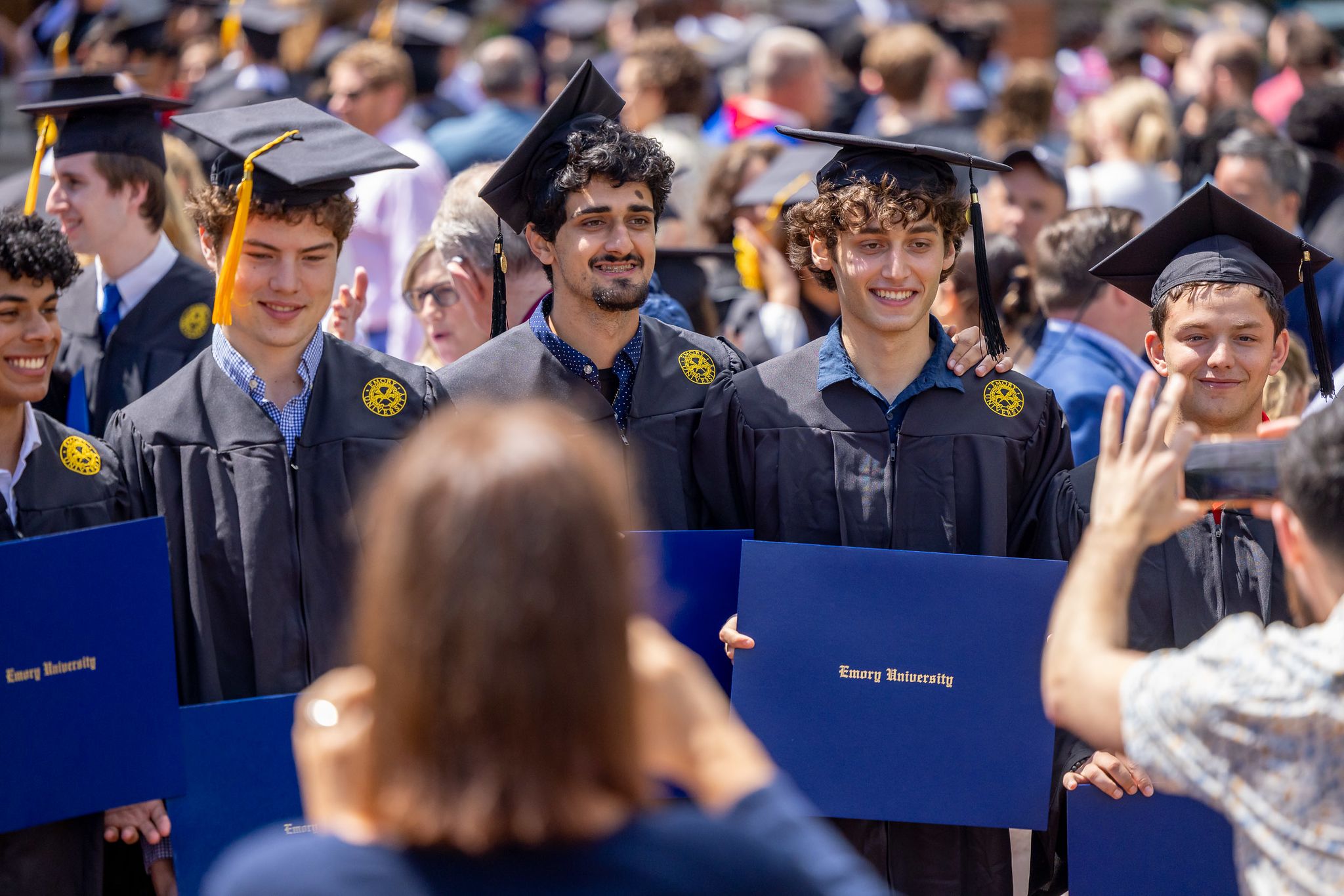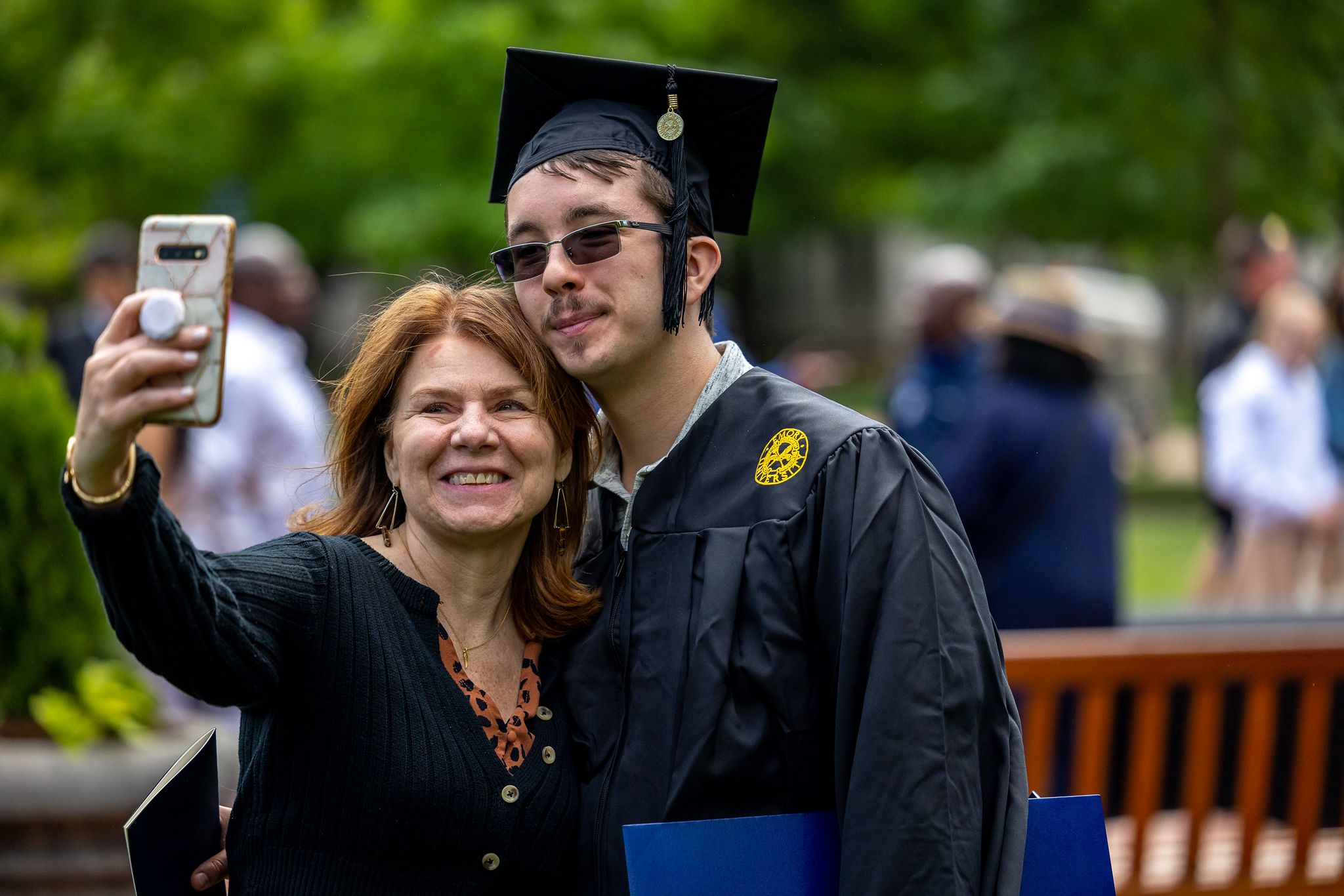 A traditional bagpiper, followed by Chief Marshal Susan Ashmore, Charles Howard Candler Professor of History, led the procession of speakers and special guests.
President Gregory L. Fenves—along with Provost Ravi V. Bellamkonda, Emory College Dean Michael Elliott, and trustee Katherine Rohrer 74C—was on hand to offer congratulations to the graduates.
In addition to encouraging students to "celebrate your remarkable achievement and this special moment of transition," he also joked about the new challenges that await them in Atlanta—namely getting to class on time in the sprawl of the city's campus. "You won't be living quite as close to your classrooms," he said, gesturing to Oxford's familiar and intimate grounds. "So fair warning: It will definitely take more than five minutes to make it to your first morning class."
Oxford graduates who were unable to attend the ceremony in person were able to watch the livestream or opt for on-demand replay.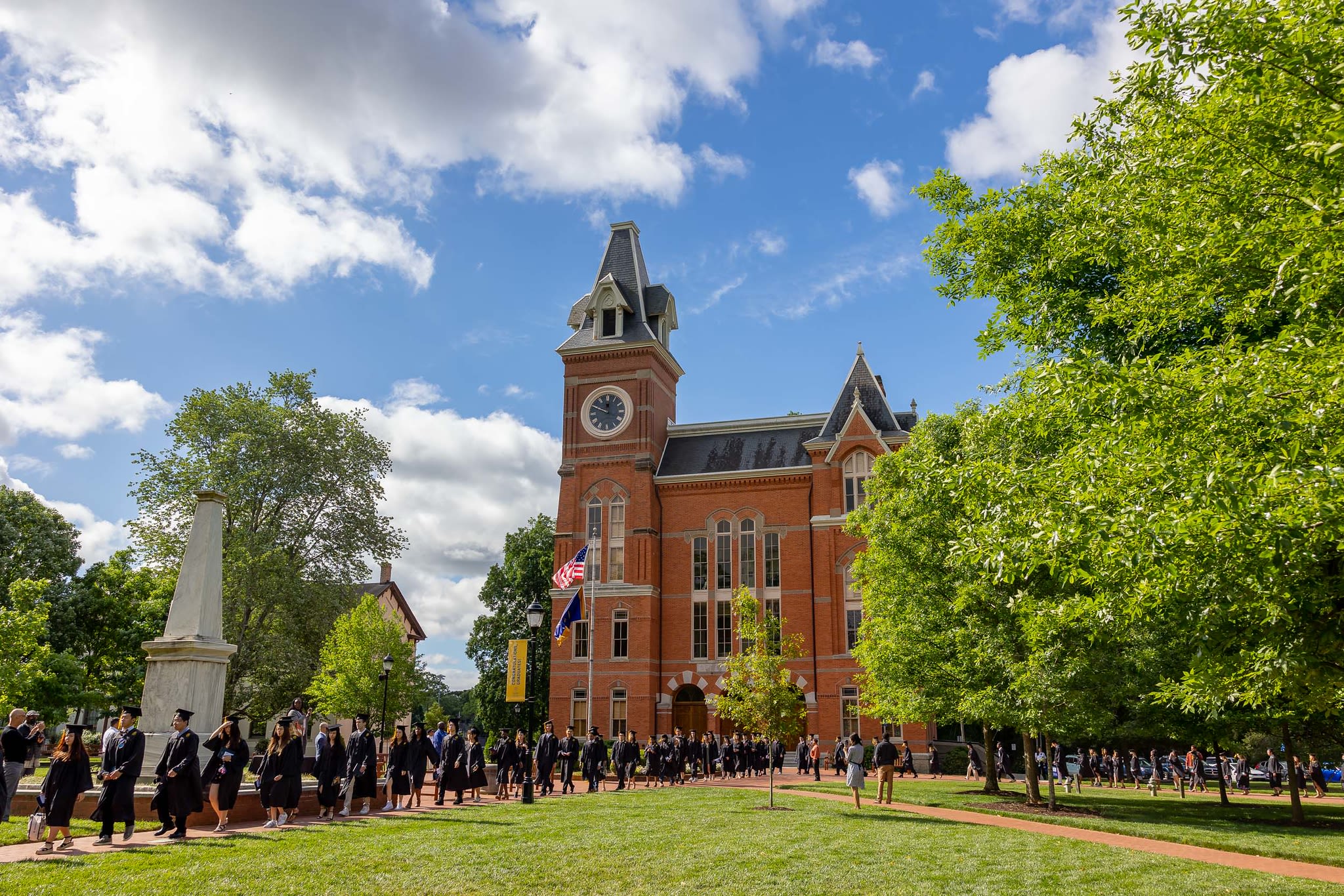 This year's keynote speaker Avis Williams 78Ox 98C 08T 18T emphasized the concept of community in her speech titled "Living, Learning, and Giving"—a fitting topic for someone who has spent the last 44 years working in service of the Oxford and Covington communities. She charged students to "give back to the communities that nurtured you and the ones you will be planted in…. Be good community citizens. Be willing to share your talents, wit, and resources as you extend yourselves to others in life and living."
Williams, who was born and raised in Covington and is one of the earliest African American graduates of Oxford, knows about giving back. She has worked to improve the lives of those around her in a variety of ways: health care, education, and matters of racial and social justice. She has also been an active alumna, serving on the Oxford College Alumni Board and engaging students with a program where they tutor elementary and middle school children, bringing campus and community together.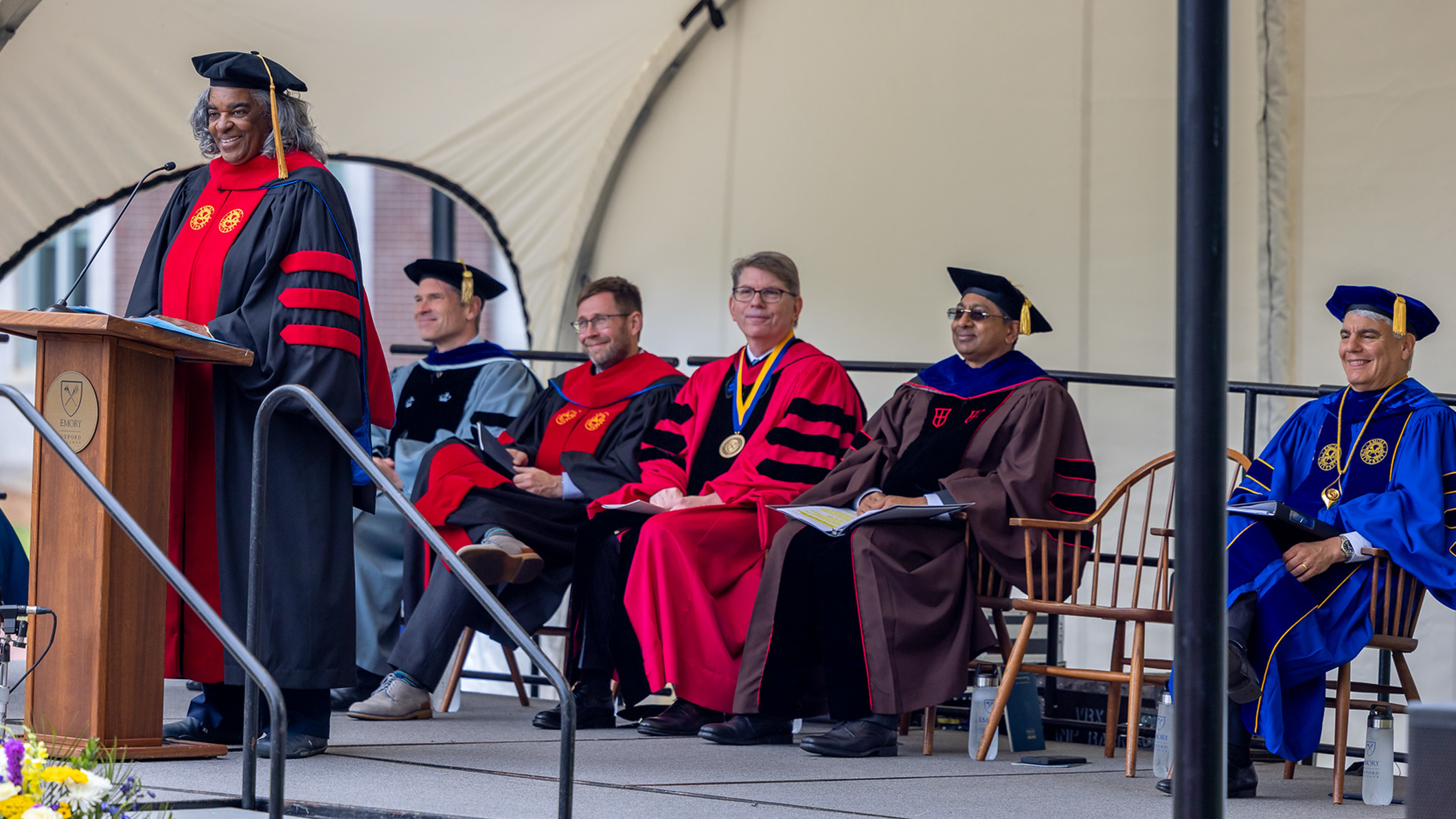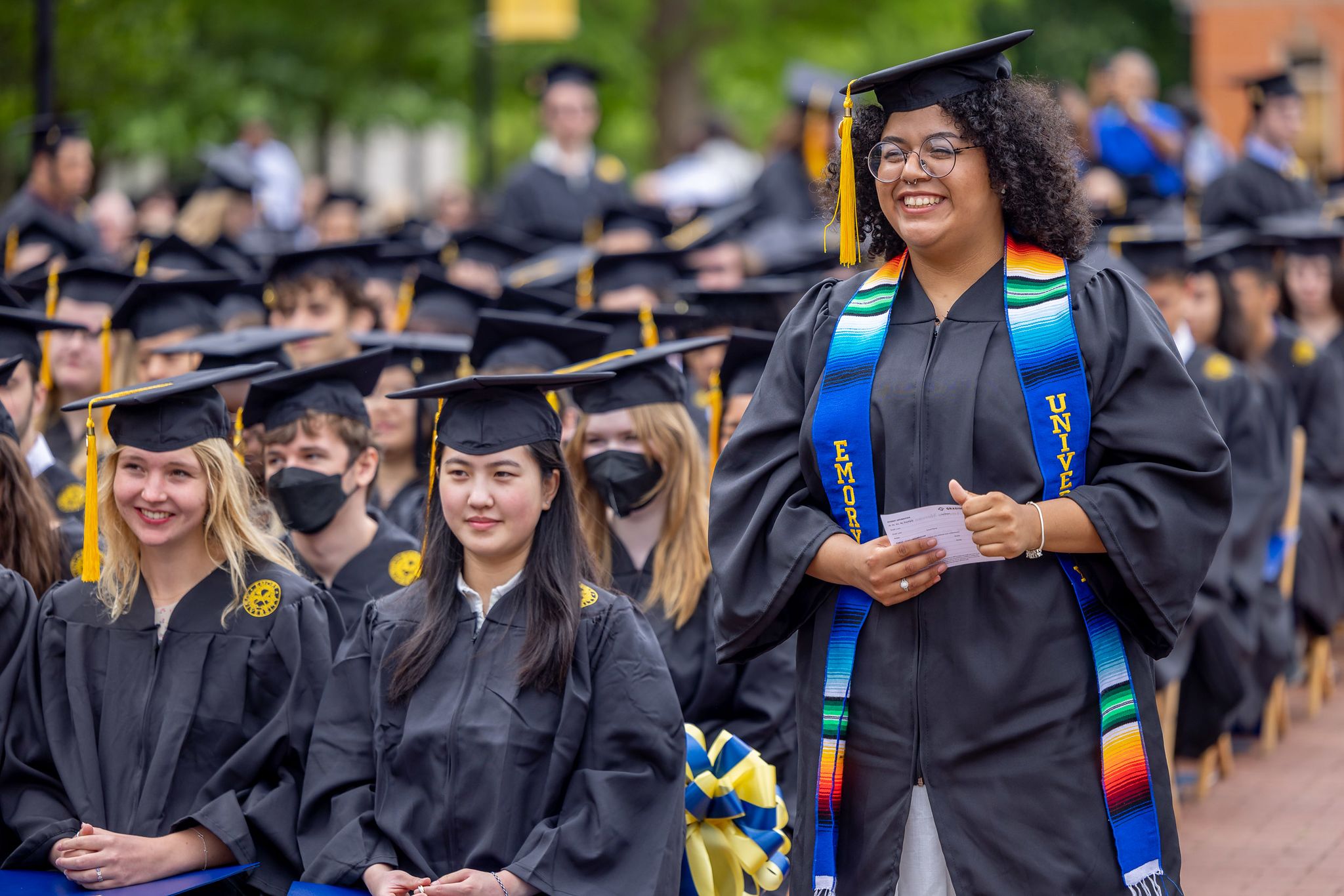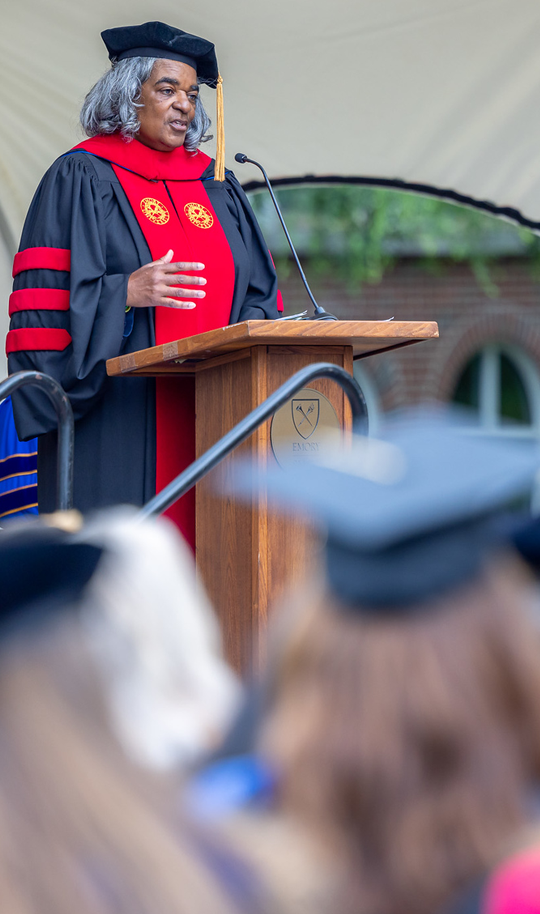 Dean Hicks highlighted these characteristics and accomplishments in his introduction, while also noting her important role with the Twin Memorials Working Group. A descendant of enslaved forebears who lived and worked in Oxford and Covington, Williams has been instrumental to the project and has connected the university with other descendants in the area. Hicks has emphasized how essential Williams's work has been in the creation of memorials that honor the enslaved individuals—and their descendants—whose labor helped build the original Emory campus at Oxford.
As Williams concluded her remarks, she reminded students to recognize and reflect on the past as they look toward their bright futures.
"We honor not only those who are graduating today but the spirit of our ancestors, who labored in times of enslavement to build this world-class educational institution. Let us live, learn, and give, adding our names to those who make sure that our alma mater is a continuous model of justice, diversity, inclusion, and equity for all. We now pledge to move forward on this day of celebration with thanksgiving and purpose."
"Build positive relationships and do not forget those who helped you."
Avis Williams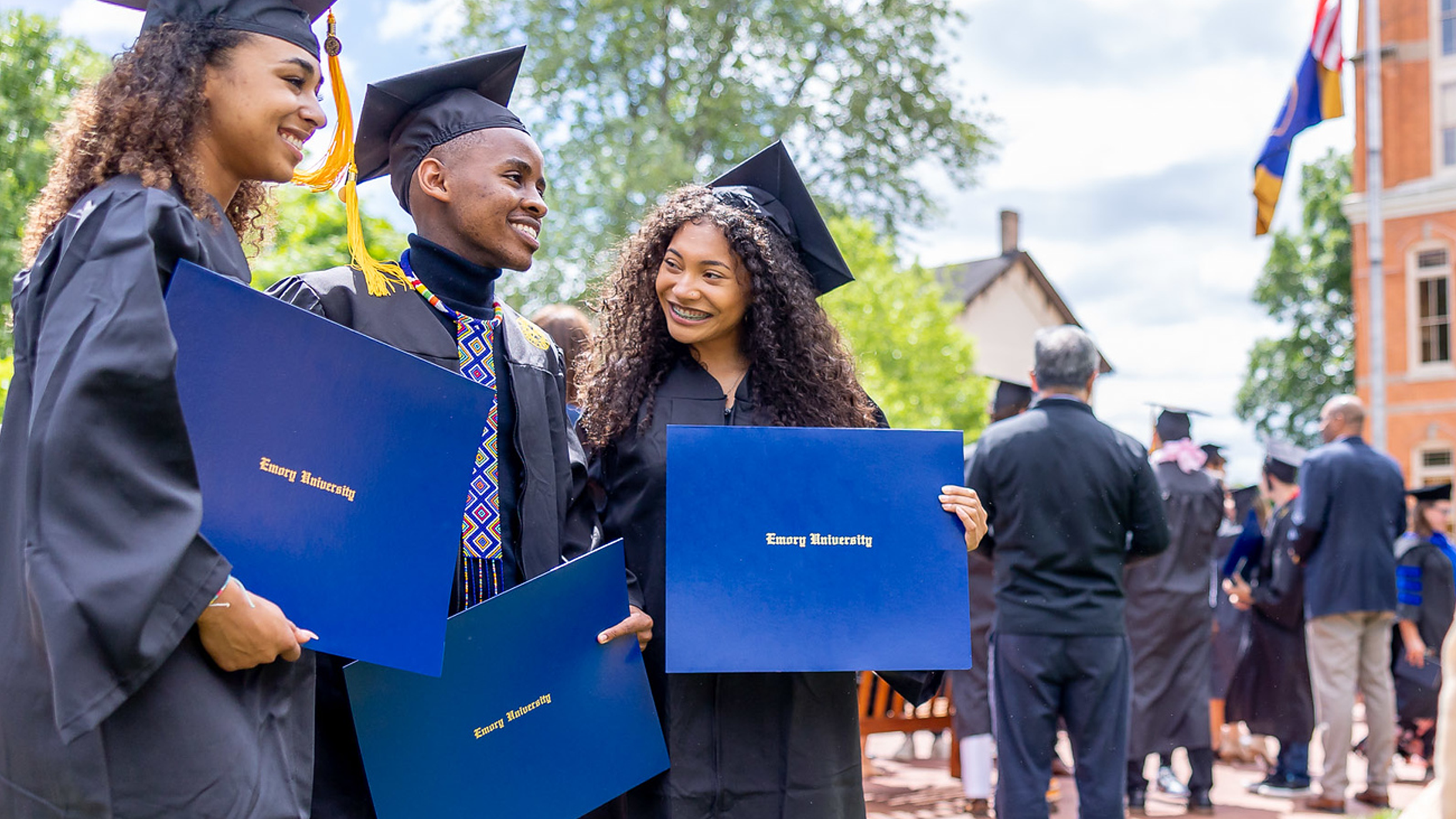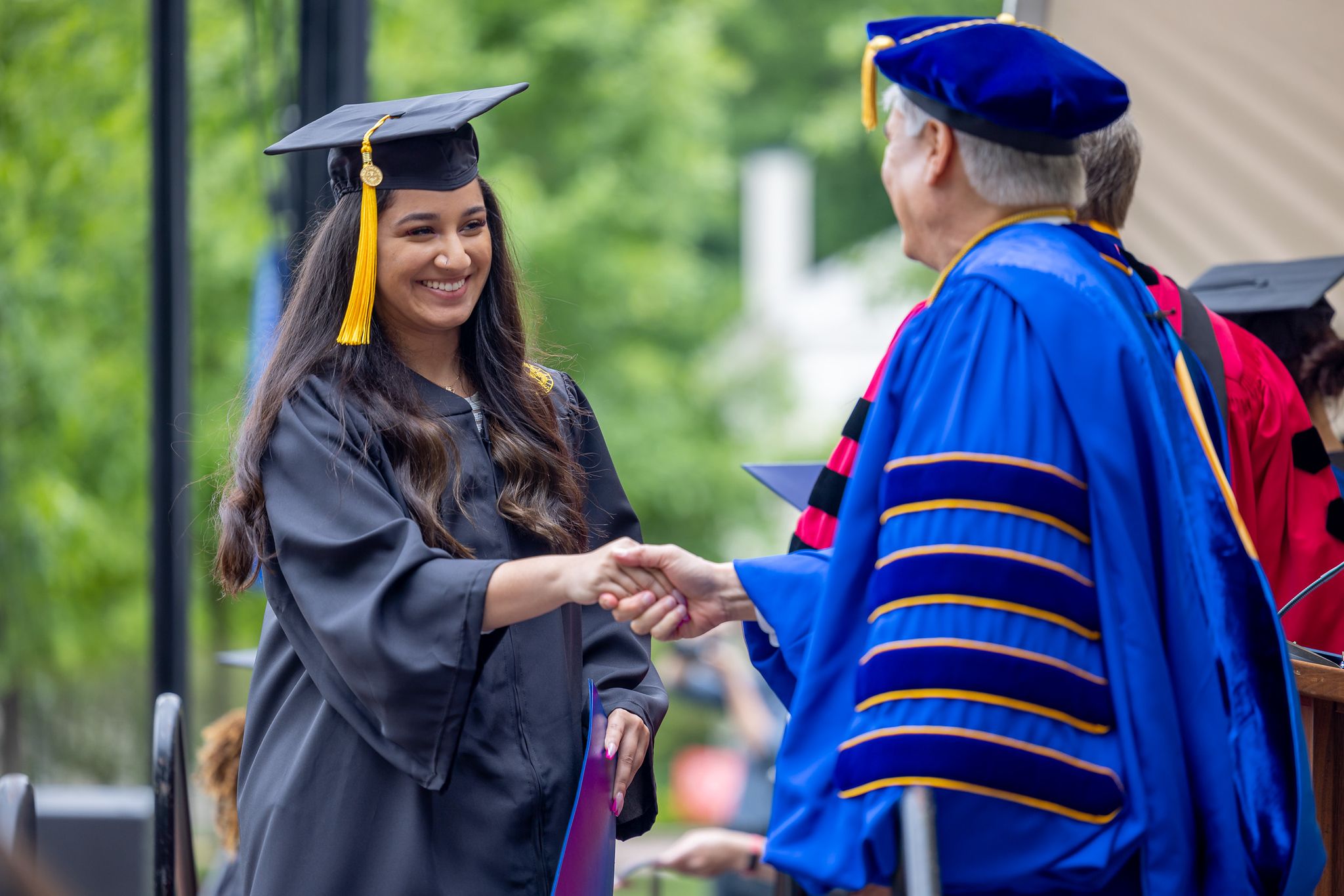 The awarding of the Virgil Y. C. Eady Sophomore Service Award and the Emory Williams Teaching Award followed Williams's Commencement address.
The Eady award, established 53 years ago to recognize a sophomore who has given outstanding and selfless service to the Oxford community, went to Sarah Bekele. Bekele was involved in many aspects of campus life: She served as President of the Black Student Alliance, was a member of Volunteer Oxford and the Class Gift Committee, and worked as a teaching and resident assistant.
Dean of Campus Life Joe Moon presented the award, recalling Bekele's participation in the university's "In the Wake of Slavery and Dispossession" symposium, where she "shared perceptions and advice about being a student of color at this time, in this place."
"Your willingness to call attention to issues of justice and equity and your kind-heartedness suggest the kind of citizen you will be in the larger Emory community and beyond," he said.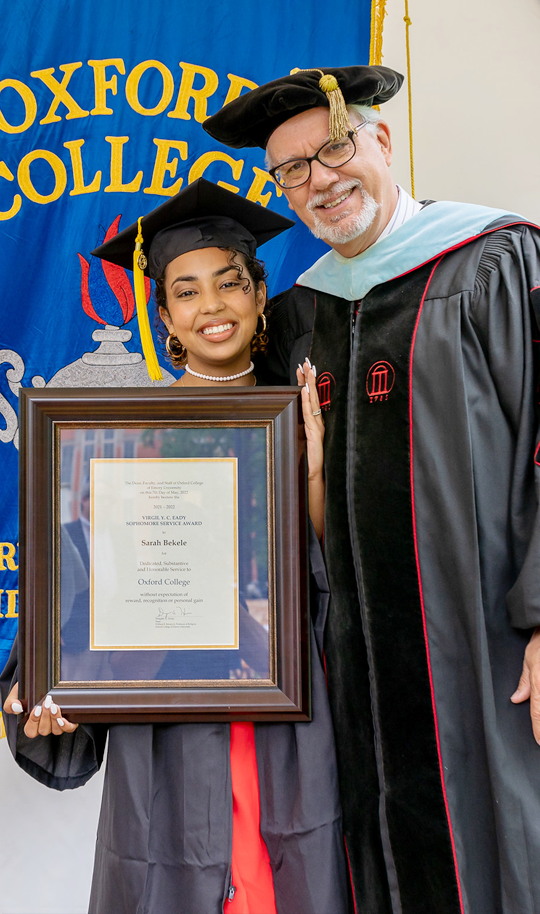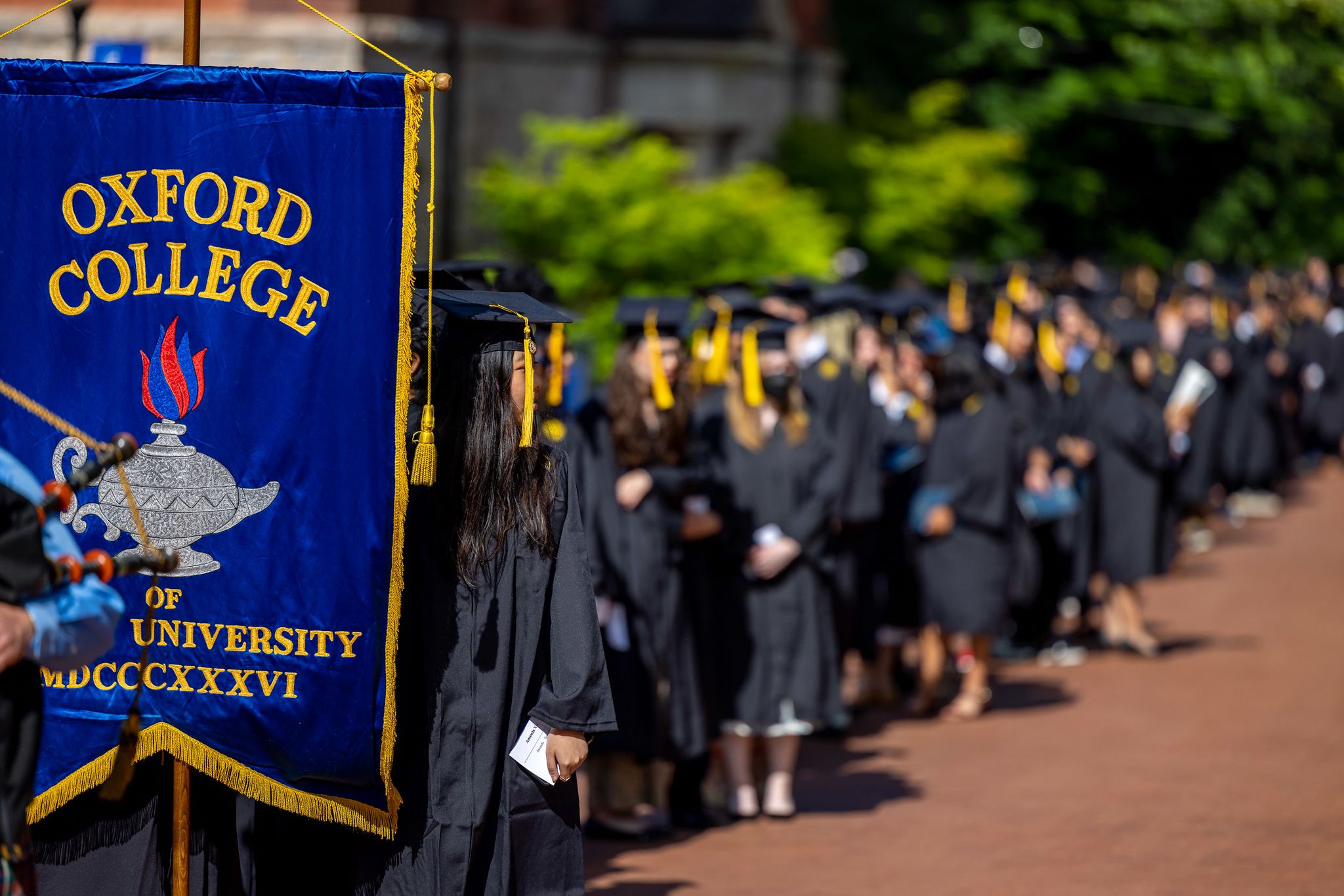 Dean Hicks presented the Emory Williams Award for Distinguished Undergraduate Teaching to Professor LaTonia Taliaferro-Smith, director of undergraduate laboratories and lecturer in biology.
Taliaferro-Smith, who joined the Oxford faculty in 2015, is an expert in triple-negative breast cancer. She teaches a research-based course that, as Hicks described it, "engages first- and second-year students in the authentic work of researching the mechanisms of triple-negative breast cancer. This is the kind of opportunity usually afforded only to upper-level students or graduate students."
Passionate about fostering greater inclusion in the scientific professions, Taliaferro-Smith teaches the course Race and Recognition in STEM. She has established a welcoming environment for students to share their experiences in the sciences, "fearlessly" creating a drumbeat for diversity.
"She has been an inspiration to her colleagues with her dedication to students, her deep concern for their well-being, and her creativity in teaching," said Hicks.
"She has been an inspiration to her colleagues with her dedication to students, her deep concern for their well-being, and her creativity in teaching."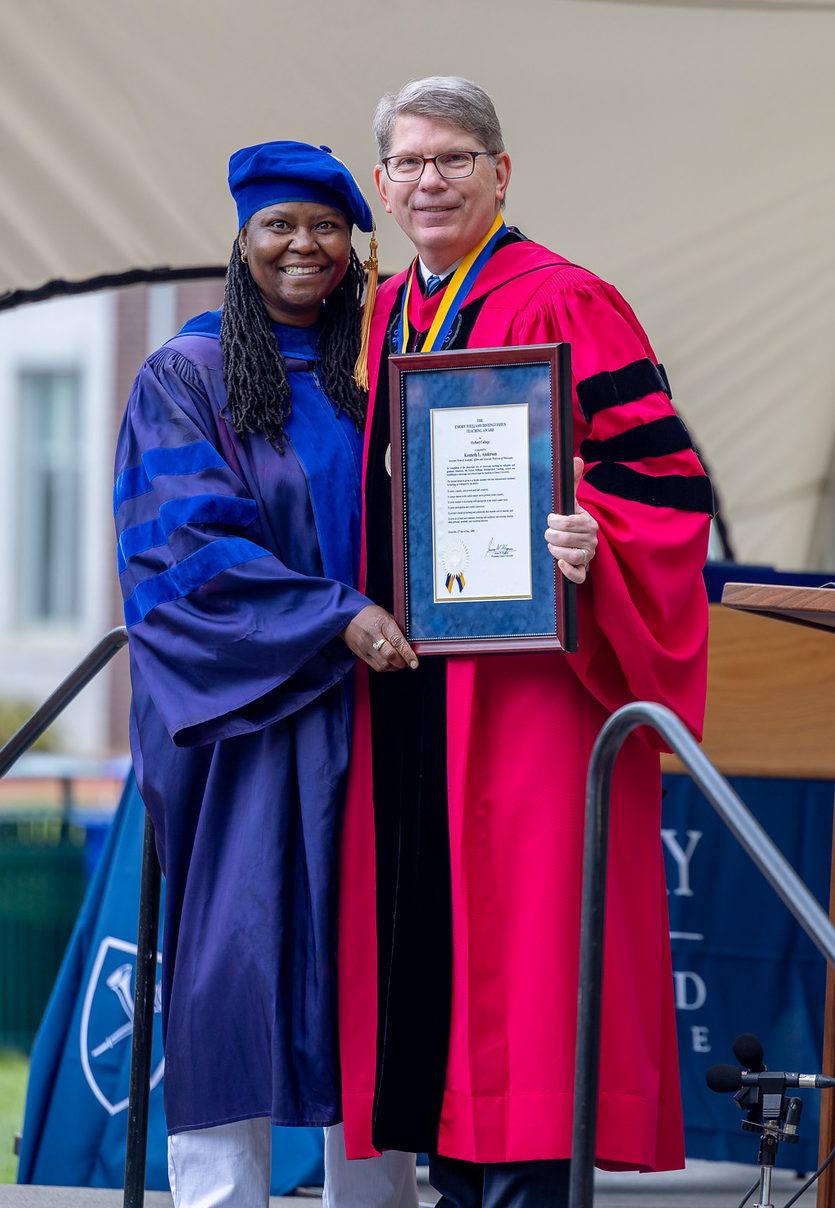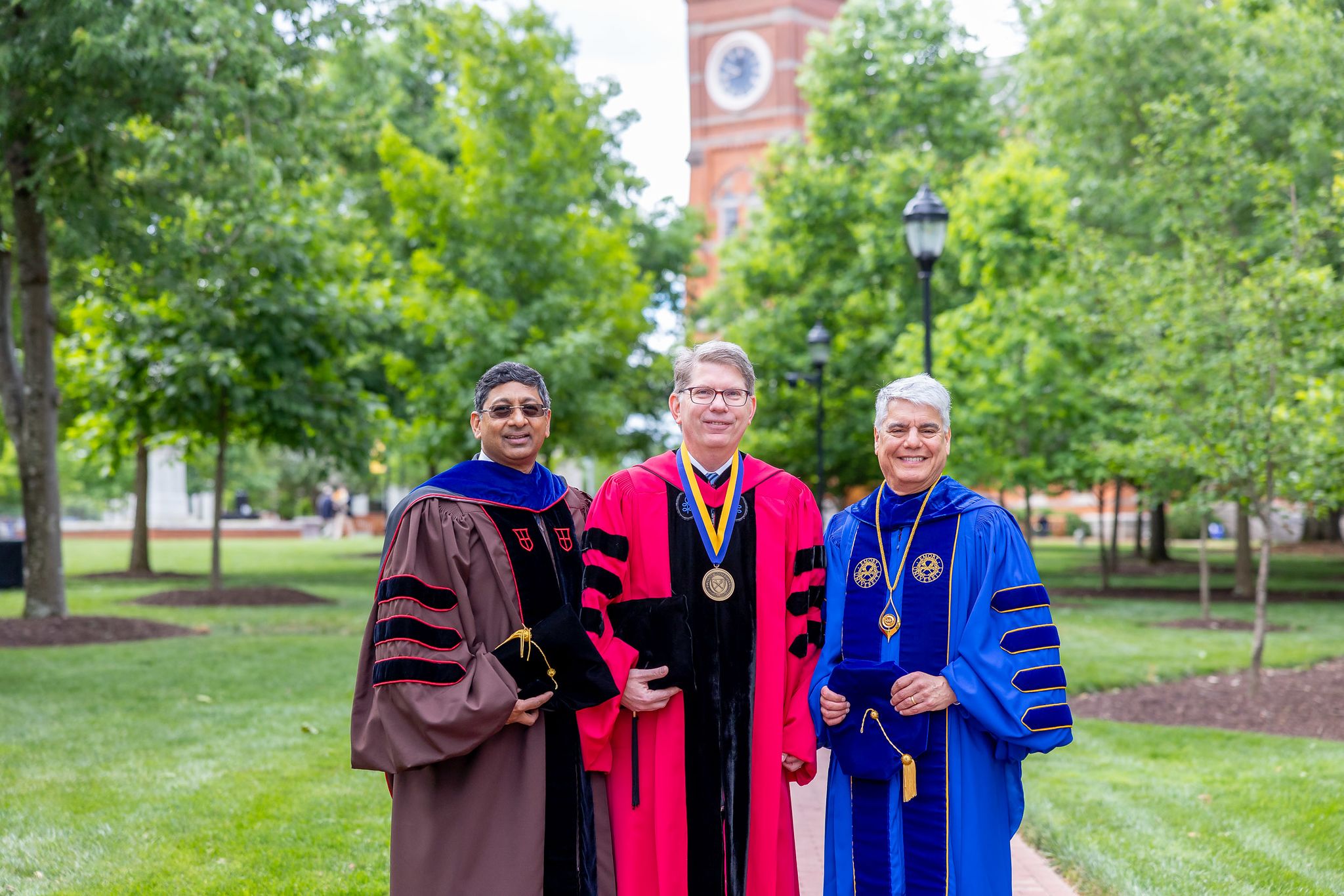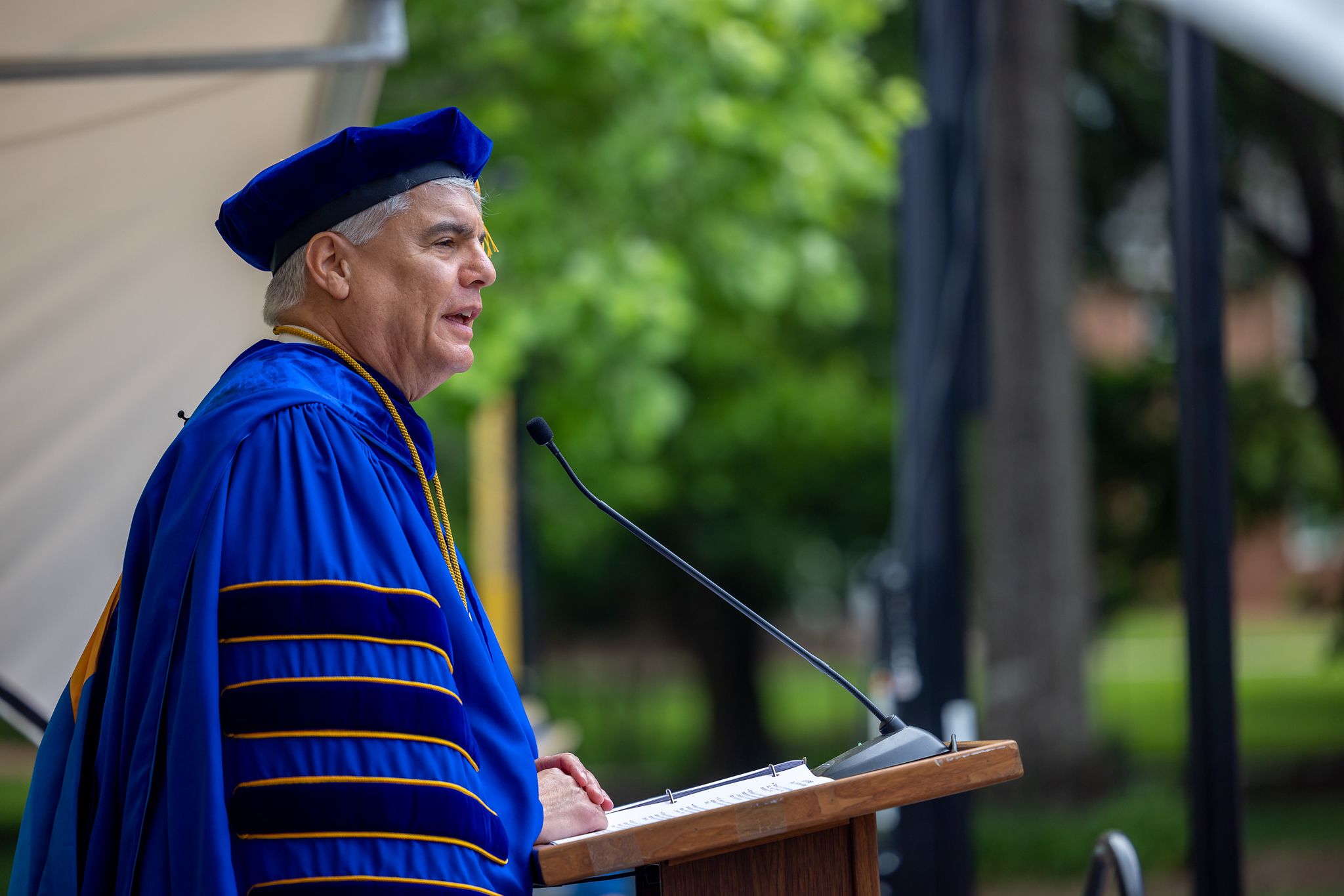 President Fenves, Provost Bellamkonda, and Dean Elliott all warmly welcomed this Oxford class to the Atlanta campus, with Fenves reminding the audiences of the challenges they've each overcome. Starting classes six months into a world-upending pandemic, this class has been a model of resilience, he said: "Given your outstanding academic strengths, we knew you had the talent and creativity to make it work, to take care of each other as a community. And so you did—living and learning together, observing community protocols, and, as a result, protecting the health of others."
Elliott referred to Oxford Commencement as "Emory's greatest halftime show," noting that there is cause to celebrate but also more to achieve: "You are at the midway point of one of the most remarkable programs in higher education.… You have spent two years at one of the finest liberal arts colleges in the country, with faculty who are both distinguished scholars and gifted and dedicated teachers and mentors, sharing an intimate campus with several hundred of the smartest, most talented, most interesting young men and women from around the globe."
There is much more in store, according to Elliott, who previewed the resources Oxford graduates will find on the Emory campus: "In the fall, we welcome you onto the vibrant campus of one of the world's great research universities—with faculty who are also deeply committed to your education and dedicated as well to the mission of creating new knowledge, carrying out pathbreaking research and creative work across the arts and sciences, and constantly seeking opportunities to include you in that transformative process."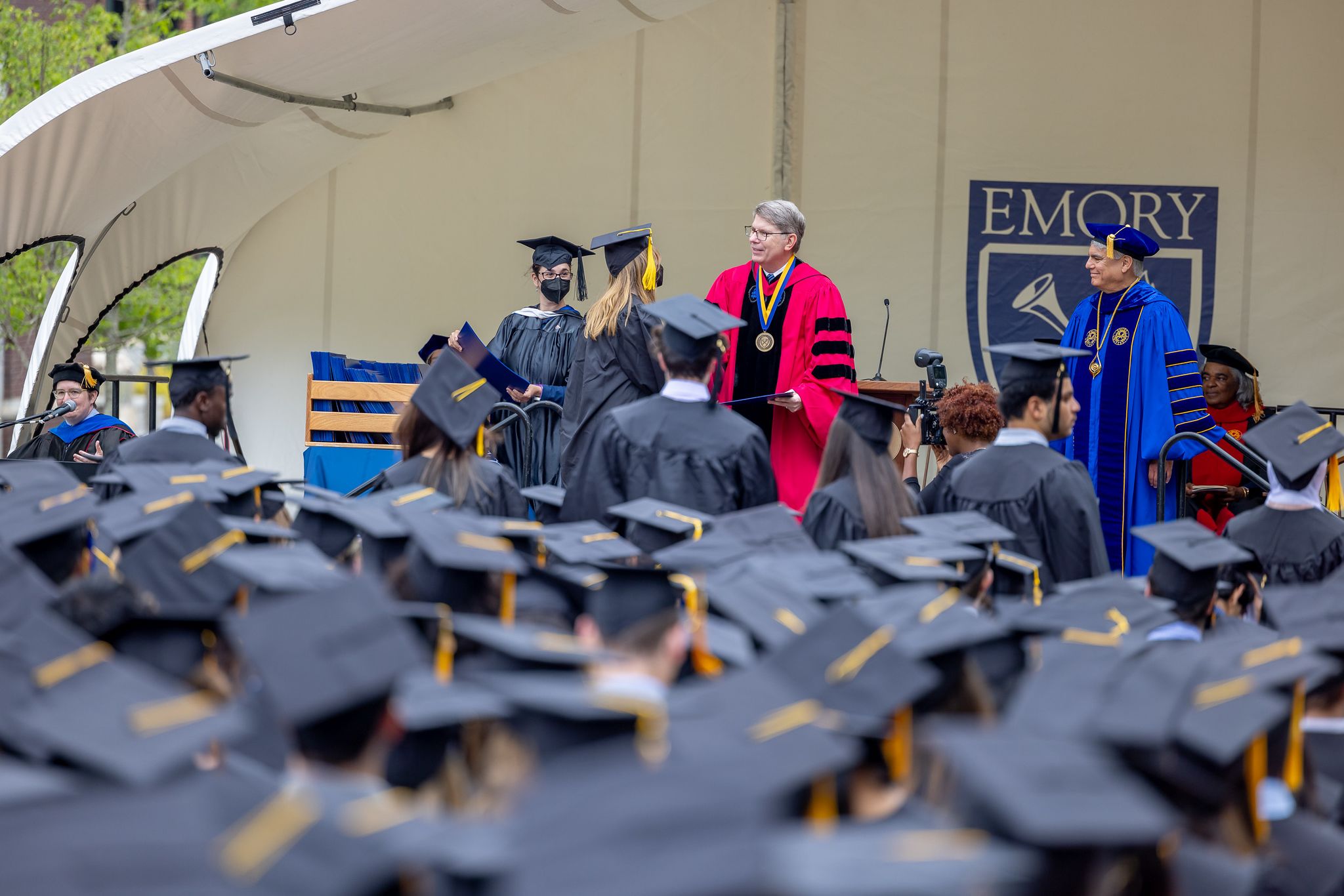 Members of the Corpus Cordis Aureum—an honor society for alumni who graduated 50 or more years ago—were on hand to celebrate the classes of 1970, 1971, and 1972, in addition to this year's graduates.
Telling the group that they "looked terrific," Dean Hicks went on to praise them not only for their distinguished careers but for their support of Oxford, which, he noted, "sets a standard for future classes."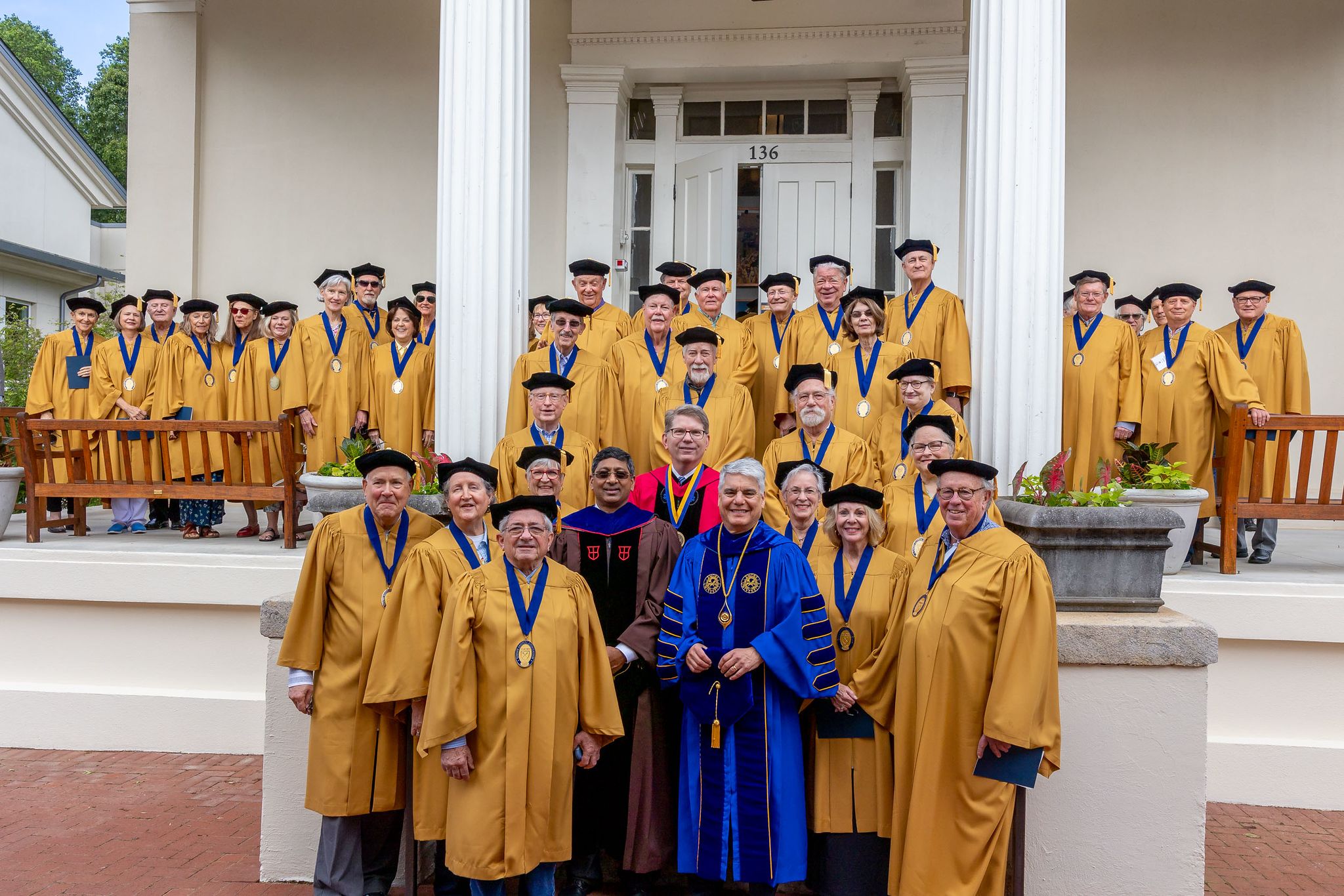 For Dean Hicks, the day could not have been other than bittersweet: It marked his last Oxford Commencement. The dean recently announced his appointment as president of Davidson College, his alma mater. He will continue on at Oxford through July of 2022.

In Hicks's six-year term, he carried out an ambitious strategic plan for the college that included Discovery Seminars, experiential learning, and a Milestone Project for every student, while also increasing the number of advanced classes and adding new areas of study. He also shepherded enhancements to the campus itself: a new dining hall and student center and renovations of the historic Phi Gamma, Pierce, and Humanities buildings.

Hicks's time at Oxford was marked by strengthening ties with the Atlanta campus to ensure students' smooth transition. With students looking to new horizons, it was an apt time to congratulate Hicks as he looked to one of his own.

Provost Bellamkonda also acknowledged psychology professor Catherine Bagwell. Hicks and Bagwell are married, and as he considered her departure as well, he was sure that "this beloved teacher, mentor, and scholar will be missed by students and faculty colleagues alike."

In summation of Hicks's tenure, Bellamkonda referred to him as "an incredible leader and a wonderful colleague." He continued: "We thank you for your dedication, your positive energy, your enthusiasm, and your service to Emory."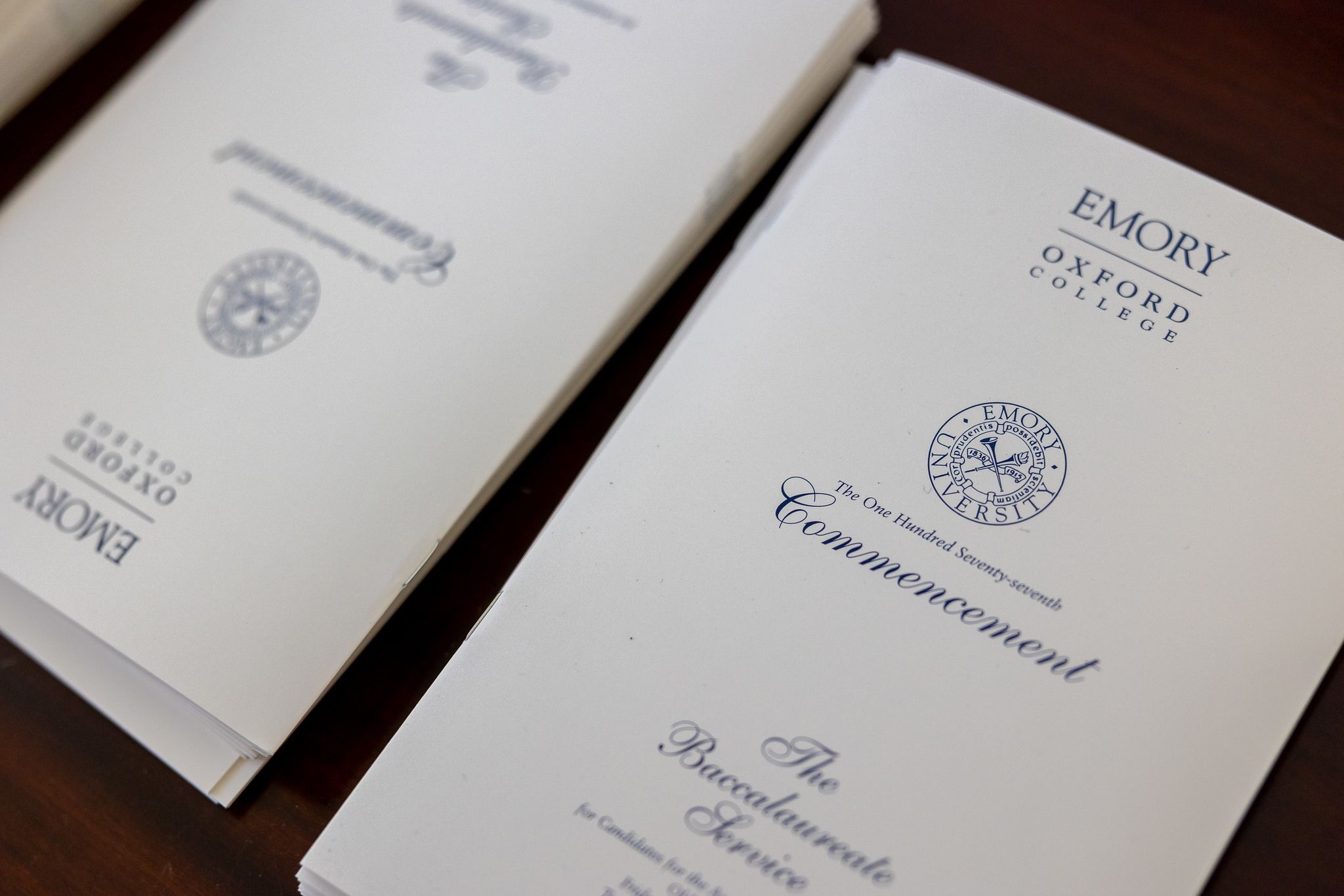 Oxford's Baccalaureate was held on Friday, May 6 at Old Church as part of Commencement weekend. Following opening remarks from Dean Hicks, sophomore Zainab Salako gave the student reflection, and the Oxford student religious leaders offered the Prayers of the Faiths.
The Oxford Chorale and Chamber Ensemble performed, and Rev. Dr. Lyn Pace gave the Baccalaureate sermon reflecting on the theme, "What Will You Carry?" To highlight that theme, all students received special commemorative gifts.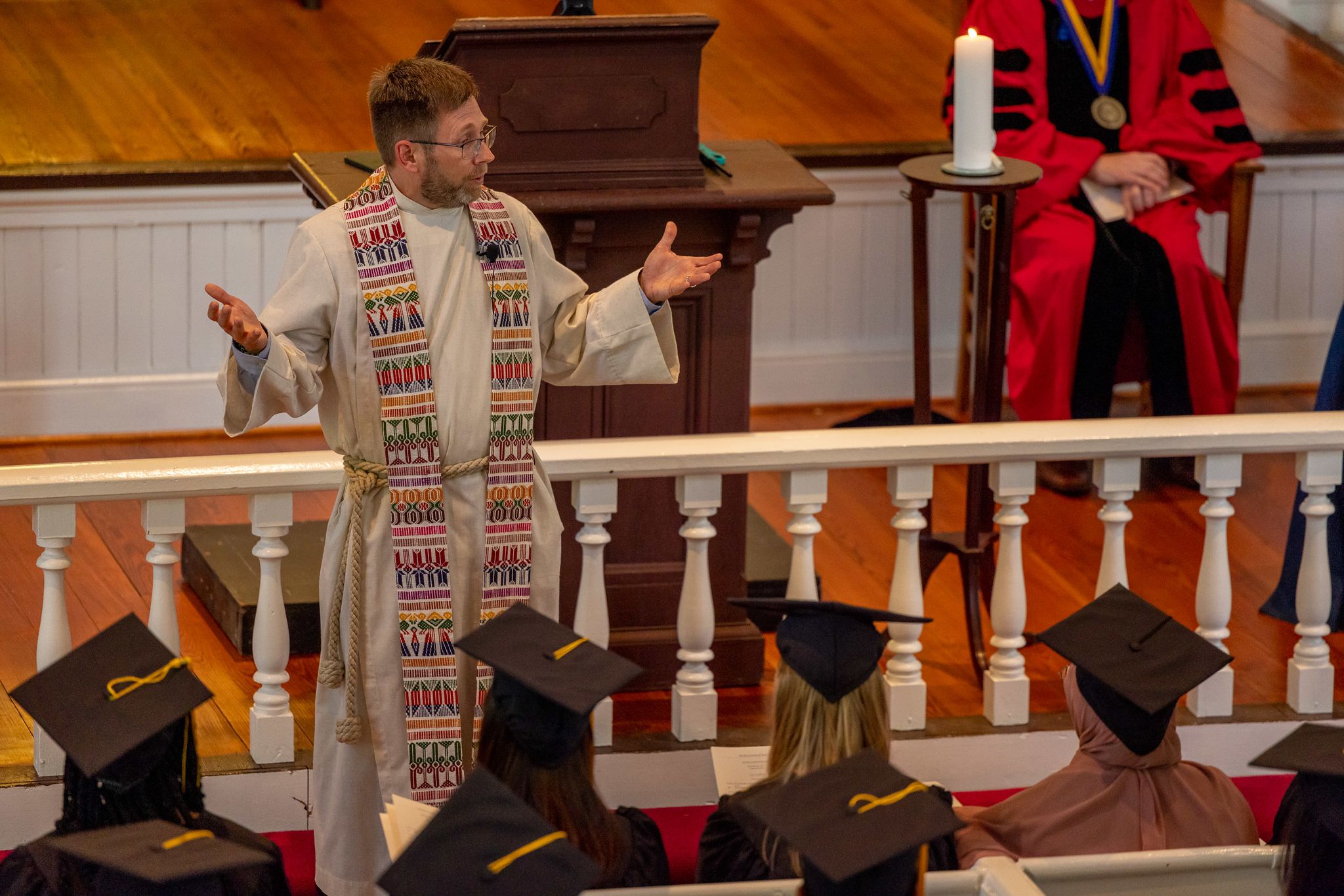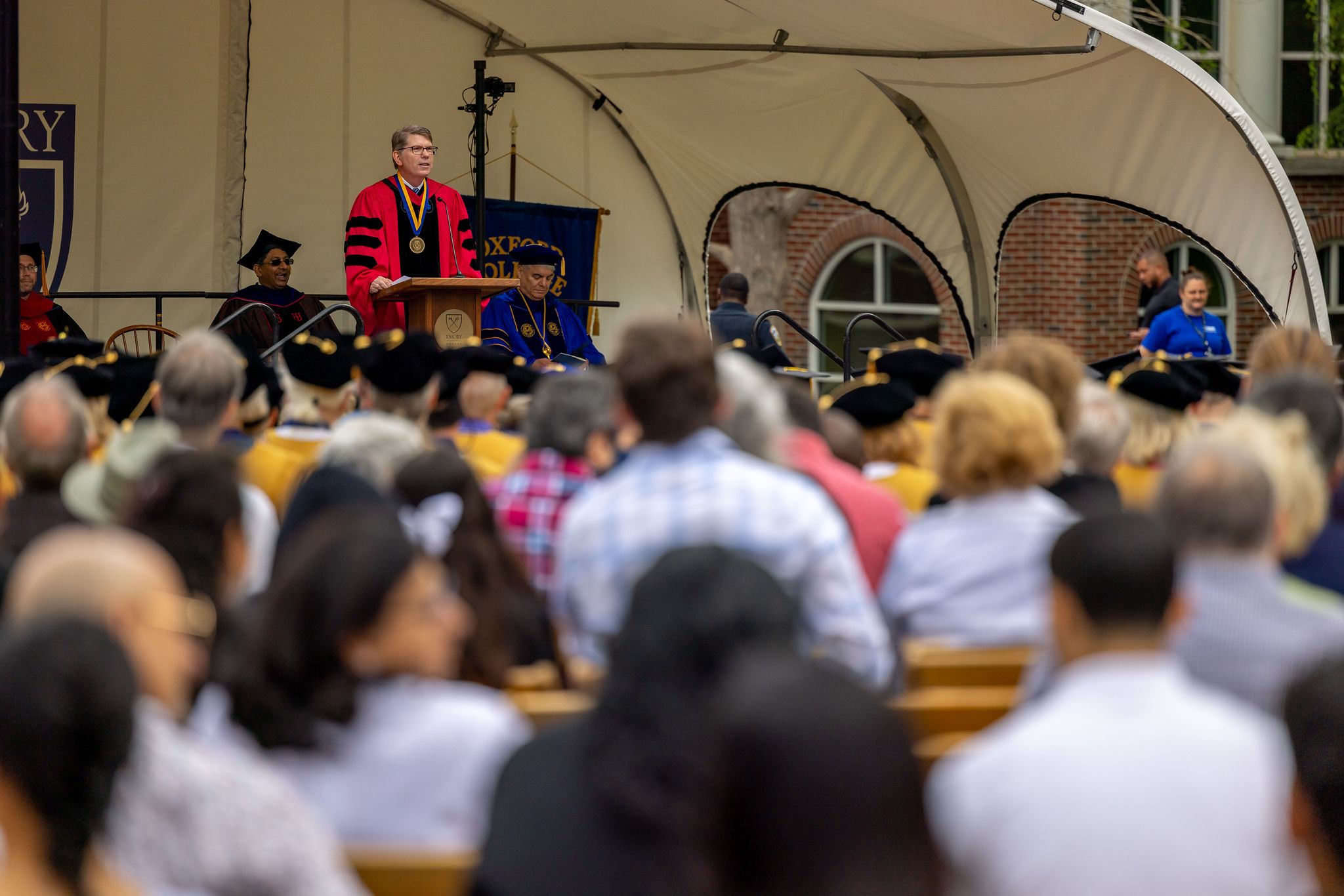 Didn't get to view Oxford's Commencement ceremony? The video is available for viewing below.
Oxford College of Emory University | May 11, 2022
Designed by Kristine Gonsalez and written by Susan Carini and Daniel Christian. Photos and video by David Cannon and Nader Nikoupour.
Memories from the 2022 Baccalaureate and Commencement ceremonies.