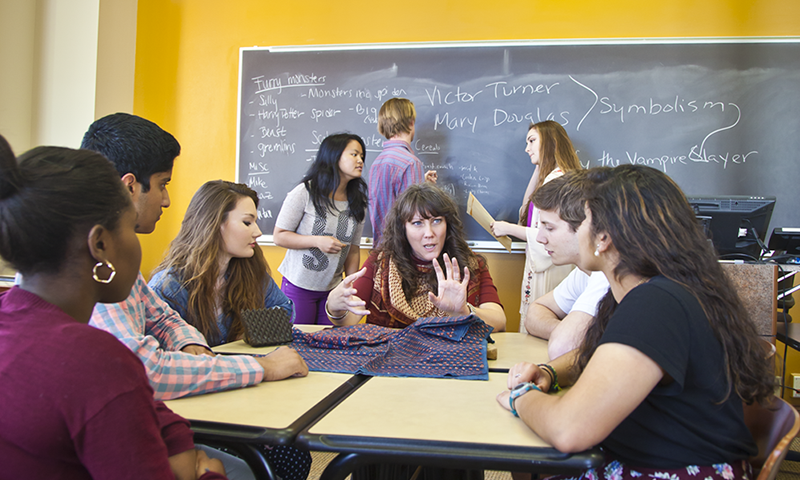 This fall, Oxford College is offering a signature academic experience exclusively for first-year students. Discovery Seminars are a special opportunity that allows students to work closely with one another in a seminar class led by a faculty mentor who will also serve as the students' faculty academic adviser. Discovery Seminars:
introduce you to ways of knowing and producing knowledge within a discipline or field of study
lead you to discover how to find and use evidence to question, analyze, interpret, and create knowledge
provide a close-knit learning community (each seminar is capped at 16 students, and your instructor is your academic adviser)
fulfill a general education distribution requirement, or "tag," and count as one of your three required Ways of Inquiry (Q) courses
give you one course in your fall schedule prior to your arrival on campus.
The Discovery Seminars program will be available only to about one-quarter of the entering class, so REGISTER NOW to take advantage of this opportunity. You must have Login ID to register.
Discovery Seminars, Fall 2017
Social Bonds: Parents, Peers, and Partners
Catherine Bagwell
Professor of Psychology
Catherine Bagwell
The relationships we have with others are some of the most valued aspects of our lives. Our social interactions bring us pleasure as well as pain; they occupy a central place in our thoughts and guide our behavior. In this course, we will take a life-span perspective with a special focus on three groups of relationships—relationships between parents and children in infancy and childhood, relationships with peers and friends in childhood and adolescence, and romantic and pair bonds in adolescence and adulthood. As this is primarily a course about the science of relationships, we will focus on how empirical research in psychology can help us understand how relationships develop, why they are important, how they affect us, and how and why they vary from person to person. Students will gain experience with evaluating data and developing empirical research questions about topics that interest them. (Seminar satisfies Science, Nature, Technology—without lab—(SNT) tag)
Why I am excited to teach this course:
"I am excited to be working with first-year students on this course at a time when they are developing new relationships and experiencing changes in other relationships. Approaching the topic from a scientific perspective pushes us to think beyond anecdotal evidence and to learn how we ask and answer questions that are important to our everyday lives using the scientific method."
Fakes, Forgeries, and Finance: Ethics of Collecting and Repatriation

Tasha Dobbin-Bennett
Assistant Professor of Art History and Studio Art
Tasha Dobbin-Bennett
"While art looks as if it is all about beauty, as a business it is full of shady stuff." (Nouriel Roubini, economist). Generating a total turnover of US $6.53 billion during 2016, the global art market is a dynamic and volatile financial market. It is no surprise, then, that a multi-billion dollar industry based on collecting, authenticating, and marketing individual creative output is vulnerable to the production of fakes, forgeries, tax fraud, insurance fraud, money laundering, politics, and academic provincialism. During this course, we will examine several high-profile cases of fakes, forgeries, and fraud through different viewpoints including law, ethics, finance, and art history. (Seminar satisfies one Humanities, Arts, Performance (HAP) tag)
Why I am excited to teach this course:
"I am really excited about teaching this course because we will be discussing such a wide range of topics that deal with the global art markets. The students and I will be examining case studies on everything from whether museums publicly announce that they have discovered a fake or forgery in their collection, to whether art crimes should be tried in civil or criminal courts. Over the semester, we won't just be looking at multiplicity of elements that influence the art world, we will also be building our relationships as academic scholars, research collaborators, and advisers."
The Sense of Place

Jeff Galle
Director of the Center for Academic Excellence and Associate Professor of English
Jeff Galle
Place figures so prominently in a number of literary genres. Certain books come to mind quickly—the work of Henry Davis Thoreau and Rachel Carson, for example. But we also recall the work of many local color and regional writers, too. Perhaps not instantly remembered but also essential, place figures deeply in narratives of exile, immigration, and in such thematic narratives as the search for home. In a very important sense, place figures into the experience of incoming college first-year students as they enter a new community and develop a sense of belonging and an expanded sense of identity. This Discovery Seminar joins the many evocations of place both literary and personal in a discussion-based course that invites students to explore their own connection to place(s) as they inquire into the forms and examples of literary expressions of place. (Seminar satisfies one Humanities, Arts, Performance (HAP) tag)
Why I am excited to teach this course:
"The content of this course introduces students to some forms of literary study and simultaneously provides the context for exploration of the students' personal journey into the Oxford College of Emory University as place and community. In a rare joining of course content with the student's personal discoveries, the Discovery Seminars look to combine many exciting aspects of the college experience."
Politics and Liberation
Joshua Mousie
Assistant Professor of Philosophy
Joshua Mousie
Can politics still be a source of human liberation and justice, or does our contemporary moment give us reason to doubt the promise of politics? This class will examine the nature of human freedom, political power, and justice. Reading authors from diverse traditions writing in the 20th and 21st century, we will consider 1) different attempts to define the nature of politics and power, 2) which forms of politics and power best enable us to realize a more just world (and why), and 3) what it means to be a "liberated" human being or society. An important focus of this course will be consideration of how these social and political theories are currently alive, understood, and relevant to our contemporary world. Authors will likely include the following: Hannah Arendt, Enrique Dussel, Chantal Mouffe, John Rawls, Partha Chatterjee, Charles Mills, Angela Davis, Michel Foucault, and Iris Marion Young. (Seminar satisfies one Humanities, Arts, Performance (HAP) tag) 
Why I am excited to teach this course:
"I am excited to teach this course because it will fundamentally challenge students' understanding of the nature and importance of politics and political action. More than a debate between elected officials in Washington, students will come to understand politics as it relates to their own actions and communities. I believe the course will encourage a newfound desire in students to live a life devoted to public action that challenges the multiple existing forms of injustice in our world. From our readings and discussions, they will understand how theoretical knowledge can enrich their practice, now and in their future careers. During the past few years, we have seen a swell of political participation in the U.S., and thus I am also excited that students in the course will see an immediate connection between concepts we discuss and events unfolding in the world around them."
World Religions: Modern Controversies
Eve Mullen
Associate Professor of Religion
Eve Mullen
The seminar introduces major world religions and their traditional forms while exploring their internal controversies, treatments of social justice issues and innovative interpretations in modernity. Students will discover religions such as Judaism, Christianity, Islam, Hinduism, Buddhism and Native American religions through their classic scriptures and contemporary practices. Topics such as religious fundamentalism and violence, women and gender justice, liberation theology, African-American theology, interfaith dialogue and conflict resolution, environmental ethics, and refugee crises will allow students to discover interpretations of the religions by the traditions' practitioners today. Individual student interests are encouraged and accommodated. The course emphasizes improvement of written and oral communication, development of student research skills, and practice in sound inquiry on the undergraduate level. (Seminar satisfies one Humanities, Arts, Performance (HAP) tag)
Why I am excited to teach this course:
"I'm glad to be teaching this Discovery Seminar because it's exciting to get to know incoming students and discover their interests and because this topic examines how people in world religions today creatively react to crisis and controversies in their religious communities and beyond. It is a timely, relevant topic that shapes our world."
The Contemplative Mind: Engaging the Critical Questions of Social Justice

Patti Owen-Smith, Professor of Psychology and Women's Studies
and Lyn Pace, Chaplain
Patti Owen-Smith
This seminar will examine the "critical questions" of both social injustice as well as justice explored by human beings throughout the centuries such as the nature of beliefs and values, ethics, morality, spirituality, happiness and well-being, suffering, and community engagement and personal and social responsibility. Our academic disciplines, particularly psychology, evolved from many of these fundamental questions. Therefore, our readings will consist of writers representing the discipline of psychology but will also include cross-discipline perspectives. The seminar will use readings, class discussions, small group experiences, oral presentations, library research, and written work as the means to explore these questions. Central to the class is the opportunity to explore our own minds and hearts through a variety of contemplative practices. (Seminar satisfies one History, Society, Cultures (HSC) tag)
Lyn Pace
Why we are excited to teach this course:
"We are both looking forward to working with first-year students because of the excitement and fresh energy new students bring to campus and the classroom. Our course will engage two of our passions—contemplative practices and social justice. We are especially interested in the ways human beings are present with our local communities and the ways in which we make meaning in our lives through mindfulness and social justice. Our course will give us the opportunity to get to know each other in these ways, but it will also help us focus on being still and present as we listen not only to our own lives but to the lives of those who are marginalized and oppressed."
American Islam Before and After 9/11

Florian Pohl
Associate Professor of Religion
Florian Pohl
This Discovery Seminar serves as an introduction to the academic study of religion with a focus on American Islam. We will aim to understand representations of Islam and Muslims in America from the religious studies perspective and analyze how those representations are framed, and why. We will examine the multiple ways in which Muslim communities in the United States have been both maintaining and reconfiguring their cultural, ethnic, and religious identities in a multicultural society where they face marginalization, prejudice, and misunderstanding. We will investigate Muslim immigration prior to 1900, through slavery and voluntary immigration; the rise of Islamic black nationalism; the role of race, class, gender, and sexuality in contemporary Islam; and the experiences of American Muslims in the post-9/11 world. Class materials will include current events articles and newscasts, fictional and autobiographical accounts, ethnographic, historical, and political science texts, plus a series of films about Muslims in America. (Seminar satisfies one History, Society, Cultures (HSC) tag)
 Why I am excited to teach this course:
"Studying American Islam is exciting to me because it calls attention to some of the most fundamental questions that arise in the context of American public life where we as Americans encounter one another and grapple with issues of importance to our communities and the nation—such as what it means to belong in America and how American identity relates to a person's religious beliefs."
The Origins of Mathematics
Benjamin Purkis
Assistant Professor of Mathematics
Benjamin Purkis
How does mathematics begin, both within a society and within a person? This seminar will follow the development of mathematics over the course of human history, including stops in pre-history, Egypt and Babylonia, Greece, China, the Middle East, the Renaissance, and more modern mathematical times. Throughout, students will be challenged to find their own mathematical beginnings by confronting the same challenges and problems that sparked mathematical development through the ages. By struggling to find their own solutions before learning how these problems were solved historically, students will engage with the process of creating mathematics and discover the beginnings of their own mathematical journey. Problems and topics studied will include the development of number systems in ancient times, the beginnings of geometry, the development of calculus, the number Pi, and Fermat's Last Theorem. A good understanding of high school mathematics will enhance the student experience, but no calculus or other prerequisites are required. (Seminar satisfies one Mathematics and Quantitative Reasoning (MQR) tag)
Why I am excited to teach this course:
"I've always loved the history and people behind the math, and I think we can draw inspiration even now from the problems and solutions found in the past."
If you're a first-year Oxford student entering this fall, REGISTER NOW for a Discovery Seminar. You must have Login ID to register.