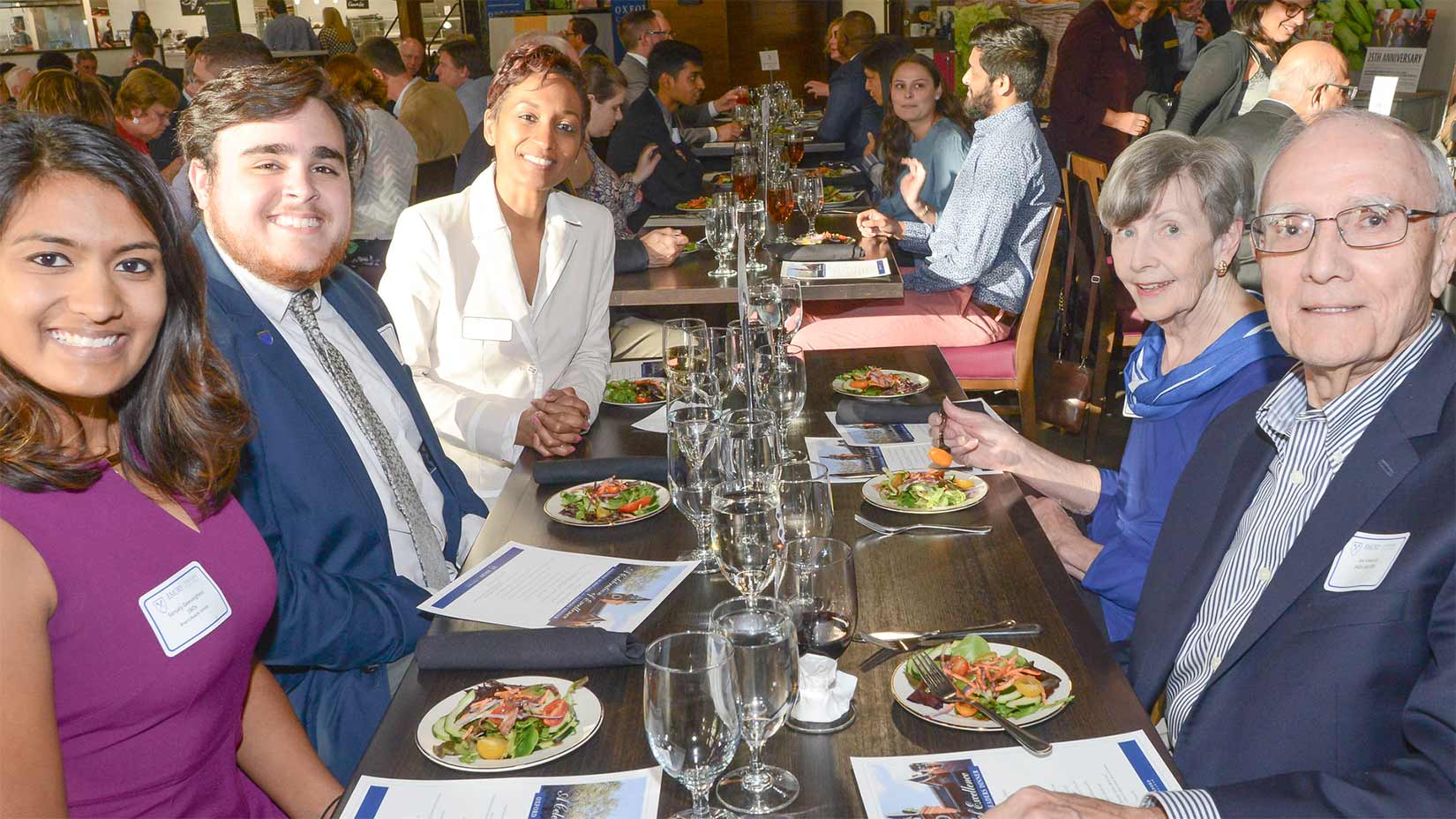 Alumni Events
Oxford alumni events help you stay connected with your classmates, while at the same time providing a chance to meet current students. Mark your calendar for these events.
Homecoming 2020 goes virtual
Thank you for making Homecoming 2020 one we'll never forget! From the Musical Showcase (with Broadway stars Sydney Harcourt and Lexi Lawson from Hamilton, the Indigo Girls, and Shadowboxers) to getting to know President Greg Fenves and honoring visionaries like John Lewis and Ruth Bader Ginsburg, Emory Homecoming 2020 will be one to remember.
Did you miss any of the Homecoming programs? Access them at the link below.


Specific events of interest to the Oxford Community that feature Oxford faculty and alumni:
Untold Stories: Race, Place, and Vulnerability in the Women's Suffrage Movement
Examine the role that race, place, and vulnerability played in women's suffrage and the fight for voting rights in the South. Faculty members Pearl Dowe, Asa Griggs Candler Professor of Political Science and African American Studies at Oxford College and Emory College; Martha Albertson Fineman, Robert W. Woodruff Professor of Law; and Andra Gillespie, Associate Professor of Political Science, Graduate Faculty of Emory Sociology and Director of the James Weldon Johnson Institute, will explore these themes with guests.
A Taste of Emory From Around the World

Three international alumni will discuss their work related to food and beverage. Jamie Koh 07B will dial in from Singapore, where she is perfecting the next batch of craft spirits at her Brass Lion Distillery. Claudia Kreklau 16G 18G, a 20th-century food and beverage historian, will be calling in from Scotland, where she is a professor at The University of St Andrews. And from Dubai, Digant "Raj" Kapoor 10Ox 12C will share his expertise as the People Manager at Madar Farms, a company focused on sustainable farming to address food insecurities.
Dorm Room Restauranteur: Butter Chicken Basics with Farhan Momin 13Ox 15C
Presented by the Oxford College Class of 2015. Join Farhan Momin 13Ox 15C for a brief history and demonstration on creating a restaurant-quality Butter Chicken at home. Momin is a local dentist who spent his years at Oxford and Emory recipe testing and managing his family's restaurant. He went on to compete on MasterChef and now runs a pop-up series and co-owns his family's butcher shop and restaurant Atlanta Halal Meat & Food.
Empowerment through Equity and Exposure: Donté Flanagan 04Ox 06N 
Empowerment through Equity and Exposure is a mantra and mission that has the ability to disrupt our community locally and nationally for the betterment of society as a whole. The focus of this session pulls on the tragedies within the healthcare system, globally and locally, and the role we can play in aiding in improving the experience and outcomes of our patient population.
Watch Homecoming Programs
Update on Oxford Reunion Cancellations
The Oxford Alumni Reunion Weekend events scheduled for April 17-18 were postponed. To ensure we are able to continue celebrating these special milestones, reunion classes scheduled to meet in 2020 (1975, 1980, 1985, 1990, 1995, 2000, 2005, 2010, and 2015) will celebrate your reunion during Oxford Alumni Reunion Weekend 2021. We will continue to keep you updated on preparations for Oxford Alumni Reunion Weekend 2021.
The 1970 50th Class Reunion has been scheduled for May 7-9, 2021.