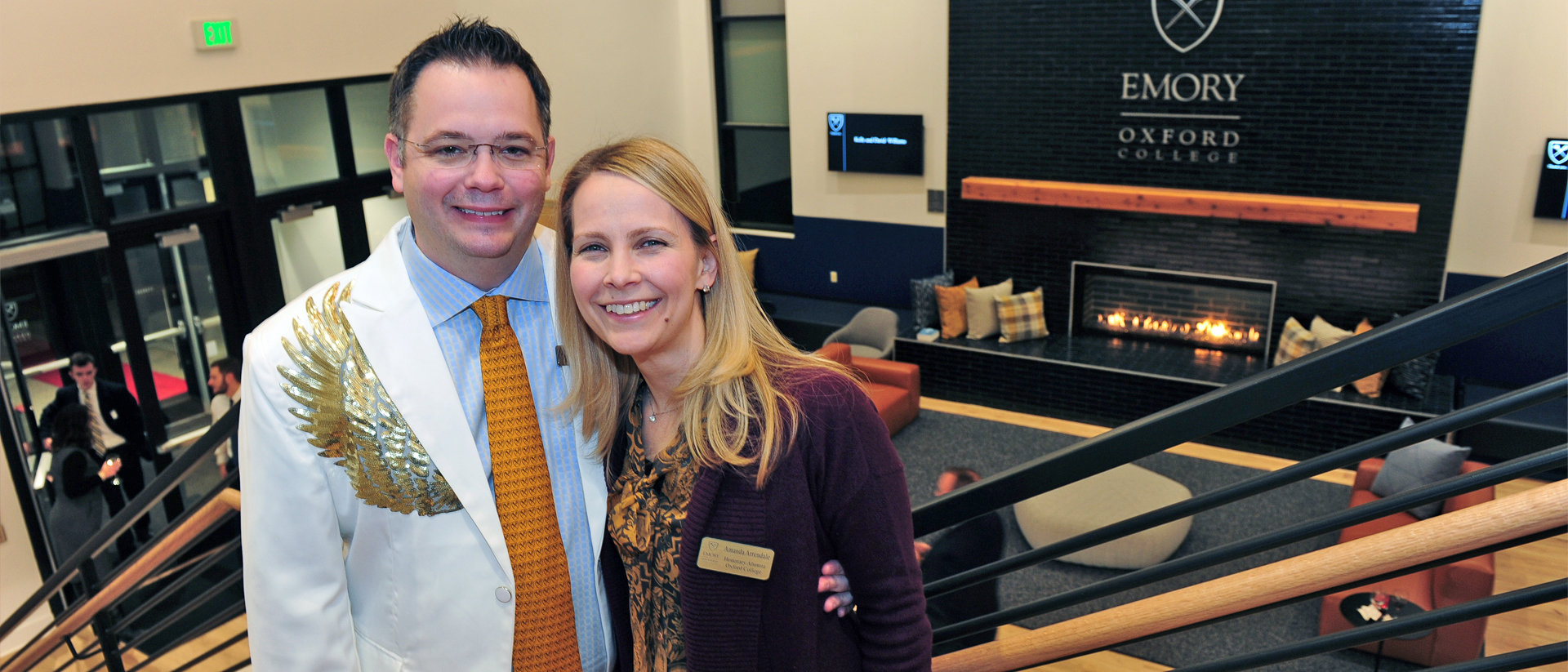 Catching up with Our Alumni
Major: Sociology and International AffairsCareer Field: Management Consulting
During her time at Oxford College, Khatdija Meghjani created the Red Lips Project, a campus campaign that empowered young women around issues of self-worth. In recognition of the notable impact she made at both Oxford and Emory, she received the Virgil Y. C. Eady Sophomore Service Award at Oxford's commencement, and at her Emory commencement she was named Humanitarian of the Year. Meghjani serves on the Oxford College Alumni Board.
Today, Meghjani is a senior producer at World 50, where she orchestrates private and high-profile summits for C-Suite executives from Global 1000 companies. Prior to joining World 50, she was a strategist at BrightHouse, a BCG company. Meghjani has also lived abroad in Mombasa, Kenya, and served as an academy fellow for the Aga Khan Development Network where she worked with 143 students and raised approximately $8 million in scholarships and sponsorships for low-income students.
Major: Interdisciplinary Studies
Career Field: Sports Law
After attending Oxford College and Emory College, where Caleb Jay received a JD from the University of San Francisco School of Law and an MA in sport management from the University of San Francisco.
Today, he serves as senior counsel for the Arizona Diamondbacks, which he joined in 2007. His responsibilities include drafting sponsorship and other business contracts, preparing documents for marketing promotions, handling intellectual property matters, and providing legal advice on general business issues. He also teaches sports law at Arizona State University College of Law.
Jay spent 11 seasons with the Oakland Athletics, working his way up to assistant general counsel. Following that role, he was an associate with Carroll, Burdick & McDonough, where he practiced real estate, business, and corporate law.
Jay is a board member for Big Brothers Big Sisters of Central Arizona, where he also serves as a Big Brother.
Major: Neuroscience and Behavioral Biology
Career Field: General Dentist and Chef-Owner of Farmo Cooks
Farhan Momin known by his nickname "Farmo" is an Atlanta chef and general dentist who has received attention with the Farmo Cooks Pop Up series. He has gained national acclaim from being featured in MasterChef season nine (finishing in the top six), Food & Wine, and Family Circle, and most notably as a chef in the Brown in the South supper series.
Momin's food reflects a remixed take on growing up in the South while maintaining his Indian roots, and he gives his family credit for inspiring his cooking. "I get to represent not only myself on a plate," he says, "but also the reason I do what I do, which is my parents."
Major: Sociology
Career Field: Privacy and Security
After attending Oxford College and Emory College, Arrendale went on to earn an MS from Southern Polytechnic State University (now Kennesaw State University) in 2004. A former Oxford Alumni Board president and dedicated Oxford alumnus, Arrendale was named to Emory's inaugural "40 Under 40" list of outstanding young alumni in 2017.
Known as an expert for problem-solving skills in the email deliverability, privacy, and software realm with nearly two decades of experience, Christopher Arrendale speaks, writes, and consults about these topics. He is also the author of Deliverability Inferno: Helping Email Marketers Understand the Journey from Purgatory to Paradise, which explains the art and science of deliverability.
He and his wife, Amanda Arrendale established Crown IT Consulting and the Arrendale Group in 2013, which conducted business as Inbox Pros. In 2018, Inbox Pros was acquired by Trendline Interactive, and Arrendale is now its chief privacy officer.