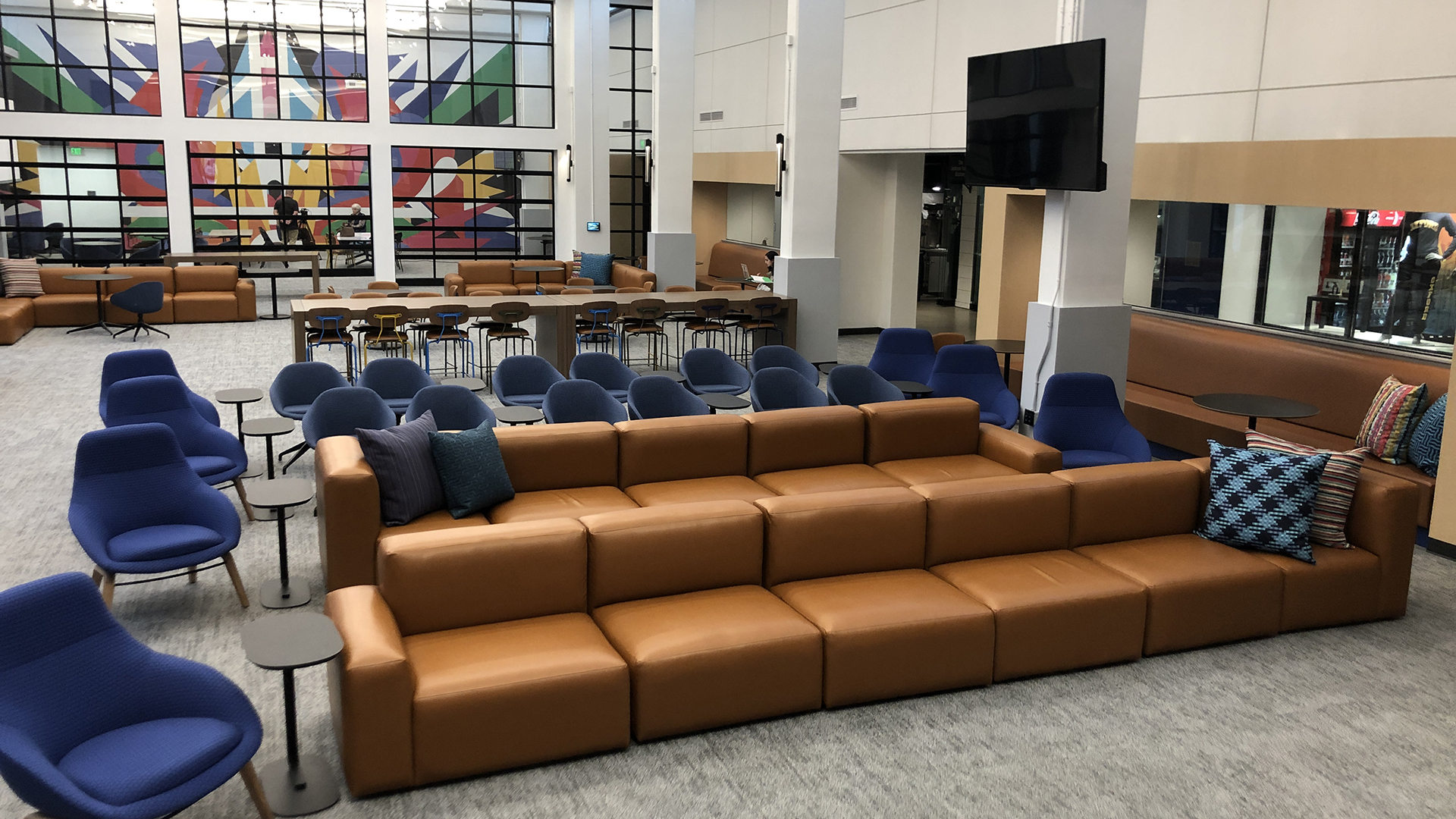 Events and Conferences
Oxford College Events and Conferences (OCEC) manages the operations for all events and programs that take place on the Oxford campus throughout the academic year.
Oxford Conference Services 2020
We appreciate your cooperation and patience with us during these uncertain times. Our 2020 Summer Conference Services Program has been canceled. Please know that the health and safety of our clients is our number one priority and we are all dealing with this difficult decision together. We look forward to working with you in 2021!
OCEC coordinates the rental and use of Oxford College facilities to people and organizations outside the college. This includes meetings, seminars, summer camps, training institutes, and the like.
Our campus, located 36 miles east of Atlanta on the historic original campus of Emory University, features historically rich architecture. Seven buildings on our tree-lined Quad were built before 1900, including the iconic Victorian-era Seney Hall, built in 1881. Today, these buildings, along with numerous more recent structures, are equipped with 21st-century technology and flexible spaces.
Planning your event
Whether you're designing a meeting or a month-long residential conference, our team can help you plan. Oxford offers several unique locations available to rent for private events. Unique Venues has named Oxford as a top pick historic venue. We can provide a venue for your business meeting, workshop, wedding reception, graduation party, or family reunion.
Learn about Oxford's designation as a top pick historic venue
In order to maximize your interactions with our office, please review the information below before contacting us.
Facilities Capacities and Amenities
Building has elevator and ADA Access
Greer Forum – large room with stage and comfortable seating. Equipped with projection and A/V technologies
Capacity: 150 for presentation, 300 seated reception
Mural Room – semi-private room with varied seating arrangement options
Capacity: 25 for meeting, 72 seated reception
Grand Hall – entry area of building with soft seating and fireplace. Ideal for registrations and small receptions
(Limited availability. Send specific requests to ocec@emory.edu.)
Student Lounge – small room with comfortable seating
(Connected to Back Patio. Student groups get priority for this space during school year.)
Back Patio – L-shaped patio with tables and chairs overlooking wooded, Nature Trail area
Club Hub – multi-use workspace with work areas, monitors and video installed
(Limited availability. Send specific requests to ocec@emory.edu.)
Two small conference rooms ideal for small break out group meetings. Located within the Club Hub area
(Student groups get priority for this space during the school year. Otherwise, only available with Club Hub or full building rental.)
Entire building is equipped with audio and video streaming capabilities. (Contact ocec@emory.edu for pricing and availability.)
Each building is equipped with an elevator and multiple classrooms that have projection and A/V technologies
There are unique spaces in each building, including small lobbies, art studios, collaborative workspaces, and conference rooms
Building has flexible seating plans – up to 56 seats for seated reception; up to 100 seats for theater style)
Flexible event space suited for meetings, seminars, receptions, panels, and lectures
Beautiful wood floors, large open windows, and original molding add a touch of class to every event
Space has built-in projection, Bluetooth, A/V, and wireless sound capabilities
Nothing can be hung or adhered to the walls. No confetti or open flames.
Elevator and ADA Access
Capacity: seats up to 90
Equipped with projection, A/V, and wireless microphones
Has 12 6-foot marble tables
Built-in marble countertop that can double as buffet location
Large bay window, natural lighting, and high ceilings
Capacity: 187 theater seating
Elevator access
Williams Hall is managed and booked as a performance and a multimedia space equipped with digital projection, sound, and lighting. It also has a suspended Marley dance floor and full mirrors can be opened on three sides of the floor.
A grand piano is available to professional musicians only by permission from OCEC.
No food or drink is permitted in Williams Hall and soft-soled shoes, socks or bare feet must be worn on the dance floor.
Additional chair seating is possible.
Capacity: 170 seating in chairs
The Oxford Chapel is available for worship, meetings or performances and is equipped with projection and A/V technologies.
Includes piano and a raised front stage area.
No food or drink is permitted in the chapel.
Nothing may be hung or attached to the walls or altar.
Elevator access
Tarbutton Theater – Capacity: 125 seat stadium box theater
State of the art, built-in multimedia capabilities
A Conference Coordinator must be present if the control booth is being used.
Choral rehearsal room – Capacity: 50-60 seats; equipped with piano and projection and A/V technologies.
Green Room – Capacity: 30 at tables and chairs; also fitted with a bank of makeup mirrors and space for dressing for plays or talent shows. This room has exterior entrance/exit and is equipped with projection technology.
Studio Art Room – Capacity: 25 at tables and chairs. This room has a sink and exterior entrance/exit.
Instrumental Rehearsal Room – An acoustically insulated room that can be used for music rehearsal of small groups.
Two individual practice rooms, one equipped with a piano available to music camps only.
Gymnasium
Shoes with cleats, leather soles, sandals, and open toes are not allowed in the Gym
Basketballs and volleyballs will be made available based on supply availability. Groups may furnish their own equipment.
Pool
A maximum of 50 people may be in the pool at one time
Certified lifeguards must be on duty ($20/hour for two lifeguards)
Swimmers may not enter the pool until the lifeguards have given them safety instructions and approval to enter the water.
All swimmers must wear regulation swimsuits and should shower before entering the pool.
Ten courts available.
Appropriate shoes and clothing need to be worn, and group supervision must be provided.
Goals available for an additional $50/day.
Lights on the field may not be used after 9 p.m. (by city ordinance).
 Our facilities are available during the following times:
Winter Break—approximately the first two weeks of January
Spring Break—second full week of March
Summer Break—second week of May through the first week of August. Please complete the Summer Conference Inquiry Form before contacting our office. (In addition to our regular staff members, we employ student summer conference coordinators to ensure we meet your expectations.)
Thanksgiving Break—Wednesday through Saturday 
Dining
Will your group eat all of their meals on campus or will some be off campus?
Do your participants have special dietary restrictions (i.e. allergies, vegan or vegetarian, or kosher meals)?
Do you want a catered meal for a special event during your conference? Oxford Dining can provide your group with fresh, contemporary menus for special meals or informal coffee breaks. If you're interested in a catered event, notify the Events and Conference office early in your planning. Browse the catering guide.
View dining options.
Meeting Spaces
What kind of meeting spaces do you need? Will you need technology? Throughout the Oxford campus there are technology enabled classrooms (TECs) as well as technology-enhanced conference rooms supported by Oxford College Information Technology. The technology installed in these spaces enables the user to bring out the best of their well-prepared lecture or presentation.   
We also have a few classrooms and meeting spaces that do not have installed technology. If there is a need to use technology in one of these spaces, then please submit a request to tell us what will be needed and when.
We have enjoyed bringing hundreds of teens out to Oxford each summer for more than 20 years. All-inclusive pricing helps us budget and we couldn't ask for a better setting for our students to learn and have fun.
Filming on Campus
Historical Oxford College, the original home of Emory University, is located 36 miles outside of Atlanta. Our campus features historically-rich architecture surrounding a plush, green quadrangle filled with trees. We offer several unique facilities and outdoor areas, including an organic farm, that can be rearranged or used as-is to satisfy a wide-range of locales and time periods. 
 
While we are able to make accommodations to host film crews year-round, we have the most flexibility during academic breaks. To set up a site visit, please contact the Events and Conferences Office at 770.784.8389 or at ocec@emory.edu. Please allow up to two business days for a reply.
These networks and streaming services have filmed at Oxford:
Netflix
Disney (Jungle Cruise movie)
The CW (Vampire Diaries)
Bravo
Georgia Lottery commercial 
Additional Services
These are some of the facilities available at Oxford to enhance your conference or meeting on our campus.
Contact Us
Find out more about costs or schedule a tour.
Hours and Location

Monday–Friday, 8:30 a.m. to 5:30 p.m.

Mailing Address

Office of Events and Conferences

807 Whatcoat Street (across from the Oxford Mail Center)

Oxford, GA 30054