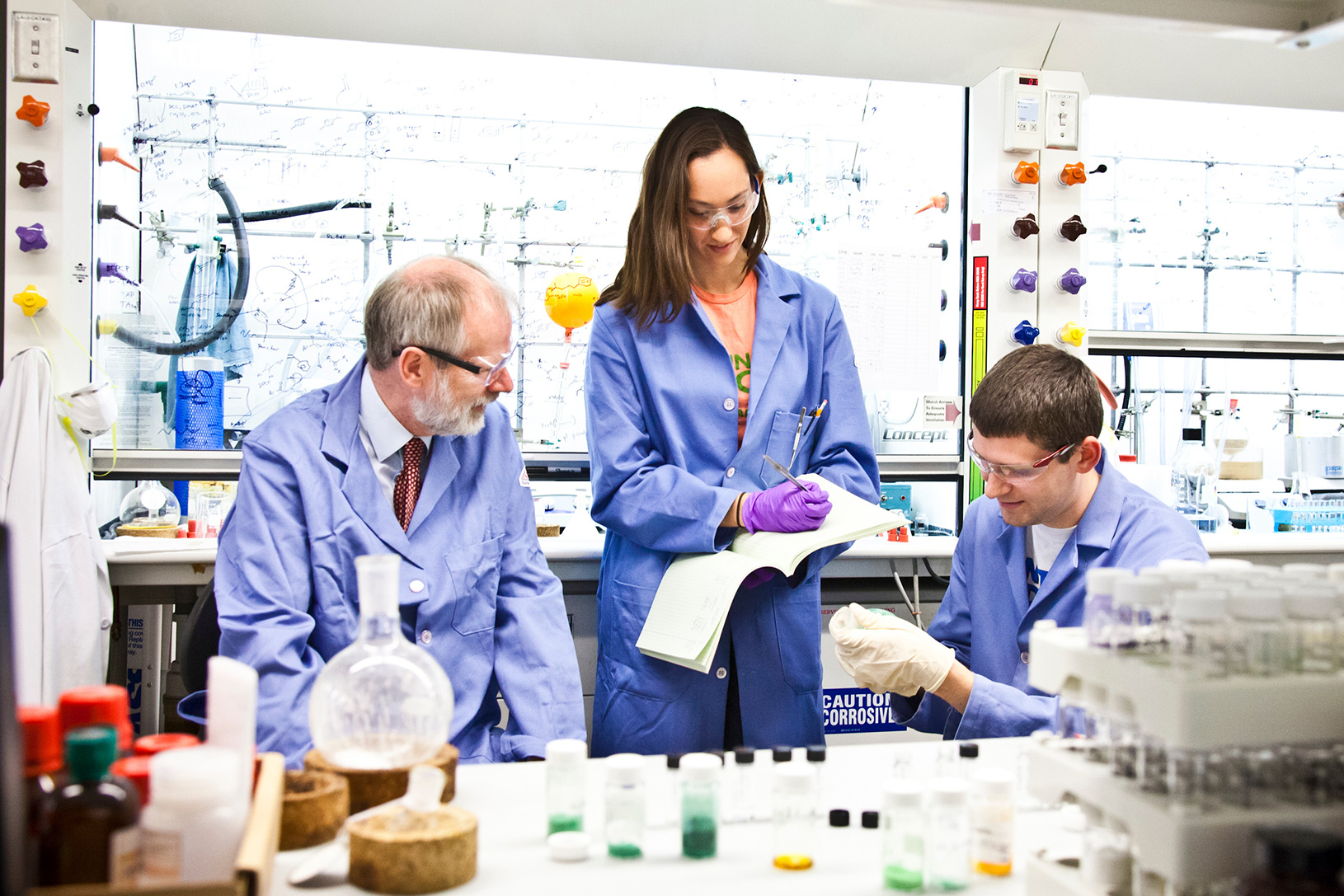 Emory's Chemistry Unbound is an exciting, intradisciplinary approach that breaks down barriers between traditional chemistry disciplines and creates context for exploring real-world problems and solutions. The curriculum has served as a leading model in higher education to invest in hands-on, innovative teaching.
Chemistry is an incredibly broad field. It's actually called the central science, because it overlaps with biology, physics, geology, and environmental science. 
Emory's forward-thinking curriculum offers a foundation for success in a broad array of fields, including government, nonprofit, academia, and entrepreneurship.  
Outcomes
Chemistry is a broad field, which means career options vary considerably. You could wind up doing research and development in a corporate lab setting, become an environmental expert for a government agency, work in the nonprofit sector, work in academia, or become an entrepreneur.  
Recent Emory grads are working at the Atlanta VA Medical Center, Viatech Publishing Solutions, Walgreen's Pharmacy, and Teach for America.  
They're also pursuing advanced degrees at such institutions as University of California—Berkeley, Yale, Princeton, Emory's Rollins School of Public Health, and the University of Arizona.  
$78,330
Median pay for Chemists
Bureau of Labor Statistics
#20
Emory's science lab facilities
Princeton Review, 2019
Example of Major Classes
Are We Alone in the Universe?
Explore that question, the development of solar systems with habitable planets, and the factors that influence our chances of making contact with other intelligent life forms.  
How Do We Know That? 2,500 Years of Great Science Writing
Should we clone humans? Can chocolate cause weight loss? What is the placebo effect, anyway? Was Galileo just a really big nerd? What did Darwin, Einstein or Mendel actually say?  Explore how humans learn by looking at the original words of scientists throughout history. Liquid nitrogen ice cream included.  
Perspectives in Chemistry
In this capstone seminar series, examine applications of chemistry through an interdisciplinary lens as you explore such topics as the environment, art, medicine and forensics.   
Research in Chemistry
Summer Undergraduate Research Experience (SURE)
Min Ji Choi 16 Ox, 18C began studying chemistry on the Oxford campus. Her SURE experience allowed her to explore methods for discovering new drugs working one on one with her mentor, Dr. Neuman, Assistant Professor of Chemistry. 
You'll understand the chemistry behind why the world works and learn how to construct a scientific claim and use evidence and reason to explain your argument. That's a level of critical thinking that transcends chemistry.