Memorial service honors students killed in terrorist attack
---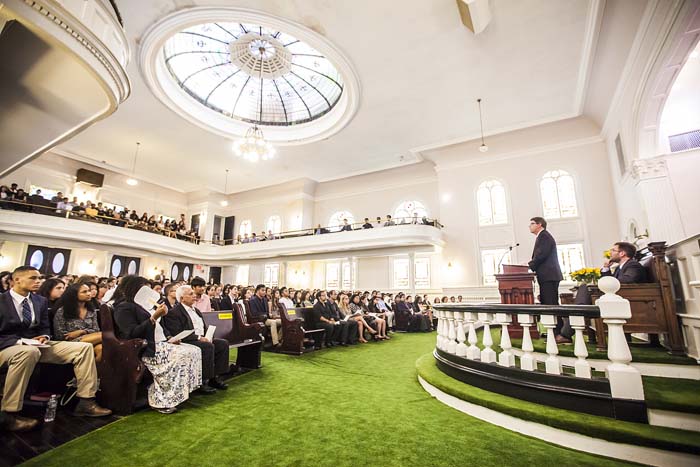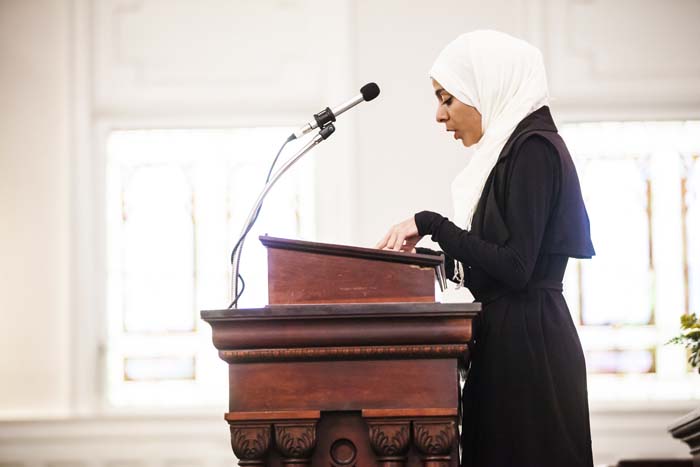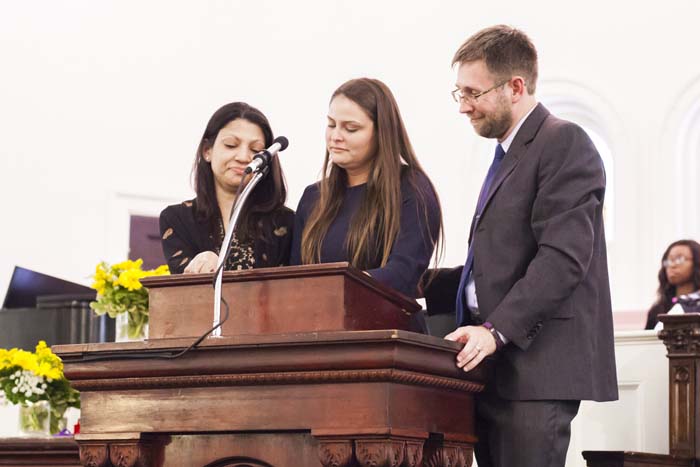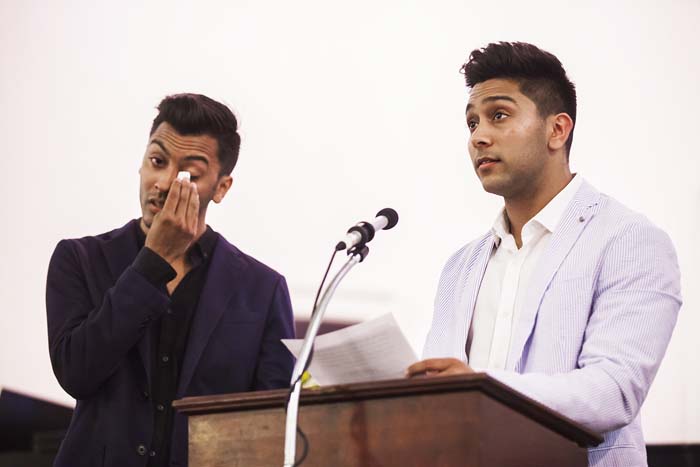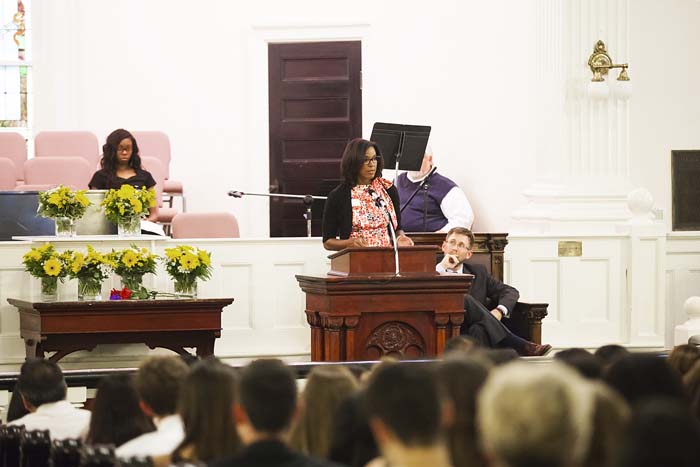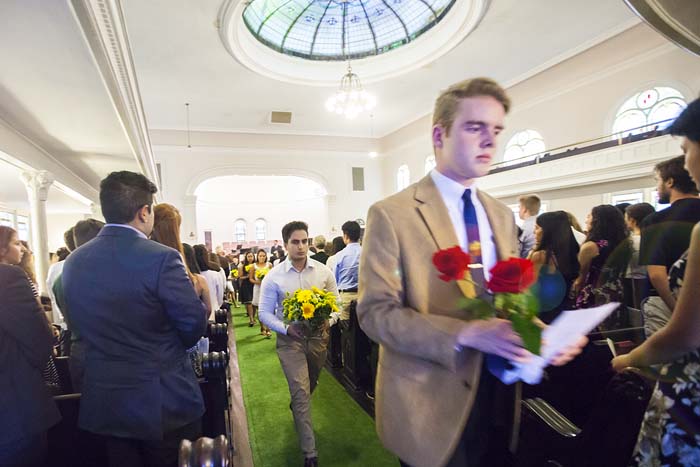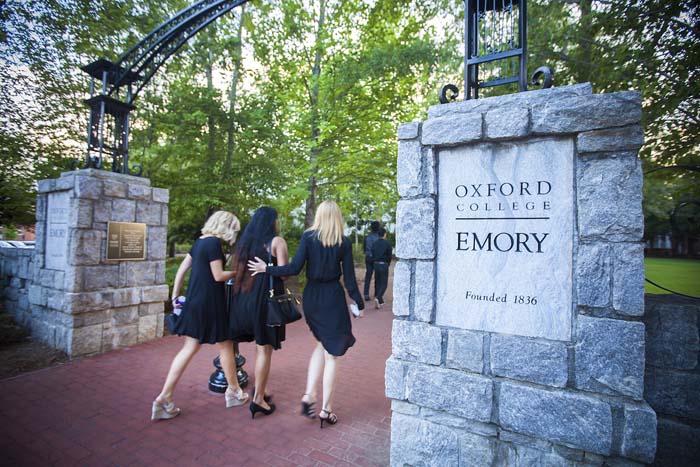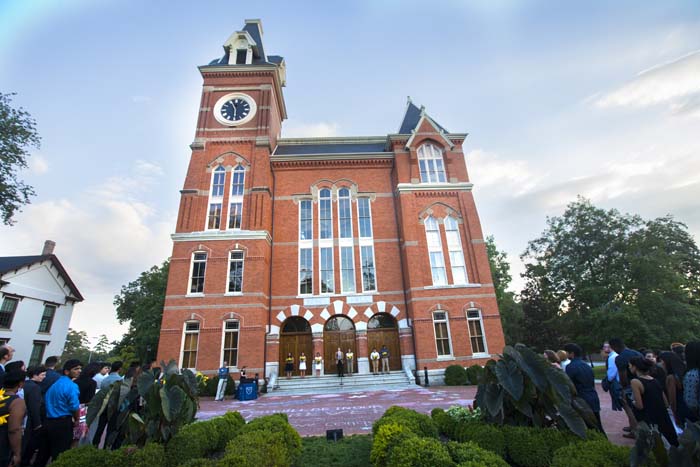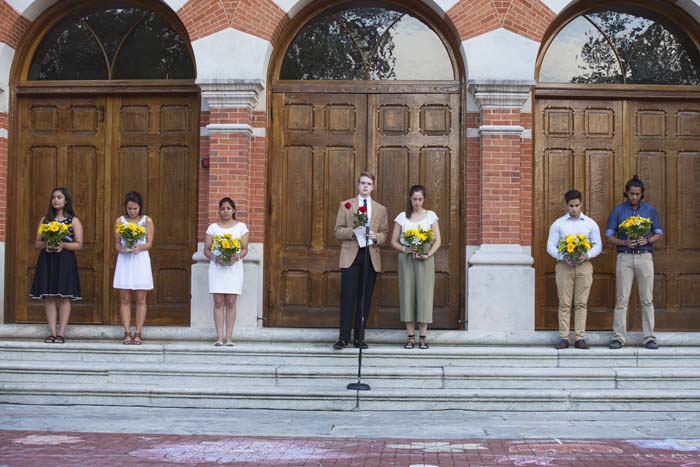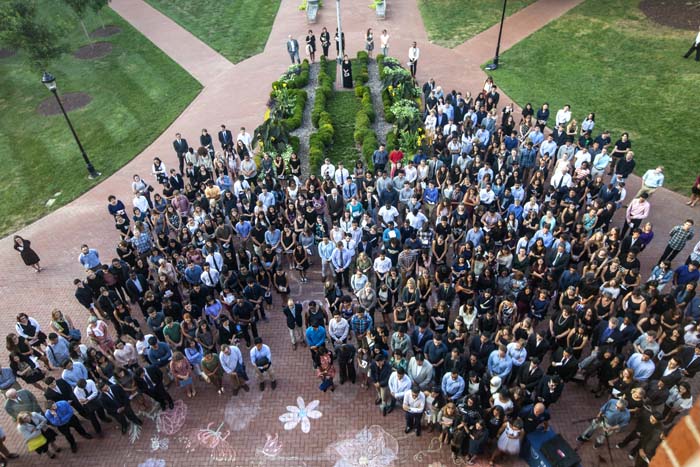 Abinta Kabir had eyes that sparkled, a radiant grin that illuminated any room she entered, and an academic inquisitiveness that was evident even in the first grade.
Faraaz Hossain had a huge heart, unbounded patience and a deep inner strength that belied his shy smile and slender frame.
Joining with family and friends, the Oxford College community gathered Sunday to remember them both — Emory students whose promising young lives ended tragically this summer during a terror attack in Dhaka, Bangladesh.
The service was woven with personal reflections and traditions old and new, from a moving Muslim call to prayer to a meditative procession to Seney Hall, where the campus bell tolled 39 times, representing the combined ages of the pair.
Oxford College Dean Douglas Hicks welcomed the capacity crowd, inviting those present to support one another as they recalled the "warm, bright, compassionate and energetic young people" and the ways in which they both made Emory's Oxford College a better community.
"There are no words to capture the loss, the confusion, the rage we feel that Faraaz and Abinta were taken from this world, from us, from their lives of limitless promise that each was living," Hicks said.
"And yet we press on now to share words, to remember them even in the face of unspeakable tragedy and … to express joy for the lives that Abinta and Faraaz did live," he said. "Let us share the mutual embrace of this warm, grieving and perhaps even joyful community."
'A brief, bright, brave life'
Kabir, 19, was a rising sophomore at Oxford College — a "third-culture kid," she liked to point out, raised in both Bangladesh and Miami, Florida. She had plans to major in economics and dreams of returning to Bangladesh to start an NGO to serve underprivileged children, possibly by launching a school for girls.
Hossain, 20, was a junior from Dhaka — a fall 2015 graduate of Oxford College who began his studies at Goizueta Business School in January. He also spoke of returning to Bangladesh after graduation, armed with the skills to make a difference.
Both students were visiting friends and family in Dhaka this summer. On July 1, they were meeting University of California sophomore Tarishi Jain, a fellow graduate of the American International School of Dhaka, at a popular restaurant when armed militants stormed the café.
Survivors of the siege said that the gunmen separated local Muslims from foreigners and non-Muslims, and released some Bengalis. When the attackers told Hossain he could go, survivors reported that he refused to leave his friends. All three were subsequently slain.
Hossain's act of courage was honored by friends and family on Sunday, who noted that it was consistent with his "unshakeable belief in doing what was right," said Zanir Malani 15 OX 18B, a friend and roommate.
"Faraaz, from a toddler to his last days, embodied this strength of character every day of his life," Malani said, reading a letter on behalf of Hossain's mother and brother, Zaraif Hossain 14OX 16C.
Valerie Molyneaux, who served as Hossain's adviser at Goizueta Business School, described how during a coaching session, they had discussed how his friends, faculty, colleagues and family members perceived him.
"The dimension on which Faraaz scored the highest? 'I demonstrate the desire to do what is right.' The second highest? 'I accept responsibilities within a team as needed,'" she recalled.
At the end of every coaching session, Molyneaux asks students about their goals for their time at Goizueta, aside from graduation and gainful employment. For most, it's a difficult question.
Faraaz was different, she said, reeling off four aspirations: to maximize time with friends, to travel, to prepare for a transition away from college, and to study abroad.
In the end, Faraaz was already realizing those goals, Molyneaux noted. He was in Bangladesh for the summer and was studying abroad in the United States. And he was preparing for a rich social life after college by maintaining relationships.
"And to the heart-wrenching sadness and breath-stealing admiration of us all, he maximized time with his friends until the very last moment of his brief, bright, brave life," she said.
'A light that could not be contained'
Oxford College professor Molly McGehee spoke movingly of Kabir's presence in her classroom. "What a smile Abinta had, what radiance," she said. "One could easily see she was filled with light that, at times, could not be contained."
"When I think about Abinta, whose name means beautiful, I think about light and goodness and innocence," said McGehee, noting Kabir's interest in exploring serious issues, including the oppression of women and ethnic minorities.
Describing an academically ambitious young woman who was always driven to do better, McGehee said she had recently learned that Abinta planned to return to Dhaka after completing her business degree to start a school for girls, "so that more women there would have a chance for education and liberation," she explained.
"Abinta Kabir's eyes sparkled," she said. "In my mind, they always will."
Lenita O'Rourke, a family friend who taught Kabir in first and second grade, remembered her as a peacemaker, always willing to help others, with a scholastic appetite and work ethic visible even as a child. When something was hard for her, Kabir would say, 'All I have to do is to try harder,'" she recalled.
"Today we are going to remember Abinta's smile, her sweet and caring nature, her perseverance in everything she did, her love of basketball and family, and her joy for life," O'Rourke said.
"Abinta was with us for 19 short years, and she spread so much love and joy that we have the obligation to continue her journey," she said. "Abinta was always for peace and we should follow her example."
Crossing borders with courage
After the formal service, Oxford College Chaplain Lyn Pace invited the audience to join him in the symbolic ritual of a procession to Seney Hall, "making our way out of this building and into the world, onto the Oxford College campus, where Faraaz and Abinta made an incredible impact."
Participants gathered around the steps of Seney Hall, where students had placed flowers as an impromptu memorial for Kabir and Hossain shortly after their deaths.
Following remarks by Aaron Stoddard, president of Oxford's Student Activities Committee, where both Kabir and Hossain had chaired a programming subcommittee, Emory University President-elect Claire Sterk offered closing remarks.
"As we gather today to mourn the loss of dear young people, I'm reminded that some experiences never will make sense," Sterk said. "Some things cannot be explained. Some things are beyond our comprehension."
Kabir and Hossain crossed many borders in their lives, Sterk noted. "In their memory, let us take the love and emotion we feel around us out into the world."
"Let us cross borders with the courage they showed in their lives. Let us embrace the people we hold dear to us and make the most of the time we have together. Let us pass in the light that Abinta and Faraaz left behind. In remembering them, we remember what evokes our deepest humanity.
"May their memory sustain and guide us in this quest and lead us to that peace to which we are called," she said.
Share This Story