Emory students, alumni help fight human trafficking
---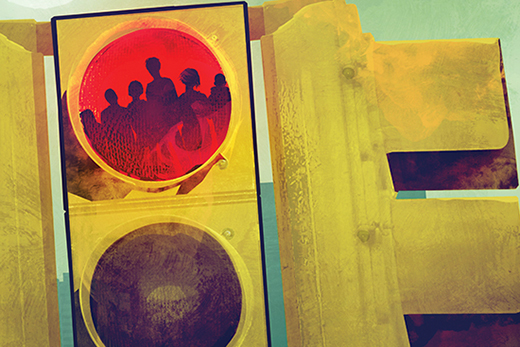 Leslie Munoz Johnson was the lead writer on an Emory case-writing team confronting the complicated crisis of human trafficking. Emory Magazine featured faculty, students, and advocates who are helping fight this crisis.
By the time she came to Emory, Maya Lakshman 19C already understood what it means to live in vulnerability and fear. She also knew how good it feels to be able to help.
Lakshman's mother started and ran a support and awareness organization for victims of domestic violence in their hometown of San Diego, and eleven-year old Lakshman would help in any way she could — doing administrative tasks, compiling email lists, and setting up for small events. The experience led to an early social and political awakening.
"I saw my mother getting so passionate about it," she says. "She really wanted to make a change."
Lakshman immersed herself in reading and learning about domestic violence, which led to information about sexual abuse, which led to the emerging topic of sex trafficking — heavy subjects for a preteen. So when she arrived at Emory in fall 2014, Lakshman was aware that human trafficking is a problem in Atlanta, and she wanted to follow her mother's example by reaching out into the community and doing something about it.
But, "I didn't know if there was anyone else at Emory as eager to make a change in this field as I was," she says.
By the end of her first year, the anthropology and human biology major had met a classmate to help her cofound Red Light Emory, a student group that works with local nonprofits to help victims overcome the mental health consequences of child sex trafficking.
She had also fielded applications from more than 80 other students eager to join the effort. She also found faculty members, advisers and the Center for Civic and Community Engagement ready to offer support.
"The faculty here are amazing. They have changed my perspective and been supportive of this work," says Lakshman. "And there are also a lot of amazing students here — Red Light could not be putting on any of this stuff if there weren't people making it happen."
Lakshman's proposal for Red Light Emory outlined a three-pronged approach to helping sex-trafficking victims in Atlanta.
The first is outreach through off-campus partners Youth Spark, which focuses on children, and Haven Atlanta, geared toward women. Red Light volunteers organize programs for victims such as health fairs, etiquette classes, even talent shows — anything that might help ease the stress that follows their experience.
Second is advocacy on and off campus, including events like public concerts and art shows to raise awareness.
And the third piece is education — training outside volunteers to interact with people who have experienced any type of trauma. At every step, Lakshman says, she drew encouragement from people she encountered across the Emory campus.
View the original story posted on: www.emory.edu
Share This Story