Emergency preparations help Emory weather tropical storm
---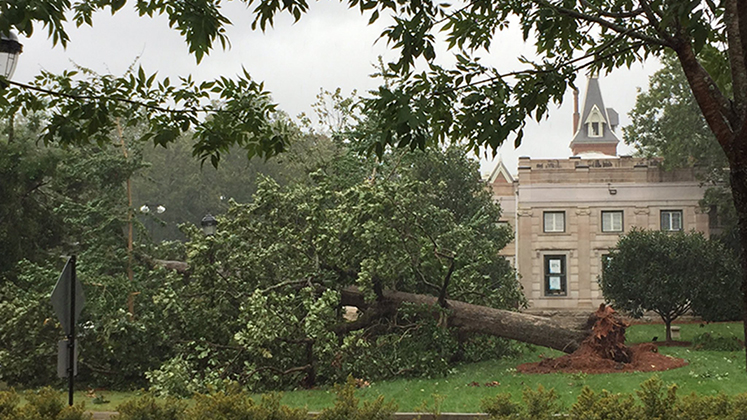 Students, faculty, and staff were kept safe in the wake of Hurricane Irma, with multiple fallen trees on Emory's Oxford College and Atlanta campuses being the most serious loss.
Fallen trees, broken limbs and a swath of leafy debris were the most serious damages reported on Emory's Atlanta and Oxford College campuses in the wake of Hurricane Irma, which deteriorated to a tropical storm by the time it hit Georgia after wreaking havoc in the Caribbean and Florida.
But through advance emergency preparations on both campuses — and a dash of good fortune — no known injuries were reported by students, staff or faculty as a result of Monday's storm, which brought with it hours of strong, gusty winds and steady rain.
To support public safety, Emory University officially closed on Monday and Tuesday. "Fortunately, there were no injuries and no significant damage to buildings," says Sam Shartar, senior administrator for Emory's Office of Critical Event Preparedness and Response (CEPAR).
In Atlanta, Emory officials reported two downed trees on campus properties: a pine tree that twisted "like a dishrag" and fell onto a portion of the roof at Glenn Memorial United Methodist Church; and a birch tree that tumbled onto a patio at Lullwater House, the president's campus residence located in Emory's Lullwater Preserve.
By early Tuesday morning, facilities and maintenance crews on both campuses were already at work clearing fallen debris and assessing storm damage, which included using a drone for campus flyovers to detect any additional damage, Shartar says.
Students were advised to remain indoors while storm assessment continued, he reports.
However, the Oxford College campus sustained more severe tree loss. In a community message sent late Monday, Oxford College Dean Douglas Hicks noted that although students were kept safe, "unfortunately, the campus has taken some serious hits from Irma. This is especially true for our trees…" 
Hicks reported that the storm downed "three large trees on the quad near the Library and the Science Building." In addition, "a grand tree beside Candler Hall and near Haywood Street has fallen, and trees near the Seney Hall and Fleming Hall parking lots have also gone down. We've probably lost another five or six trees around the College grounds."
"Members of our emergency response team have diligently worked on campus with a terrific group of employees to keep our students safe and to tend to the campus grounds and facilities," he said. "As far as we know, all students have stayed out of harm's way from the storm. That is our paramount concern."
Storm preparations launch early
Unified emergency preparations for the storm began early last week, as Emory CEPAR officials began monitoring projected weather patterns for the approaching hurricane.
"When it became evident we were going to be under threat, we began preparing and implementing plans with our Emergency Support Function Team, which includes representatives from Emory Healthcare, partners with local and state emergency management, and federal and local partners on the Clifton corridor," Shartar says.
The campus public safety community braced for the possibility of damaging winds, flash flooding and the potential loss of power. "Once we knew the storm was converging, we opened our Emergency Operations Center for 24-hour-a-day operations," he adds. 
At Emory's Atlanta campus, Campus Service employees launched storm preparations last Thursday, "anticipating what we would do in the event the campus closed, identifying what equipment we had on hand, and alerting about 110 employees to be prepared to come in," says Todd Kerzie, associate vice president for facilities management. 
Late last week, facilities management crews began removing outdoor furniture and umbrellas, corralling trash cans, "lashing things down, bringing things in and securing anything that could become a flying projectile," Kerzie recalls. 
At Oxford, facilities management employees also secured outdoor items and did tree work on the verdant quad in advance of the storm to help minimize tree damage, while others gathered water and located generators that could be used to support the dining hall, should power be lost, according to Cathy Wooten, Oxford College director of communications.
On both campuses, the communities were kept informed with frequent emergency updates, through email, social media and the Emory News Center.
By Sunday night, Emory Campus Service employees were already reporting to work with plans to stay into the work week. At the Emory Police Department, for instance, "we made arrangements for Monday's dayshift officers to spend the night Sunday to ensure that they could make it here safely," says Craig Watson, assistant vice president of public safety.
Throughout the storm, campus police officers patrolled roadways, parking and transportation employees helped shuttle hospital employees from campus parking decks to Emory Healthcare facilities, and dozens of Campus Service employees spent the night in various locations across campus in order to get an early start on campus cleanup, Kerzie says.
"We didn't know how hard the storm would hit us, so when trees started falling in surrounding neighborhoods, we were here," he says. "We felt it was better to be prepared and able to respond to weather as it happened." 
As of 6 a.m. Tuesday, facilities maintenance crews were clearing streets and campus walkways with turbo blowers. Some of the larger trees will have to be removed with cranes, according to Kerzie. Downed trees at the Oxford campus were taped off to prevent access, and students were encouraged to remain indoors as damages were assessed.
Kerzie notes that the tree that fell against the Glenn Memorial church does not appear to have inflicted serious structural damage, which he attributes to luck, a relatively new slate roof, and ongoing preventative tree work done by campus facilities management crews, who continually assess the health of trees within Emory's urban forest.
"Their preparations throughout the year save us in events like this one," Kerzie says.
Storm doesn't interrupt food service
Throughout the storm, student dining services proceeded without interruption at both campuses.
Although power flickered several times at Emory's Atlanta campus, it never went out, says David Furhman, senior director for Campus Life finance, administration and operations.
Service was maintained at both the DUC-ling, Emory's interim dining facility, and the Clairmont Café, "ensuring residential students who live on campus had access to food, as well as Campus Service employees, including the Emory Police Department," he adds.
In preparation for the storm, Emory Dining and Bon Appetit food service stocked up on water and had both refrigerator and freezer trucks on hand, along with a generator, in the event of power outages. "It's the old plan-for-the-worst-hope-for-the-best strategy," says Furhman, who credits Emory Dining Director Chad Sunstein and Bon Appetit employees for the advance planning required to keep service running smoothly. 
Physically, the DUC-ling structure performed beautifully amid the high winds, he notes. The 40-food-tall tensioned fabric structure is covered with an all-weather engineered membrane "designed to withstand winds of 120 miles per hour," he says.
Although Oxford College experienced brief power outages, a high-capacity generator was secured in preparation for the storm at the new dining hall, which opened earlier this year, and service continued without delays.
Medical, animal support staffs provide care
During the tropical storm, it was business as usual for hospitals within Emory Healthcare as they provided continuous care to patients and support to staff.
Sleeping arrangements were made available to staff who requested to stay at any of Emory's hospitals Monday night rather than risk driving home in poor weather conditions.
The hospitals operated on normal power, with the exception of a brief outage on the Wesley Woods Campus that lasted minutes, and at Emory University Orthopaedics & Spine Hospital, which operated on back-up generator until Tuesday afternoon. Full power is now restored at all hospital locations.  
Because of deteriorating weather conditions on Monday, Emory Clinic outpatient offices closed around noon. On Tuesday, some clinics delayed their openings until 1 p.m. to allow extra time for patients to navigate storm-battered roads and highways. The clinic will reschedule all patient appointments that were cancelled because of the bad weather.
"We appreciate all of the hard work and dedication by our physicians and staff across the entire health care system," says Sharon Pappas, chief nurse executive for Emory Healthcare. "They all provided exceptional care to our patients and their families, despite what was going on outside with the remnants of Hurricane Irma. Our goal was to keep our operations flowing smoothly throughout the storm. As always, our care teams were willing and ready to respond to the needs of the community."
Employees at the Yerkes National Primate Research Center also came to campus Monday prepared to stay around the clock and provide care for about 3,300 nonhuman primates and 8,000 rodents.
"Over the past two days we've had approximately 40 animal care and facilities employees from five different departments come in, with about 15 spending the night in cots and sleeping bags at our main facility and field station," says Joyce Cohen, associate director for animal resources at Yerkes. "It's definitely a sign of dedication on their part."
Share This Story