Emory University undergraduate applications reach new record high
---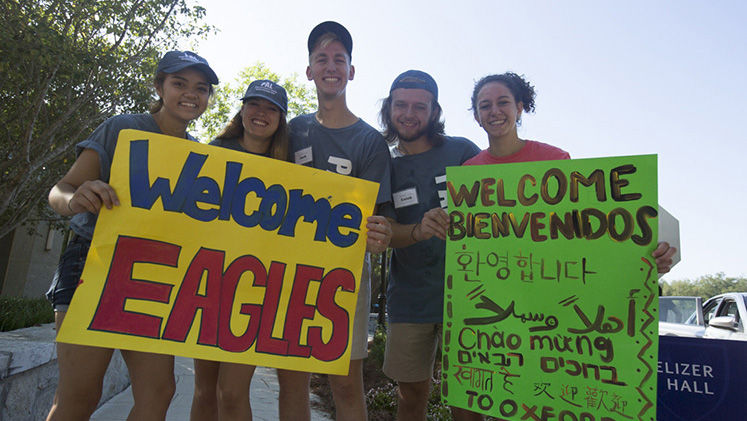 Oxford College and Emory College both saw increases in applications for the third year in a row. Oxford College has admitted 4,144 students. Emory College offered admission to 5,103 students.
Emory University has received a record 27,982 applications to be part of the Class of 2022, a 16 percent jump from the previous year.
Beyond the growth in the number of students vying for spots in undergraduate programs, admission officers saw students with higher academic achievements and who also embody Emory's commitment to discovery, engagement and leadership both in the classroom and in the community.
"We are moving beyond focusing on students who have the ability to do something wonderful to those who will," says John Latting, associate vice provost for enrollment and dean of admission. "Emory is attractive not just for its liberal arts and research excellence but for students who are thinking of how to have a positive influence on the world."
Emory received applications from — and offered admission to — students in all 50 states. Admitted students represent 75 countries by citizenship, speaking more than 79 languages either as their first language or at home. About 29 percent of the admitted domestic students to Emory College are from underrepresented minority groups, including 36 students from Puerto Rico.
"The depth and diversity of this year's record-setting applicant pool showcases Emory's reputation as a home for students and faculty dedicated to both academic excellence and making transformative contributions to the world," says President Claire E. Sterk. "We look forward to welcoming these students to Emory's community of committed, engaged scholars and future leaders in a world that faces drastic changes."
Accomplished, engaged applicants
Emory University offers two starting points for prospective first-year students: They may apply to enter Emory College of Arts & Sciences on the Atlanta campus or to study for their first two years at Oxford College on Emory's original campus in Oxford, Georgia. After the sophomore year, all students choose to complete their undergraduate degree on the Atlanta campus through Emory College, Goizueta Business School or the Nell Hodgson Woodruff School of Nursing.
"As a leading research university with a deep commitment to the liberal arts and interdisciplinary scholarship, Emory University offers students the opportunity to discover and explore their academic passions in a culture of innovation and inclusion," says Dwight A. McBride, provost and executive vice president of academic affairs.
Emory College and Oxford College both saw increases in applications for the third year in a row. Emory College offered admission to 5,103 students, an 18.5 percent admission rate. Oxford College has admitted 4,144 students. About 58 percent of students applied to both campuses.
This year's applicants recorded increases in both unweighted grade point averages as well as overall test scores. For instance, the median test score (based on SAT scores and ACT equivalents) for students admitted to Emory College was 1500, meaning half of them were above a score considered in the 99th percentile nationally. The median unweighted high school GPA of admitted students was 3.91.
The breadth of student experience was also evident in their application essays, Latting says.
"We are very attentive to the different perspectives and experiences these students have had," he says. "To have varied perspectives is important for the entire Emory community, and it also helps us understand how they will thrive at Emory and beyond."
The increase in both the number and the quality of applicants is thrilling for leaders at Emory College and Oxford College alike.
"It is incredibly gratifying to see students of such high caliber apply to Emory University, and the potential that the admitted students represent for our community of scholars," says Emory College Dean Michael A. Elliott. "Their collective accomplishments tell us something about the value that the world sees in our work as a liberal arts research university."
Said Oxford College Dean Douglas A. Hicks, "Emory University offers numerous inviting pathways of learning for our students. The remarkable academic and personal accomplishments of our incoming class is matched only by the opportunities they will discover at Oxford and in Atlanta."
Wanting to make a difference
Latting attributes the record number of applicants in part to a broader trend of would-be college students seeking an education that will help them make a difference.
Emory's reputation for academic rigor and commitment to serving society make it a good choice for students who are especially diligent about using their education to benefit others, he says.
Emory also has made financial commitments to make the university a viable option for every student who is admitted, regardless of the ability to pay.
"At its core, Emory has taken action such that no student, because of money, is not able to enroll," Latting says. "We are committed to finding the most remarkable students out there. We really just sit back and marvel when we read these applications at how talented they are."
Regular decision notifications were released online March 22 through applicant portals. Admitted students have until May 1 to decide to enroll.
Share This Story