Oxford student leader wins ovations in classroom, arts, campus life
---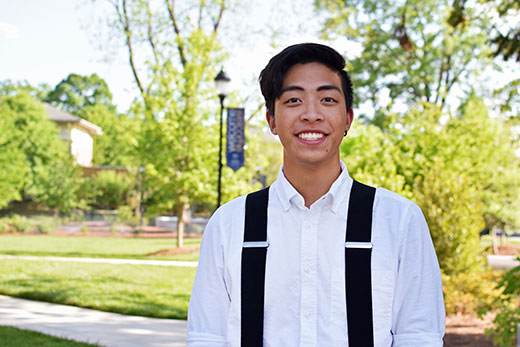 After succeeding at Oxford College as an actor, dancer, scholar and leader, Willis Hao heads to Emory's Atlanta campus in the fall to major in theater and dance while completing pre-med requirements.
The campus of Oxford College is small, but for the past two years it has been a large stage where Willis Hao has demonstrated the remarkable range of his talents and achievement.
As a high-school senior in Alpharetta, Georgia, he planned to begin his Emory undergraduate degree at Emory College, but after coming to the Oxford campus on a tour for accepted students, he knew that it was the place he wanted to be for his first two years.
"I looked around and just knew that the smaller size of this campus was for me," he recalls. 
Hao entered with a chemistry major in mind but later changed his focus to pre-med, theater and dance. After Oxford's Commencement ceremony this weekend, he will enter Emory College in the fall as a junior with nearly all of his pre-med requisite courses completed.
Alex Tremblay, visiting assistant professor of biology, calls Hao "a spectacular student," adding that "Willis is frequently observed gently coaching and helping his fellow students with tough concepts…[He] has a natural, effortless approachability, which allows him to easily lead group discussions and inquiry-based processes in both the classroom and the laboratory." 
Eve Mullen, associate professor of religion, praises Hao for his scholarly exploration and analysis skills, adding that "his contributions to class discussions are always informed and enlightening. His peers appreciate not only his hard work but also his uplifting sense of humor. He is a delight in the classroom."
'Mesmerizing' on stage
It is possible that many Oxford students aren't even aware of Hao's academic success, because it is his talent in theater and dance for which they know him best.
Just a few weeks into the fall semester of his first year, he auditioned for "J.B.," Archibald MacLeish's play based on the biblical book of Job, and he was cast as Nickles, one of the play's three main roles. Since then he has acted in the drama "Water by the Spoonful" and showcased his baritone singing voice in two musicals, "In the Heights" and "Spring Awakening."
Jessie Rivers, artistic theater director at Oxford, says that Hao is "mesmerizing" on stage.
"He is self-aware but not self-conscious, and you can't not watch him when he performs. He has natural talent, but he also understands the amount of work that is involved in acting," Rivers says. "Once the production begins, some actors level off. Willis just keeps on improving. He understands that theater can relay human meaning and make a connection — that the goal is to make the audience feel something."
His other performance venue runs in the family: the dance stage. His mother is a professional dancer who owns her own studio, and Hao grew up learning many forms, including Chinese classical dance.
At Oxford, he has performed with the Oxford Dance Ensemble and Nishana Dance Company, a Bollywood-style troupe. He is a co-founder of the Asian Fusion Dance Team, which performs both Chinese classical dance and choreography inspired by K-Pop. 
Leadership and service
It may sound as if Hao has concentrated only on the classroom and stage, but Hao has also participated fully in campus life. He completed Leadership Oxford (LO), an intensive week-long course in which first-year students prepare for leadership in their sophomore year, and he was asked back to be a sophomore LO leader. 
He also serves as a Student Admission Association coordinator, or campus tour guide, and is chair of the Class Gift Committee. He sits on the executive board of ReVision, an Oxford student organization with a mission to advocate, support and educate others about the lack of and need for gender equality throughout the world.
For his outstanding accomplishments as a campus leader, Hao is one of 22 students named as 2018 Gold and Blue leaders, a designation from the Office of Campus Life in recognition of student leadership and service to Oxford College.
Looking back on the last two years, Hao says that when he first arrived on campus, he was actually a bit shy. 
"But I started exploring what was here and found new interests in addition to ones I already had. Oxford encourages self-discovery, and I'm grateful for that."
There's no doubt that Willis Hao will keep on exploring and achieving, whether pursuing a medical career or performing in the arts. Whatever he chooses for his next act, it's bound to bring applause and accolades.
Share This Story