Students, faculty visit Smithsonian to aid in study of Oxford whale jawbone
---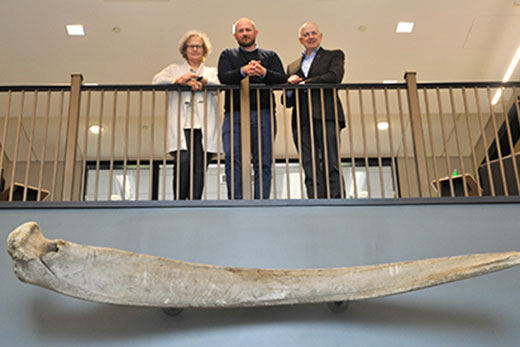 A historic whale jawbone that was once thought to be a whale rib and stored in an Oxford attic is now the centerpiece of the school's science building and part of a multi-year research project that took Oxford students, alumni, and faculty on a recent trip to the Smithsonian Institute.
For the past year, a group of Oxford students have studied the jawbone with LaTonia Taliaferro-Smith, Oxford's director of undergraduate laboratories and lecturer in biology, along with biology professors Steve Baker and Eloise Carter.
Before joining the Oxford faculty in 2015, Taliaferro-Smith had studied triple negative breast cancer at Emory's Winship Cancer Institute in Atlanta.  She came face to face with her next project during her involvement with the relocation of the Oxford's science program from its old location in Pierce Hall to the new science building, which opened for classes in January 2016.  
"It was pretty fascinating," recalls Taliaferro-Smith of seeing the whale jawbone hanging low on a wall near the loading dock at Pierce Hall. "I started asking general questions and nobody knew anything. I thought that was a shame, because it's an interesting specimen."
"I thought this would be a cool project for the students to work on," admits Taliaferro-Smith, adding that she wondered what type of whale the bone belonged to, how old it was, and how it made its way to Oxford.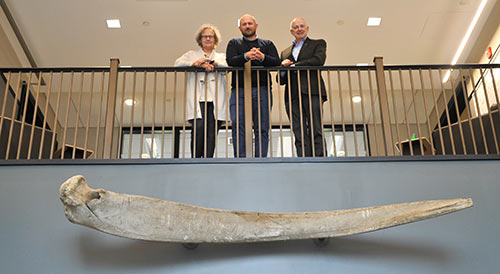 The bone became a prominent feature of the new Oxford Science Building and the centerpiece for research in the new research laboratories. Faculty collected samples of the bone for DNA analysis and carbon dating before it was permanently mounted in the Nucleus—the science building's main gathering space.
"We love that (the project) crosses so many (academic) disciplines," says Carter, adding that they have studied biology, paleontology, architecture, genetics, and history while researching the bone.
Several Oxford students have worked on the project for the past year, including two current second-year students and two Oxford continuees who are now juniors at Emory's Atlanta campus continuing to work on the project.
"It was such an unusual thing and a true mystery," says Victoria Cespedes, an Emory junior from West Virginia studying biology and art history on the pre-med track. "It was so different from anything I was doing and that I thought about doing."
The team has studied campus archives, talked with alumni and residents around Oxford and Newton County, and conducted countless hours of research and tests. The student and faculty team has dated the bone as 500 to 600 years old and determined that it was on display at Oxford as early as 1907.
The team believes the bone came from a North Atlantic Right Whale, a species that breeds off the coast of Georgia, Florida, and the Carolinas. They are still trying to track the bone's lineage to its start from how it came to Oxford.
"I found myself enchanted with the story," admits Quin Goodman, a second-year student from Newnan, Ga., majoring in neuroscience and behavioral biology on the pre-med track. "To know that I am a part of a team that is working to uncover knowledge that has never been exposed before is such an exciting and humbling experience. We have been working on this project from scratch."
Recently, the team traveled to the Natural History Museum at the Smithsonian Institute in Washington, D.C., to study archives and look at similar fossils with Nick Pyenson 00Ox 02C. Pyenson, the marine fossil curator at the Smithsonian and author of the popular book Spying on Whales, had previously returned to Oxford to get a closer look at the project. He hopes to help get the research published in scientific journals.
"Dr. Pyenson gave us access to the museum before it was open to the public," explains Alyssa Forsyth, an Emory junior from Florida studying neuroscience and behavioral biology, Spanish, and Portuguese. "I loved going through all of the exhibits–there are so many extraordinary artifacts to see there."
The group also took a behind-the-scenes tour of the museum, visited the lower level where the fossils are kept before they are ready for display, visited off-site archives in Maryland, and compared similar specimens with theirs.
"This has been a true example of what Oxford is about–having research opportunities, working close with professors and esteemed alumni," Cespedes says. "It has been an incredible opportunity and I'm grateful." 
The trip received financial support from the Student to Alumni Experience Committee that is part of Oxford's Board of Counselors. 
"It really stood out as being a very special project," says Committee Chair Henry Anthony 71Ox 73C 88MBA, adding that a committee of 14 diverse alumni and other stakeholders from all over the world review proposals each semester. "We were excited about supporting students and professors who need the support."
The committee has funded more than 30 student projects of about $30,000 in the past nearly four years.
"It's a great example of work that goes on at Oxford academically, involving both students and alumni and involving intricate work," Anthony says about the whalebone study. "It continues a partnership between Oxford alumni, students, and faculty, and that's very helpful."
The whalebone team will continue to conduct deeper DNA tests of the bone, research the bone's history, and try to find out about its trip to Oxford.
"We have a lot more archival research to do," Forsyth notes. "I think that many students walk right past the bone, not paying it much attention. But it really is quite curious how a bone of that size has been a part of Oxford College for so long, and no one has a clue as to how it was brought there. I hope through our research project, other students start to find its presence in Oxford College curious and intriguing."