Undergraduate research spotlights health care challenges of migrants in Morocco
---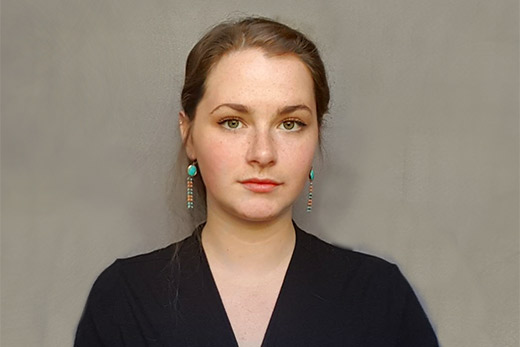 Emory College recent graduate Madelyn R. Haden 18Ox 21C focused her honors thesis on sharing the stories of undocumented migrants in Morocco and how current policies affect their health care access and societal integration.
By sharing the stories behind the numbers, Haden spotlights gaps in health care access for undocumented migrants in Morocco due to the current realities of global policies and the pandemic. 
Haden's honors thesis illuminates how European Union (EU) policy and funding affects individual sub-Saharan migrants' lives and experiences, including health care access and societal integration in Morocco. She received highest honors for the thesis and graduated this spring from Emory College with a bachelor's degree in Middle Eastern and South Asian studies and a minor in human health.
"In my early research, it looked like Morocco was doing everything right on paper, but when I talked to the people with migrant status, it was clear that numbers don't tell the full story," Haden says. "Framing at a massive scale doesn't really show the human cost and consequences of these policies and how they dehumanize the people."
Her honors thesis, "Externalized Migration and Securitized Health: A Case Study of How EU-Moroccan Relationships Influenced Health Care Accessibility Within Sub-Saharan Migrant Communities in Morocco During the Coronavirus Pandemic," was funded by Emory's Halle Institute for Global Research. An abridged version is under peer review for the journal Refugee Review.
"There are many players involved in Morocco's migration field of study and by writing this thesis, Maddie was able to secure a place for her voice in this interdisciplinary discourse, which is pretty amazing for an undergraduate student," says Rkia Cornell, Emory College professor of pedagogy and language coordinator in Arabic, who served as Haden's main thesis adviser.
A U.S. Department of Education Presidential Scholar, Haden is also an alternate for the Fulbright Research Grant in Morocco and received Emory's Shepard Scholarship for Graduate Study.
This summer she will virtually intern with the Council on Foreign Relations in Washington, D.C., and with the nonprofit Americares in Connecticut. She will then further her thesis while pursuing a graduate degree at the University of Cambridge. 
Family history prompts her study
Growing up in an Oklahoma town so small it's not printed on a map, Haden discovered her desire to understand the migrant experience while thumbing through photos of relatives posed by shacks in what looked like a desert. She learned about her family's migration from Moldova to become rural farmers in 1930s Dust Bowl Oklahoma. 
But it wasn't until she studied abroad at Al Akhawayn University in Morocco that she realized how challenging migrant life is.
From the 1990s to the present, uprisings and genocide in Syria, Yemen, and Cameroon caused Morocco to become a funnel through which migrants traveled to Europe, Cornell says. 
As a result, Morocco receives funding from the EU to encourage integration of the migrants into Morocco rather than moving them on.
The program was much lauded, which was why Haden was surprised to see massive rusted buses transporting undocumented migrants to the Sahara desert. 
"Those bus sightings got everything started for me," Haden says. "I wanted to find out, 'what does this mean?'"
Pandemic increases migrants' vulnerability 
Back in the U.S., Haden worked with a Moroccan journalist and an Al Akhawayn University translator she met while studying abroad to remotely interview 15 migrants and 12 human rights activists during the pandemic.
One migrant was a young Nigerian woman who had three children since arriving in Morocco nine years ago, two requiring emergency C-sections. The hospital won't issue birth certificates until she pays the $3,000 she owes. Without birth certificates, her children can't go to school and assimilate.
"She has a lot of anxiety and is seeking mental tele-health care, but with the pandemic she was unable to panhandle to buy cell phone minutes or other goods like food," Haden says.
When the pandemic struck, Moroccan inhabitants were ordered into lockdown, causing significant challenges for the migrant community, Haden says.
A heavy police presence and the use of militarization tactics (including tanks, raids, and arrests) spurred distrust among migrant populations who were often blamed for the pandemic. Some migrants reported being rounded up for COVID-19 testing without any explanation; others were deported to COVID-19 centers without proper resources. As a result, migrants were less trusting of public health and less likely to receive care.
The government issued "certificates of mobility" that allowed one person of an extended family to go to work, buy groceries and do other activities outside the house. Like many migrants, one mother of two couldn't get a certificate and could not feed her family. They ate only bread, sugar and water for two weeks until an NGO began dropping off food routinely. 
"Madelyn's thesis illustrates how the study of human health empowers investigation into some of the most central issues in today's world," says Michelle Lampl, Emory College Charles Howard Candler Professor and director for the Center for the Study of Human Health, who also served on Haden's thesis committee. "Her critical inquiry of vulnerability among migrants in Morocco in the context of COVID-19 adds to an emerging focus on the central role played by social circumstances and structural competency issues in health care."
In addition to Cornell and Lampl, Haden's honors thesis committee included Devin Stewart, Emory College professor of Arabic and Islamic studies, and Florian Pohl, Oxford associate professor of religion.