Oxford Farm staff share expertise at Georgia Organics Conference
---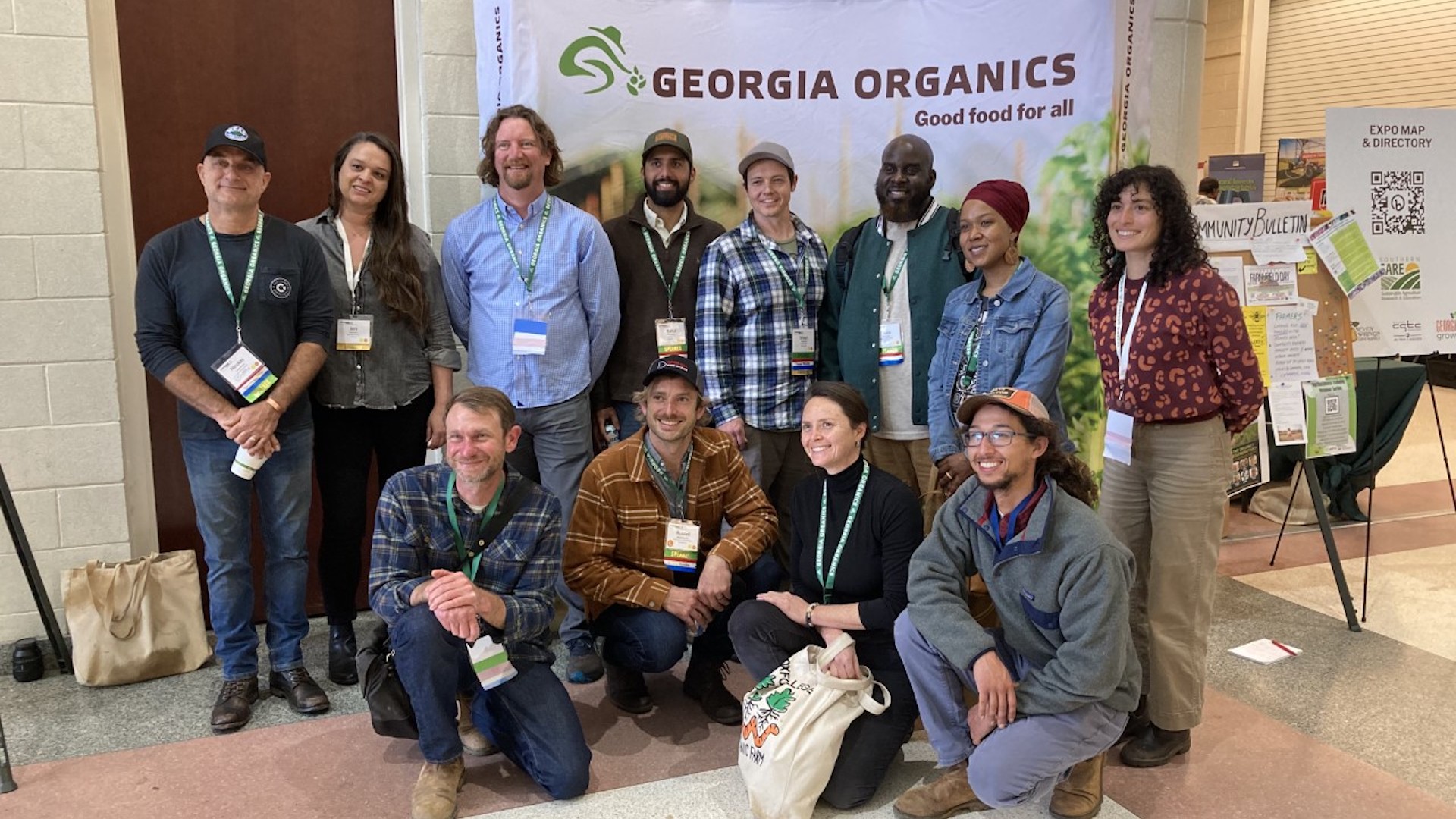 All five staff members of the Oxford College Organic Farm traveled to Perry, Georgia, for the 2023 Georgia Organics Conference, where farmer-educators Daniel Parson and Catherine Reuter shared research and best practices.
One of the most unique and celebrated places at of Oxford College is its organic farm—a living classroom where students collaborate with faculty and staff to learn the land, and to work it as well. 
In mid-February, the entire Oxford College Organic Farm staff traveled to Perry, Ga., to attend the 2023 Georgia Organics Conference, where they shared some of the exciting research from this living laboratory and working farm. The five members of the Oxford Farm staff were joined by several other local farmers, as well as Emory faculty. In all, there were six presentations from Newton County practitioners—highlighting the organic farming expertise from this region.
Two of these six presenters were from Oxford: Lead Farmer-Educator Daniel Parson presented on "Strategic Crop Rotation and Varieties that Make a Difference," and Associate Farmer-Educator Catherine Reuter shared a presentation titled "Water Management & Aquatic Impacts of Agriculture: Historical, Cultural, and Technical Takeaways."
"For all of our staff, it was a great experience to be a part of this year's Georgia Organics Conference," Parson said. "We learned so much from farmers across the state about practices that allow us to sustain a healthy ecological environment. I look forward to sharing these findings with our students."
Parson's presentation focused on how to plan a crop rotation when considering the many different strategic factors that running a farm entails: trying to expand or tighten production, needing to break up cycles of pests and disease, and using cover crops to promote soil health and fertility.
Reuter used her background in aquatic biology, as well as her practical knowledge from the Oxford Farm, to discuss solutions for preventing the washing away of soil, which affects both Georgia's farmlands and its freshwater biodiversity.
"It's always great to see the Oxford Organic Farm crew, and what better way to highlight them and share their thought leadership than the Georgia Organics' annual conference," said Lauren Cox, Farmer Services Director at Georgia Organics. "The room was packed for Daniel's presentation. Teaching and planning farm operations are two of his many gifts; he is a true teacher. Catherine Reuter spoke about water management and the aquatic impacts of agriculture, and—not kidding you—we had people walk out of that session telling us it was one of the best they've seen yet!"
You can read more about Parson's presentation here and Reuter's here.
Lisa McCusker, post-harvest manager at the Oxford farm, reflected on Reuter's career journey and how it shows that the very practice of farming can offer findings as rich as those discovered through standard academic research: "I don't believe there is a more convincing argument for organic farming practices than for an aquatic field biologist to move her work upstream and model ethical land use!"
Reuter reflected on the trip as she settled back into the daily routine on the farm: "It is always a rewarding experience," she said. "It is striking, the diversity of people and organizations that food and farming bring together. Everybody eats! There is always so much to share and even more to learn."