Oxford Library hosts 17th annual Day of Celebration of Scholarship and Creative Expression
---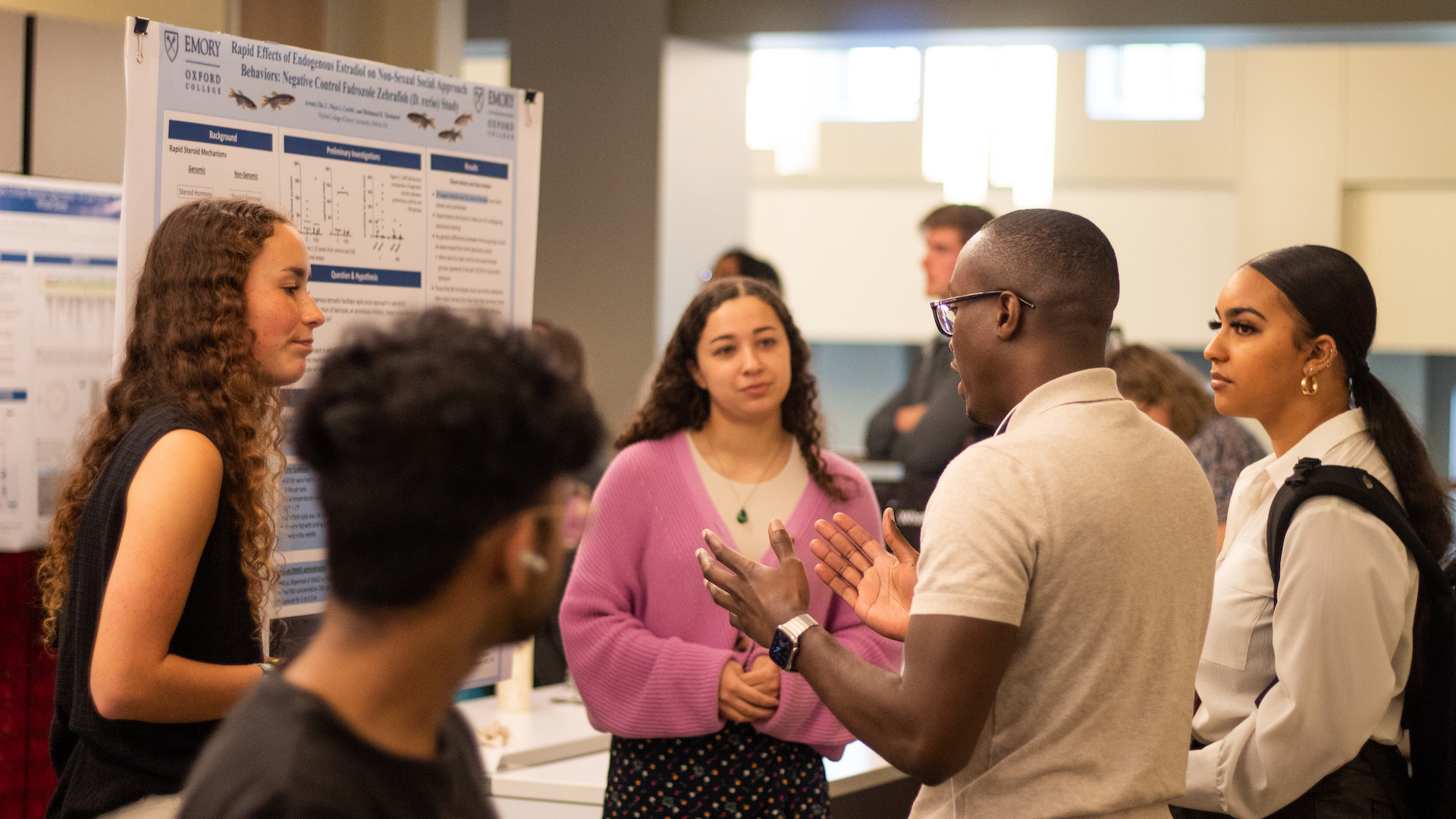 This year's CSCE showcased the many forms of scholarship and creative work taking place across the Oxford community.
In April, the Oxford Library hosted the 17th annual Day of Celebration of Scholarship and Creative Expression (CSCE)—a gathering for students, faculty, and staff to share the wide array of creative work and academic research coming from all corners of the campus community. 
The 2023 CSCE featured four main exhibitions, including three that highlighted student work: the Research Scholars Symposium, the Milestone Showcase, and the Writing Showcase. The fourth—the Faculty and Staff Showcase—featured printed publications and displays that will be available to view on the main floor of the library until Commencement on May 6.
The Research Scholars Symposium, where students presented talks and posters completed with the help of a faculty mentor, featured research on a variety of topics—from breast cancer to refugees to student organizations.
Dean of Academic Affairs Kristin Bonnie, who welcomed the audience in the morning, reflected on the breadth of topics on display at this year's symposium: "The annual CSCE is an opportunity to show off the incredible work of our students, faculty, and staff at Oxford College. The quality of presentations in this year's Research Symposium was truly impressive and indicative of the wide scope of passions our students are committed to exploring as they seek to make the world a wiser and better place." 
One such student was Makalee Cooper, a second-year student from Valdosta, Georgia. With Teaching Professor of English Stacy Bell as her project mentor, Cooper examined the effects of tattoos inside prisons.
"We decided to conduct oral histories with some formerly incarcerated people to see if they felt as negatively about tattoos as the scholarship showed," Cooper said. "Instead, we found that a majority of people get tattoos inside prisons for the exact same reasons that people outside of prisons receive tattoos—and that none of them felt particularly negatively about their tattoos. It is imperative that scholarship includes those who experience(d) incarceration, when it is obvious that it currently does not."
The Milestone Showcase featured digital portfolios completed as part of a course where second-year students reflect on their two years at Oxford and goals for the future.
"This year's Milestone Showcase celebrated an array of student stories that focused on overcoming obstacles presented by the college experience and environment," said Oxford Educational Analyst Peter McLellan, who planned the showcase. "Many of the presenters discussed a complex process of discovering new passions in academic pursuits, while also connecting those interests to the needs of their communities. I was also struck by the presenters' candid stories about how they felt intellectually constrained by the COVID pandemic and how liberal arts learning helped them recover."
Cooper also presented in the Milestone Showcase, where she explored how her sense of self has changed in her time at Oxford, as well as her interest in fully pursuing theater—a decision informed by the mentorship of Nick Fesette, Assistant Professor of Theater. In this regard, she is already well on her way: She was recently accepted to Emory's Mellon Mays Undergraduate Fellowship program, through which she will continue her research on theater history with Fesette. Cooper has made her Milestone digital portfolio project available to the public, and it can be viewed here.
As for the rest of CSCE, Cooper most enjoyed seeing her fellow students share their own passions, just as she shared hers: "Finally getting to hear what my peers have been working on for the past year or two was so enjoyable. Every presentation that I saw showed a story entirely different from my own and from the other stories that I saw that day. Yet everyone's love for Oxford, their work/research, and their creations shone through."
Later in the afternoon, students presented a variety of written works as part of this year's Writing Showcase. Following their presentations, each student participated in a Q&A where they were able to explain the background and motivation of their projects.
Assistant Professor of English and Creative Writing Tameka Cage Conley—who helped arrange the showcase along with Gwendolynne Reid, Director of the Writing Program and Assistant Professor of English, and Leigh Elion, Assistant Teaching Professor of English and Director of the Writing Center—was struck by students' thoughtfulness in this year's submissions. 
"Students' focus on matters of social justice, representation, and the power of voice underscored the continued consciousness and social responsibility of the Oxford student," Conley said. "They shared critical and creative work informed by their experiences, worldview, and personal beliefs as they also explored new possibilities for living and working together as families, communities, and nations."