Faculty Spotlight: Erin Tarver
---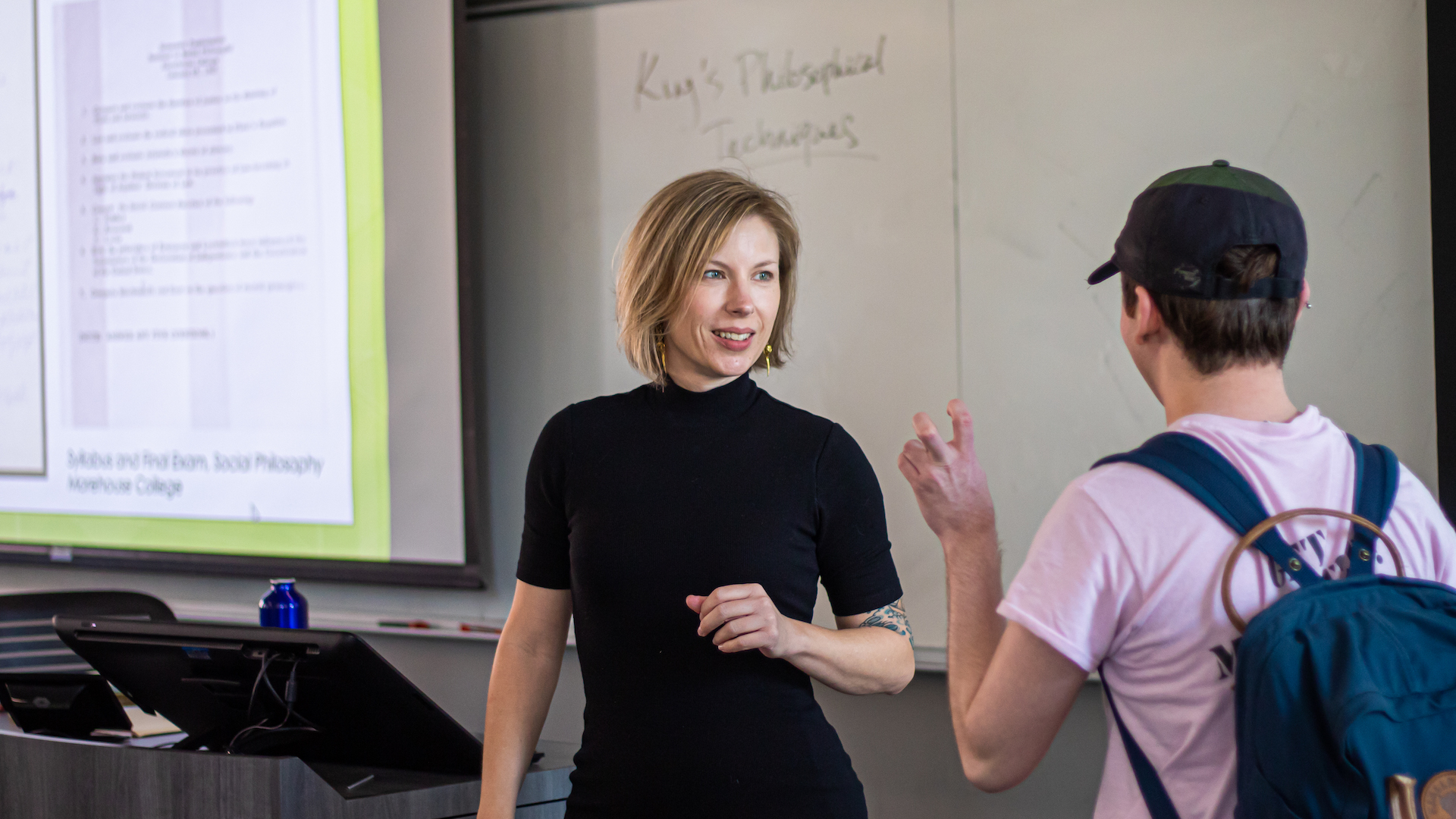 Oxford professor Erin Tarver encourages students to see philosophy as a valuable tool that can inform how they approach their everyday lives and interests.
Oxford Associate Professor Erin Tarver loves philosophy—and sports. While from a distance these two passions might not seem to have much in common, Tarver teaches her students that philosophy has endless real-world applications.
"Philosophy is not an abstract study," she said. "I've been able to apply its principles to the studies of feminism and sports fandom—asking questions about how gender works in sports and why sports mean so much to those who follow them. I want my students to understand, too, that philosophy is an incredibly practical discipline that can be a framework to study anything that interests them."
Its value, she says, is foundational to everyone: "Philosophy helps us make decisions, to make reasoned arguments, and to clarify our ideas—all things we do every day. In the end, it clarifies what you want out of life and how you want to live."
Tarver came to the subject as an undergraduate at Palm Beach Atlantic University with those very questions top of mind: How do I live well? How do I know I'm a good person? She attributes these curiosities to her religious upbringing as a Southern Baptist in Louisiana, where she encountered a similar set of questions. But what she found liberating about philosophy was that, as opposed to a religious framework, it didn't suggest the assumed authority of one set of beliefs over another.
"That resonated with me," said Tarver, who completed a PhD in philosophy at Vanderbilt in 2011. "Philosophy thinks we should aim to make compelling arguments for anyone, and we should aim to take the ideas of other people seriously, even when they come from a viewpoint diametrically opposed to our own." 
That's the sort of open-mindedness and critical thinking she hopes students take away from her courses. She wants them to "be empowered to ask questions, recognize assumptions when they're making them, and then be able to see where they ought to look for more evidence." These ideas remain useful no matter the subject at hand. It's the sort of approach she sees across disciplines at Oxford, where students are encouraged to make connections among their various courses and seek out answers to their own lines of inquiry.
"Erin is an incredibly impressive scholar, teacher, and campus citizen," said Molly McGehee, Associate Dean for Faculty Development and Associate Professor of English and American Studies. "She is highly regarded in her field and deeply respected by her students. One of the many things that I admire about Erin is how she is driven by principles of justice and fairness and is not afraid to pose hard questions to ensure that such principles are being accounted for in various faculty deliberations. Her image has even been on circulation at the Atlanta airport! It is an honor to have Erin as a colleague and also as a friend."
Much of Tarver's research is informed by her personal experiences with sports, particularly her lifelong fandom of Louisiana State University's (LSU) football team. Her research includes questions relating to how fans form self-identity around hatred of rivals and why people continue to watch games when they primarily elicit frustration and misery—after all, there can only be one champion a year. (Here she cites her own experience with sports misery via the 2011-2012 LSU-Alabama National Championship game.)
She also found there to be a lack of engagement from feminist philosophers in sports studies, and much of her work takes a feminist approach in exploring how the culture around sports often reinforces—or can at times defy—gender norms and roles. 
Lydia Bailey 18Ox 20C, now in law school at Stanford, credits Dr. Tarver with teaching her to ask questions that would clarify her path in life.
"Dr. Tarver definitely influenced and enriched my undergraduate studies, and her logic class was very helpful for my path to law," Bailey said. "Law is not about rote application of clear legal rules. It's complicated, messy, and is often infused with policy judgments (whether we recognize them or not). Having a philosophical backdrop against which to organize your thoughts can help you formulate your own jurisprudential style."
To illustrate her point and the sort of thinking that Tarver inspired, Bailey added: "One good legal example of an area where philosophy makes a difference is incarceration. Why do we put people in jail? Is it to punish people? To reform them? To prevent future harm to others? Judges might sentence the same person for the same crime differently under each of these theories."
Tarver's own experience at a small liberal arts college was foundational, and she hopes she can return the favor to her current students: "That experience was so deeply meaningful to me, both because it's where I discovered philosophy and a new way of looking at the world, and because the intellectual community I found there was so very important to me. I wanted to be a part of looking for something like that as a professor—where I would not just show up and teach classes, but I would know my students, and we would become a community of learners together."
And that's what Tarver finds so rewarding about teaching at Oxford: "It never occurred to me that an institution like Oxford could exist," she said. "One that had both a small liberal arts college environment, like I was familiar with, while also being attached to a larger university with all these incredible resources."
As Tarver continues to work on her NCAA project, she has been busy writing a number of published pieces, including a chapter in the book Astros and Asterisks that examines the response from Houston Astros fans to the team's cheating scandal in 2017. She has also written a chapter for The Oxford Handbook of Jane Addams, which explores the intersections of Addams's experiences as the founder of social work, a philosopher, and a major player in developing recreational activities for women in 1920s Chicago.