Oxford students broaden horizons with trip to Cuba
---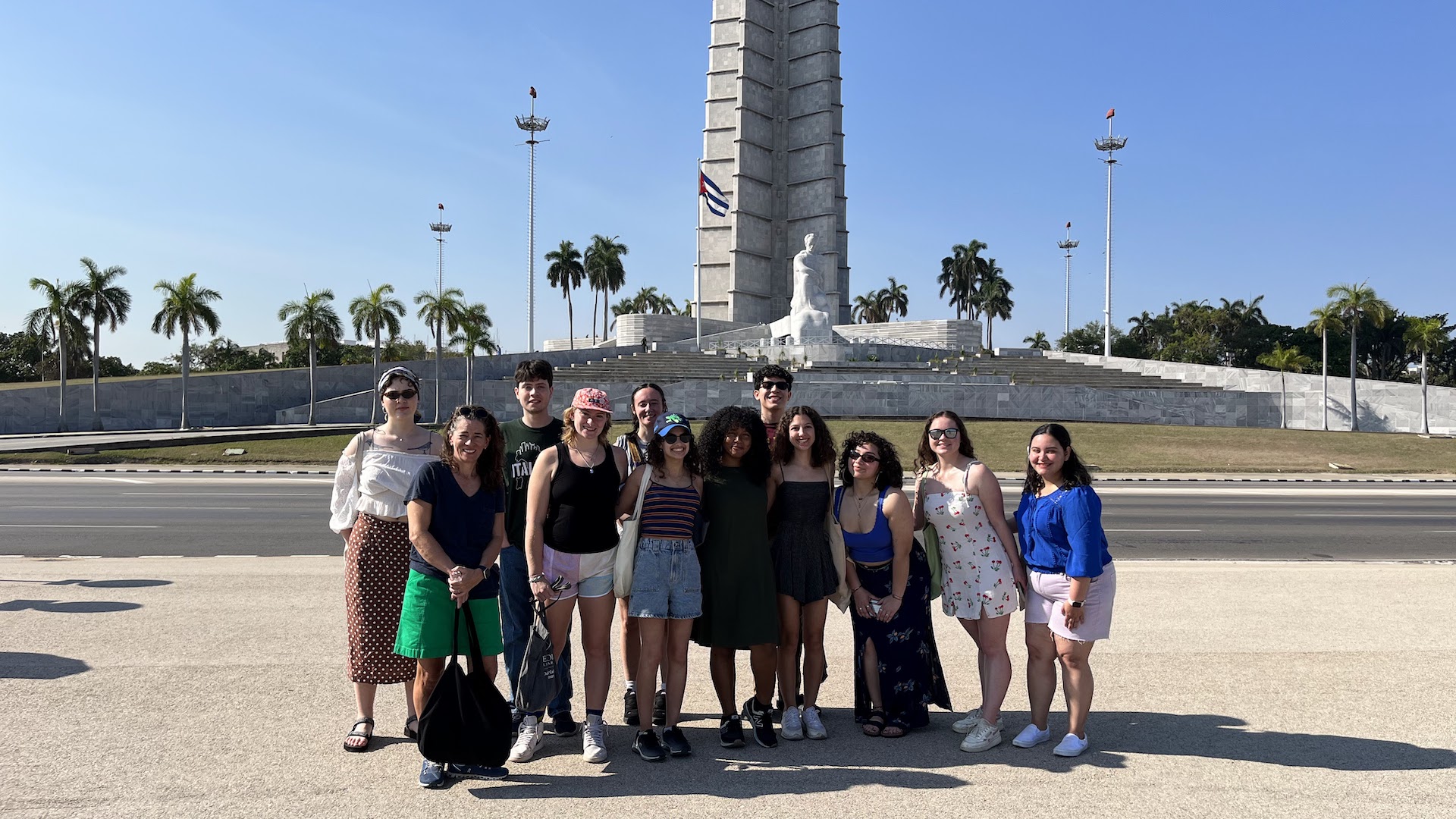 Oxford students visit Havana in one of many experiential learning opportunities at the college
In March, a dozen Oxford students—along with Associate Professor of Spanish Bridgette Gunnels—boarded a plane to Havana, Cuba, for a week-long immersion in the country's rich cultural and political history.
The trip is the centerpiece of Gunnels's course focusing on the recent history of Cuba from the mid-20th century to the present. Supported by Oxford's Global Learning office, the program is a collaborative effort with Tulane University's Stone Center for Latin American Studies. This was Oxford's first visit to Cuba since 2020, when students returned to the U.S. just before the island closed its borders due to COVID-19. 
"[The course] analyzes the evolution of the Cuban Revolution from approximately 1957 to present day, as seen through the lens of the country's international policy, literature and art production, public art and theater productions, healthcare, education, and agriculture infrastructures," Gunnels said.
Students spent the weeks leading up to the trip immersed in these and other topics, and the weeks after their return reflecting on the experience as it related to their studies. This year's visit included discussions with local experts on subjects such as gender and violence in life after Castro and cultural phenomena such as Cuba's first hip hop duo, Obsesión. They also were able to visit Matanzas, a city with beautiful beaches and still-visible revolution propaganda. Several activities were organized in collaboration with the University of Havana and the National Union of Writers and Artists of Cuba (UNEAC).
"This trip overall was very eye-opening for me," said sophomore Kimberly Lopez. "The purpose was to hear the perspective of people who live on the island today. We had talks with rap artists, professors, authors, and women who were a part of the literacy brigades. Obsesión and Yulexy Almeida, a sociologist from the University of Havana, stood out most to me. Another favorite part of the trip was exploring the city with our free time. I enjoyed walking by El Malecón (a road along the Havana coast) and trying new food."
After the three-year hiatus, Gunnels was happy to take curious and eager-to-learn students back to Cuba as part of Oxford's robust international program.
"By definition, experiential learning connects distinct places, spaces, and people together with students in a way that propels them toward deeper thinking and learning," she said. "The value of integrated academic course travel is found in the end game, when students return and can articulate how the experience transformed their purpose, ignited new passions, and reinforced their principles that guide understanding of who they want to be in the world as global citizens. For an educator, there is no greater gift."
Lopez returned with that sense of transformation.
"This trip gave me a different perspective," she said. "It allowed me to see that [Cuba] is a country like any other. It has very similar societal issues to the rest of the world. Dr. Gunnels's approach was very helpful as she told us ahead of time what we might expect. She made the trip more impactful by encouraging us to talk to people and hear their stories."