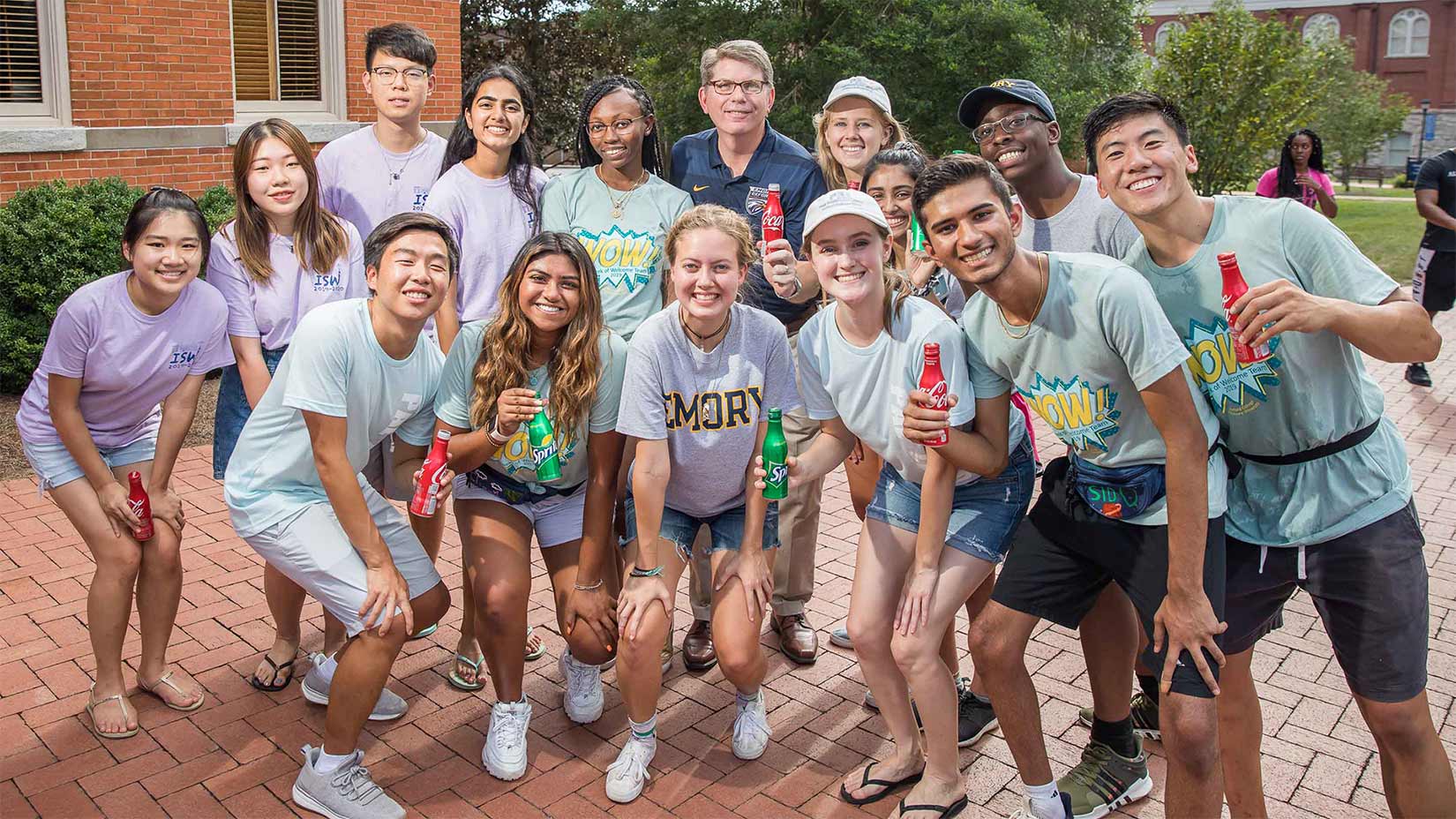 Dean Douglas A. Hicks
Douglas A. Hicks is dean of Oxford College of Emory University and William R. Kenan Jr. Professor of Religion. As dean, Hicks serves as the chief academic and administrative officer of Oxford College, overseeing Emory's Oxford campus and leading one of the country's most distinctive undergraduate programs.
Throughout his career, Hicks has embraced residential liberal arts education. He says, "I am delighted to be a part of the Oxford College community, with its strong sense of place and extraordinary educational mission. I was drawn to Oxford because of its firm foundation in the liberal arts and unique opportunities within a great university. We are developing creative, critical thinkers on a campus known for its inclusive community and success in preparing leaders who serve society."

Hicks is chairing, with Prof. Gregory Ellison II, Emory University's working group to memorialize the labor of enslaved persons, planning for twin memorials on Emory's Oxford and Atlanta campuses and related educational and community initiatives. In partnership with Dean Michael Elliott of Emory College of Arts and Sciences, he is leading the Humanities Pathways program, funded by a grant from the Andrew W. Mellon Foundation to integrate career/vocational reflection into academic courses.

In 2016–2017 Hicks guided the development and endorsement of Oxford's strategic plan, Forging Pathways of Excellence, with priorities on academic excellence; leadership education; and investment in financial aid, infrastructure, and faculty and staff. A result is the signature Discovery Seminars that connect first-semester courses with faculty advising, leading to a Milestone experience for each student in their sophomore year. In admission, academic profile and diversity of the student body as well as financial aid dollars have increased to all-time highs.

Hicks joined Oxford College in 2016 from Colgate University, where he served as provost and dean of the faculty. He began his career as professor of leadership studies and religion at the University of Richmond's Jepson School of Leadership Studies. At Richmond he was the founding director of the university's Bonner Center for Civic Engagement. In 2012 the State Council of Higher Education of Virginia awarded him its Outstanding Faculty Award, the commonwealth's highest honor for faculty.

Hicks received an AB degree magna cum laude with honors in economics from Davidson College, an MDiv summa cum laude from Duke University, and MA and PhD degrees in religion from Harvard University, where he studied with distinguished theologian Ronald Thiemann and Nobel Prize-winning economist Amartya Sen. His scholarship focuses on leadership in civic life and higher education, religion in politics and the workplace, and the ethical dimensions of economic issues, and he is a frequent commentator in the media. He is the author of four books: Money Enough (Jossey-Bass, 2010); With God on All Sides (Oxford University Press, 2009); Religion and the Workplace (Cambridge University Press, 2003); and Inequality and Christian Ethics (Cambridge University Press, 2000). In addition, he edited, with Thad Williamson, Leadership and Global Justice (Palgrave Macmillan, 2012) and with Mark Valeri, Global Neighbors (Eerdmans, 2008). He is co-editor of the three-volume International Library of Leadership (Edward Elgar, 2006) and the author of numerous articles in peer-reviewed journals.

An ordained minister in the Presbyterian Church (USA), Hicks has held visiting faculty positions at Union Presbyterian Seminary in Richmond and at the Harvard Divinity School. He is a former president of the Academy of Religious Leadership and former chair of the Religion and Social Sciences section of the American Academy of Religion.

Hicks is a member of the Board of Directors of the Arts Association in Newton County and a member of the Board of Trustees of Agnes Scott College.

A native of Indianapolis, he is married to Catherine L. Bagwell, who is professor of psychology at Oxford College. They have two children, Noah and Ada.