Campus events celebrate the holiday season
---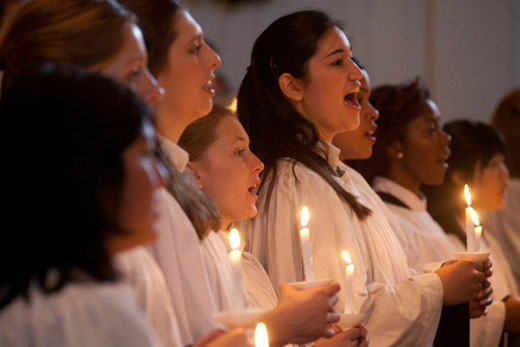 Emory welcomes the return of several beloved seasonal traditions to its campus this December to put the whole family in the holiday spirit. Whether it's meeting Saint Nick or tucking in for some classic wintry tunes, there is an event to help anyone usher in the close of 2016 with joy and cheer.
The holiday season kicks off on Emory's Atlanta campus with A Festival of Nine Lessons and Carols on Friday, Dec. 2, at 8 p.m. and Saturday, Dec. 3, at 4 p.m. and 8 p.m. in the beautiful Glenn Memorial Auditorium. An Emory tradition since 1935, the sacred candlelit service features classic Christmas choral music performed by members of the Emory University Chorus and Concert Choir alongside readings by special guests from the Emory community.  Tickets are $20, $15 for discount categories and $5 for Emory students. 
The Emory University Worship Advent Service features jazz music and Gary Hauk, Emory's university historian and senior adviser to the president. The service takes place on Sunday, Dec. 4, at 11 a.m. in the sanctuary of Cannon Chapel.
An ever-popular holiday celebration, Christmas with Atlanta Master Chorale, returns to the Schwartz Center for Performing Arts Saturday, Dec. 10, at 8 p.m. and Sunday, Dec. 11, at 4 p.m. This year marks the 32nd anniversary of the celebration. Tickets are $30, $25 for discount category members and $10 for Emory students.
Both young and old are sure to love Santa's Favorite Chamber Music, set for Sunday, Dec. 11, at 4 p.m. in the Michael C. Carlos Museum. Old Saint Nick visits Emory to introduce some of his favorite classical works and give treats to good listeners. This concert is a part of the Emory Chamber Music Society of Atlanta's Family Series and is free and open to the public.
Events in Oxford
The Oxford Chorale presents a concert of seasonal and holiday music Dec. 1-2 in the chapel on the Oxford College campus. Performances take place at 8 p.m. both nights; tickets are $5 per person.
In another tradition for the Oxford community, Meridian Herald presents its 23rd annual Southern Folk Advent Service on Saturday, Dec. 3, at 4 p.m. at Old Church near the Oxford campus. A form of Lessons and Carols, this service is based on folk hymns from the historic Sacred Harp tunebook, compiled in Georgia in 1844. Admission is free and no tickets are required.
Share This Story