Emory prepares to welcome the Class of 2021
---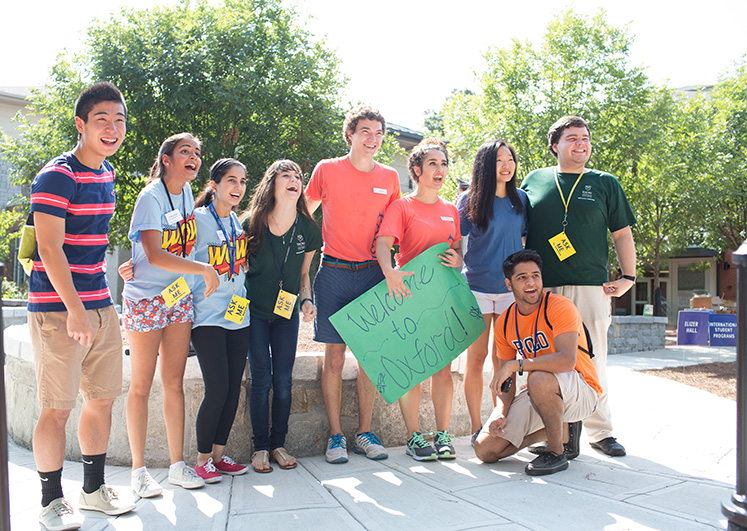 As first-year students move into residence halls this weekend, they'll be greeted by staff and fellow students who devote countless hours to help them feel at home on Emory's Oxford and Atlanta campuses.
When Emory's newest students arrive this week to move in at their respective campuses, they'll be joining in a time-honored ritual — an experience made smoother by months of advance planning and hundreds of volunteers.
While orientation leaders have spent summer months preparing to welcome Emory students to the collegiate experience, staff members across multiple divisions have been readying the campus for the arrival of the Class of 2021.
From changing residence hall air filters and "lofting" beds to landscaping and painting, from double-checking fire safety measures in every residence hall to planning the traditional first-year Coca-Cola toast, this month marks the culmination of a common goal, as the Emory community comes together to create a fluid transition for incoming students.
"Move-in is a monumental coordinated effort by quite a few staff sections across the university," explains Todd Kerzie, assistant vice president of facilities management for Campus Services.
It takes deep and often invisible cooperation across many departments to make move-in happen successfully, Kerzie notes. 
Involvement ranges from the those within Campus Life, including residence life and housing operations, campus dining and mail services, to Campus Services, including public safety, planning design and construction, special event coordination, parking and transportation services, and facilities management, which covers maintenance and custodial support, landscaping and staging services, among others.
Throughout the summer, campus staff has been readying residence hall rooms — used by campus visitors for much of the summer — tracking and completing work orders, and renovating 65 apartment units at the Clairmont Campus.
Once students arrive, "then operations step up, making sure the water is hot and the lights are on, working with partners to make sure each house is clean and our students are satisfied," says Jonathan Cooper, director of Emory's housing facilities and operations.
"In the end, we work hard to help make them feel at home," he says.
Home away from home
All the advance work is intended to smooth out Move-In Day, which is held on different dates for students arriving on different campuses.
At Emory's Atlanta campus, move-in for first-year students, transfer students and students continuing from Oxford College will be Saturday, Aug. 19; on Sunday, Aug. 20, upper-level returning students will move in at the Clairmont Campus and main campus. 
On Emory's Oxford College campus, move-in for first-year students will be Friday, Aug. 18; returning sophomores move in on Tuesday, Aug. 22. On both campuses, resident assistants, orientation leaders and international students have already arrived, says Michael Toney, director of orientation for Emory College of Arts and Sciences.
Once parents and students arrive to unload, dozens of volunteers will swarm their cars, relocate student belongings into carts, and roll them to awaiting rooms. While volunteers strive to empty a car within five minutes, most are emptied in under two minutes — the volunteer teams of students, faculty, staff and campus administrators are just that good, Cooper says.
"It's all hands on deck," he says. "We have an army of volunteers and everyone on the housing staff will be here. Whether it's assisting a concerned parent or helping someone who wants to relocate, we have to be agile."
In fact, at the morning shift briefing for Emory police on Move-In Day, much of the focus is on customer service, answering questions and calming nerves. "We make sure our officers all have directions to the nearest Target or Walmart, because at some point during the day, they'll be asked," says Craig Watson, assistant vice president of public safety.
"For us, it's actually a fun time of the year — a new start for students," he says. "You can't help but get excited along with them." 
"But there is no way we could ever do this job without the teamwork that goes on behind the scenes," he adds. "It's a pure teamwork approach on the part of everybody, working so well together and so far ahead on the planning piece."
Once students have moved in to their residence halls, orientation activities — which include beloved traditions such as Emory's SongFest and the Oxford Olympics — continue into the week, with classes starting Wednesday, Aug. 23.
In addition to helping students adjust to college life and step into their roles as new members of the Emory community, Toney says that orientation volunteers know they will also be helping them make memories.
"Our student orientation leaders will focus on making them feel welcome, but also really giving them a solid foundation, setting them up for success at Emory," he says.
DUC-ling opens for student dining
This year, planning for the return of students to Emory's Atlanta campus has required special considerations. 
"In some ways, we've been preparing for the Class of 2021 for two years, because that's how long we have been preparing for the DUC-ling," notes Chad Sunstein, Emory campus dining director.
This summer's demolition of the Dobbs University Center (DUC) — in preparation for the construction of a new Campus Life Center — created the need for a new temporary dining space.
The answer? Construction of what some have dubbed "the DUC-ling," a spacious new interim dining facility located in the outdoor courtyard of the Woodruff Physical Education Center.
Food service workers have spent the summer gearing up to serve around 3,200 meals a day once students flock back to campus this fall, says Sunstein. "It was designed and built so that our students will have a comfortable, welcoming dining experience," he says.
"Bon Appetit has been very busy menu planning and getting food orders in so that food and supplies will be rolling into campus in a big way this week," he says.
A class of distinction
Before this year's new students even arrived, the Class of 2021 will have already distinguished itself in several unique ways.
A few days after moving in, new students will be invited to several campus events planned around safely viewing the Aug. 21 solar eclipse, a historic event that hasn't occurred in the Atlanta area for more than 30 years.
And for the first time, first-year students at Oxford College will be transported to Emory's Atlanta campus on Sunday, Aug. 20, to help spell out "2021" for the traditional first-year class photo on the Emory Quadrangle.
Together, the class will be greeted by Emory President Claire E. Sterk, then proceed together to the Quad for their class photograph — the first time the picture will represent first-year students from both campuses, Toney says.
"It's in recognition of the fact that Oxford students will be transitioning to the Atlanta campus in two years, and that they are already part of this great class as well," Toney says.
Share This Story