Meet Emory's Class of 2021
---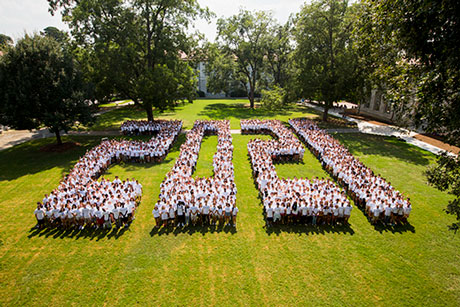 Oxford first-year students Eric Wendel Lee II of Covington, Ga., and Kaeli Thompson of San Diego are part of the Class of 2021 welcomed to campus this week.
This week, Emory University welcomes the Class of 2021, a talented group of first-year students from all over the world. Along with duffel bags and dorm-room décor, they arrive with diverse stories of their academic journeys.
For some, the chance to study at Emory has been a long-held dream. For others, the opportunity to attend a top liberal arts research university represents a never-imagined goal now being realized through life-changing scholarship support.
With top academic scores, athletic and artistic achievements, and community engagement experiences, the Class of 2021 was selected from among a record-breaking number of applicants.
"In all the ways we measure academic preparation, this is a remarkably talented  class," says John Latting, associate vice provost for undergraduate enrollment and dean of admission.
When applying to Emory University, the students had the option to choose between two paths: Beginning their studies in Emory College of Arts and Sciences on the Atlanta campus, or spending their first and second years at Oxford College on Emory's original campus in Oxford, Georgia. After their sophomore year, students can choose to complete their undergraduate degrees in Emory College, Goizueta Business School or the Nell Hodgson Woodruff School of Nursing.
Both Emory College and Oxford College experienced double-digit increases in applications for the Class of 2021. Emory College applications were up 19 percent to 23,747, and Oxford applications jumped 63 percent to 14,190. About 56 percent of applicants asked to be considered for admission to both colleges.
Overall, applications arrived from all 50 states, as well as the District of Columbia and Puerto Rico, and more than 65 countries, by citizenship. The university also saw a rise in applications from African American and Latino/Hispanic students.
Beyond the university's growth in overall applications, this year's applicants also raise the standard for academic excellence, with a jump in both grade point averages and overall test scores.
Latting attributes the all-time-high number of applicants to Emory's ability to connect and communicate with more people.
"It's evident that the world really needs diverse liberal arts research institutions that are supportive of members of the community, open to differences and welcome diversity," he says. "In that regard, Emory resonated really well this year with prospective students."
Of the combined incoming class of 1,886 students, some set their hopes on attending Emory College or Oxford College the moment they stepped foot on those campuses during their initial visits.
A few already know their campus by heart. Others look forward to a broader discovery of Atlanta and the American South — an introduction to new foods and culture, a sense of community and geography that they're eager to explore.
And all share in the excitement of new beginnings, the anticipation of orientation activities that will immerse them in the Emory experience, and an urgency just to see it all begin.
Here are a few of their stories, selected from among the 1,404 Emory College students and 482 Oxford College students poised to begin their first year:
Chelby Sterling and Cydni Holloway
When applying to college, Chelby Sterling admits that it was her friend, Cydni Holloway, who pushed her to dream big.
Both girls attended Benjamin Franklin High School, a top-ranked charter high school in New Orleans, Louisiana. And both had participated in College Track, a program that provides high school students with resources and support toward achieving a college education.
Growing up biracial, Sterling had an interest in black culture and identity, and imagined pursuing political science, economics, African American studies or law school.
But with an autistic brother, Sterling felt compelled to consider colleges close to home. When a mentor suggested that in order to make change in the world, she should first get out and see it, her friend Holloway concurred.
"When she heard me saying that I wanted to apply locally, she told me, 'No. You have just as much potential as I do,'" Sterling recalls.
As for Holloway, from the time she was small, her parents insisted that she would attend college — even if they weren't sure how they would pay for it.
"Neither of my parents graduated from college, but they saw it as an important way for me and my siblings to have a better life," she says.
That dream was shaken in 2015, when her father, Daryle Holloway, an officer with the New Orleans Police Department, was shot and killed on duty. For months, Holloway struggled to dig herself out of a deep, emotional hole.
By senior year, she was able to examine bigger issues surrounding his death. "How did this happen, why did it happen, and what can I do to prevent something like this from happening again?" she recalls. "I started thinking about the relationship between law enforcement and the black community of New Orleans, and saw a lack of trust."
Her father's assailant was a felon with untreated mental health issues. Could access to treatment or better rehabilitation services in prison have helped? Could more acceptance of mental health care in the black community have made a difference? Those are the research questions that now motivate her.
While both girls applied to a wide range of top universities, in the end, they both chose Emory. "We attended 'Essence of Emory' weekend and completely fell in love," Sterling says.
An opportunity to hear a presentation by Carol Anderson, Charles Howard Candler Professor of African American Studies, helped seal their decisions. "She was so brilliant, really inspiring," Holloway says. "I'll never forget her advice, 'Pursue your passion, feed your soul.'"
Now Holloway and Sterling are beginning preparations to do just that, moving into Longstreet-Means Hall as first-year roommates.
"I'm looking forward to the challenge of remaining vocal," says Sterling, a QuestBridge Scholar. "At Ben Franklin, there wasn't a lot of pushback in my civics classes. I'm actually looking forward to some opposing points of view."
Kellen Sandvik
Throughout high school, Kellen Sandvik was never content with sitting on the sidelines.
An accomplished student — he comes to Emory as a Woodruff Scholar — Sandvik was also a joiner and a doer. Whether serving as president of the school's math, philosophy and "Do Something" clubs, or founding the not-for-profit organization "Pass-A-Bag," which creates care bags to distribute to the homeless, Sandvik was happiest engaged and busy.
In fact, the opportunity for student engagement was part of what attracted him to Emory. "A friend had applied here, really liked it and recommended it," he says. "When an admissions officer visited my school, I learned more about the environment and the opportunities and applied Early Action,"says Sandvik, of San Diego, California.
Flying out for a campus visit, "I just loved the atmosphere," he says. "I got to see Wonderful Wednesday, the Farmer's Market — there's so much going on."
At the moment, he's interested in majoring in math and quantitative sciences, but he's also considering the possibility of a focus on finance.
And he's already diving into all Emory has to offer. Just days before move-in, the avid outdoor adventurer joined other Emory students on a three-day backpacking trip in the North Georgia mountains through SOAR (Student Outdoor Adventure Retreat), a program that provides a chance to meet other first-year students and learn about Emory from older students.
"At this point, I'm just excited to meet people," he says.
Maya Aravapalli
When she was 7 years old — not long after her family had moved from India to Georgia — Maya Aravapalli recalls visiting the Michael C. Carlos Museum with her family.
Later, her father made a prediction: "Maya, this would be the perfect environment for you and your brother," he said.
So when it came to college, "Emory was my first choice," says Aravapalli, of Alpharetta, Georgia.
In high school, Aravapalli's extracurricular service work revolved around Girl Scouts. For her Gold Award, the Girl Scouts' highest honor, she raised $7,000 to provide desks and chairs for schoolchildren in Karnataka, a state in southwestern India.
"When we would visit over the summer, my brother and I always volunteered in schools and I noticed the schoolchildren were sitting on concrete floors," she says.
After raising the funds, Aravapalli was able to journey to India to see the furniture delivered. "It was crazy, they were so happy," she says. "The first time I visited, I saw barefoot children with nothing but a uniform provided by the government. To have desks and chairs made them so happy, and it seemed like a small thing to do for them."
Recently, she's explored starting a nonprofit to continue the work. "Emory really encourages clubs and service work," says Aravapalli, who is interested in studying business and computer science. "I hope to start a club here to help children in India."
Eric Wendel Lee II
Growing up in Covington, Georgia, it seems that Eric Lee was never more than a few minutes away from Oxford College's leafy campus.
"I knew it was there, but I never thought I would be going there," Lee laughs softly.
But with the help of the Martin Luther King Jr. Scholarship — and some keen skills on the basketball court — Lee is doing just that. He'll play basketball for Oxford College while beginning his first-year studies.
Funded jointly by Oxford College and the Newton County King Scholar Fund, the full-tuition scholarship is awarded annually to a Newton County High School student interested in attending Oxford College; the award continues to Emory College, Goizueta Business School or the Nell Hodgson School of Nursing.
Living so close to Oxford College, Lee says it was impossible not to know of its reputation for academic excellence and being part of "one of the top 20 universities in the nation with regards to research and the liberal arts," he says.
"And it's a very inviting campus," Lee says. "Everybody is just so friendly, the professors seem very approachable. And I love the diversity — there's so many people from very different backgrounds."
In the end, he felt drawn to "a solid liberal arts program that gives you the chance to explore."
Lee is the first of four siblings to make the trek to college, where he's interested in studying business, perhaps engineering. His family jokes that "it will be the shortest move-in commute on record, maybe a 10-minute drive — it's practically in my backyard," Lee says. "But I think it will open a world of opportunities."
Kaeli Thompson
Nine years of playing competitive volleyball gave Kaeli Thompson an appreciation for the intricate balance between mind, body and nutrition — how the right foods can feed the body and fuel performance.
"I think it would be interesting to be a nutritional biochemist," says Thompson. "I'm passionate about nutrition and the idea that food really is the best medicine for our bodies. I actually think a lot of America's health problems could be solved if we started eating right and taking better care of our bodies."
In fact, it was through traveling for national volleyball tournaments that she began to consider attending college in the southeastern U.S. "I have some family in Tennessee and had played in tournaments around the Southeast, and I just fell in love with the people," says Thompson, who is from San Diego.
"There's a completely different pace of life than there is in Southern California," she says. "I applied to schools all over the nation, but Oxford genuinely was my number one choice — I was after that small liberal arts experience for my first two years, with the opportunity to continue on to the main campus, attending a renowned research university with ties to the CDC (Centers for Disease Control and Prevention)."
When news of her acceptance arrived, "I was literally jumping up and down, I was so excited."
A campus visit sold her on Oxford College. "I was searching for a smaller, close-knit experience. And I really felt that at Oxford. For the past four years, I've had 40 kids in my classes. To have the smaller classes that Oxford offers will be great."
As a nutrition enthusiast and a vegan, she was also delighted with the dining options. "There were options for vegans, vegetarians, all kinds of organic food choices, Oxford's organic farm — I just knew I wasn't going to be eating lettuce from a salad bar for a year."
Share This Story