Six honors theses highlight Emory College physics
---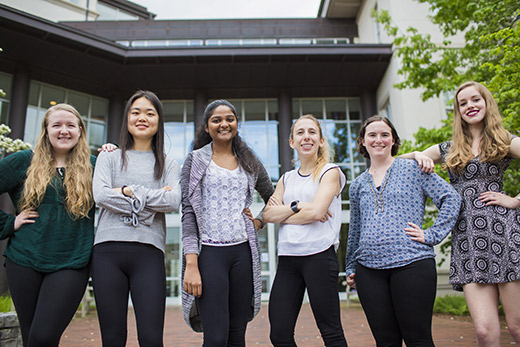 Four of six students who completed honors theses in physics this year started their Emory educations at Oxford College. They credit Frosso Seitaridou, Oxford associate professor of physics, with instilling a passion to see how the ever-changing science affects other disciplines. 
Six seniors will graduate from Emory College of Arts and Sciences with honors in physics next month, having conducted rigorous research on scales as expansive as hints of what happens around the universe's dying stars and as minute as the molecular mechanisms that tell our cells what to do.
The high caliber of resources at Emory as a national research university adds depth to every undergraduate's liberal arts education. But while it is not unusual for larger departments to have so many students complete an honors thesis in a single year, having six from one of the College's smaller departments stands out.
"When you consider our 'modern physics' course includes Einstein's work, which is from more than 100 years ago, it's especially nice that our students see physics is an ongoing science," says Eric Weeks, department chair and Samuel Candler Dobbs Professor of Physics. "We want them to know research is an option that lets them as students push forward what we know about our world."
Four of the six students started their Emory educations at Oxford College. They, and Weeks, credit Frosso Seitaridou, an associate professor of physics at Oxford, with instilling a passion to see how the ever-changing science affects other disciplines. 
The post-graduate plans of the six students highlight that broad appeal. Yijun Dong plans to pursue a PhD in applied mathematics. Julia Eisman and Geethika Malla will take a gap year before they each start medical school.
Crissy Hendrickson, meanwhile, has already signed up for a two-year stint as a science teacher with the Peace Corps in Namibia. Shannon Hill will intern with NASA this summer while she considers whether to pursue astrophysics or sustainable development in graduate school.
Only Jennifer McGuire, who will spend the next year continuing her thesis work at Emory, is certain she wants a PhD in physics.
"Some students come to my class scared of physics, and that breaks my heart," Seitaridou says. "I don't expect them to major in physics, but I want them to see the beauty and elegance of it and realize it is everywhere."
"I'm humbled so many students have had the courage to do a thesis. This endeavor showcases their curiosity and commitment to scientific integrity." she adds. "Physics has something to say about everything." 
In fact, the six students conducted comprehensive, original research and analysis on topics across several branches of physics. Most of their findings are embargoed, meaning their work is suitable for publication.
Research with impact 
Dong, a double major in engineering sciences physics and applied math, studied how microscopic particles fall and settle into a surface. Such tiny particles settle differently than large objects, which organize and pack into set patterns. Her results are the basis for additional engineering research.
"For me, physics was a perfect fit because it covers a broad range of topics from math to technology," says Dong, who begins her doctoral work at the University of Texas next fall. "Mine was a great project for math and statistics, which is what I'm naturally attracted to."
Eisman, a physics for life sciences major and Spanish minor, tested whether adding proteins to synthetic DNA rollers – created by associate chemistry professor Khalid Salaita – affected the rollers' speed. Her findings, which are embargoed, could eventually be useful in early detection of diseases such as cancer.
"Physics employs a certain way of thinking, with a focus on analytical problem-solving," Eisman says. "It's all about taking a difficult problem and working through it, piece by piece. I find that very gratifying."
Hendrickson, a biophysics major, looked at how DNA shape affects gene expression. She had to master an atomic force microscope to photograph individual DNA molecules to determine if the proteins that loop the DNA affect the likelihood of genes being transcribed to completion. Her findings are embargoed for publication.
"I was taking modern physics for fun, and my friends said they knew I'd be a physics major before I did," Hendrickson says. "To me, physics is the wonderful combination of math and science that helps make the world make sense."
Hill, with a double major in astrophysics and interdisciplinary studies with a focus on sustainability and environmental economics, successfully modeled the magnetic fields and outflows of an isolated dying star known as a white dwarf. Her work, which she also hopes to publish, could help inform our understanding of the different structures surrounding other stars and what that means for other star-planet systems.
"There are good and deep philosophical questions in physics," Hill says. "I find it fascinating how much of ourselves we project into things, like how we talk about the birth and deaths of stars as if they were alive like humans. Physics shows even when we try to be objective, our very ideas of science are subjective."
Malla, a physics major with a math minor, examined another potential roadblock to transcription: the erroneous incorporation of RNA into one of the two DNA strands. Her research required her to understand the physics of protein-induced fluorescence enhancement so she could build DNA with one strand made fluorescent. That allowed her to study the movements of RNA polymerase as it transcribes DNA and encounters RNA nucleotides. A better understanding of the process helps researchers understand genome instability, a characteristic of most cancer cells. Her findings also are embargoed.
"I hated physics in high school," Malla says. "That was before I realized you have to take everything you've learned in other subjects for the problem-solving in physics to make sense." 
McGuire, a double major in physics and computer science, studied the stability of polymer glasses, the natural solid state of synthetic long, repeating chains of molecules. Specifically, she examined the glassy state's stability when put next to a rubbery, more liquid polymer. Understanding how those boundaries influence each other is important in fashioning nanoscale devices. 
"I had a ballet teacher who taught the moves with vectors and torque," McGuire says. "That really did it for me, to use physics to explain something I loved and could really see."
A focus on science, not scientists 
All six students worked under the guidance of faculty advisers. Dong worked in Weeks' lab, while physics professor Laura Finzi advised both Hendrickson and Malla.
Salaita advised Eisman from the chemistry department. Connie Roth, an associate physics professor, advised McGuire. Physics lecturer Alissa Bans oversaw Hill's work.
All six had to report a final paper of their work and give an oral defense of their thesis to a faculty committee. 
Last fall, as they undertook their research, they posed in front of the Emory Gravity Monument, a hunk of pink marble in the Math & Science Center courtyard. That was the first time faculty members noticed something that the seniors say barely registered with them. 
"It's almost an afterthought that they are all women," Roth says. "They've been in the lab for years, truly doing complex physics research. That's what's exceptional."
Share This Story