John Lewis to speak at Oxford College Commencement 2019
---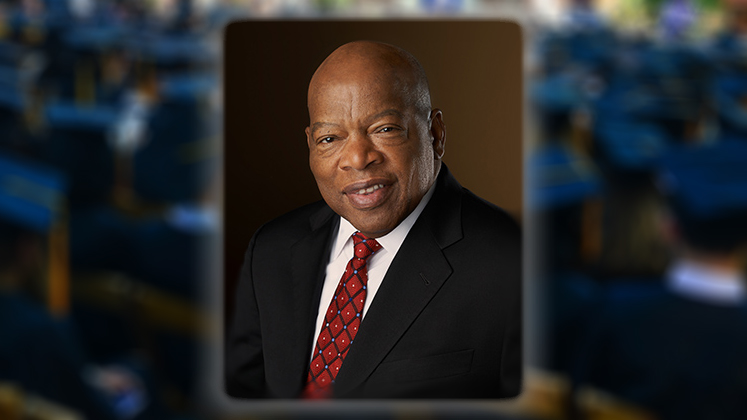 Oxford College of Emory University holds commencements exercises each spring to honor Oxford students before they move to Emory University's Atlanta campus.
The speaker for the 174th Commencement exercises of Oxford College is the Honorable John R. Lewis, member of the U.S. House of Representatives from Georgia's 5th District. Commencement is scheduled for Saturday, May 11, at 10 a.m. on the Oxford College Quad.
"What an honor and privilege it is for Oxford College to welcome this great statesman and icon of the American civil rights movement to address our 2019 graduates and all those in attendance at the closing ceremony of our academic year," says Doug Hicks, Oxford's dean and William R. Kenan Professor of Religion. "We look forward to the inspiring words that this American hero and exemplar of justice and public service will share with the Oxford College community."
Born the son of sharecroppers in Alabama, Lewis began a life of non-violent activism as a student at American Baptist College and as a participant in sit-in demonstrations at Nashville's segregated lunch counters. In 1961, he volunteered to participate in the Freedom Rides throughout the South to test a decision of the Supreme Court from 1963 to 1966, where he endured several arrests and beating. At the age of 23, he became chairman of the Student Non-Violent Coordinating Committee and was a keynote speaker at the historic 1963 March on Washington. In 1965, he co-led a group of 600 peaceful protesters on a march from Selma, Alabama, to Montgomery, organized to demonstrate the need for voting rights in Alabama. The non-violent marchers were attacked by armed state troopers as they crossed Selma's Edmund Pettus Bridge, an event that has become known as "Bloody Sunday."
After years of work in support of voting rights and as leader of the federal volunteer agency ACTION during the administration of Jimmy Carter, Lewis entered politics in 1981 as a member of the Atlanta City Council. He was elected to Congress in 1986. In the more than 30 years since then, his moral stature and dedication to protecting human rights and securing civil liberties have earned him widespread respect and admiration. 
This is Lewis's second time to address Oxford College. He last appeared here in March 2002, when he delivered the Mills Peace Lecture. In addition, Lewis served as the Emory University Commencement Speaker and received an honorary degree from the university in 2014.
Share This Story