New semester brings new resources, programs and events across Emory
---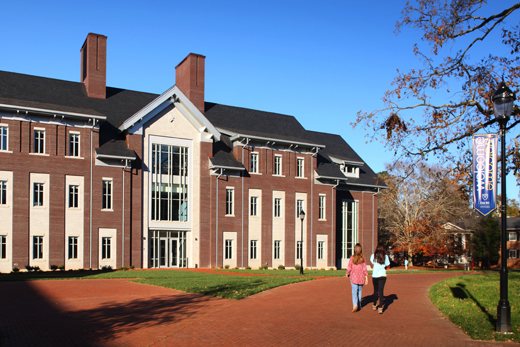 The nine schools that make up Emory University have extensive plans for the spring semester. Here's a roundup of what's new and noteworthy, as listed by each school.

CANDLER SCHOOL OF THEOLOGY
Noteworthy events: Candler's Bishop-in-Residence, Woodie W. White, will present thoughts on the state of race relations in his annual "Letter to Martin Luther King Jr." in Cannon Chapel on Jan. 21. All are welcome.
On March 1, The Leadership and Multifaith Program (LAMP), a collaborative endeavor between Candler and Georgia Tech's Ivan Allen College of Liberal Arts, will host a symposium on "Food, Farming, and Faith." Rabbi Dr. Jonathan K. Crane, Emory's Raymond F. Schinazi Scholar of Bioethics and Jewish Thought, will keynote.
New exhibit: The spring exhibit at Candler's Pitts Theology Library will be on Haggadot, texts for the Passover Seder. Pitts' collection of over 600 Haggadot is one of the largest in the South. Co-sponsored by Emory's Tam Institute for Jewish Studies, the exhibit runs from March 7 through June 30, and is open to the public, with free tours offered. Learn more and register for a tour.
Learn more at candler.emory.edu

EMORY COLLEGE OF ARTS AND SCIENCES
Strategic planning: Emory College's top priority this semester is to finish the development of a new strategic plan that will produce both a forceful statement of ambition for the college, and a clear path forward to achieve its goals and priorities.
College faculty working groups and administrators spent fall semester developing the initial goals and guiding principles around four main areas: undergraduate education; faculty excellence; research, scholarship and creativity; and philanthropy, communications and public engagement. 
The working groups delivered their reports on guiding principles and goals in December to the Faculty Senate. This semester, the planning process will expand to all stakeholders in the Emory College community (faculty, students, staff and alumni) to best identify and prioritize the initiatives and tactics needed to achieve the strategic goals. Updates can be found on Emory College's strategic planning website.
Student scholarships: More than 7,000 prospective students applied to the Emory Scholars program for fall 2016, setting a new record of applicants for the highly competitive program. About 100 finalists will be invited to the Emory Scholars Finalists Week in late March, where they will be considered for membership in the program, which includes full-ride Woodruff Scholarships and other merit-based support.
Learn more at college.emory.edu

GOIZUETA BUSINESS SCHOOL
New book: Sandy Jap, professor of marketing, is the author of "Partnering with the Frenemy: A Framework for Managing Business Relationships, Minimizing Conflict, and Achieving Partnership Success" (Pearson FT Press, Dec. 21, 2015). Jap's research focuses on helping to anticipate, prevent and solve the problems that lead close professional relationships to implode — applicable to businesses, nonprofits, government agencies, and any other group whose success depends on ongoing external partnerships.
New research: Work done in part by Goizueta's Mike Lewis shows increasing cigarette taxes pushes some consumers to products with more nicotine. 
Financial resolutions: Clifton Green, associate professor of finance, shares insights on best practices for those financial resolutions consumers make heading into the new year.
Undergraduate conference: The annual Undergraduate Business School Leadership Conference, organized and run by Goizueta BBAs, will feature Zander Laurie as keynote speaker. The conference will be held Feb. 18-20 on the Emory campus. Laurie, a Goizueta alumnus, drew national attention when he took over as CEO of SurveyMonkey after Dave Goldberg's death. He has served as GoPro's senior vice president of media since November 2014.
Learn more at goizueta.emory.edu

LANEY GRADUATE SCHOOL
Annual competition: The Three-Minute Thesis or 3MT is an academic competition developed by the University of Queensland, Australia. The Laney Graduate School 3MT competition serves as a skills development program that challenges students to explain their research project either through verbal communication (in three minutes or less) or by written abstract (350 words or less). Both competitions are judged by a panel comprised of a diverse group of professionals (academic and non-academic). 3MT finals will take place in April.
Intensive grant writing workshop: Taking place Feb. 25-28 at Amicalola Falls State Park in North Georgia, this event of the LGS Grant Writing Program is for students who are starting to work on grant or post-doc proposals that will be reviewed by interdisciplinary review committees such as Fulbright. Participants' draft proposals receive sustained and focused attention from an interdisciplinary group of peers and faculty members. Participants also engage in sessions about writing for an interdisciplinary audience, methodological questions, and more.
Mentor awards: In spring 2016, LGS will issue a call for nominations for the Eleanor Main Graduate Mentor Awards (the Faculty Mentor Award and the Graduate Student Mentor Award). Established in 2014-15, the awards are a highly visible way to recognize the importance of mentoring and reward those who do it well. The awards are presented annually during Commencement, and each carries a significant monetary prize.
Learn more at graduateschool.emory.edu
SCHOOL OF LAW
Incoming class: Emory Law welcomes new students from 12 countries for our Juris Doctor (JD), Juris Master (JM), Master of Laws (LLM), and Master of Comparative Law (MCL) degree programs.
Visiting faculty:  Margo Bagley, Hardy Cross Dillard Professor of Law and Joseph C. Carter, Jr. Research Professor of Law at the University of Virginia School of Law, returns as a visiting professor. Bagley's research focuses on U.S., international and comparative patent law issues, particularly biotechnology and pharmaceutical protection. Paul Koster, managing partner of Daley Koster, will also visit in the spring. Koster has expertise in government law, community association law, professional liability and employment law.
Faculty news: Mary Dudziak, Asa Griggs Candler Professor of Law, returns after spending the fall semester at the Library of Congress as the Kluge Chair in American Law and Governance. Michael Kang was recently named the David J. Bederman Research Professor.
Upcoming event highlights: 
Jan. 14: Sherrilyn Ifill, president and director-counsel of the NAACP Legal Defense and Educational Fund, speaks at Emory Law
Feb. 11: Randolph W. Thrower Symposium: "Redefined National Security Threats: Tensions and Legal Implications"
Feb. 26: Emory Law hosts a hearing of the U.S. Patent and Trademark Office
Learn more at law.emory.edu

SCHOOL OF MEDICINE
Pipeline to health professions: The School of Medicine, in collaboration with Emory College of Arts & Sciences, Atlanta Public Schools and Atlanta Area Health Education Center, has received a three-year, $1.8 million grant from the Department of Health and Human Services for the Emory Pipeline Collaborative (EPiC), to prepare economically disadvantaged students from Atlanta high schools for entry into health professions.
Recognition and appointments: Nine medical school faculty members were recognized as members of the "Emory 1% Club" for having their NIH proposals ranked in the top 1 percent by reviewers, and 18 new faculty members joined the MilliPub Club, which recognizes faculty who have published one or more papers in their careers that have garnered more than 1,000 citations.
Centers and consortiums: The American Medical Association announced that Emory's School of Medicine and 19 other medical schools will join the 11 founding members of its Accelerating Change in Medical Education Consortium.
Diversity and inclusion: The SOM launched a Diversity & Inclusion Committee made up of faculty, students and staff.
Learn more at medicine.emory.edu

NELL HODGSON WOODRUFF SCHOOL OF NURSING
New website: The School of Nursing recently launched a new website. The innovative new site makes it easier than ever to learn about the school's programs and apply for admission in approximately 20 minutes.
New programs: The School of Nursing will launch its first-ever "Introduction to Professional Nursing" course exclusively for Emory College of Arts and Sciences students in spring 2016. This new course will explore the multifaceted roles of registered nurses and nurse practitioners in today's health care system. Students enrolled in the "Introduction to Professional Nursing" course will hear from health care leaders and will participate in patient care simulations in the School of Nursing's state-of-the-art simulation lab.
New facilities: The School of Nursing recently opened the Wesley Woods Graduate Simulation and Skills Facility located at the Wesley Woods Center on Clifton Road. The multifaceted simulation lab, along with the current Charles F. and Peggy Evans Center for Caring Skills located in the School of Nursing, will be used to promote quality patient care and safety.
Events: Dr. Nzinga Harrison, chief medical officer for Anka Behavioral Health and an adjunct faculty member at the School of Nursing, will be the keynote speaker for the 2016 Virginia Lee Franklin Conference on Feb. 26 in the Cox Hall Ballroom. The conference theme is PTSD: Neurobiology, Treatment and Research.  Tickets are available online.
Learn more at nursing.emory.edu.

OXFORD COLLEGE
New facilities: Construction of the new Oxford science building is complete. It will open to students for spring semester, and a public grand-opening ceremony for the 57,500-square-foot facility will take place Feb. 21.
Ground was recently broken on a new dining facility, located at the intersection of Pierce and Asbury streets, across from the current dining hall. Construction is expected to be complete by the end of the year, and students will be served there beginning in spring semester 2017.
Experiential learning: The number of travel courses will expand with the addition of a sociology course in political economy and sustainability that will include travel to Spain; a course in French art, cinema and literature with travel to southern France; and an economics course with travel to Costa Rica.  Oxford will inaugurate course-independent internships during the academic year, with two programs in the lineup for spring semester.
Commencement: Commencement will be Saturday, May 7, at 10 a.m. on the college quad. The commencement speaker will be Henry Anthony 71Ox 73C 88B, vice president of human resources for the Rollins Corporation.
Learn more at oxford.emory.edu

ROLLINS SCHOOL OF PUBLIC HEALTH
Milestones: The Rollins School of Public Health celebrates its 25th anniversary as a school and 40th as a program. As part of the anniversary celebration, the James W. Curran Scholarship Fund was created in honor of James W. Curran's 20 years as dean. Many friends, faculty and alumni have contributed, along with the O. Wayne Rollins Foundation, which pledged $10 million to the new scholarship endowment.
The anniversary was also marked with the renaming of two previously endowed chairs. Paige Tolbert now holds the O. Wayne Rollins Chair of Environmental Health and Colleen McBride is now the Grace Crum Rollins Chair of Behavioral Sciences and Health Education.
New award: The Rollins Alumni Association marked the anniversaries by creating a new award to honor leaders who have consistently inspired others through their dedication and commitment to the school. The inaugural Outstanding Leadership Award was presented to Martha Alexander 86MPH, PhD, Nancy Hunt 87MPH, and Dennis Jarvis 88MPH.
New grants: In collaboration with Georgia Tech and Emory's schools of Medicine and Nursing, RSPH Associate Dean of Research Gary Miller has been awarded an $8.3 million grant by the NIH to establish a National Exposure Assessment Laboratory.
Share This Story