Exceptional students arrive as new class of Emory Scholars
---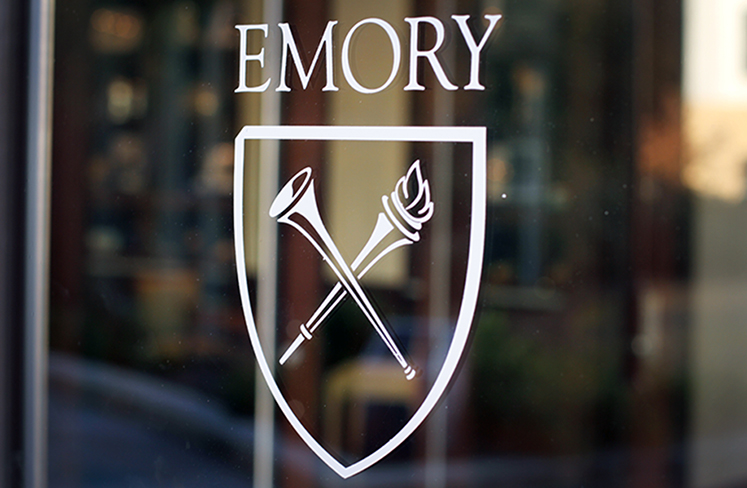 The Emory Scholars of 2021 include 19 at Oxford College and 20 on Emory College's Atlanta campus.
They come from as far away as Ghana on Africa's West Coast and from as close as Atlanta and its suburbs. They have performed at Carnegie Hall, and they have started their own organizations. Their interests are as diverse as Mandarin Chinese, playing the ukulele and adventure hiking.
They are the 20 bright minds who arrive on Emory College's Atlanta campus this fall as the Emory Scholars of 2021. Down the road, another 19 will converge on Oxford College, home of Emory's original campus.
Like the cohorts that have come since the Scholars program started in 1981, the students were selected for their accomplishments, character and significant leadership and community engagement. This class, though, comes from the most competitive admissions pool to date, says program director Lydia Soleil.
"These incoming Emory Scholars have proven track records of being change agents, who work to make the communities they are part of better," Soleil says. "We look forward to seeing how they engage and grow through the many positive experiences they will have at Emory, as well as how they chose to give of their talents to positively impact the new communities they become a part of at Emory and in the metro Atlanta area."
Woodruff Scholarships and beyond
The program's signature Robert W. Woodruff scholarships grew out of the $105 million gift that Woodruff, the former president of the Coca-Cola Company, made to Emory in 1979.
The part of the donation used for scholarships was designed to draw Ivy League-bound students to Emory instead, as it began its march to national recognition.
The Emory Scholars program has since grown to include to several other scholarships that recognize specific talents in addition to the criteria of academic merit, achievement and community engagement.
One of those is the Jenkins Scholarship, named for the founder of the Publix grocery store chain and awarded to students from states in the company's footprint. Halla Maynard from Cleveland, Tennessee, and Cahill Carusos of Cumming, Georgia, are this year's winners.
"I basically shop exclusively at Publix now," says Cahill, who describes herself as a member of every honor society at her high school who found time to teach Spanish to elementary-school students and mentor young children at Browns Bridge Church, part of North Point Ministries.
At Emory, she plans to get involved with the local North Point church and continue volunteering in area schools, while also pursuing computer science and math classes.
"At first, I thought I didn't like Emory because it was just too perfect," Cahill says. "Then it seemed like every person I ran into had an Emory connection, and they were doing wonderful things. It's a whole community of people committed to learning and service."
The Oxford campus, 38 miles away in the small town of Oxford, Georgia, was a perfect fit for self-described former shy kid Rachael Gilbert.
Students can choose from two paths when applying to Emory: They may begin their studies in the Emory College of Arts and Sciences on the Atlanta campus, or spend their first and second years at Oxford College. After their sophomore year, students can choose to complete their undergraduate degrees in Emory College, Goizueta Business School or the Nell Hodgson Woodruff School of Nursing.
With prompting from friends and family, Gilbert — a Woodruff Scholar from Lexington, Kentucky — found her voice in theater and debate.
Debate further ignited Gilbert's academic curiosity, so much so that she was eager to find an academic home that would allow her to study beyond her planned majors of psychology and religion.
"All of the students I met were focused on why we learn, not just learning, as a way to consider the world beyond the parameters of just their major," Gilbert says. "That's what I enjoyed about debate, doing the work to understand other people's viewpoints so that you end up with a holistic understanding of things. "
Scholars drawn to varied pursuits
That broad view is reflected not only in the diverse array of interests but also in the global reach of the Scholars program. Of the Scholars bound for the Atlanta campus, one is from Turkey and another is an American living in The Hague, Netherlands. Scholars welcomed by Oxford College include students from Guatemala and Nigeria.
Kevin Tuyishime will be Emory's second scholar from Bridge2Rwanda, which equips stellar recent high-school graduates with the tools to compete for study at international universities before returning to Africa as community leaders.
And Olivier Niyibizi and Rebecca Tinkler are the first pair of Woodruff Scholars to come from the Sutton Trust program, which works with the US-UK Fulbright Commission to help high-achieving, lower-income students from the United Kingdom study abroad. The Scholars program has a handful of upperclass Sutton scholars, and a third Sutton Trust scholar arriving this year, Neil Tramsen, received international financial aid to attend Emory, says Mark Butt, the associate dean of admission and international recruitment.
Together, the international Scholars add perspective to the rigorous academic life at Emory and bring broader cultural understanding to campus, Butt explains.
"If Emory wants to be a global player and produce global leaders, having a global community on our campus is critical for our international scholars and American scholars alike," Butt says. "We believe our American students benefit from having conversations on campus they haven't been able to have anywhere else."
Opportunity for growth
The Scholars program offers all of the students the opportunity to push and challenge themselves, even in areas where they already excel. For instance, it is no surprise that debate figured prominently in Woodruff Debate Scholar Ryan James' decision to come to Emory's Atlanta campus.
James, captain of his Maryland high school's varsity debate team and 2017 National Policy Debate Champion, has long focused on critical debate: the structure of questioning the merits of a specific proposal.
But James, who hopes to major in business and computer science, is eager to engage with Emory's Barkley Forum Center for Debate Education, which coaches students in the critical style as well as the traditional policy style of debating.
The double style of coaching works: Two Emory students who were members of the group bested Harvard University in the American Debate Association National Championship earlier this year.
"Obviously, working with a phenomenal team, I'll be able to learn and adapt my thinking and learning," says James, who started his own business designing mobile apps and webpages. "I want to explore everything I can at Emory and in Atlanta."
Achievement and service
Other members of the Emory Scholars Class of 2021 also have extensive academic achievements and cite diverse interests and a commitment to serving others. All are Woodruff Scholars unless otherwise noted.
ATLANTA CAMPUS
Aisvarya Addanki, of Malvern, Pennsylvania, served as director of Model United Nations and was named a UN Youth Assembly outstanding youth delegate. The co-founder and co-president of the Women in Science and Engineering Club, she has also served as the chief youth executive of CallAmbulance, a global medical emergency platform and app. She is a lifelong Bollywood dancer who choreographs performances in the tri-state area and in India.
Nana Adjedu, of Accra, Ghana, was a member of his high school's Project Excellence honors society, Science and Math Club, Robotics Club and Quiz, Writers and Debaters Club. He was also a part of the academic team that received several accolades from regional and national science and math competitions. His passions are mathematics, coding, teaching and volunteering with a youth-focused initiative he co-founded. At Emory, he plans to pursue a major in applied mathematics with a minor in computer science.
Neha Arora, of Ridgeland, Mississippi, was named 2017 Distinguished Young Woman of Mississippi. She served as National Honor Society president and was a cum laude Honor Society inductee and four-year member of her high school's dance team. She volunteered for the children's museum and Boys and Girls Club and attended the Intel International Science and Engineering Fair while also shadowing doctors in various specialties. She aspires to major in chemistry and become a pediatric cardiologist.
Valery Berenshtein of Hillsdale, New Jersey, served as president of choir, student liaison on the Wellness Committee and teacher of her self-started class, Eating Disorder Awareness and Education, in high school. Performing three times at Carnegie Hall and winning an international opera competition, she supplements her study of classical voice with advocating for eating disorder awareness and with managing her campaign, Need to bEAT, which she founded to raise money for eating disorder research. At Emory, she plans on exploring business, health innovation, neuroscience and music.
Peter Buzzerio, of Wassenaar, Netherlands, is an American born in Paris who most recently lived in The Hague. At his high school, he was president of the National Honor Society and leader of Pratham@ASH, working directly with the international NGO in order to provide education for children across India. He was captain of the varsity cross country team and a cast and crew member for five high school theater productions. He plans to major in theater and chemistry.
Helena Haas, of Friendswood, Texas, is a Woodruff Music Scholar. She is the co-principal oboist of Houston Youth Symphony, principal oboist of her school's wind ensemble as well as a soloist of her school's vocal ensemble and member of the school drumline. A recipient of the Young Music Ministers grant, she has performed and interacted with patients in hospitals and independent living centers. She aspires to become a developmental behavioral health pediatrician, conducting research in music cognition, encouraged by her personal experience with brain injury and chronic illness.
Daniel Hamm, of Atlanta, is the recipient of the Martin Luther King Jr. Scholarship. He has a sharp interest in politics, business and Mandarin Chinese. The student representative for his high school's governance board, Hamm served as a leadership ambassador for the Maynard Jackson Youth Foundation and recently attended the Georgia Governor's Honor's Program as a finalist in Mandarin Chinese. He aspires to become an entertainment lawyer and someday start his own firm.
Karissa Kang, of Andover, Massachusetts, is a Floridian who attended high school in Massachusetts, serving as editor-in-chief of the Courant Literary Magazine and president of the Gender and Sexuality Alliance. She received the David G. Wood Fellowship for literary analysis and the Brace Center Student Fellowship for research in gender studies. Her poetry has been recognized by Princeton University and twice awarded the Charles Snow Burns Prize. She earned her high school's Martin Luther King Jr. Award for her political activism and hopes to combine that interest with a love of languages for a future in politics and policymaking.
Joshua Kaplan, of Scottsdale, Arizona, served as president of his high school's student government and a student ambassador for Amnesty. With a particular interest in unified sports, he has volunteered for the Special Olympics and also created GOALS, a non-profit soccer program for children with special needs. He designed the BrailleBoard, a smartphone keyboard adapted for visually impaired users, as an intern with an entrepreneurial incubator. He plans to major in anthropology and human biology and minor in Jewish studies before pursuing a career as a pediatrician.
Kaleolani Laymon, of San Diego, was captain of her school's speech and debate team and attended national and state speech and debate championships while also serving as secretary for the Envision Student Executive Board and volunteering at the Boys and Girls Club. She spent 10 years training in ballet and modern dance and is a member of the CCA Dance Conservatory. She also taught herself to play the ukulele and worked as a research assistant for the instructor of the University of California San Diego class, "Science, Technology and the Law." She plans to major in dance and neuroscience.
Halla Maynard, of Cleveland, Tennessee, is a Jenkins Scholar and the 2017 Distinguished Young Woman of Tennessee. She has earned interview and talent awards at the local and state level and has a passion for working with underserved and marginalized populations. She aspires to become a civil rights attorney, serving those populations at the federal level. 
Olivier Niyibizi, of Nottingham, United Kingdom, served as Head Boy at his previous school and as student president of Bilborough College. He created his college's Concept Society, where students can meet and discuss science and technology and also volunteer each week. His interests include playing the saxophone and reading. He plans to major in computer science and aspires to work in the technology industry.
Sukriti Rawal, of Edina, Minnesota, won the state championship in policy debate with her partner, along with multiple other debate awards. She can tap her feet almost as fast as she can talk as she performs intricate footwork patterns of Kathak, a north Indian classical dance. She describes herself as "your favorite Starbucks barista" who always tops drinks off with a little extra whip. She plans to study international relations or economics.
Anya Rosen-Gooding, of Albuquerque, New Mexico, attended high school in New Mexico and deferred her entrance to Emory to study at the United World College in Singapore for a year. In Albuquerque, she conducted geology research with the Mars Curiosity rover ChemCam team for two years, interning in dark matter projects. In Singapore, she has led the school medical society, math competition club and a charitable student organization. She attended Model United Nations conferences in The Hague and Singapore and volunteers by providing weekly massage to AIDS patients. She hopes to study philosophy, art and epidemiology at Emory and to intern at the U.S. Centers for Disease Control. 
Kellen Sandvik, of San Diego, was president of his high school's math, philosophy and "Do Something" clubs and led an after-school program for students in fourth and fifth grade. He founded the not-for-profit organization Pass-A-Bag, which provides care and encouragement to people who are homeless. He plans to major in mathematics and economics and aspires to become a research economist at the Federal Reserve.
Gizem Terzioglu, of Istanbul, was the four-year valedictorian of her International Baccalaureate high school in Turkey. She competed in the regional finals of the national project competition with her mathematics project on power sums and was also active in Model UN and the jazz and a capella choirs. She volunteered for two years with remote village schools in Turkey to improve their conditions. She plans to study molecular biology and mathematics and aspires to earn a doctoral degree in a related field. 
Rebecca Tinkler, of Torquay, United Kingdom, was a member of her school's Head Girl Team, which raised £12,900 for projects this year. She was also a leader of an economics team who were regional champions in a Bank of England competition and debated in French at the European Parliament. She enjoys running, swimming and hiking in the Ten Tors event, for which she holds the record time for 55 miles. At Emory, she plans to study economics while also exploring politics and languages. 
Kevin Tuyishime, of Kigali, Rwanda, graduated from College Saint-Andre (high school) as the Vice Head Boy and dining hall prefect. He founded the debate and public speaking club while in high school and took second place in a nationwide science competition. He has served as class president at Bridge2Rwanda, an 18-month gap year program for training future leaders of Africa, since high school. He plans to pursue international studies and public policy. 
OXFORD CAMPUS
The incoming class of scholars to Emory's Oxford campus are all highly accomplished students, both academically and in service to others. In addition to Rachael Gilbert, they include the following (complete biographies were not available at publication time):
Bhargav Balaji Annigeri, a Dean's Scholar from Oregon
Matthew Kyle Beech, a Dean's Scholar from Georgia
Elizabeth Tierney Beling, a Dean's Scholar from Virginia
Aminah Bharadia, a Dean's Scholar from California
Holly Elizabeth Cordray, a Dean's Scholar from Ohio
Lindsey Anna Dobbins, a Dean's Scholar from Minnesota
Ariela Farchi, an Emory Merit Achievement Award winner from Guatemala
Elizabeth Ann Greene, a Methodist Ministerial Scholar from North Carolina
Eric Wendel Lee II, a Martin Luther King Jr. Scholar from Georgia
Joshua B. Millin, a Dean's Scholar from Maryland
Erin Rose Neely, a Dean's Scholar from Missouri
Chike Ikenna Onyia, a Dean's Scholar from Nigeria
Eva J. Rotherberg, a Dean's Scholar from New York
Jay Hitesh Talati, a Dean's Scholar from Florida
Vijay Viswanath, a Dean's Scholar from Arizona
Ian Ying Wang, a Dean's Scholar from California
Daphne Rebecca Weiss, a Dean's Scholar from Pennsylvania
Michelle K. Zheng, a Faculty Scholar from Nevada
Share This Story