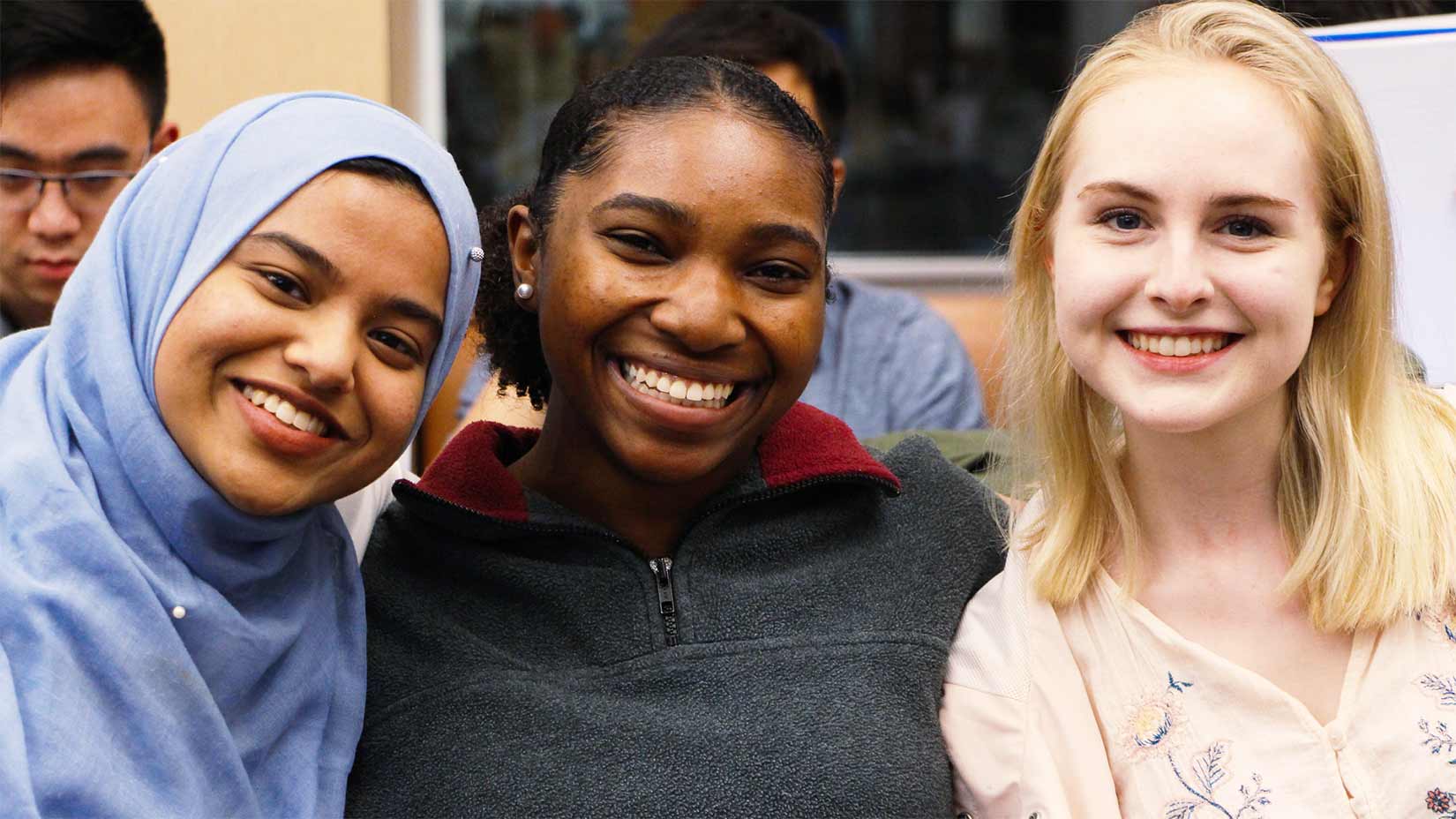 Diversity and Inclusion
Oxford College considers our campus diversity one of our greatest strengths. Whether you're building relationships across cultures, deepening your understanding of personal identities, or advocating for a cause, these experiences can transform your worldview.
Oxford's embrace of diversity, equity, and inclusion is multidimensional. We pride ourselves on the mix of people, beliefs, values, and identities that make up our campus, and on the opportunities we create to support, uplift, and care for each other.

Our community is not only composed of variety of ethnicities, races, and religions but a host of different socioeconomic backgrounds, gender identities, and sexualities. Student clubs and associations such as the Hindu Student Association, Oxford Pride, and the Black Student Alliance are just a few examples of groups who host events to honor, celebrate, and advocate for their communities.

All campus groups are open to any Oxford student and are chartered through the Oxford College Student Government Association, and include organizations like:
Asian Culture Club

Asian Fusion Dance Team

Black Student Alliance

Chinese Traditional Music Club

International Student Association

Korean American Student Association

Organización de Latinxamericanos

OxFirst

OxPride

South Asian Cultural/Identity Association

Taiwanese American Student Association

Vietnamese Student Association
Click here to see Oxford's 2021 Diversity, Equity, and Inclusion Report
ODEI Student Programs
Cultural Heritage Month Celebrations

Hispanic Heritage Month (September 15 – October 15)

LGBTQ History Month (October)

Native American and Indigenous People History Month (November)

Black History Month (February)

Women's History Month (March)

Asian American Pacific Islander Heritage Month (April)

D2 (Diversity Diplomat) Program: An ambassador program for students that are dedicated to serving and representing the office, our programs, and our mission of assisting and supporting in all efforts to recruit and retain underrepresented students by providing special assistance with personal, social, or academic concerns, as well as other guidance. Diversity Diplomats are selected and will help host ODEI Events and act as a student liaison to various communities/entities that the office serves. Applications open every Spring Semester.



Diversity Diplomat Application
Title IX
Emory University is committed to maintaining an environment that is free of unlawful harassment and does not discriminate on the basis of sex within its educational programs and activities. Thus, in accordance with federal law and its commitment to a fair and open campus environment, Emory cannot and will not tolerate discrimination against or harassment of any individual or group based upon race, sex, color, religion, ethnic or national origin, genetic information, age, disability, sexual orientation, gender identity, gender expression, veteran's status, or any factor that is a prohibited consideration under applicable law. The university recognizes its responsibility to increase awareness of sex discrimination, prevent its occurrence, and diligently investigate reports of misconduct.
Click Here to Find Information Regarding Title IX
The Office of Diversity and Inclusion provides programming and services that deepen the understanding of justice, diversity, and inclusion, support identity and cultural-based organizations, and foster community across campus, particularly for marginalized students. The office is here to help you achieve success, to educate the campus community, and foster a sense of belonging so that all students see themselves reflected at the institution.
Dr. Wade Manora, Jr.

Director of Student Diversity, Equity, and Inclusion

Office Hours: Monday–Friday, 8:30 a.m.–4:30 p.m.

Office Location: Oxford Student Center, Room 201

wade.manora.jr@emory.edu 770-784-4527