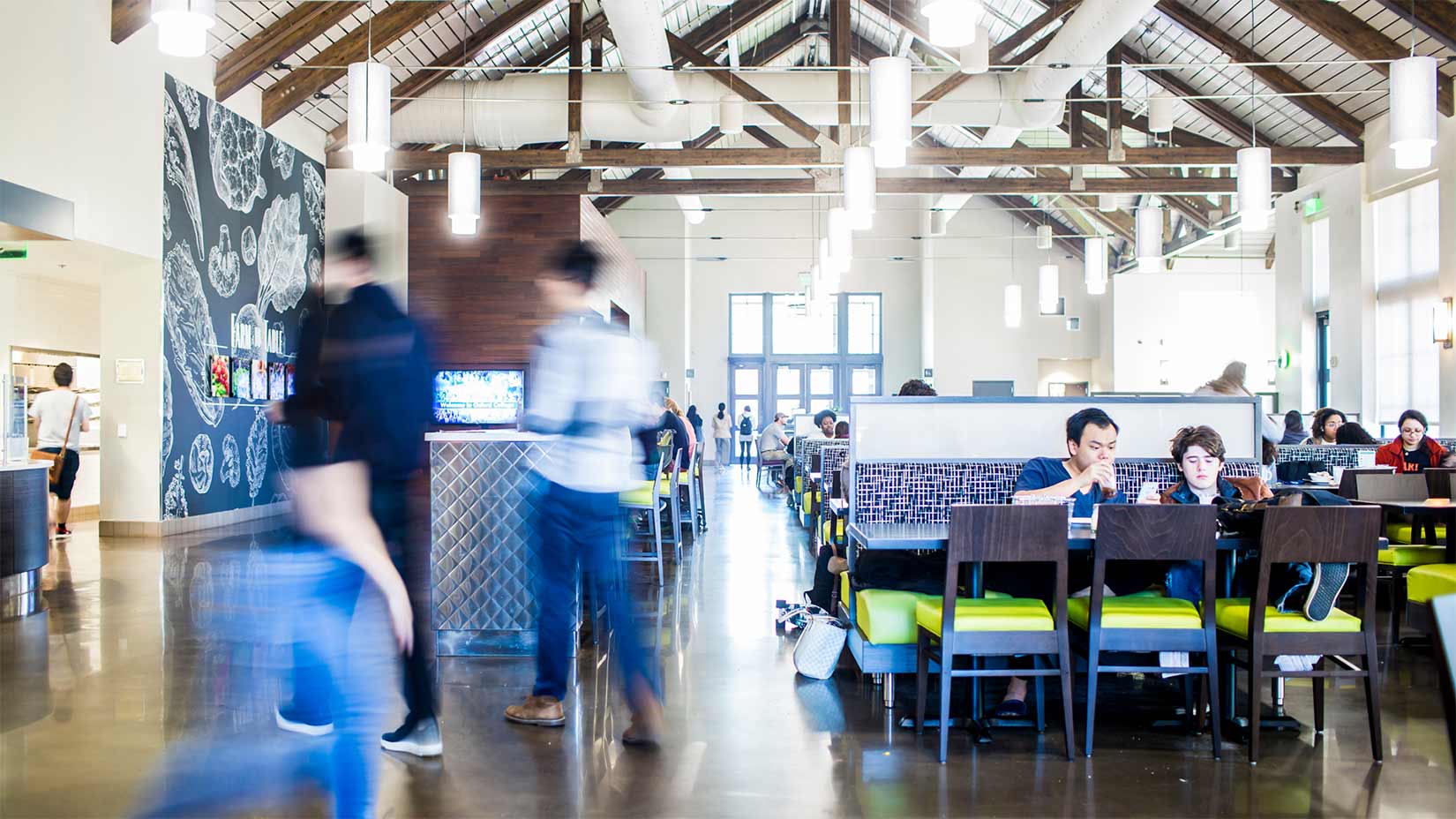 Housing and Dining
Almost all students live on campus at Oxford, so housing and dining plays a big role in our friendly, close-knit community.
Housing and Dining Updates
From our four residence halls arranged in villages to our farm-to-table dining hall enjoyed by the entire campus, housing and dining at Oxford feels like home.
Dining
In partnership with dining provider Bon Appétit, our goal is to provide quality food and healthy dining options. Our menus use seasonal and regional fresh products, including fruits and vegetables from the Oxford Organic Farm. We also have vegan, vegetarian, and gluten-free options. We're sure to have something that suits your food cravings.
Locations
Please note that like many other aspects of campus life at Oxford this fall, the COVID-19 pandemic has necessitated several changes to our dining program.
Oxford College has three dining locations: the Oxford Dining Hall, Jackson Family Kitchen, and Oxpresso Café.

The Oxford Dining Hall is currently set up for takeout with limited physically distanced seating options located by the fireplace or in the Dean's Dining Room. Queuing and occupancy are based on Emory guidelines for physical distancing. The new single-line flow allows for more options at every meal. For spring 2021– in addition to the classics station, pizza and grill – we've brought back the deli station, kettles (hot soups, cereals, and rice), and expanded the salad options by adding a served salad bar.
The dining hall's Late-Night Express program, offered seven days a week, ensures that students have access to a hot meal even after the dining hall closes. From the comfort of your room or study space, you can go to emoryoxford.cafebonappetit.com, choose Late Night Orders, and make your selection. Then drop by the dining hall between 8:30-10:30 p.m. to pick it up.
The Jackson Family Kitchen, located inside the Oxford Student Center, returns with new hours and an updated retail menu. Students can use Dooley Dollars to enjoy items such as chicken fingers or fried chicken sandwiches and french fries, personal pizzas, pasta bowls, or tacos. In addition, JFK will have daily and weekly milkshake and smoothie specials. A meal swipe can be used for lunch at JFK from 11:00 a.m.-2:30 p.m.
Oxpresso Café is located in the Oxford Library and is our campus coffee house. Oxpresso serves the drip coffees, expresso drinks, breakfast sandwiches, and pastries you'd expect, but they also have a lot of unexpected items. Oxpresso offers fresh sushi daily, has a wide selection of specially selected international snacks, and starting this spring, they've added a bubble tea option to the menu. Students can use a meal swipe for breakfast until 10:00 a.m.
Regardless of location, all Oxford Dining menus are peanut, tree nut, and shellfish-free.
Self-serve stations have been eliminated and all food, including salads, will be packaged as grab and go or served by staff following strict safety guidelines.
Hours
Oxford Dining Hall
Monday–Friday
Breakfast: 7:00–10:00 a.m.
Lunch: 11:00 a.m.–2:30 p.m.
Dinner: 5:00–8:00 p.m.
Express: 8:30–10:30 p.m.
Saturday and Sunday
Breakfast: 8:30–10:00 a.m.
Lunch: 11:00 a.m.–2:30 p.m.
Dinner: 5:00–8:00 p.m.
Express: 8:30–10:30 p.m.
Jackson Family Kitchen (Student Center)
Monday–Friday
12–7:00 p.m.
Lunch Meal Swipe: 12–2:30 p.m.
Saturday and Sunday: Closed
Oxpresso Café 
Monday–Friday
8:00 a.m.–2 p.m.
Breakfast Meal Swipe: 8–10 a.m.
Saturday and Sunday: Closed
We strive to provide at least 50 percent local and/or sustainable food in our dining hall, and in keeping with Emory University's waste-diversion program, implemented a zero-waste initiative that aims to divert at least 90 percent of generated waste from landfills.