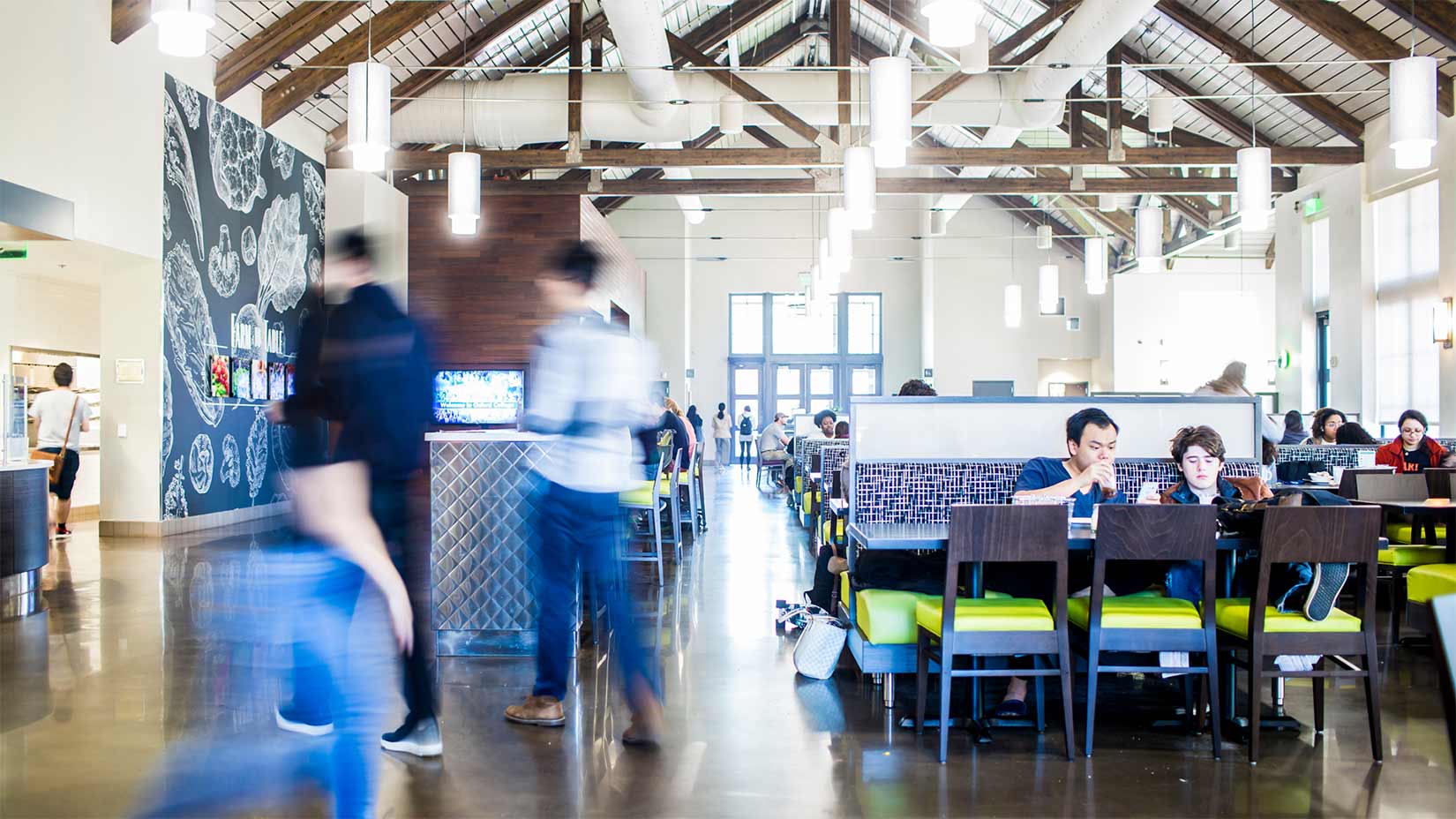 Housing and Dining
Almost all students live on campus at Oxford, so housing and dining plays a big role in our friendly, close-knit community.
From our four residence halls arranged in villages to our farm-to-table dining hall enjoyed by the entire campus, housing and dining at Oxford feels like home.
Dining
In partnership with dining provider Bon Appétit, our goal is to provide quality food and healthy dining options. Our menus use seasonal and regional fresh products, including fruits and vegetables from the Oxford Organic Farm. We also have vegan, vegetarian, and gluten-free options. We're sure to have something that suits your food cravings.
Locations
Oxford College has three dining locations: the Oxford Café, Jackson Family Kitchen (JFK), and Oxpresso.
Oxford Café
The Oxford Café is the residential dining hall at Oxford College. The dining hall serves breakfast, lunch and dinner, Monday through Sunday Stations include Classics offering a different hot entrée each day, Herbivore which features our vegan and vegetarian fare, and the Grill which offers things like burgers, grilled chicken, hot dogs and French fries. In addition, there is a made-to-order deli, an expansive double-sided self-serve salad bar, hand-tossed brick-oven pizza, self-serve pasta and soups as well as desserts which are available all day.
Please enjoy as much as you'd like while dining with us. Food removed from the premises is limited to one piece of hand fruit or other hand-held dessert item.
Oxpresso
For those on the go, Oxpresso, located in the Oxford library, offers quick grab breakfast and carry-out lunch options. Oxpresso is our campus coffee house and serves the drip coffees, expresso drinks, breakfast sandwiches, and pastries you'd expect, but they also have a lot of unexpected items. Oxpresso offers fresh sushi daily, in addition to sandwiches and salads and they have a wide selection of specially selected international snacks available. Students can use a residential meal swipe to purchase breakfast from Oxpresso daily until 10:00 a.m.
Jackson Family Kitchen
Jackson Family Kitchen, or JFK, located next to the bookstore in the Oxford Student Center, is our primary retail location. JFK's menu varies from rice bowls to chicken sandwiches and they offer weekly specials that span the globe from Pho bowls to Tacos. Open until 11pm Sunday-Thursday, JFK provides Oxford's community a healthy late night meal option well after the dining hall has closed. Students can use a residential meal swipe to purchase lunch from JFK Monday-Friday until 2pm.
Friday Night Bites
Added this past fall, Friday Night Bites, is a fun addition to our dining line up. Each Friday during the academic term, Oxford Dining will offer a 'pop-up' food service at the Student Center. Think food truck without the truck and you'll be spot on. The menu will vary each Friday and will range from Tacos to Fried Chicken to Bake Potato bars and more.
Hours
OXFORD CAFÉ (Residential Dining Hall)
Monday-Friday
6:00 a.m.-8:00 p.m.

Saturday and Sunday
7:00 a.m.-8:00 p.m.

OXPRESSO (Library)
Monday-Friday
8:00 a.m.-3:00 p.m.
Meal exchange: 8:00 a.m.-10:00 a.m.

Saturday and Sunday
8:00 a.m.-11:00 a.m.
Meal exchange: 8:00 a.m.-10:00 a.m.

JACKSON FAMILY KITCHEN (Student Center)
Monday-Thursday
12:00 p.m.-11:00 p.m.
Meal exchange: 12:00 p.m.-2:00 p.m.

Friday
12:00 p.m.-3:00 p.m.
Meal exchange: 12:00 p.m.-2:00 p.m.
Saturday Closed

Sunday
5:00 p.m.-11:00 p.m.
We strive to provide at least 50 percent local and/or sustainable food in our dining hall, and in keeping with Emory University's waste-diversion program, implemented a zero-waste initiative that aims to divert at least 90 percent of generated waste from landfills.