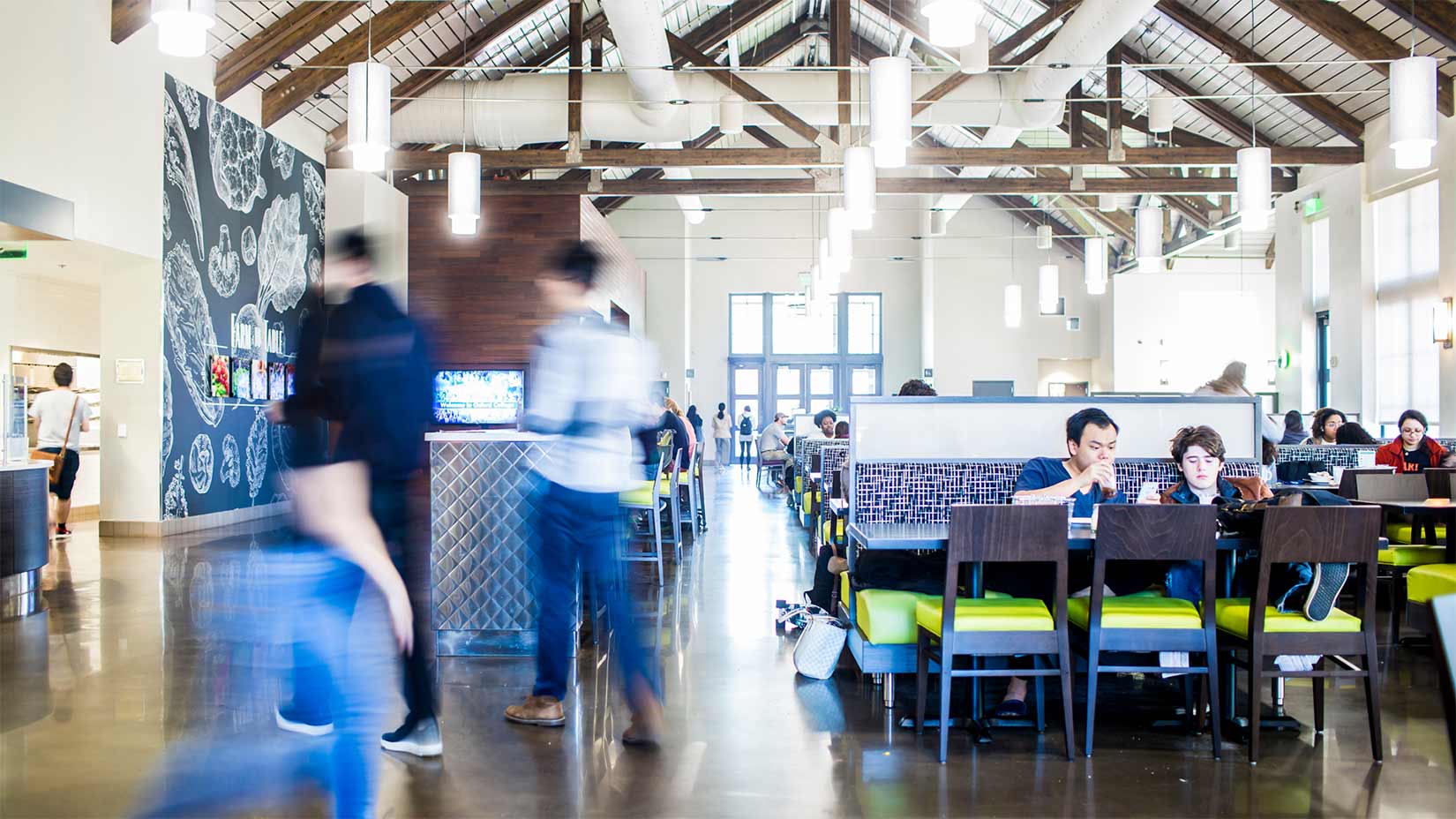 Housing and Dining
Almost all students live on campus at Oxford, so housing and dining plays a big role in our friendly, close-knit community.
Fall 2020 Housing and Dining Updates
Based on the current COVID-19 conditions in our region, Emory has made very difficult decisions that affect all members of our community but are necessary to create a safe learning environment while upholding our core principles. Please check the Oxford Forward pages for updated information about housing and dining.
From our four residence halls arranged in villages to our farm-to-table dining hall enjoyed by the entire campus, housing and dining at Oxford feels like home.
Dining
In partnership with dining provider Bon Appétit, our goal is to provide quality food and healthy dining options. Our menus use seasonal and regional fresh products, including fruits and vegetables from the Oxford Organic Farm. We also have vegan, vegetarian, and gluten-free options. We're sure to have something that suits your food cravings.
Locations
Please note that during the fall 2020 semester due to the current COVID-19 conditions in our region, our Oxford dining locations are limiting hours and service. 
The Oxford Dining Hall:
will be take-out only; dining room seating has been eliminated with queuing and occupancy based on Emory guidelines for physical distancing
will be organized into two identical service areas to expedite service and allow maximum throughput
will have scaled-down menus but will still offer a variety of options at each meal including classics with a vegan alternative, grill options, pizza, and prepared salads
You'll find the Jackson Family Kitchen in the student center. The Jackson Family Kitchen:
will offer both retail and meal exchange options
will offer coffee and blended beverages, breakfast sandwiches, fruit and pastries for breakfast and soups, deli sandwiches, and salads for lunch
will also offer an additional meal swipe/meal exchange for lunch featuring the classics meal option from the dining hall
Oxpresso, located in the library, will not operate for fall 2020. We will reassess and potentially add back service in spring 2021.
Hours
Oxford Dining Hall
Monday–Friday
Breakfast: 7:00–10:00 a.m.
Lunch: 11:00 a.m.–2:00 p.m.
Dinner: 5:00–8:00 p.m.
Extended: 8:30–10:30 p.m.
Saturday and Sunday
Breakfast: 8:30–10:00 a.m.
Lunch: 11:00 a.m.–2:00 p.m.
Dinner: 5:00–8:00 p.m.
Extended: 8:30–10:30 p.m.
Jackson Family Kitchen (Student Center)
Monday–Friday: 8:00 a.m.–4:00 p.m.
We strive to provide at least 50 percent local and/or sustainable food in our dining hall, and in keeping with Emory University's waste-diversion program, implemented a zero-waste initiative that aims to divert at least 90 percent of generated waste from landfills.