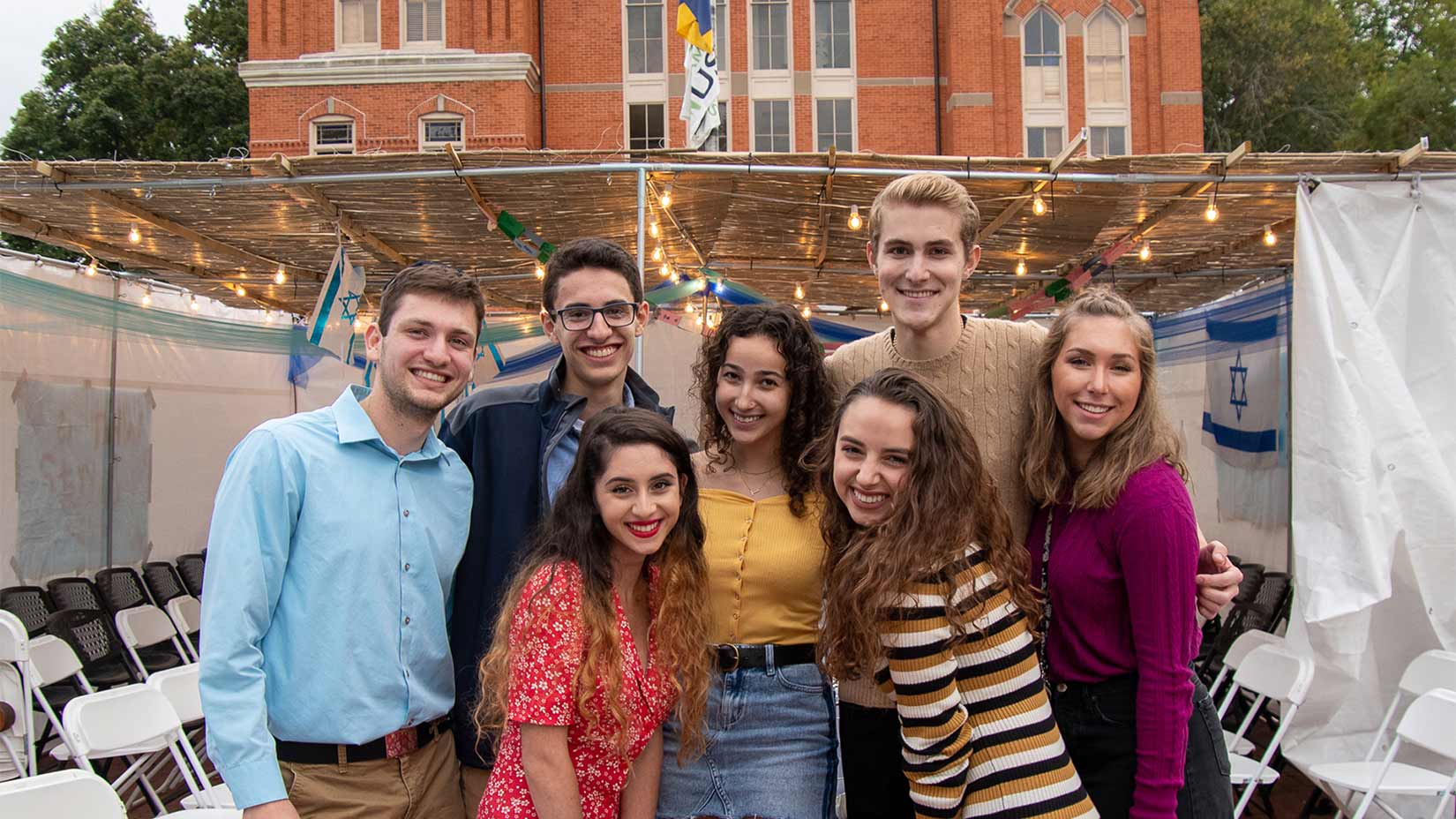 Religious and Spiritual Life
Respect for all religious and spiritual traditions is important at Oxford. All are welcome here, whether they are part of a religious, spiritual, or faith tradition or not.
Oxford Chaplain
The Office of Religious and Spiritual Life is under the direction of the college chaplain, The Reverend Lyn Pace. The chaplain is a resource for all members of the college community and advocate for the religious and spiritual life groups on campus. Programs and counseling services are offered by the chaplain, and the resources of this office are available to all members of the college community regardless of race, culture, religion, sexual orientation, gender identity, socioeconomic status, or ability.
While you're here, you'll have the opportunity to participate in service, social, and religious programs sponsored by the chaplain's office, the Interfaith Council, and the chartered religious and spiritual life groups at the college. Throughout the year, many events celebrate a variety of faith traditions and their holidays. 
All are welcome here, whether or not they are part of a religious, spiritual, or faith tradition.
Student Organizations
Currently there are 11 clubs with a specific religious or spiritual focus. While many of these organizations practice a particular religious tradition, they are open to all who are interested.
Bread Oxford
Buddhist Club
Catholic Student Union
Hindu Student Association
Interfaith Council
Jewish Student Union
Journey Christian Fellowship
Muslim Students Association
Oxford Fellowship
Voices of Praise Gospel Choir
Wesley Fellowship
Fall Retreat
Each fall, the Oxford College community gathers for a weekend retreat. This tradition of more than 30 years is open to students, faculty, and staff who want to take part in a fun-filled and restful experience. Besides getting to hike, swim, and sing around the campfire, you'll engage in programming geared to help you successfully navigate your time at Oxford.

Travel Programs
In partnership with the Pierce Program in Religion, the Office of Religious and Spiritual Life sponsors two travel programs that encourage global engagement. 
Global Connections
Global Connections is a travel experience designed to help students create meaning in their lives and connect their religious and spiritual convictions with justice issues including peace, poverty, human rights, and the environment. Seminar activities and service offer reflection and meaningful dialogue with others and help participants become agents of change for healthy living both here and abroad. 
The first Global Connections trip in 2006 was to Montana, where students studied issues of declining rural communities. Subsequent seminars have taken Oxford students, faculty, and staff to Poland, Vietnam, Turkey, Costa Rica, Germany, and the United Kingdom, on a civil rights and the American South tour, and to study incarceration in Georgia and New York City. The 2018 trip took participants back to Vietnam, where they explored the effects of globalization on that country. A 2019 trip to New York City explored street and gallery art.
Journeys
Journeys is a travel program that originated at Oxford College in 1988. Students, faculty, and staff from both Emory's Oxford and Atlanta campuses travel with and learn from each other—in addition to the people they encounter during their travels. These trips focus on communities around the world that have a history of conflict, violence, and exploitation. Each Journey carries the hope that participants will be transformed into more thoughtful and caring citizens of the world.
Past trips included El Salvador, Northern Ireland, South Africa, Costa Rica, India, the Middle East, Canada, Cuba, and most recently the Texas/Mexico border to study issues of immigration.
View the 2023-24 Religious Life Calendar
Contact