Housing
During your two years at Oxford, the Office of Residential Education and Services will help you feel at home. We offer services within your residence hall to help encourage your learning and personal development.
With just a few exceptions, all Oxford students live on campus. On-campus living provides an opportunity to immerse yourself in your college experience. Its convenience gives you easy access to evening performances, theatrical productions, academic resources, and our many clubs and activities.

Residential Education and Services employs both professional and student staff who live and work in your residence hall and who help ease the transition from high school to college life.

Our staff coordinates with multiple areas on campus to integrate student services related to dining, physical resources, advising, crisis management, health services, and counseling. We also empower and encourage you to respect your neighbors, seek new experiences, and take an active role in shaping where you live. 
Residence Halls
You'll be within a five-minute walk to class, the student center, the gym, the library, or the dining hall from wherever you live on campus.
Most students live in a double occupancy room with a shared sink and their own bed, closet, dresser, desk, and desk chair. Residence halls have community bathrooms.

Each residence hall complex has the following amenities:
laundry room (it's free)
study lounges
TV lounge
vending machines
and other amenities specific to your complex
The following utilities are included in the rental rate for all residence halls: cable streaming services, water, power, gas, and high-speed wireless connection.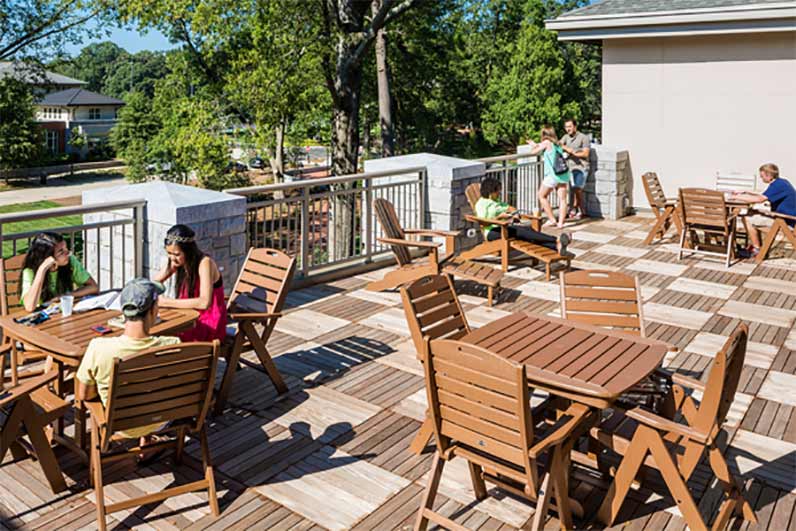 Housing FAQs
Our campus has four traditional-style residence areas that include Elizer, Fleming, Haygood and Murdy Halls, and the Jolley Residential Center.

The Jolley Residential Center—we call it the JRC—sits along the north side of the Quad. Although the JRC is a co-ed complex, all floors are single gender, consisting of only male or female residents. 

Murdy Hall and Elizer Hall combine to be our largest residential complex. Murdy and Elizer contain single-gender, co-ed, and gender-inclusive floors.
A co-ed floor contains both male and female residents, with separate bathroom facilities. Gender-inclusive housing allows a student to live with another student of any sex or gender in the same room, based on a mutual roommate match. Restrooms within a gender-inclusive housing community can also be utilized by residents of any sex or gender.
Haygood Hall is the smallest residential community on campus. This co-ed building features single-gender floors.

Fleming Hall, which sits opposite Elizer Hall, is a co-ed building with single-gender wings.

Oxford has a limited number of single and triple rooms. First-year students aren't assigned single rooms except in certain cases of medical necessity approved through our Office of Accessibility Services.
After your enrollment deposit has been processed, you'll be able to access the online housing application after April 1 by logging into your Myhousing account. You'll need your Emory user ID and password to access this website. Although you won't be able to select a specific room, you can select the type of room (double or triple) and type of floor (single gender, co-ed) you prefer.
Assignments will be posted by July 15 on your Myhousing portal. Our housing system makes your assignment based on the date we receive your completed housing application, living preferences, and personal preferences. You can select your own roommate or be paired based on the living preferences listed on your housing application.
Depending on available space, you'll have the opportunity to participate in scheduled room changes during the months of September (for fall semester) and January (for spring semester).  
A residence life coordinator (RLC) lives in each complex. RLCs are master's-level professionals who manage staffing, programming, and facilities for each complex. RLCs help you navigate the transition to college and living in a residence hall. They supervise the resident assistants (RAs), second-year student leaders who live on each residence hall floor as an additional resource to you.