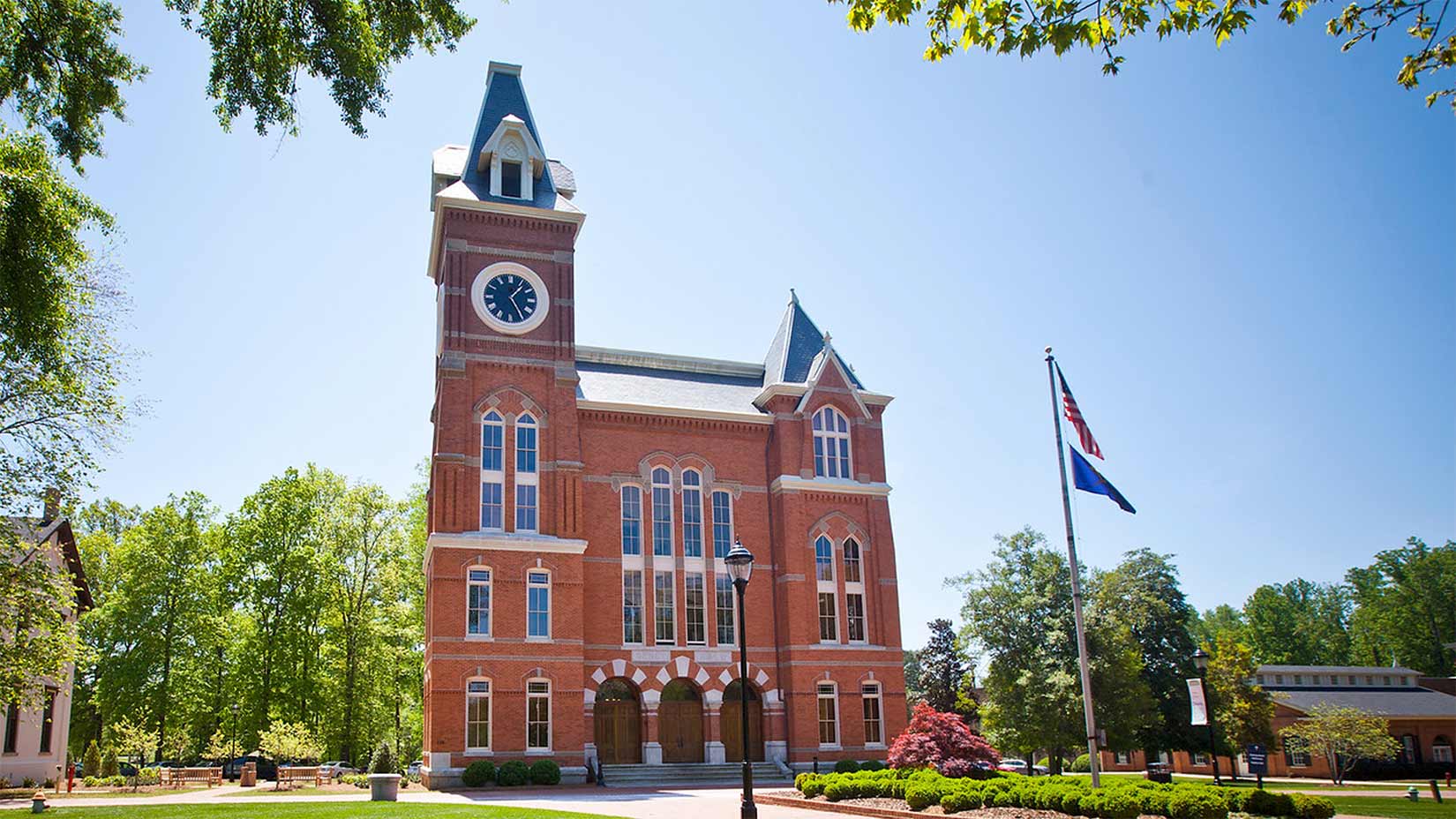 Alumni Leadership
Oxford alumni provide counsel to the college through two alumni leadership groups, the Board of Counselors and the Alumni Board.
Board of Counselors
Oxford's Board of Counselors provides focused counsel to college leaders regarding issues it considers to be the school's highest current priorities.
The Board of Counselors offers guidance in two ways:
The Board of Counselors reviews college and board performance in its previous attempts to address priorities.
The Board of Counselors envisions the future actions (immediate and long-range) that the board and the college will take to address priorities.
Board of Counselors Membership
Chair
Lynne Borsuk 81Ox 83C
Chair-Elect
Jonathan Eady 84Ox 86C
Immediate Past Chair
W. Michael Dennis 67Ox 69C
Faculty Rep
Dr. Annette Neuman (13G)
Secretary
Kim Chenevey 02Ox 04B
Mrs. Loucy Hay
Dean Douglas Hicks
Mrs. Zoe McFee Hicks
Mr. Zaraif Ayaat Hossain
Mr. Norman (Butch) Houston
Mr. Bruce Howard
Mr. Robert Ingram
Mr. Paul Jackson (EAB)
The Honorable Horace J. Johnson, Jr.
Mr. Barry Jones
Mrs. Helen Fogle Jones
Mr. Steve Kapp
Mr. Kevin D. Kell
Mrs. Diane Allgood Kirby
Mrs. Marvlyn Kirk
Dr. William Rodgers Kitchens
Dr. Wallace C. Lail
Mr. William Reid Mallard
Mr. Henry A. Mann
Dr. Miles H. Mason III
Rev. Michael McCord
Mr. Willis L. Miller, III
Mr. Alexander G. Morehouse
Mr. Sig Mosley
Mr. Ralph Murphy
Dr. William B. Nipper, Jr.
Mrs. Carol Keatley Norton
Ms. Chi Chi Okezie
Dr. Tommy L. Owens
Dr. Fred Langley Palmer
Ms. Myra Palmer
Mrs. Rakhee Vora Parikh
Mr. J. Eric Pike
Mr. J. McDowell Platt
Ms. Jennifer Purdon
Mr. Gene Rackley
Mr. Dan Ragsdale
Mr. Ralph Reeves
Barbara Rivers
Dr. Vann Roberts
Mr. John W. Robitscher
Ms. Anne Salter
Michele Sims
Mr. Kyle D. Smith, Jr.
Mr. Thomas G. Stokes, Jr.
Mr. Hugh McMaster Tarbutton, Jr.
Mr. Andrew W. Tatnall
Dr. Bradley S. Taylor
Mr. Jason P. Taylor
Ms. Ina Thompson
Mr. Lin H. Thompson, Jr.
Dr. Robert S. Thornton
Mr. Michael Vardas
Mr. Randy Vickery
Mr. Arthur M. Vinson
Mr. Mitchell A. Waters
Dr. Al Watson
Mr. Kim Wilder-Dyer
Mrs. Kelly L. Williams
Mr. Mayo Malone Woodward, Sr.
Dr. George L. Zorn, Jr.
Max Austin Jr.
Ellen Bailey
Clifford Bell
Anne Bigelow
Al Clarke
Cheryl Fisher Custer
Diane Allgood Kirby
Bill Daniel Jr.
Trulock Dickson
Denny Dobbs
Carroll Eddleman
Joe Edwards
Arthur Evans
Dean Fowler
Robert Fowler III
Milt Gillespie
Judy Greer
William Hardman
Marvin Hardy III
Zoe Hicks
Butch Houston
Helen Fogle Jones
Wallace Lail
Henry Mann
Ralph Murphy
William Nipper Jr.
Tommy Owens
Mac Platt
Gene Rackley III
Dan Ragsdale
Ralph Reeves
Vann Roberts
John Robitscher
Kyle Smith Jr.
Ina Thompson
Robert Thornton
Kim Wilder-Dyer
George Zorn Jr.
Kevin Smyrl
Jennifer Crabb-Kyles
Alumni Board
Oxford's Alumni Board supports and promotes the college's educational excellence in two ways:
The Alumni Board creates and sustains a framework for Oxford to communicate regularly with and serve its alumni.
The Alumni Board allows alumni to communicate with and serve the college.
Alumni Board Membership
Michael Silverio 98Ox 00C, President
International Relations
Field Supervisor, LPL Financial
Alpharetta, GA

John McColl 08Ox 10B, President-Elect
Business Financial Advisor
Atlanta, GA
Yaritza Morris 98Ox 01C, Secretary
French and Spanish World Language Educator
LaPlata, MD

Steve Weyer 00Ox 02C 10L10T, Philanthropy Chair
English Major
Attorney - Estate Planning
Atlanta, GA

Curtis Cotsonis 09Ox 11C, Past President
Double majored in Spanish and Linguistics
Senior Content Strategist, Localization at Mailchimp
Atlanta, GA
Sandra Aguilera 15Ox 17C 22PH
Decatur, GA
Neha Ali 20Ox 22C
Bedford, TX
Rushay Amarath-Madav 17Ox 18C 19C
Atlanta, GA
Suman Atluri 18Ox 20C
Pearland, TX
Teresa Ball 96Ox 98C
Alexandria, VA
Amanda Boor 81Ox
Tallahassee, FL
Jeff Bragg 75Ox 77C
Marietta, GA
Kristin Brown 91Ox 93C
Royston, GA
Charlie Burnett 01Ox 03C
Atlanta, GA
Harrison Campbell 21Ox
Memphis, TN
Jack Chapman 14Ox 16B
Rye, NY
Annie Chappell 19Ox 21C
Decatur, GA
Henry Chappell 14Ox 16C
Atlanta, GA
Haseena Charania 11Ox 13C
Decatur, GA
Michael Clifford 88Ox 90C
Atlanta, GA
Curtis Cotsonis 09Ox 11C
Atlanta, GA
David Davis 95Ox 97C
Macon, GA
Tom Dean 79Ox 81C
Alpharetta, GA
Debbie Martin Dierkes 70Ox 72C
Acworth, GA
Evan Dunn 10Ox 12C
Acworth, GA
Brian Friedman 97Ox 99C
Cherry Hill, NJ
Jessica Getz 12Ox 14N
Atlanta, GA
Miller Getz 89Ox 91C
Brookhaven, GA
Carissa Goodwin 16Ox 18C 
Atlanta, GA
Richelle Gosman 08Ox 10C
Atlanta, GA
Willis Hao 18Ox 20C
Alpharetta, GA
Berkley Jennings 92Ox 94C
Atlanta, GA
K.J. Johnson 13Ox 15C 17N
Atlanta, GA
Rachel Johnson 97Ox 99C
Acworth, GA
Sahiti Karempudi 05Ox 07C
Austin, TX
Sameer Kumar 19Ox 21B
Edison, NJ
Jennifer Crabb Kyles 98Ox 00C
Conyers, GA
David Lee 98Ox 00B
Atlanta, GA
Sheri Levine 82Ox 84C
Jupiter, FL
Douglas Long 92Ox 94C
Ardmore, PA
Olivia Long 96Ox 99C 01PH
Duluth, GA
Lindsey Marion Luczynski 99Ox 01C
Atlanta, GA
David Markham 89Ox 91C 95M
Decatur, GA
Timothy Martin 99Ox 00B
Decatur, GA
Tee May 87Ox 89C
Decatur, GA
John McColl 08Ox 10B
Atlanta, GA
Catie Floyd McDermott 01Ox 04N
Atlanta, GA
Kinsey McMurtry 11Ox 13C 15PH
Decatur, GA
Khatdija Meghjani 12Ox 14C
Snellville, GA
John Mills 87Ox 89C
Decatur, GA
Lupe Monterroso 13Ox 15B
Decatur, GA
Yaritza Moreno Morris 98Ox 01C
La Plata, MD
Erin Oquindo 18Ox 20C
Brentwood, TN
Sasha Palmer-Micek 13Ox 15C
Chicago, IL
Shloka Parvatrao 16Ox 18C
Hillsborough, NJ
Sherene Patel 06Ox 08B
Alpharetta, GA
Amanda Phillips 92Ox 94C
Jonesboro, GA
Mark Phillips 75Ox 77B
Atlanta, GA
Necol Ronda-Brown 11Ox 13C
Savannah, GA
Bilal Sarwari 07Ox 09C
Bluffton, GA
Julie Shirey 84Ox 86B
Canton, GA
Michael Silverio 98Ox 00C
Alpharetta, GA
Daniel Sperling 95Ox 97C
Roswell, GA
David Sutton 82Ox 83C
Jacksonville, FL
Jacqueline Sutton 14Ox 16C
Atlanta, GA
Jim Tanner 88Ox
Chattanooga, TN
Hope Taylor 20Ox 22C
Las Vegas, NV
Daniel Thompson 01Ox 03C 08PH
Gainesville, GA
Meghann Timmins 11Ox 13C
Atlanta, GA
Audia Wells 90Ox 92C
Richton Park, IL
Steve Weyer 00Ox 02C 10L 10T
Atlanta, GA
Ben Wilcox 85Ox 88B
Brookhaven, GA
Heather Cripps Williams 00Ox 02C
Woodruff, SC
Gracie Wilson 21Ox
Tallahassee, FL
Jack Wissner 69Ox 71C
Atlanta, GA
Jane Yeomans 65Ox 67C
Decatur, GA
Harry Yeomans 65Ox 67C
Decatur, GA